Affiliate marketing is one of the best ways to create a passive income, work from anywhere, and create more freedom in your life.
But how does one become an affiliate marketer? Does it cost anything to get started? How long does it take to actually make money?
I've been in affiliate marketing for nearly a decade and have built three separate affiliate marketing businesses, two of which make six figures…
And today, I'm going to teach you exactly how to become an affiliate marketer, just like I did.
Let's start with the basics.
Affiliate marketing is about promoting someone else's products or services using an affiliate link, then making a commission if the person who clicked on your link buys something.
Most affiliate marketers promote their affiliate links on various channels, including their website and blog, YouTube channel, or social media channels. They may create content that talks about the "best vacuum cleaners for pet hair" and link to the vacuum cleaners they discuss.

Once the consumer of that content clicks through and buys the vacuum cleaner, that company then sends the commission payment to the bank account of the affiliate marketer—typically at the end of the month after accruing and accounting for all the sales of that month.
But you can do more than simply review products. One of the beautiful things about affiliate marketing is that the ceiling is as high as your own creativity. 
You can place affiliate links in nearly any piece of content you create, whether that's promoting a VPN service on a video about starting an online business or sending the link to your friends any time they ask where you got your cool shirt.
But that begs the question—how does one find affiliate programs to join and promote?
There are three main ways to find affiliate programs:
On affiliate platforms
By performing a Google search for [company name] affiliate program
By reaching out to companies directly and asking them
The first method—affiliate platforms—is by far the easiest and fastest way to find a lot of options. Some of these platforms include:
Simply create an account on these platforms, head to their "merchants" section, and start browsing what they have. Many of them allow you to browse based on category, as you can see in ShareASale below: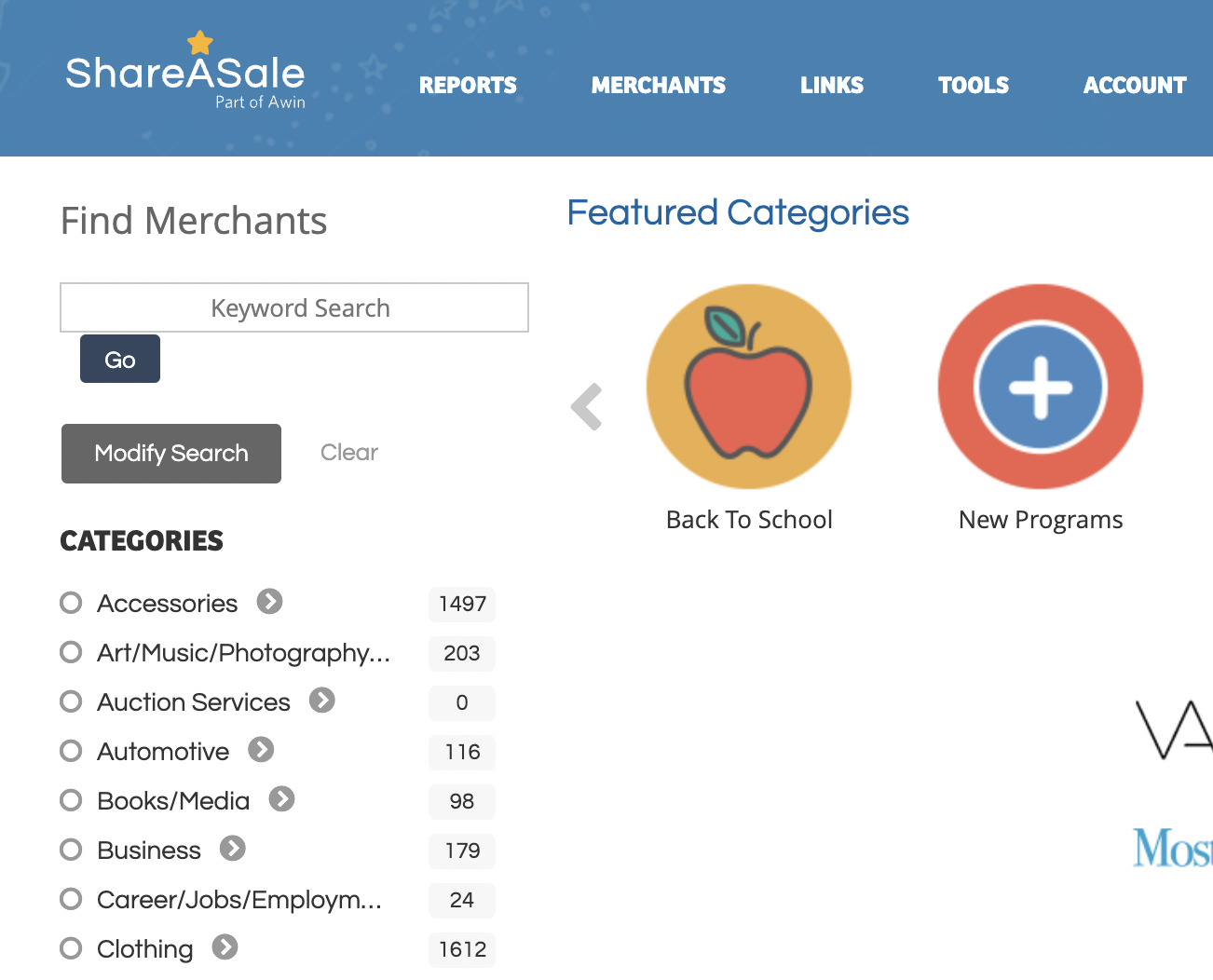 Most affiliate dashboards work in this same way or very similarly.
But if you can't find anything that interests you or have something specific in mind, you can always do a Google search to see if a company has an affiliate program.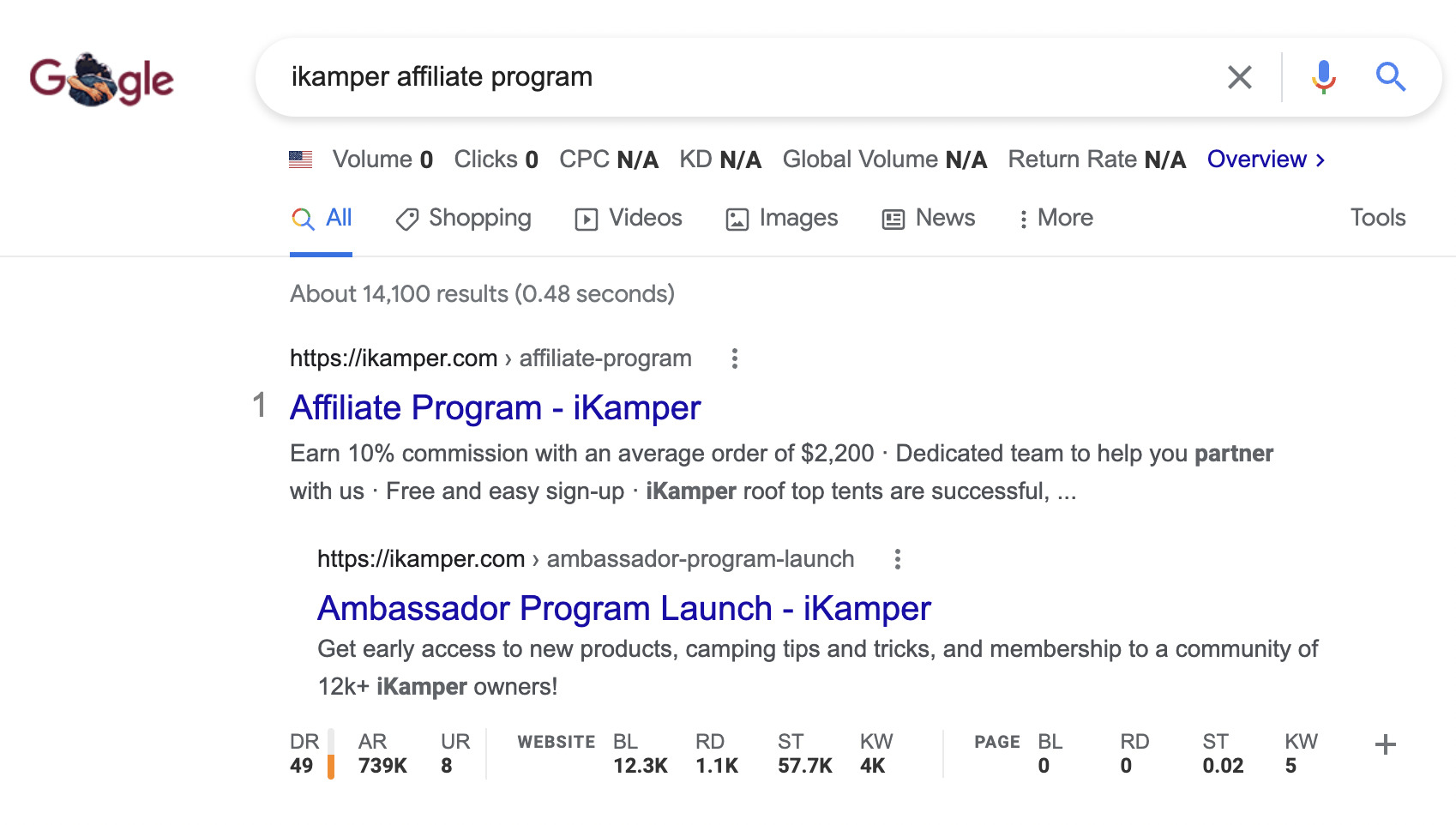 As you can see, the company iKamper has an affiliate program page on its website. But not every company will have an affiliate program advertised on its website anywhere.
In these cases, there's still hope—some companies either don't openly advertise their affiliate programs or can be convinced to start one for you.
Pick up the phone and call the company whose products you'll like to promote. Ask a representative if they have an affiliate program. You'll probably need to be redirected to the company's marketing manager or even the owner—depending on how small the company is.
Tell them you want to partner with them and send them traffic and sales in exchange for a small commission on each purchase. It's a win-win—they get more sales without spending anything, and you get money in the bank.
As an affiliate marketer, you'll want to familiarize yourself with how affiliate links work. These are your bread and butter.
Most affiliate links contain your unique affiliate ID. Sometimes, you can choose what this is; other times, it will be a randomized string of numbers and letters. This is just the code that associates clicks and sales with your affiliate account.
For example, one of my affiliate links looks like this:
https://outdoorsyinc.go2cloud.org/aff_c?offer_id=4&aff_id=1064
You can see the portion aff_id=1064. That ID is what links the sale to my account.
In addition to your affiliate ID, you may also be able to add some advanced tracking to help you know where any clicks on your link came from. This is a good practice to get into, as it will help you determine which pieces of content and which products are generating the most money for your business.
This advanced tracking typically includes a "Source," which is the location of the link. Examples of sources may be "email-newsletter" or "best-vacuum-for-pet-hair-youtube." It helps you understand where the clicks and sales came from.
So if I were to add a source to my above link, it would look like this:
https://outdoorsyinc.go2cloud.org/aff_c?offer_id=4&aff_id=1064&source=ahrefs-article
Now you can see the &source=ahrefs-article. If you were to theoretically click that link and rent an RV through it, I would receive a commission and know that you found my link from this article, thanks to the added source.
You can often also include sub-IDs, click IDs, and many more. But that's a bit too advanced for this guide. Check out this guide to affiliate link tracking with Google Analytics for more info.
This is the big question: Is it worth getting into affiliate marketing right now?
The answer, in my eyes, is a resounding yes. I've built my life, my career, and my freedom on affiliate marketing.
The benefits of affiliate marketing are that you don't have to carry any inventory, deal with customer service, ship anything, or make any of your own products or services.
All you have to do to make money as an affiliate marketer is research and promote the products and services you love. That's it.
It's one of the best business models to create recurring, passive revenue. 
So if you're someone who doesn't mind a steep learning curve and working hard to grow an audience, affiliate marketing is definitely worth it. It just takes time and dedication.
So you're ready to become an affiliate marketer? Here are the five steps to get started:
1. Choose an affiliate niche
The first step is deciding on your niche. That is—what category do you want to talk about and promote?
Examples of affiliate niches include hobbies, broad topics, lifestyles, or pretty much anything. If it's something someone's interested in, it can be an affiliate niche.
Some niches are more lucrative than others. Any niche in the finance space will often have very high-paying affiliate programs, for example. But it's also an extremely competitive space.
Historically, I've chosen all my niches purely based on personal interest. 
To succeed as an affiliate marketer, you will need to create a lot of content around a topic, probably for years to come. If you choose something that doesn't interest you—no matter how lucrative its affiliate programs may be—you probably won't succeed.
That said, obviously, this is your choice. You know yourself way better than I do. If you think you can research and create thousands of pieces of content about something you're not interested in if it means you make a lot of money, then by all means go right ahead.
To think of a niche, ask yourself:
What am I interested in learning about?
What do I know a lot about?
What do other people tell me I'm good at?
The overlap of your answers can help you decide what to talk about.
But before you commit to a niche, take it to step #2.
2. Analyze the competition
I will caveat this section by saying that you can succeed in any niche with enough dedication.
However, not all niches are created equal. Some are highly lucrative—and competitive—while others are less competitive but may not make as much money.
A lot of your decision will depend on how much money you need to succeed in your own personal goals. Do you want this site to take over as your primary income or just become a small side hustle?
Either way, analyzing the competition of your potential niche is easy. Just head over to Google and search for some broad keywords you think you may want to get traffic from.
For example, let's say you want to start a blog about mountain biking. A lucrative keyword in this space may be "mountain bike gear." If we look at the search results, we can quickly assess how difficult it may be to rank on Google for this keyword:

As you can see, the #1 result is from REI—a highly authoritative business.
If I scroll down, I also see Amazon, Trek Bikes, and many other high-authority websites also ranking for this keyword. At a glance, this tells me the competition is steep.
To back this up with better data, you can install Ahrefs' SEO Toolbar and see the Domain Rating (DR) of competing sites, as well as a score of how difficult it may be to rank for a given keyword and how many people search for that keyword per month.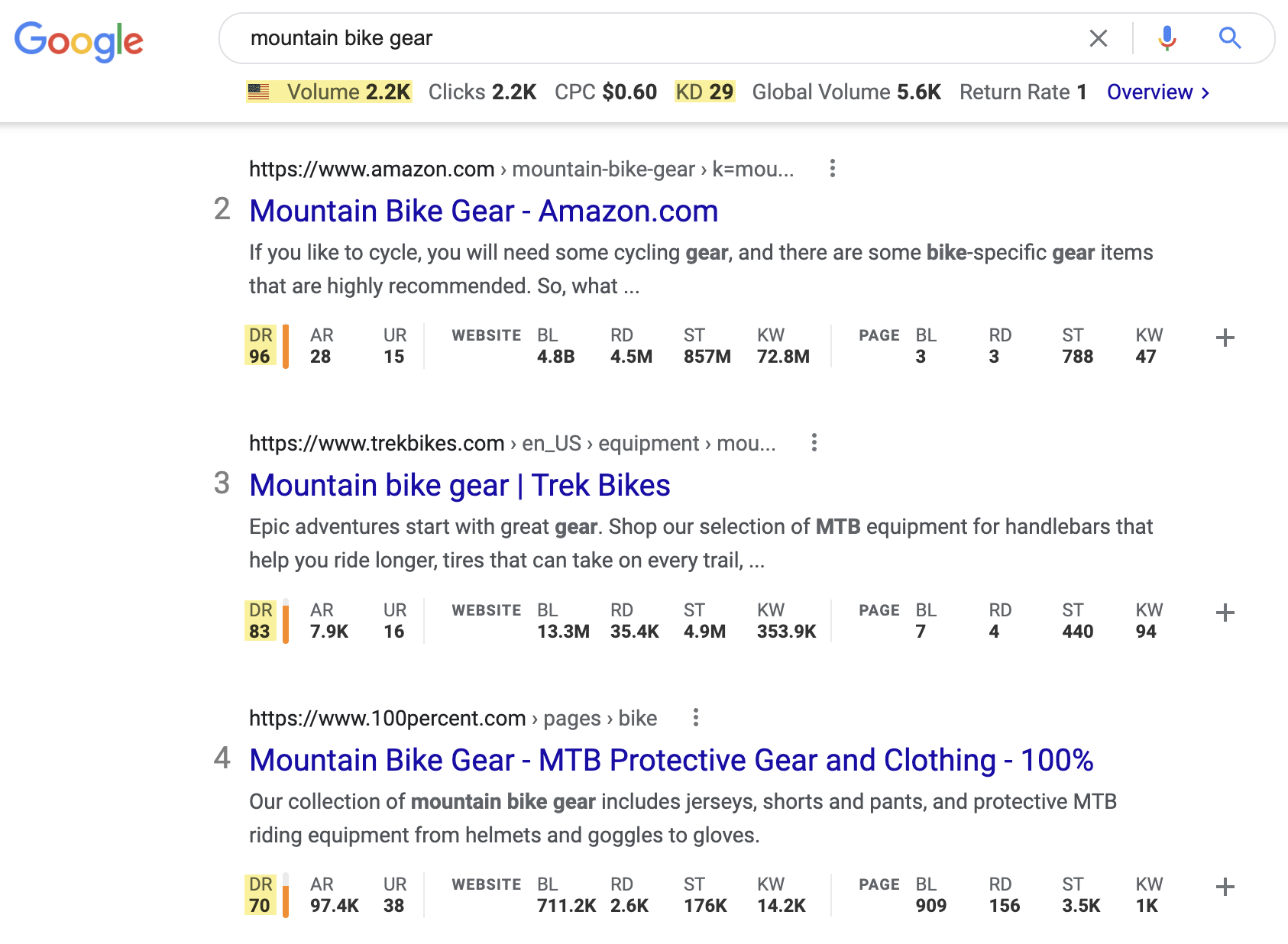 This data allows you to quickly glance at information showing how competitive a keyword (and, potentially, a niche) is on Google.
Alternatively, you can also use our free keyword difficulty checker to check this information.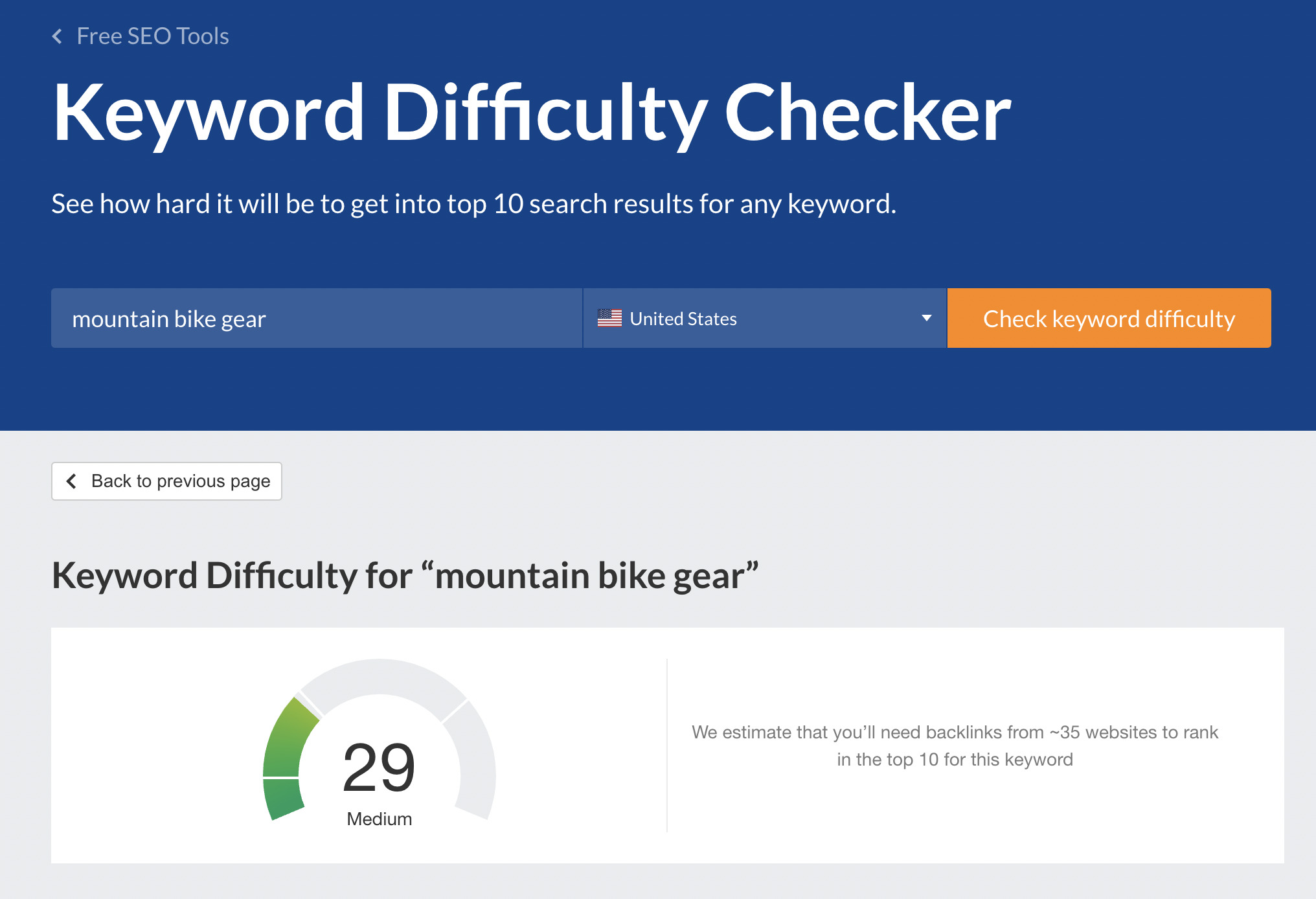 This KD score of 29—on a scale of 0–100, 100 being the most difficult—is actually fairly easy in comparison to most keywords. But it doesn't tell the whole story.
For a brand-new website, this will be a hard keyword to rank for. Search engine optimization (SEO) takes time and effort.
If you want to learn more about how to do keyword research and determine competitiveness, check out our full guide here.
For now, what you need to know is that if you want to rank for high-value keywords on Google (that bring you free, recurring traffic), you should look for niches with keywords that each have a KD score of less than 20.
If you can't find that, it doesn't mean you can't use that niche. It just means it will take more time, effort, and learning than a lower-competition niche.
Here are some guides to help you determine competitiveness on channels other than Google:
3. Pick your affiliate marketing method(s)
Once you've determined that your niche isn't too competitive for your liking, it's time to choose which methods you'll use to promote your affiliate links.
There are five main methods most affiliate marketers use:
Build a website and do SEO
Start a YouTube channel
Grow a following on social media
Craft an email newsletter
Make a podcast
Which method(s) you choose will depend entirely on how you prefer to create and share content. 
If you're a good writer, a website and SEO may be your best bet. If you love photography, social media is probably your game. If you're great on camera, think about doing a YouTube channel. If you love to talk, start a podcast. 
I've seen successful affiliate marketers using each of these methods. Rather than trying to explain how to do each individual one, I'll just show you examples of successful affiliate marketing for each method and link out to guides for that method.
Websites and SEO
There are TONS of examples of successful affiliate marketing websites. In fact, we've done case studies on a lot of them. Here they are:
YouTube channels
YouTube, like Google, is a search engine. Which means it's also a great source of free, recurring traffic. Here are some helpful articles if you want to take this route:
Social media channels
While this is my least favorite method of affiliate marketing because it requires constant learning and content creation, it is still an option. Here are some useful resources:
Email newsletters
While email newsletters are better as a supplementary channel to your other channels, it's possible to have ONLY a newsletter—like my friend, Mike, does with his channel The Tonic. He uses a combination of affiliates and sponsored ads to monetize his list. 
Here's what to know:
Podcasts
From "The Tim Ferriss Show" to "Entrepreneurs on Fire," there are LOADS of examples of successful podcasts that monetize with affiliate marketing and advertising. Here are some resources to get you started:
4. Create and share world-class content
Regardless of which channel(s) you choose, if your content isn't good, you simply won't succeed.
Becoming a successful content creator means honing your craft, going the extra mile, and putting out content that's better than everyone else's. The better you get at creating world-class content, the more money you will make as an affiliate marketer.
I can't teach you how to make amazing content for every possible channel in this one guide. That's what the links in the last step are for—to show you what's working and how you can do it better.
What I can tell you is what it takes to create great content—regardless of the channel.
In my opinion, all content needs to do one of two things: entertain or inform. If you get good at one of these, you will succeed. If you get good at both of them, you will thrive.
To create better content, ask yourself:
What is my goal with this content?
How can I give the most amount of information in the least amount of time and effort on the part of the consumer?
Can I take anything away to make my point clearer?
Can I spin this in a way to make it more interesting or entertaining?
What points can I make that my competition is missing?
How can I make this more fun?
If you go through these questions every time you write a blog post or film a video, you will improve the quality of your content over time.
Here are some examples of what I personally consider to be world-class content:
Tips for How to Film Yourself: In this video, Dunna uses excellent video editing, great organization, and entertaining cuts to explain how to film yourself better. He focuses on education and usefulness first, making money second.
Julian Shapiro's Guide to Writing Well: This is one of the most well-done guides on how to write non-fiction that I've ever read. It is put into digestible chunks, well formatted, and to the point. Again, the focus is on value first, monetization second. 
How to Rank on Google's Front Page in Less Than 3 Months: This is a podcast episode I did with John Lee Dumas from EOFire. While I didn't personally monetize it with affiliate offers, I gave high-value information in order to gain SEO clients.
5. Continue to grow your audience
Affiliate marketing doesn't end after you create a few pieces of content and start making some money. You have to continue to scale it up.
At first, you will be doing everything. Creating, editing, uploading, publishing, and marketing all of your content. Coming up with ideas. Reaching out to people for promotion.
But eventually, as your affiliate links begin to bring in a profit, it's a good idea to reinvest these profits to scale up your ability to create.
Examples of this include hiring writers or video editors, spending money on paid ads, and even building an SEO team. 
Don't rest on your laurels as you bring in passive income. Take it from me—I got lazy after one of my websites blew up, and it eventually crashed 60% because of it. Keep on top of your game, and your affiliate business will continue to feed you for years to come.
Final thoughts
Starting an affiliate business is one of the most lucrative ways to earn recurring, passive income.
However, it does take a lot of time and dedication to learn how to do it and create all the content you need to be successful. You will likely have to work for a long time with little income to show.
If hard work and a steep learning curve don't scare you and you want true financial freedom, I can't recommend this business model enough.
Have questions? Message me on Instagram.