Thank you for subscribing!
Website development from scratch usually demands a lot of resources that sometimes may be more useful for other tasks. Fortunately, website templates exist that will facilitate not only the development process but are search-engine-friendly. 
You can find thousands of different templates for any type of website on the Internet. You can use the ready-made solution and customize the interface design for the needs of your business. You'll have to simply choose a template, apply it to your site, and customize it with your own content.
There are tons of website templates, but not all of them are built with search engine optimization in mind. We have prepared a list of the best templates that can ensure better SEO performance for your website. We've divided themes by website subject to make it easier for you to navigate. Use the menu to go to your necessary section and test your favorite template. 
Corporate & Business
Rights Defender — Lawyer Company WordPress Theme
Are you looking for a solid-looking template to build your lawyer website? Rights Defender is right up your alley. A fast, elegant, and reliable website can be a source of inspiration to your potential customers. Keep them motivated, and give them a reason to come back for more. 
Built with the brand-new Elementor Page Builder, the theme is easy to use and customize. Get rid of all the coding worries. This template is a good candidate to attract more natural traffic to your website. 
Ascendio — Corporate & Business Solutions WordPress Theme
Built with the brand-new Elementor front-end page builder, this SEO-friendly theme promises to make your life easier from the start. Even with a skill gap, you can create new unique pages without the headache of any coding. 
Ascendio can ensure your fast-growing needs with the newest functionality. It comes with easy-to-use instruments and builders to facilitate the process of customization and please you with the final result.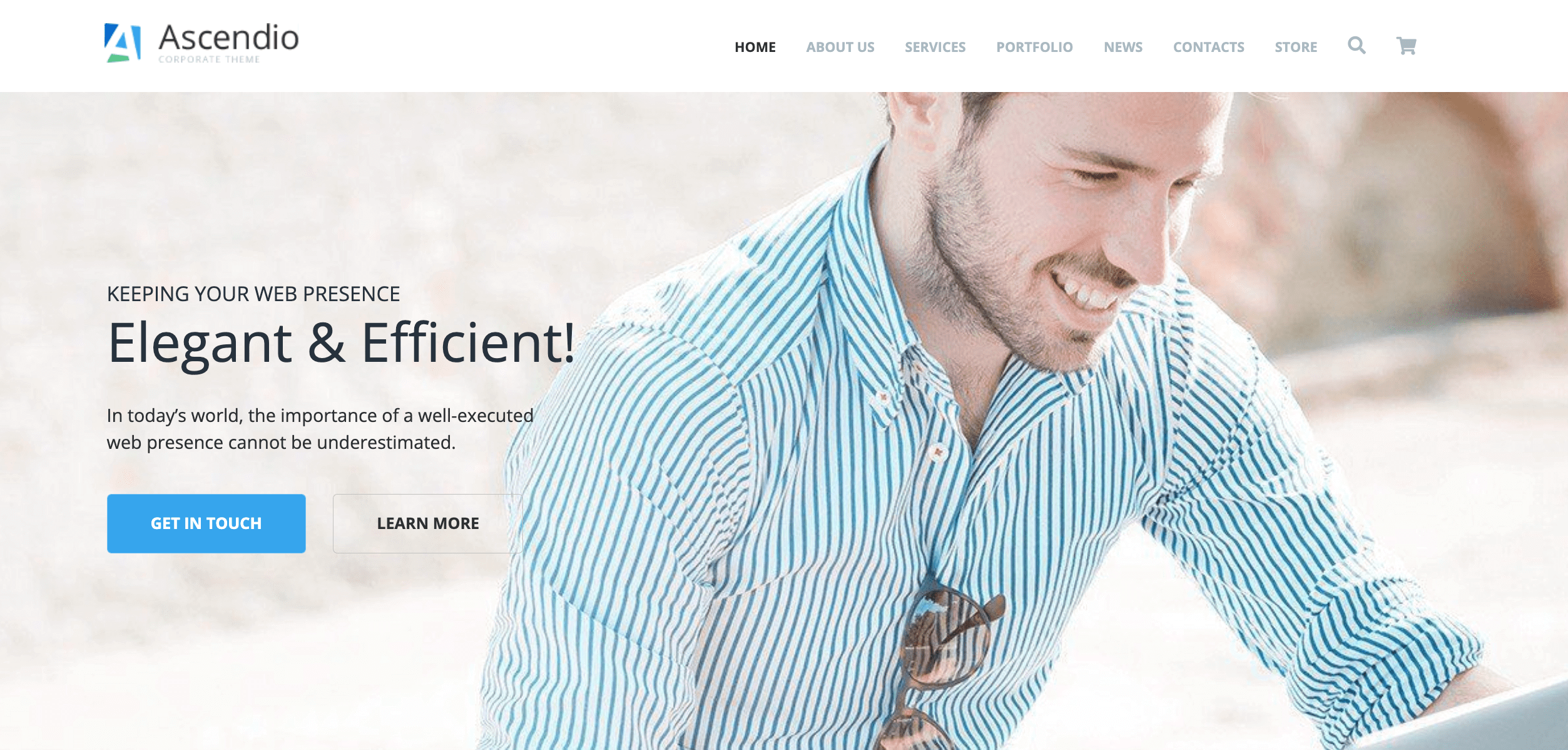 Buissantio — Business & Corporate Joomla Template
This Joomla template is suitable for consulting, banking, insurance companies, and innovative start-ups. Its design is responsive and looks respectable for your clients, as the template incorporates aesthetics and pragmatism into a complete combination. 
It's based on the Bootstrap framework and has highly customizable features, providing you with the tools you need to set up your business website and making it easy to manage. There are the most critical sections and features every modern corporate website should have: Portfolio, Online store, Dropdown menu, Services, Blog, Gallery, Testimonials, etc.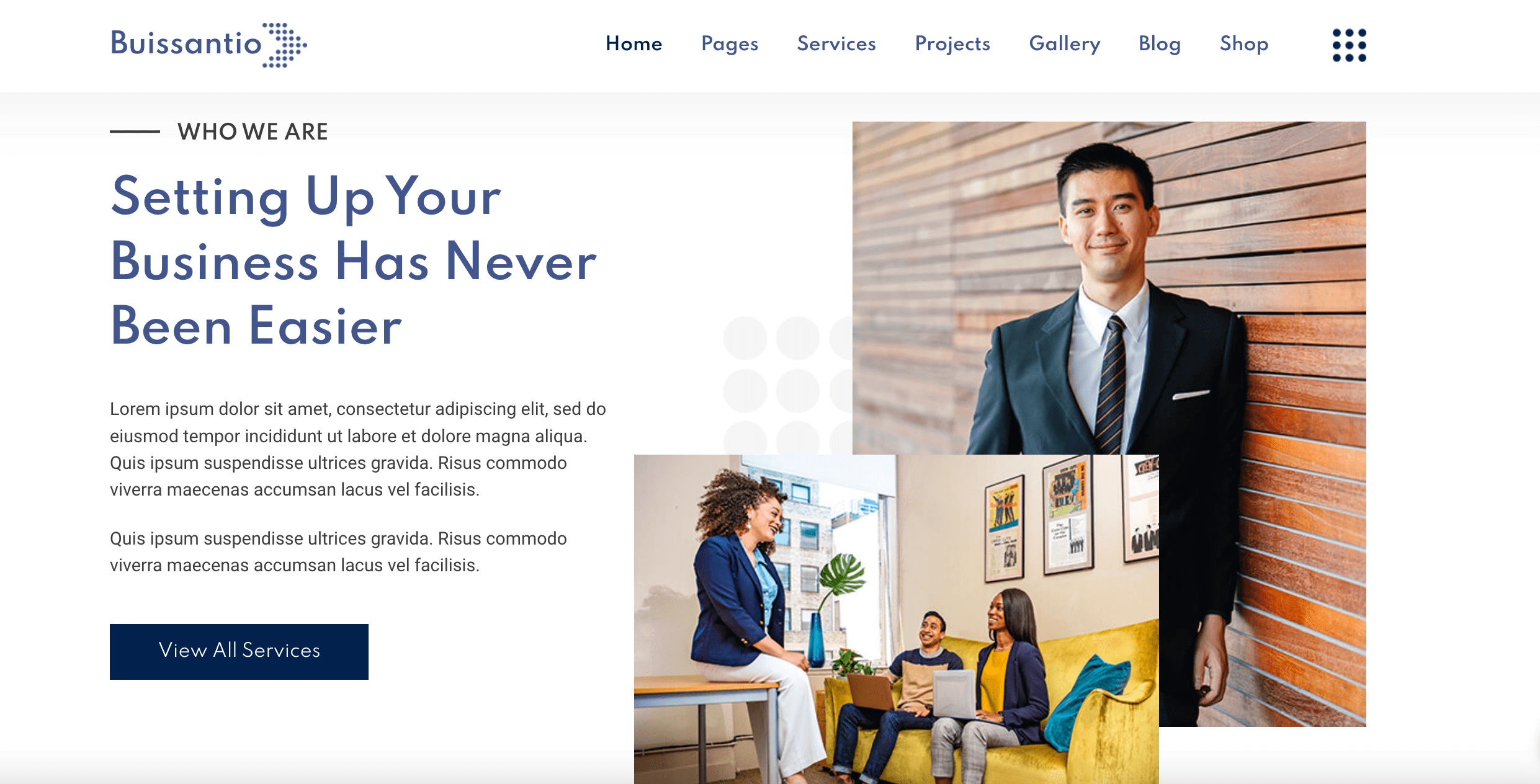 For advertising & digital agencies
Adverting — Advertising Company Responsive WordPress Theme
Built with a powerful drag-and-drop page builder, this SEO-friendly template comes with all the essential features you may need for your site. A pack of the best Cherry plugins comes included to help enhance the functionality of your site. 
This responsive theme comes with a clean and sleek design that corresponds with the latest web design trends. On top of that, it's Ecwid-ready, multilingual, and cross-browser compatible.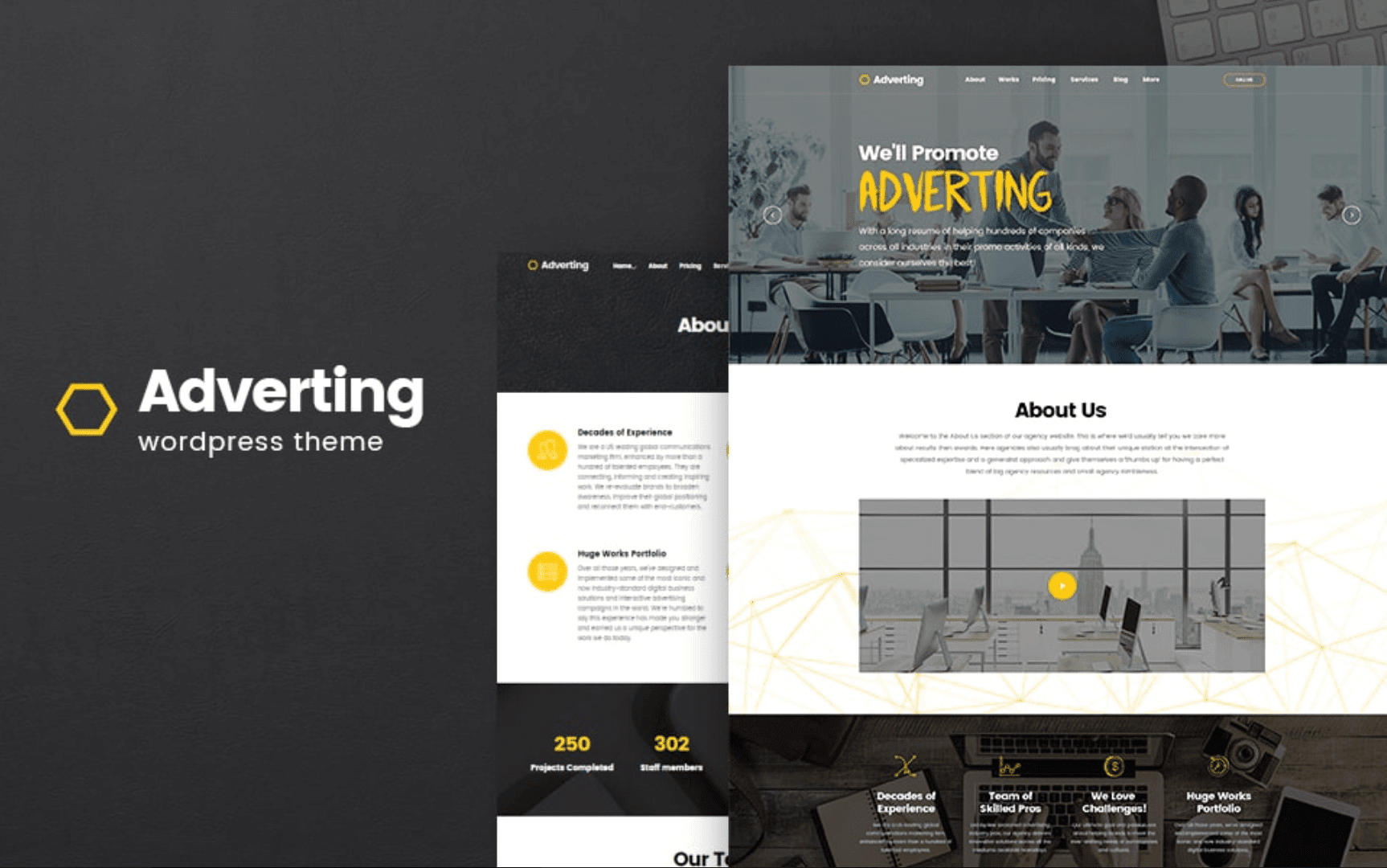 AdBreak — Advertising Agency WordPress Theme
AdBreak is an excellent option for those who wish to hook up their advertising website in minutes. Want to get more visitors flocking to your site? With AdBreak, it's as simple as that. Build new unique pages without touching a single line of code with the mighty Power builder. 
With a set of Cherry plugins, you are free to enhance the functionality of your site. Moreover, this 100% GPLv.3-licensed theme is Ecwid-ready, so your online store can go live in no time.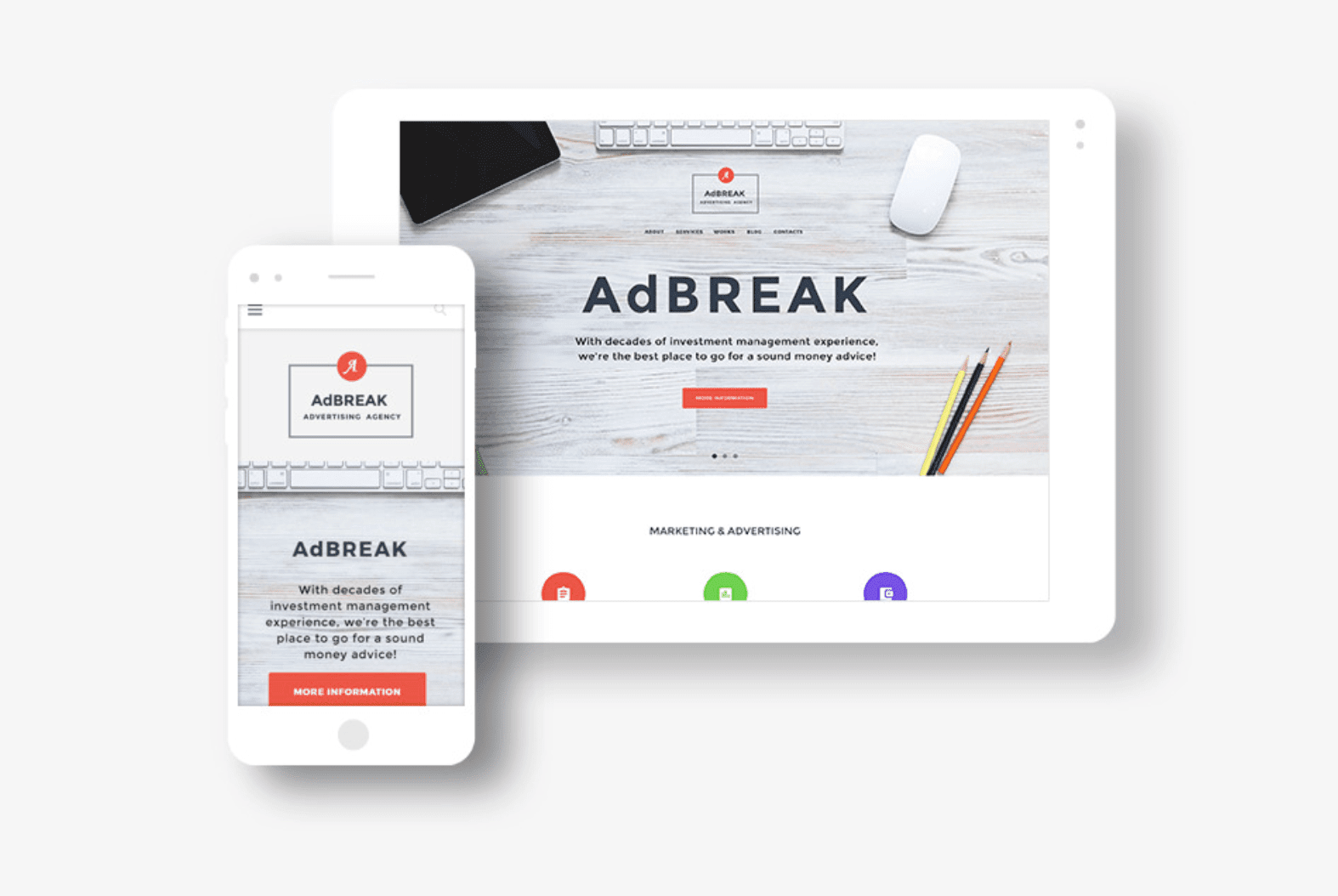 Digitalia — Digital Marketing Agency WordPress Theme
Created specifically for corporate and business websites, Digitalia ensures your website will grow with you. Without hacking into any coding, you can create new unique pages and layouts with the brand-new Elementor front-end page builder. 
Moreover, you get JetElements plugin, a set of 15 top images, and a collection of Cherry plugins to design a website with tons of bells and whistles. On top of that, it's 100% GPLv.3-licensed, so you can use it on multiple web projects you may need it to. Enjoy its clean and responsive layout on all last-generation devices.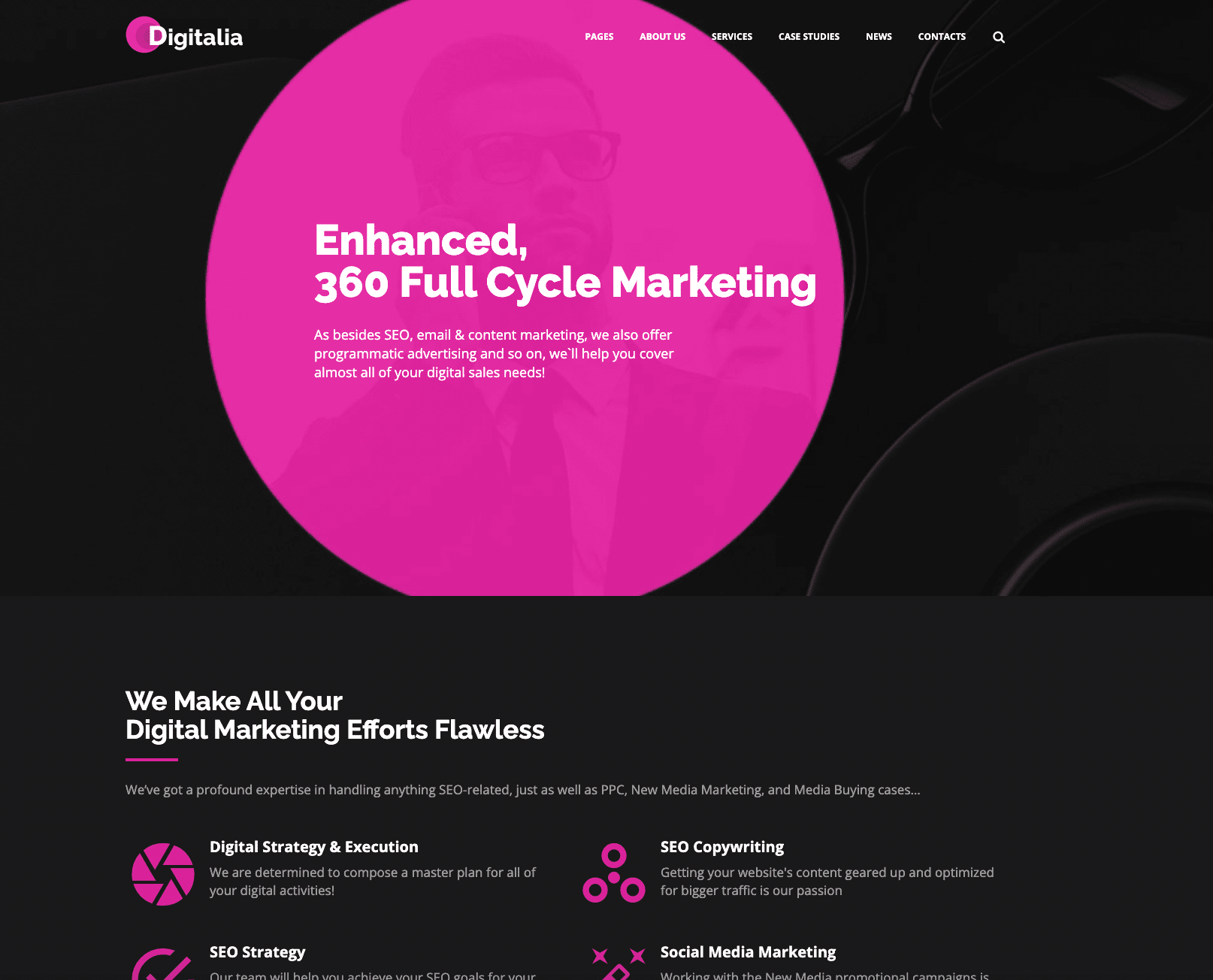 High Level — SMM Agency Business Joomla Template
Confused about the suitable theme for your SMM agency? Give this Joomla template a try. It comes with a clean and minimalist design, which looks great on all last-generation devices. 
Moreover, tons of advanced features can increase the capabilities of your site to compete in the emerging web market. Thus, this responsive theme features cross-browser compatibility, Gallery functionality, a contact form, user registration, and Google map integration.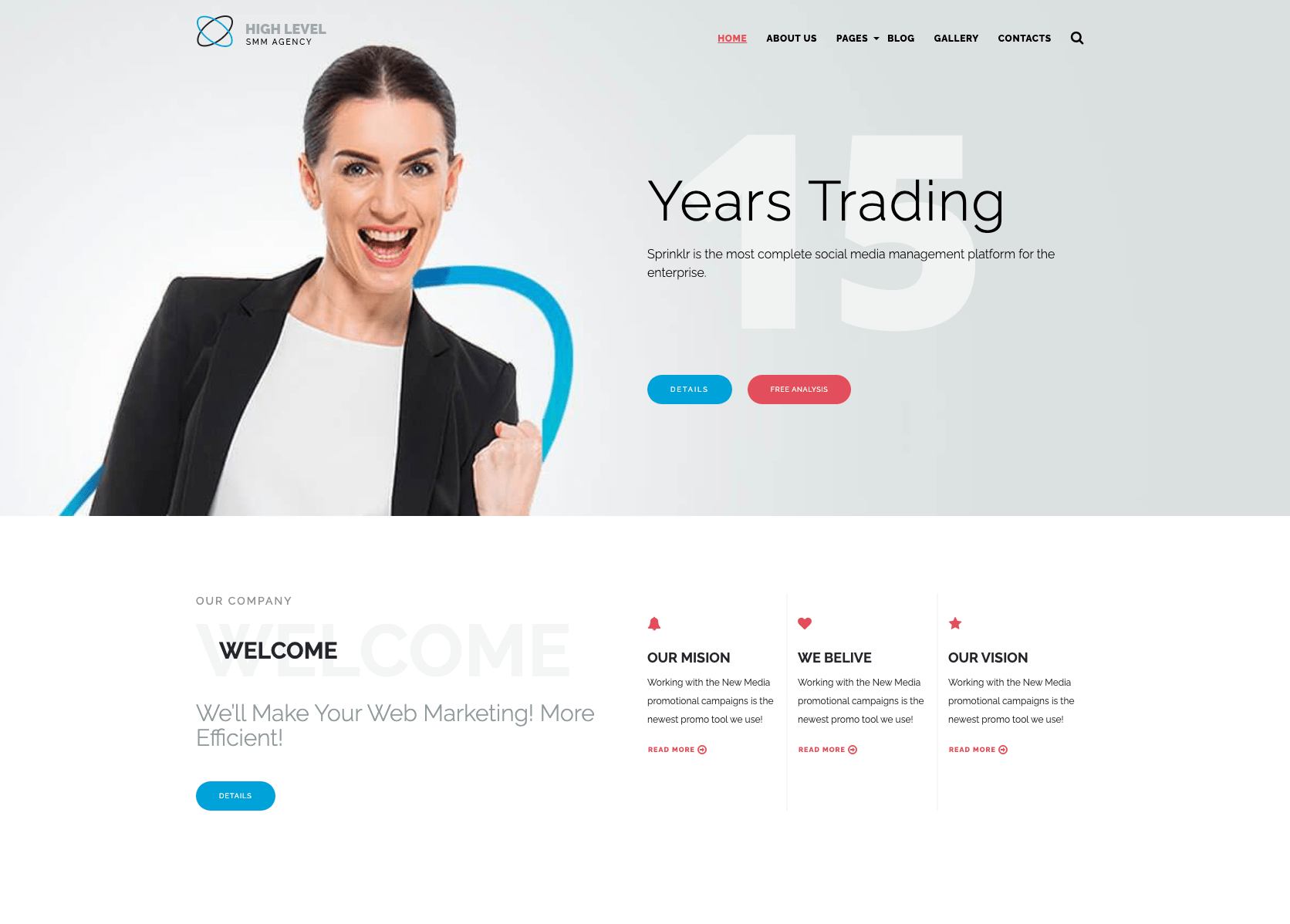 Swanxy — Advertising Agency WordPress Theme
Swanxy is an SEO-friendly theme that can help gain the attention you need. If there is a problem people in your industry face, make your website the one that solves it. Swanxy is the solution that comes with all the necessary features for establishing an emotional connection with the users. 
When in doubt, just remember the layout is easy to use and customized. You can make your website stay ahead of the game even with a skill gap. Use this GPLv.3-licensed theme for different kinds of business projects.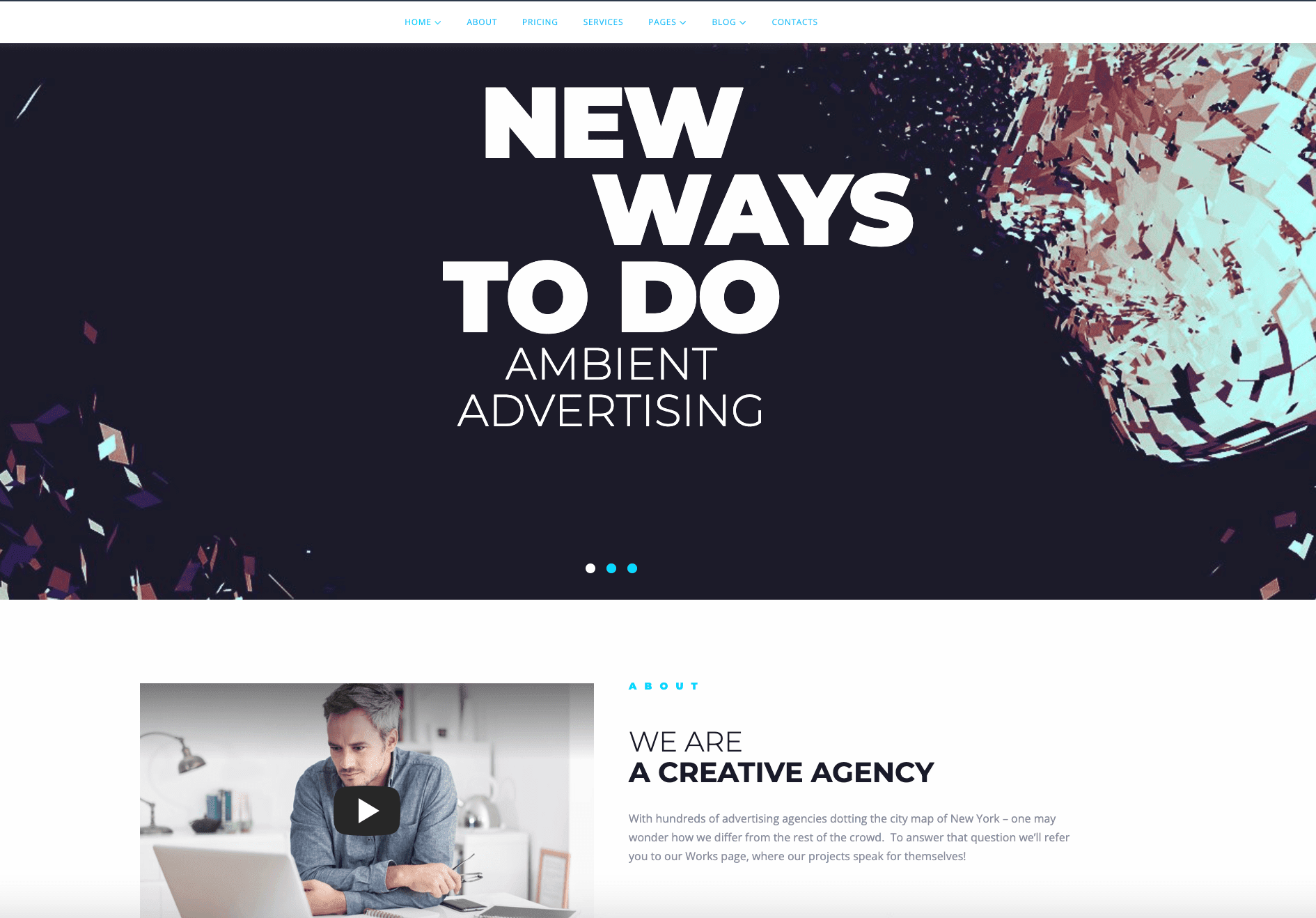 For home & building services
Moving Help — Moving Services Responsive Moto CMS 3 Template
This WordPress template fits well for moving and transportation companies. This multilingual template can help get you started with no prior coding or programming skills. It comes with video integration and a video player to showcase your products and services in the most welcoming way. 
Built with the Bootstrap framework, this responsive template ensures that every corner of your website will look perfect. Moreover, it includes a contact form, Google Analytics, Lazy Load effects, a clean, valid code, and friendly 24/7 support.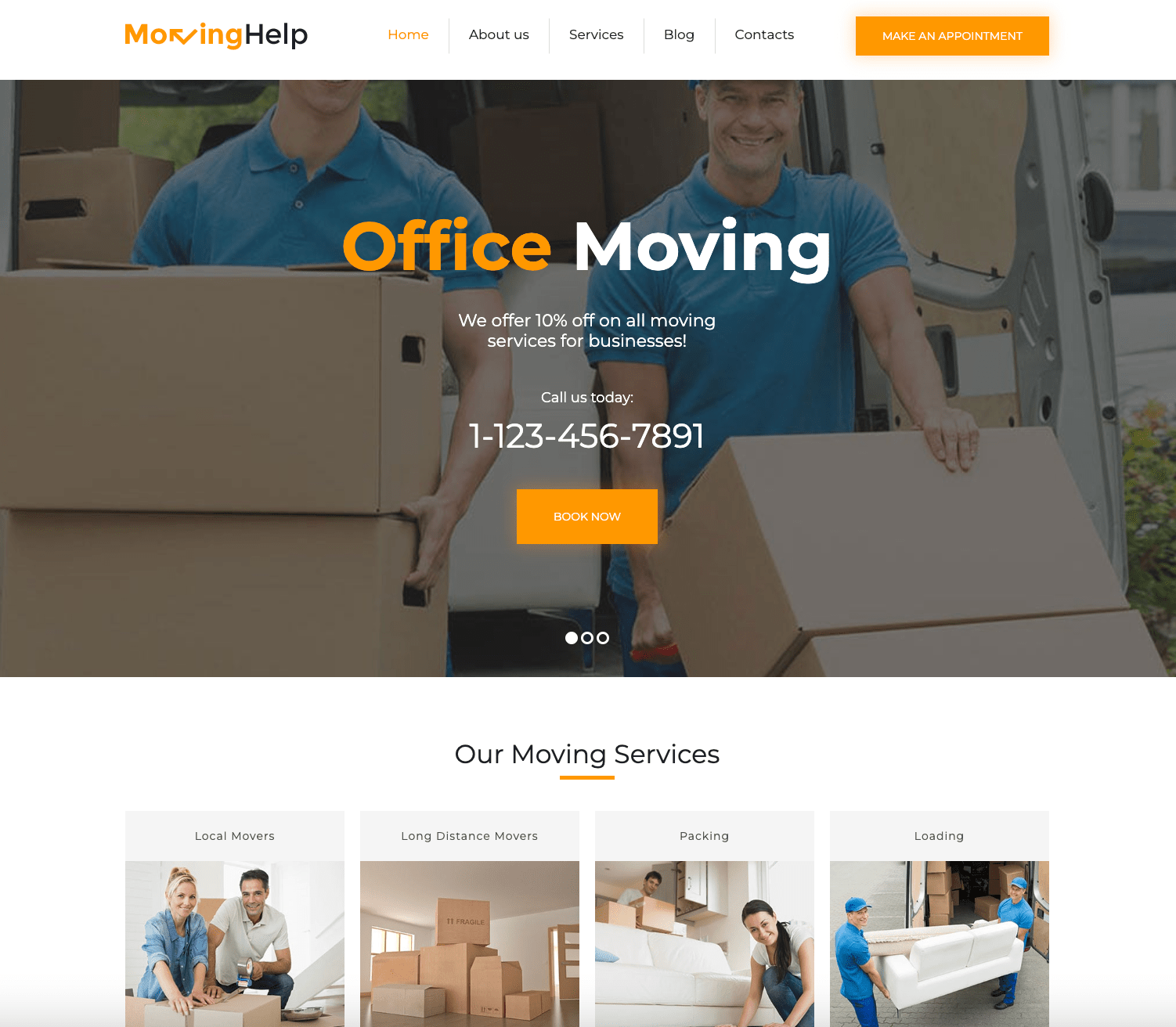 JohnnyGo — Multipurpose Home Maintenance WordPress Theme
With JohnnyGo, you can get the best option for all home services websites. This theme might very well be the best bet for your business. Thanks to a plethora of advanced features, you can enhance the functionality of your home services website. Thus, with JohnnyGo, you can arrange appointments, master your projects, introduce team members, showcase your services, and more. 
Save tons of time and money on buying high-quality professional images and custom plugins. Revolution Slider and JetElements packs come included. This WooCommerce-ready theme comes with TM Gallery, booking form, newsletter subscription, WP Live Customizer, and much more.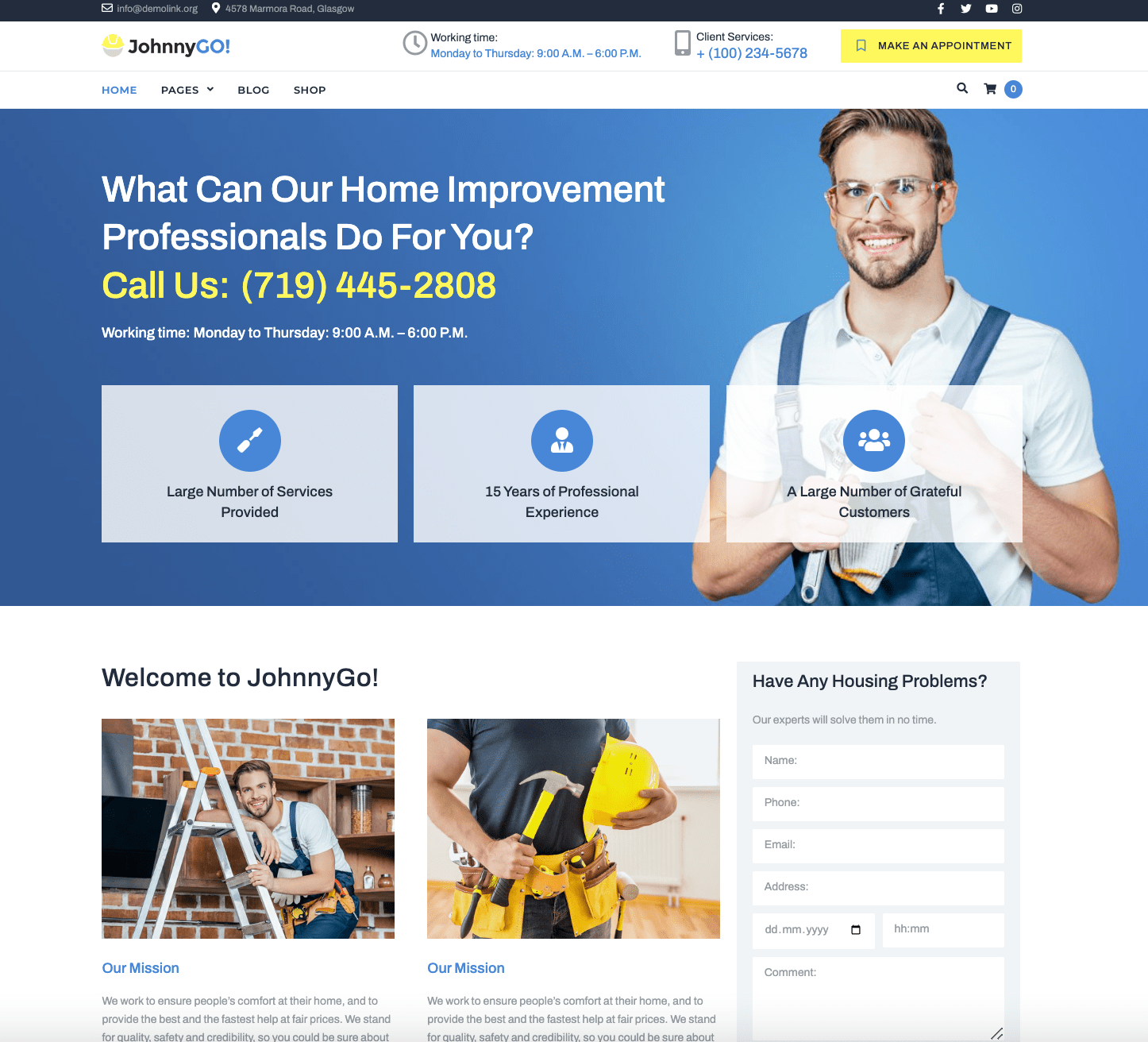 Stadter — Construction & Building Company WordPress Theme
Here's a professional WordPress template built in the stylish black-and-white design that can jumpstart your construction web project. Impress and draw in your visitors with the attention triggers such as Parallax scrolling and video slider. 
Thanks to Cherry plugins, you can increase the functionality and performance of your construction site. You'll be able to design a fast-loading, SEO-friendly site that stands out from the competition. The theme is 100%GPLv.3-licensed, so you can use it on multiple web projects you may need.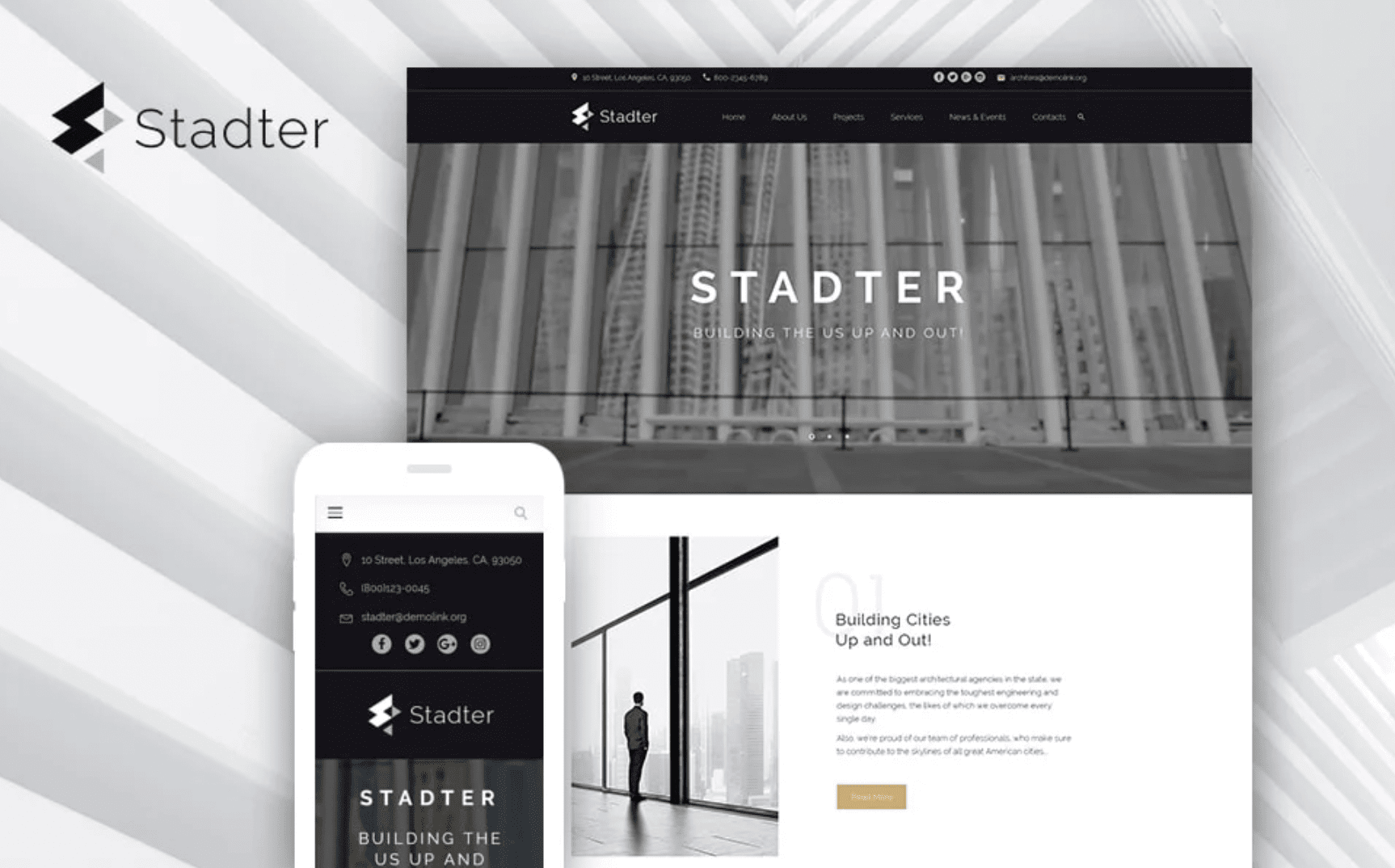 HomeRepair — Home Services MotoCMS 3 Landing Builder
With HomeRepair, you can build a modern website to drive sales and revenue. This SEO-friendly template can help you attract natural traffic, and consequently, paying customers. The theme is responsive, well-documented, video-integrated, and easy to install. Get completely tuned up with this greatly built MotoCMS 3 layout.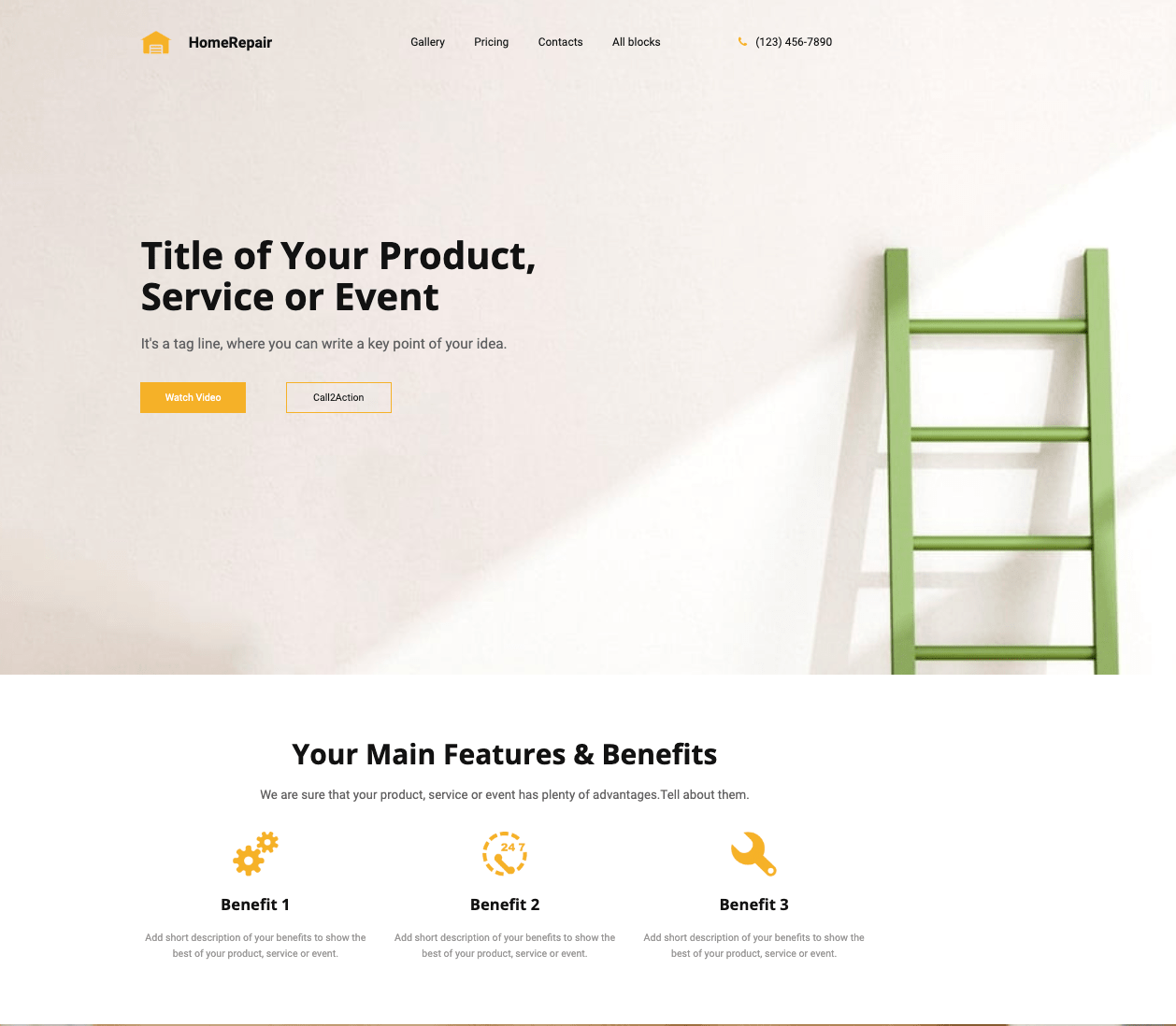 For agriculture & food companies
Organic Farm – Organic Food Responsive Website Template
This multipurpose website template comes with over 40 pre-designed pages for different web projects. Whether you wish to hook up an online store selling organic food or a recipe blog, any of these unique pages are ready to use out of the box. 
Choose between 5 blog layouts, multiple gallery types, and other design elements to match your particular business needs. In the mega footer, you can find the latest blog posts, Flickr and Twitter widgets, contact details, and follow icons. In addition, this template is responsive, cross-browser compatible, well animated, and greatly supported.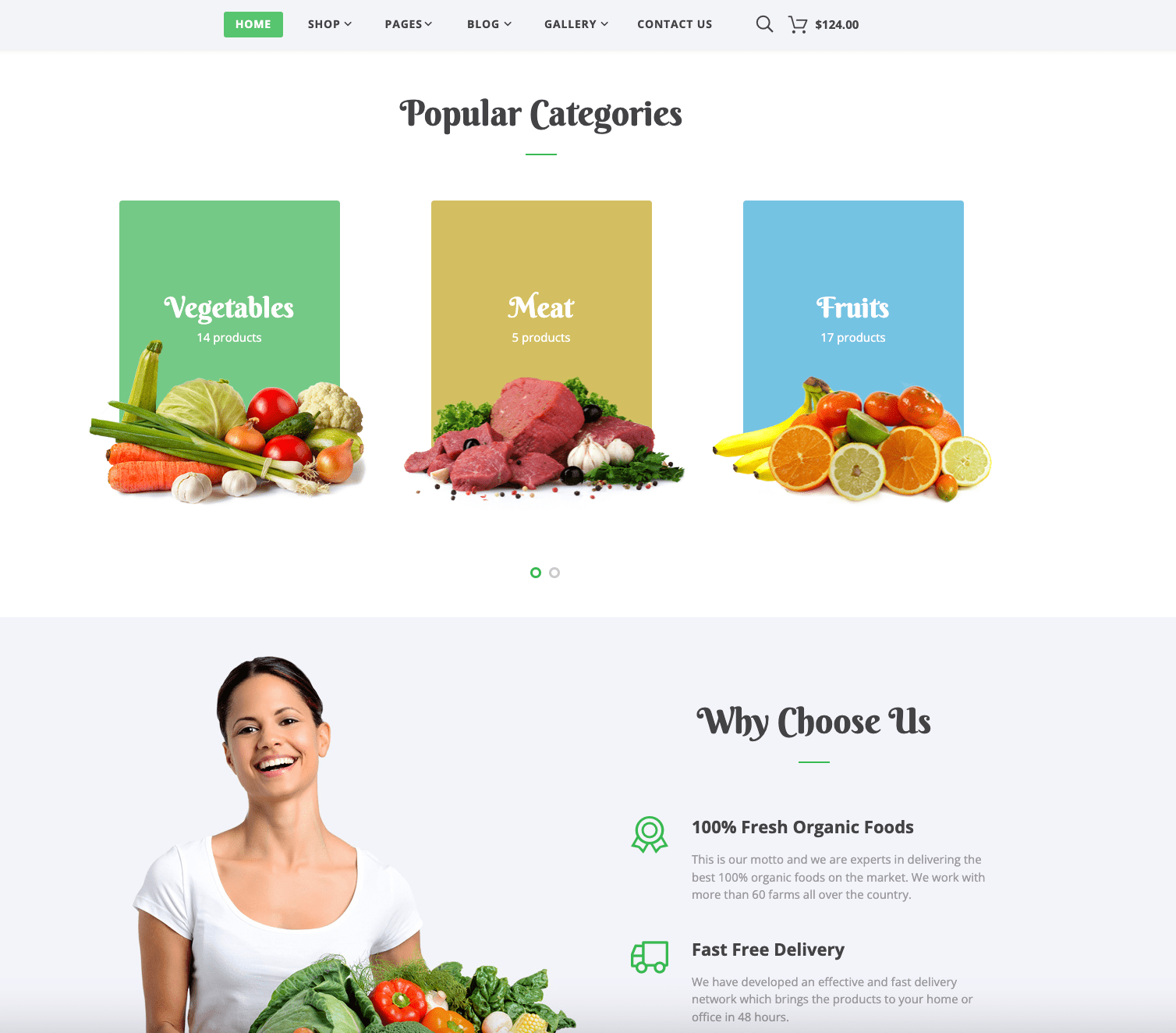 Latify — Farming and Agricultural Responsive WordPress Theme
You can represent your farming business in the most engaging way possible with the Latify theme. Designed with elegance and style, it gives you the ability to tell your unique story and lull the visitors into a sense of harmony and beauty. 
You can make your client feel appreciated and special with accordion, animated counters, blurb, and audio. Spice up your farming website with stunning galleries to win the battle for attention.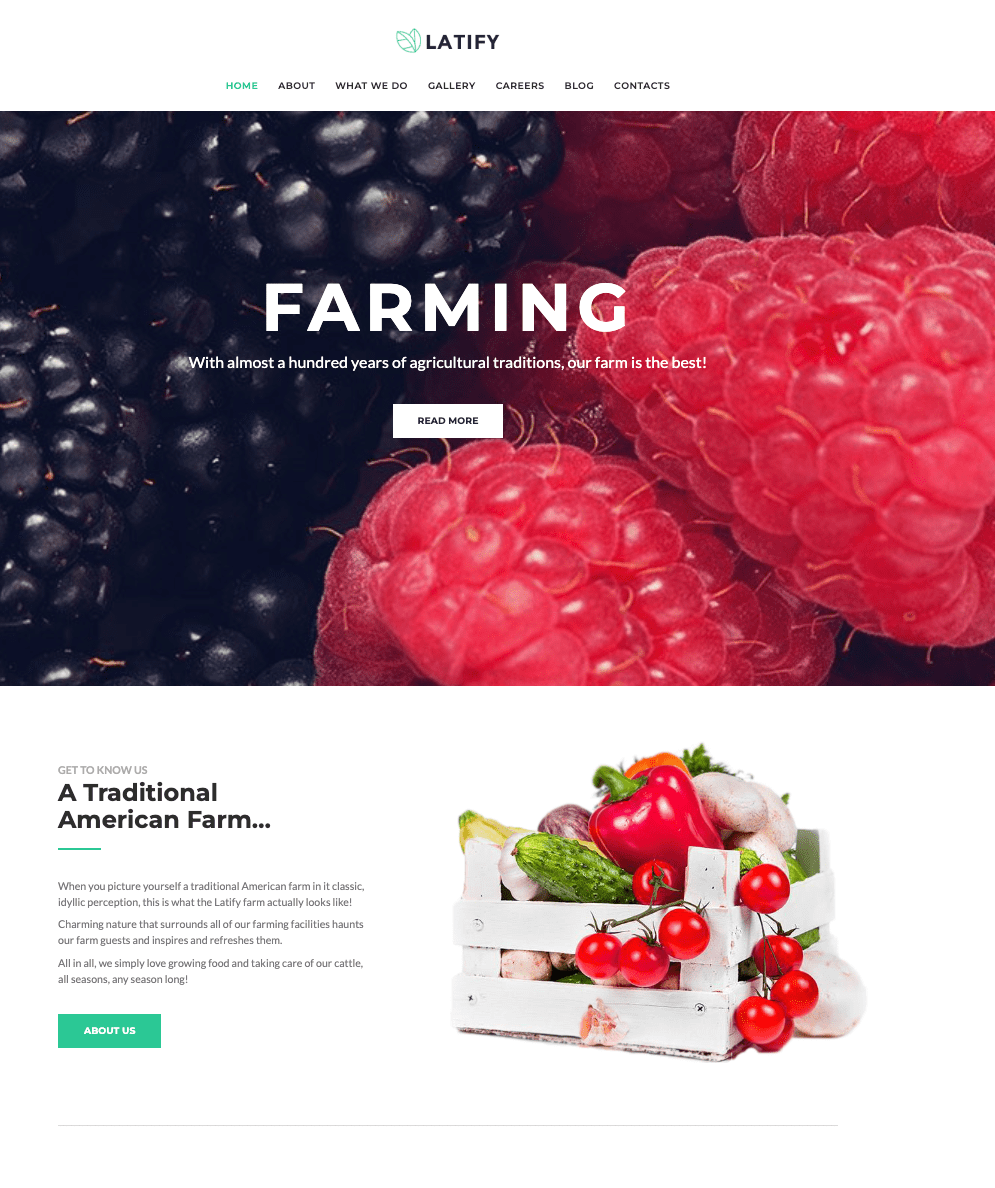 Rich Harvest — Organic Farm Responsive Multipurpose Website Template
Take a look at this friendly and modern website template intended for agriculture web projects. Its clean and eye-catchy design impresses and engages with your visitors, converting them into paying customers. With a collection of pre-designed pages, you can tell your brand's unique story in the best light. 
The responsive design of this theme ensures your site will look fantastic on all last-generation devices. Experiment and create a more personable experience for your visitors.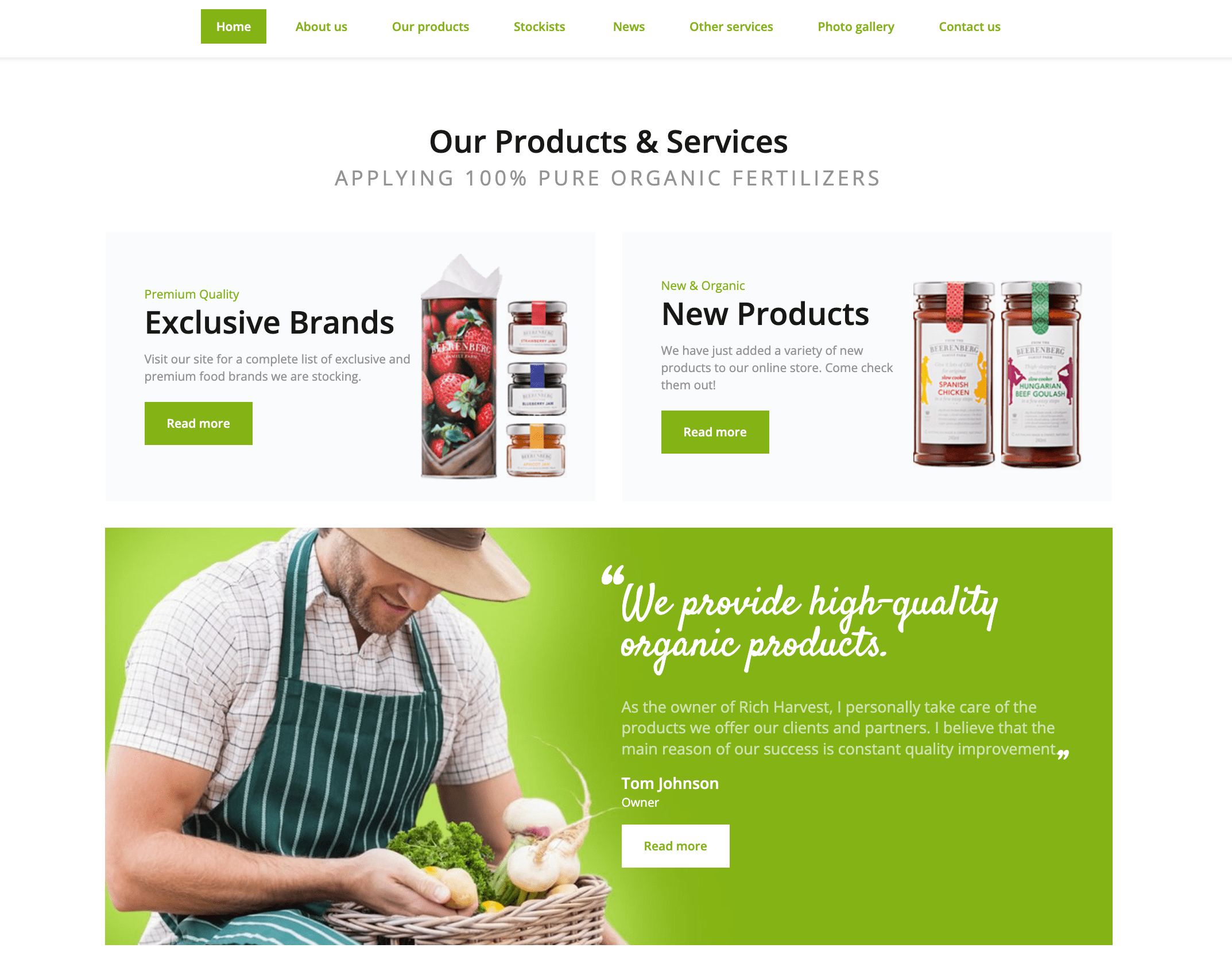 For hotel businesses
Modern Hotel — Hotels Responsive Multipage Website Template
It's an excellent and modern website template intended for hotel booking services. Besides, it's a part of Monstroid2 theme, meaning you get the best solution possible. Here is an appointment booking on the main page, and a large number of ready-made HTML pages that can provide clients with your hotel details. Moreover, you'll find here multiple blog layouts and various header & footer styles. All of these elements will help you to make the hotel website look unique and attractive.
With the Parallax effect and background video, you can draw in and engage your visitors and convert them into customers.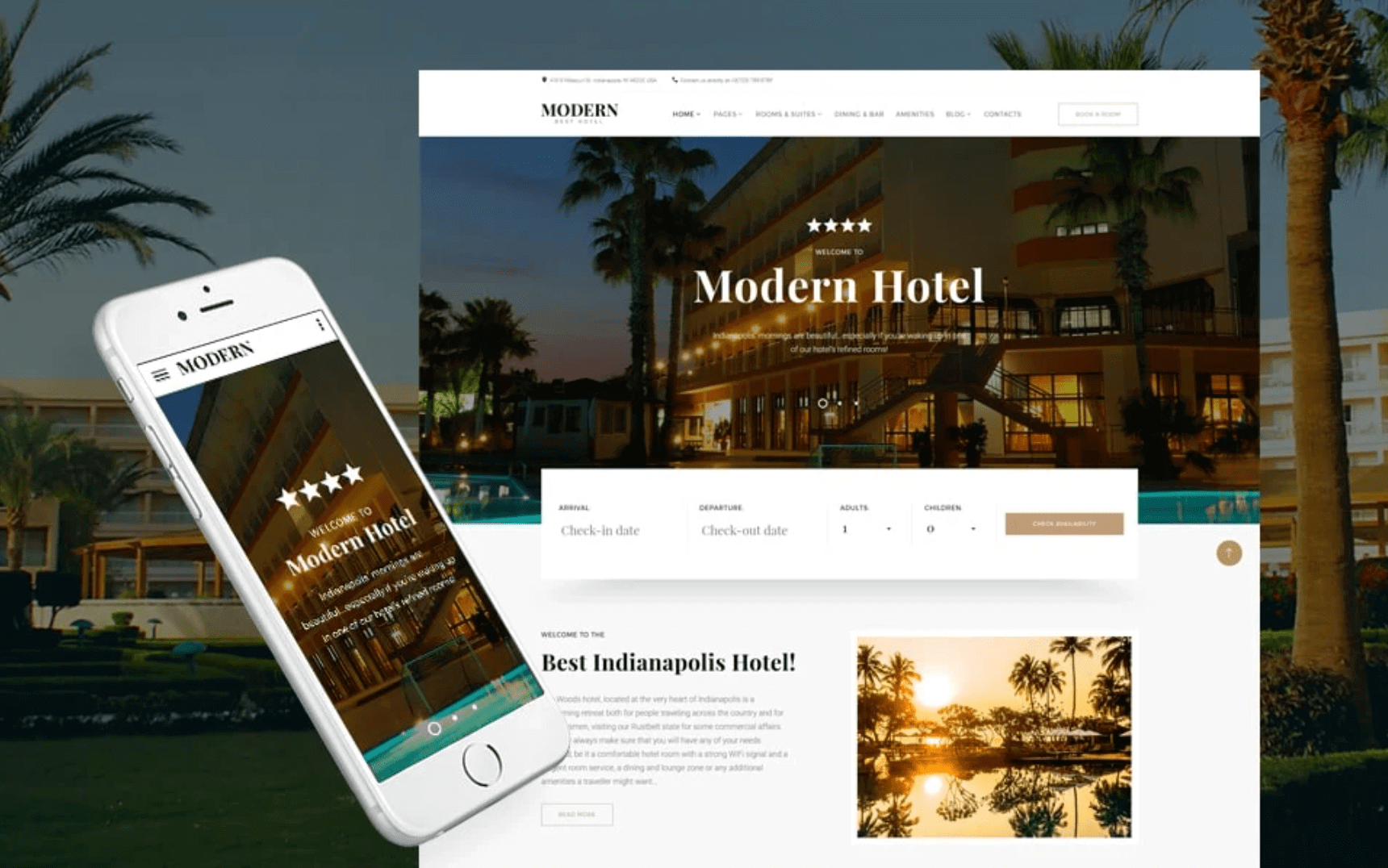 Sanohimi — Hotel & Booking WordPress Theme
You'll like this nice and clean WordPress template, suitable for hotel booking websites. This is a very flexible solution that can make your life easier from the start. Use multiple options, valuable features, and editing tools to represent your services in the best way possible. Its responsive design performs well on all modern devices and screen sizes. 
It comes with the Parallax effect, background video, TM Gallery, WP Live Customizer, MailChimp, and Ecwid integration.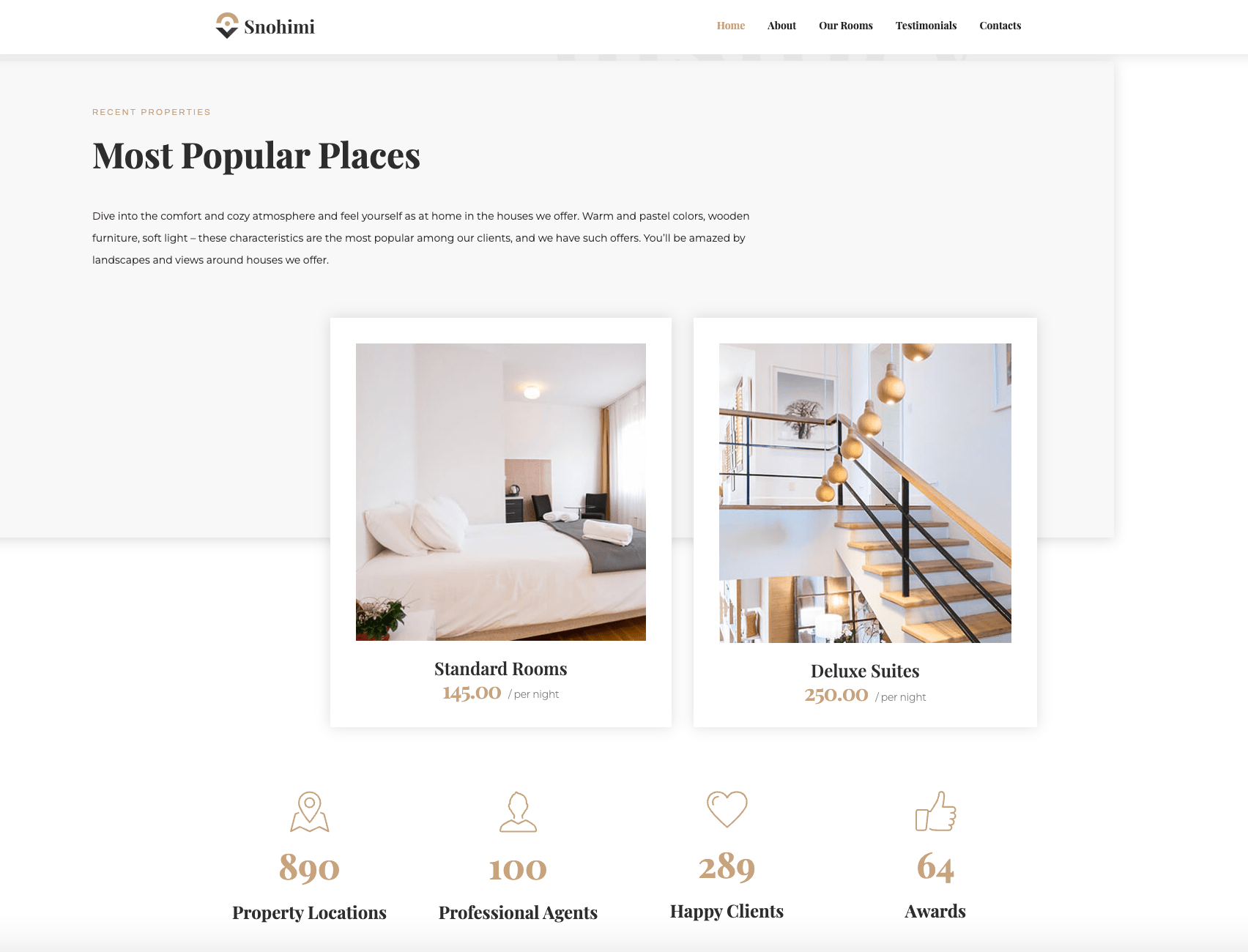 Alpen House — Vacation Rental Elementor WordPress Theme
Intended for hotel booking websites, Alpen House theme comes with a clean, modern,  responsive layout that performs perfectly on all devices. Showcase your facilities, provide the ability to check rooms online, invite the users to come and see what your offerings are. The theme is easy to use and customize, thanks to a plethora of options that come pre-packed.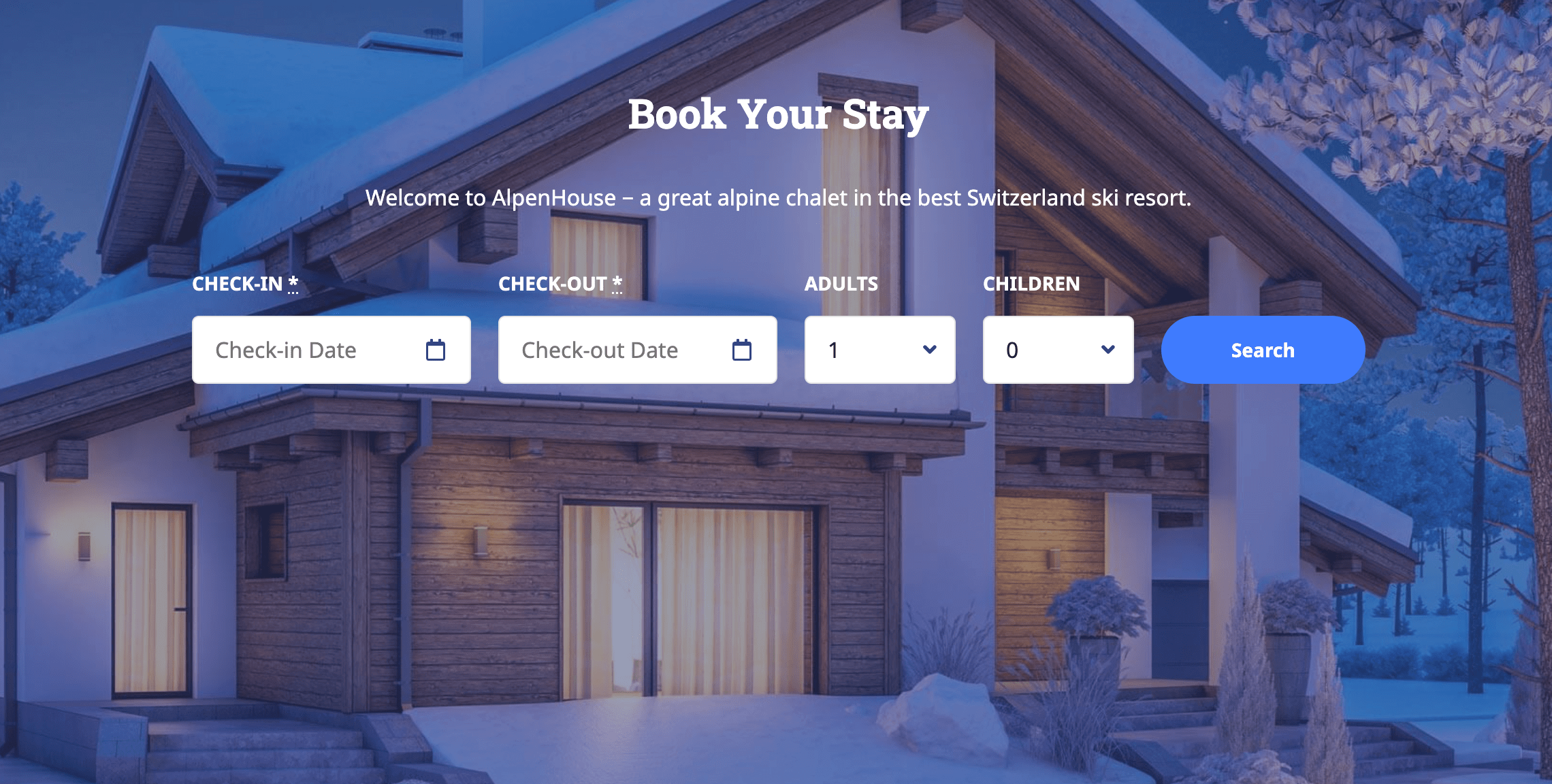 For solar companies
Helilar — Solar & Energy Saving Systems WordPress Theme
If you're passionate about your project, Helilar can help get you started. Build a modern and attractive presentation of your brand or company with minimal fuss. Give your visitors a sense of who you are and your offerings.
This website theme includes all essential features you may need to speed up the building process. Even with a skill gap, you can create new unique layouts, experiment, and tweak the overall look of your website in no time.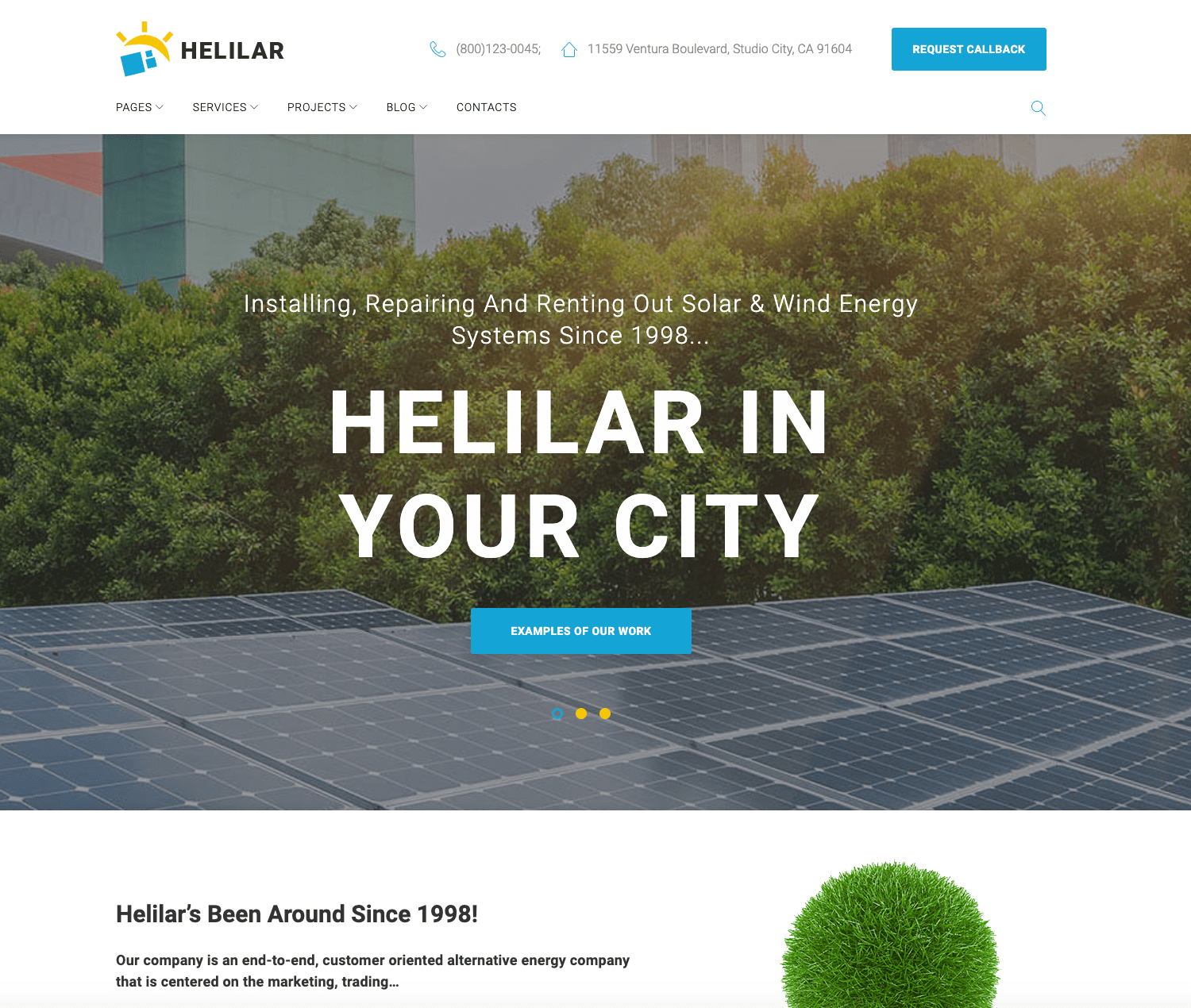 Apollo — Solar Energy Business Responsive WordPress Theme
Built with care, this WordPress theme can jumpstart your solar energy company. The template is 100% GPLv.3-licensed, so feel free to use it on multiple web projects you might want. What's more: the theme is responsive, WPML and Ecwid-ready, cross-browser compatible, and well-documented.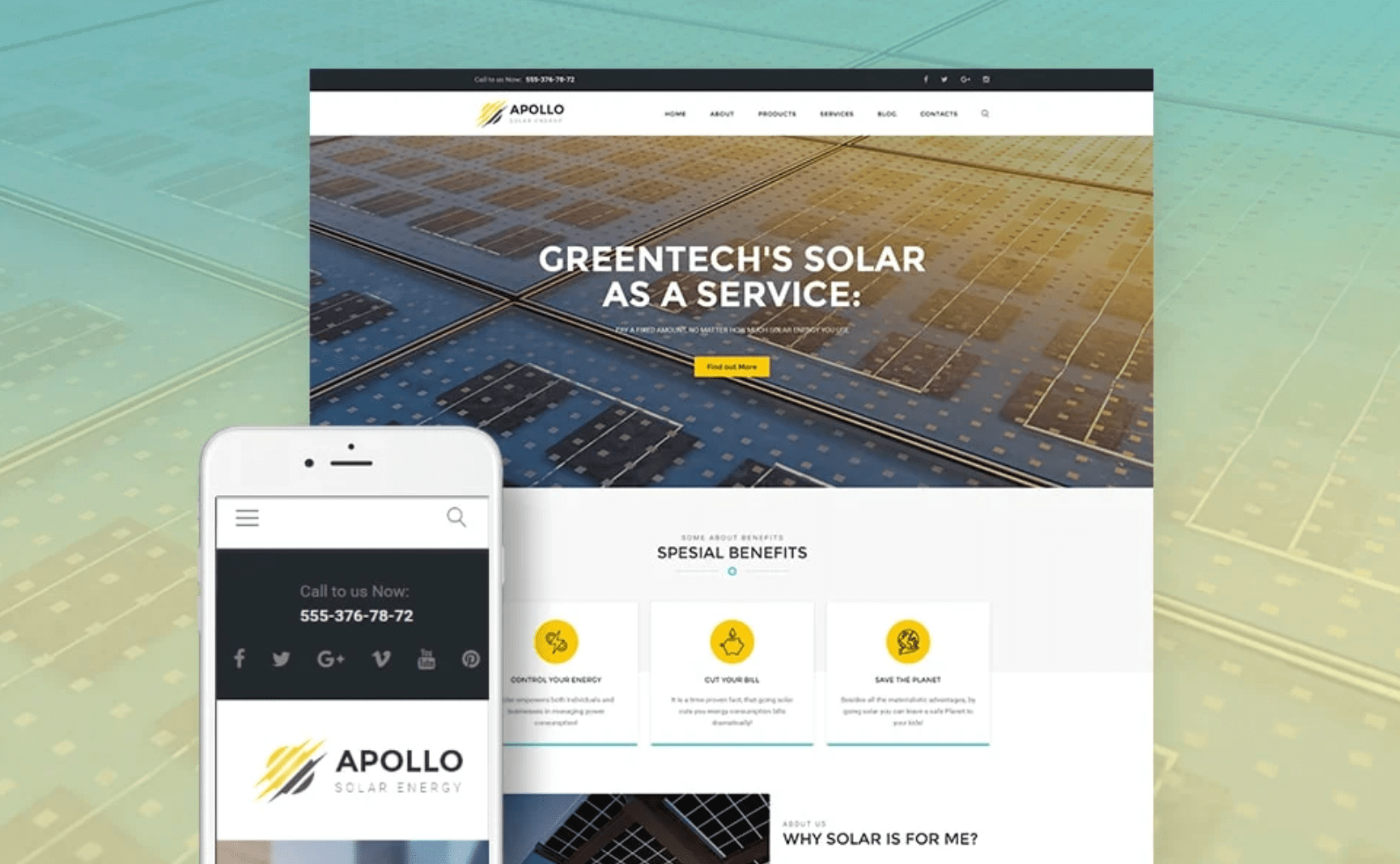 For news websites and blogs
Eranews — News and Magazine Joomla Template
Do you want to create a news portal, newspaper, magazine, or blog website? Then you need to find the best SEO-friendly theme for bloggers. And Eranews Template could be your answer. It was created for all types of publishing or review sites: news agencies, magazine websites, personal blogs, etc. You can choose one of 9 homepage layouts: it has many accent color schemes, dark and light, as well as boxed and wide versions. 
Eranews is based on Bootstrap 3 and comes with a powerful and well-known T3 Framework that gives the theme high flexibility, e.g. you can change the skin quickly, define your style, typeface, etc. To see compatibility with Joomla versions and more detailed info about this template, click the Details button.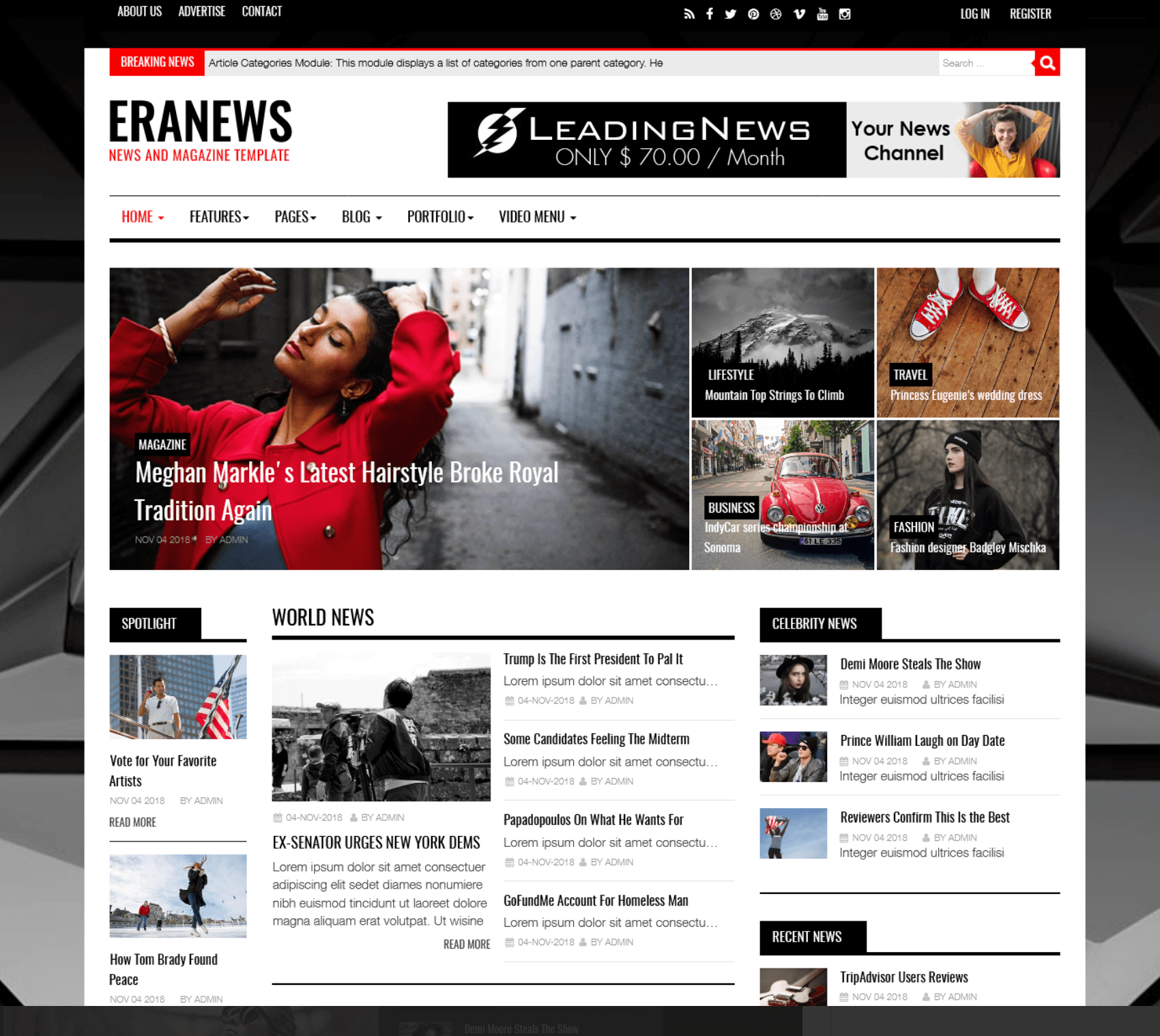 News Portal — Responsive Joomla Template
Another template created for a news website or blog is News Portal. The great list of features will help you customize a website without any coding skills. It's based on Bootstrap front-end framework, allowing you to change styles and add necessary blocks to your website easily. 
Pages of the template have a very thoughtful design: the user can glance through many news posts or articles and go to the category of their interest. There are all the necessary categories: News, Weather, Popular, etc. You'll also find some user-friendly features for the blog (e.g. views, comments, topics).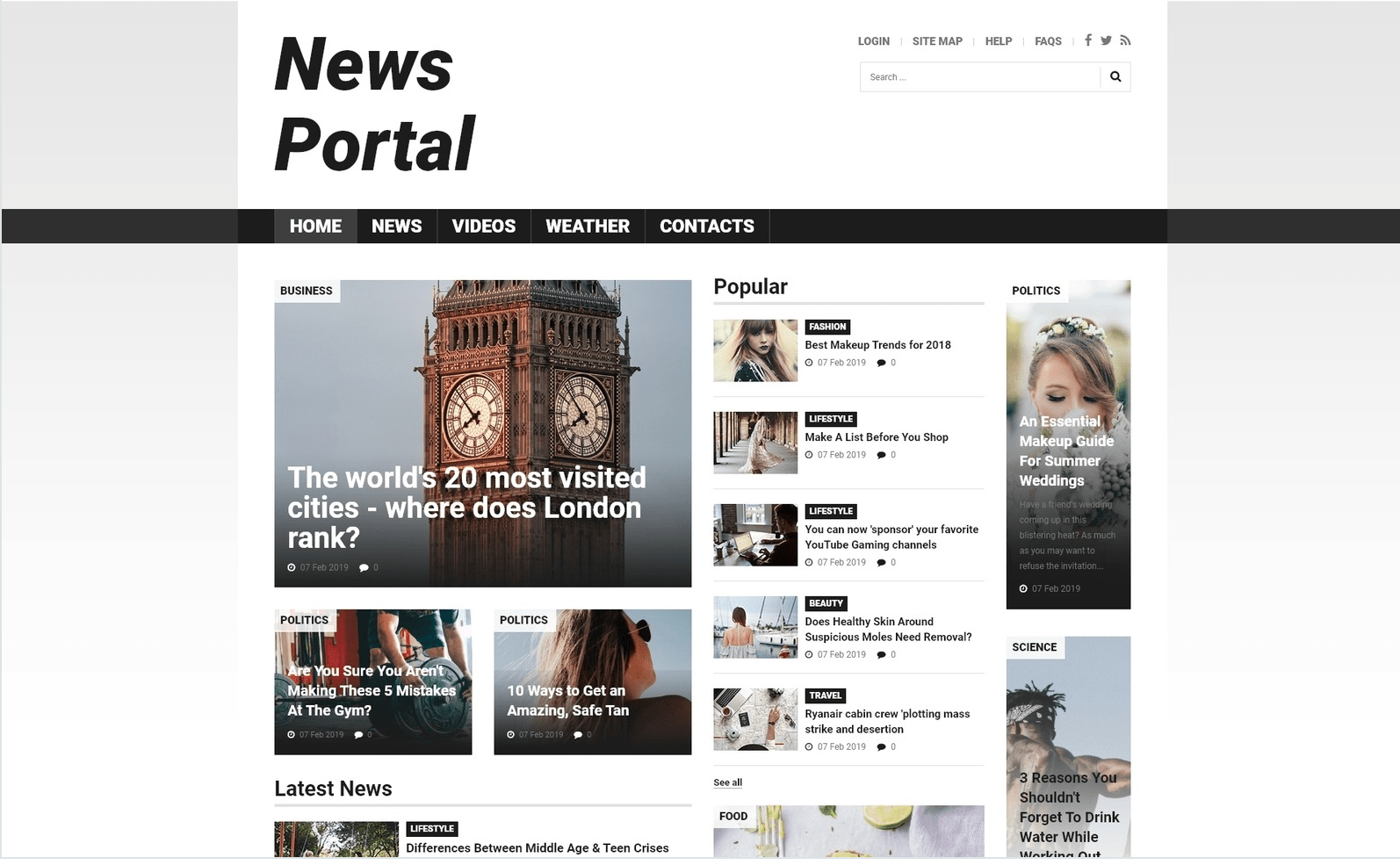 Multipurpose
Grand Vector — Web Design Studio Multipurpose Website Template
Take a look at this creative multipurpose website template with attention. It includes several pre-designed pages for different web purposes, multiple header and footer styles, and a rich UI kit. 
Built with the Bootstrap framework, this theme ensures your website adjusts smoothly to all modern devices and screen sizes. Make your site's user experience more engaging with the Parallax effect. Experiment, do everything in your power to create a professional website with minimal fuss.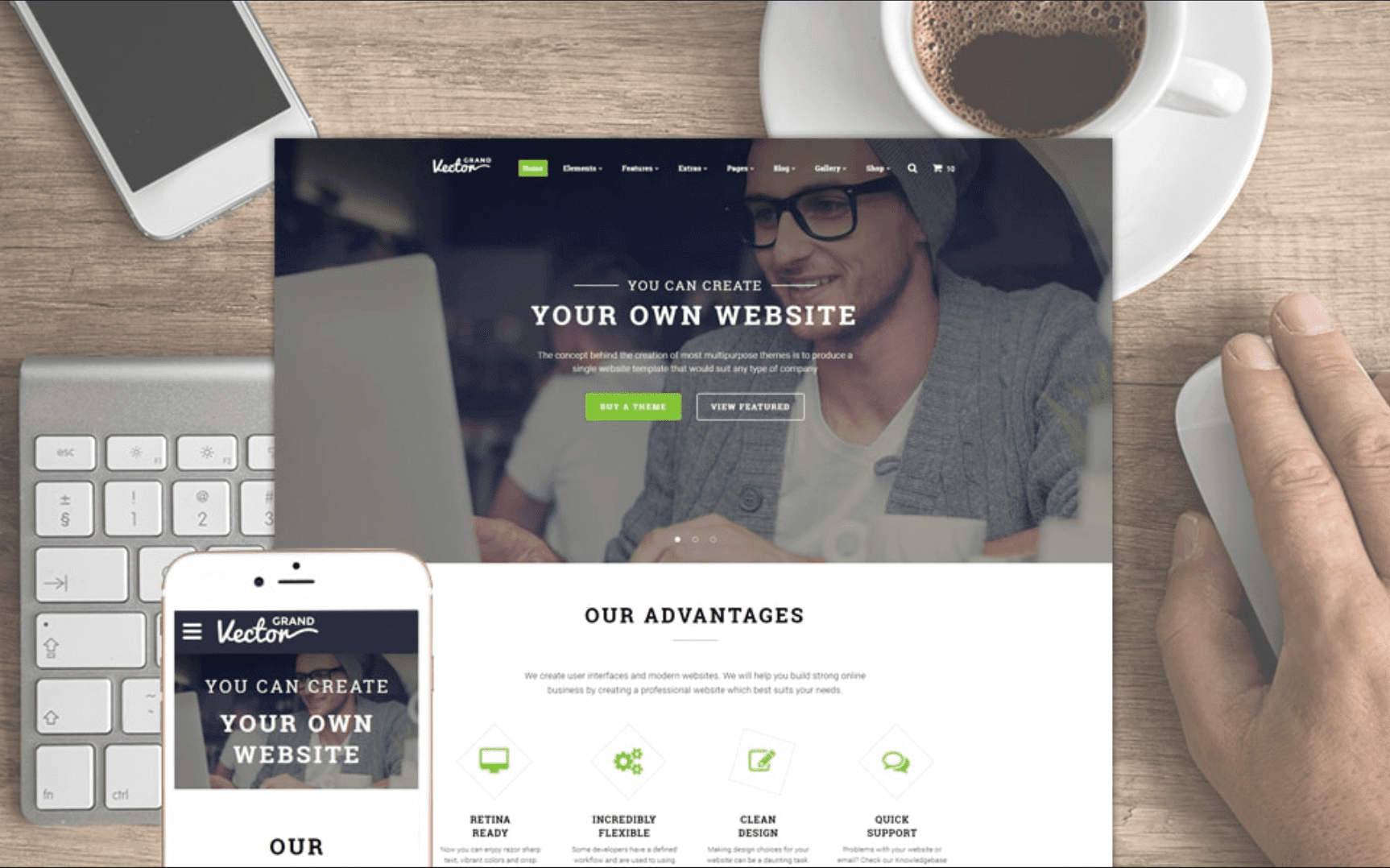 Monstroid2 — Multipurpose Business WordPress Theme
Monstroid2 is a true winner of the game. This SEO-friendly WordPress theme suits well for all real-life projects. It comes with a clean, nice, and fully responsive layout that adjusts perfectly to different digital devices. Its flexible design fits well for corporate, hotel, and restaurant websites, creative projects, bloggers, and shop owners. You'll be able to install, manage, and update your website in just a few clicks.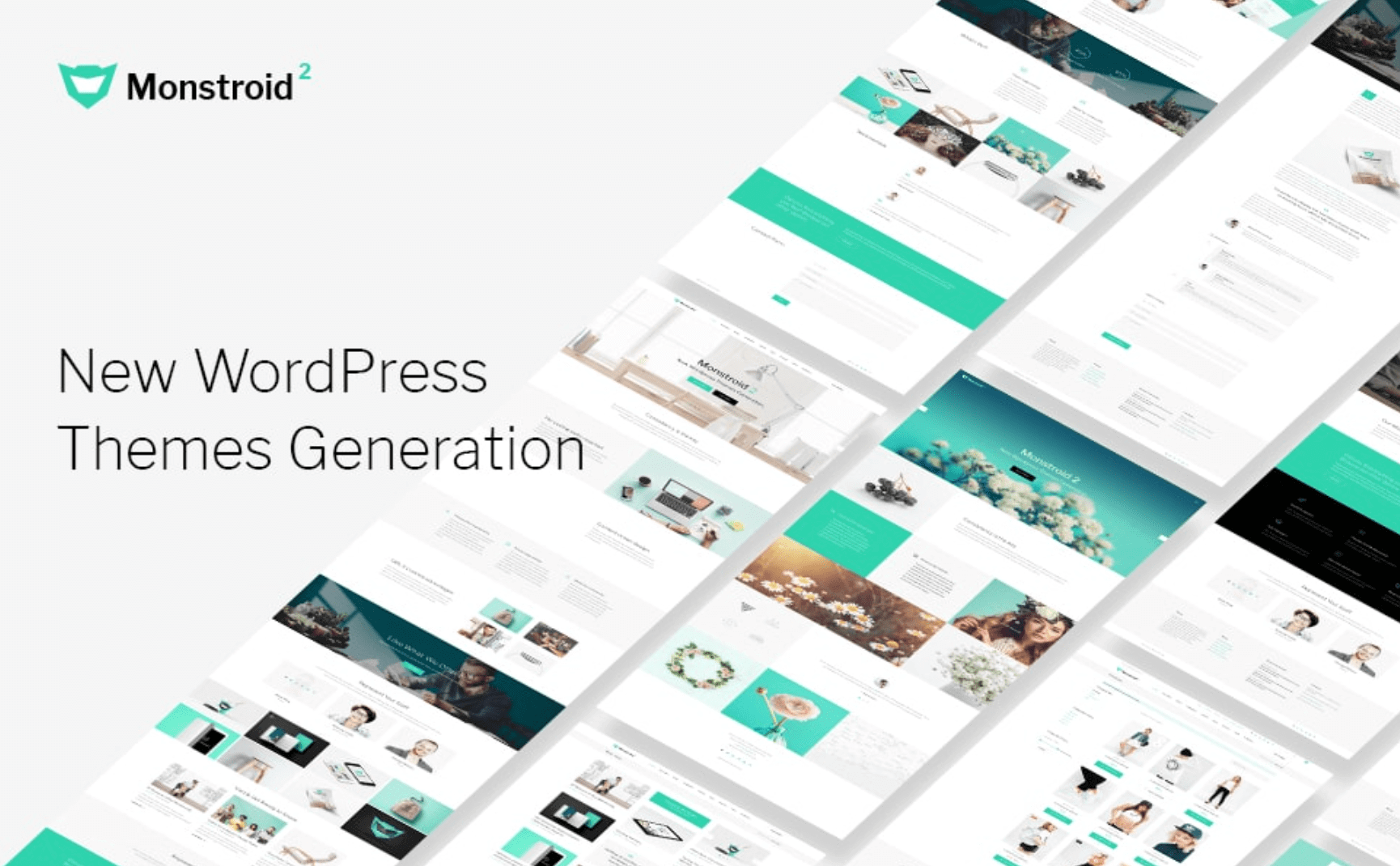 Skyline — Business Multipurpose Moto CMS 3 Template
This theme can fit for launching a web project for any purpose. It comes with 20 unique pre-designed pages and four main layouts for your home page. Thus, you can set a Skyline Black, Dental, House Construction, and Travel design. With the help of a powerful admin panel and MotoCMS block editor, you can customize the overall look of your site even with a skill gap. Moreover, this template includes Google Analytics to track all the essential data, multi-language support, optimized source code, and more.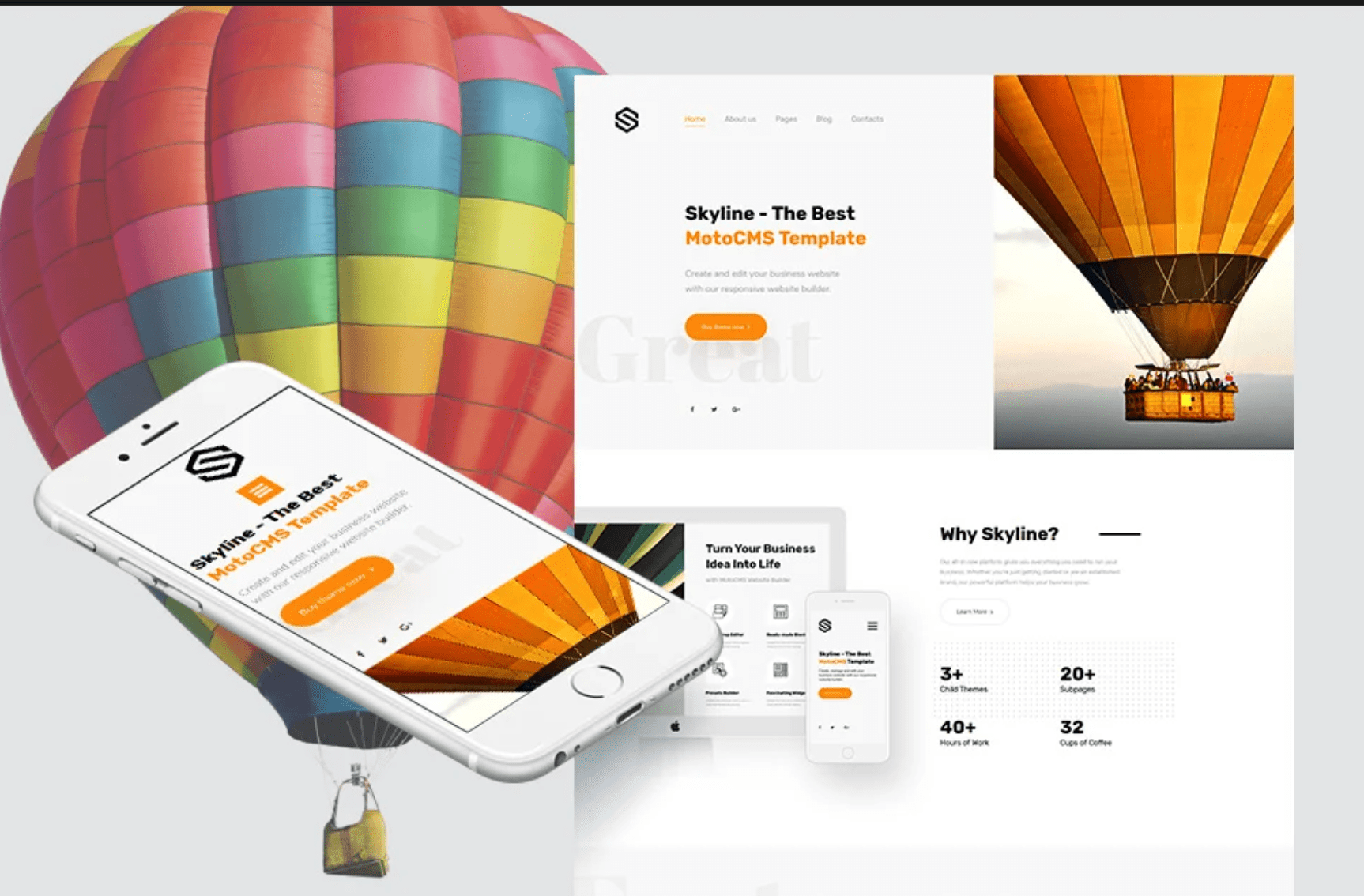 Conclusion
If chosen properly, a website template will help your brand land in the top spots on search engines. It's one of the vital steps you should do at the offset of your website promotion. So, take enough time to make the right choice. After all, further website optimization depends on it. Keep in mind that search engines love the ease of navigation and user-friendly design.
Among other CMS, our post contains SEO-friendly WordPress and Joomla themes, and we hope we've helped you decide on the ideal option that will be suitable for your website.