So you want to create a new blog? Or at the very least, give your current one a makeover? Working with WordPress makes it super easy to find a theme to launch a competent-looking site quickly.
However, it's a bit harder to find blogging WordPress themes that have all the features you want. Or themes that fit within your budget. And it can also be difficult to find a theme that offers aesthetics that fit your brand or actually stand out from the competition.
That's why we've set aside the time today to put in the research and source over 30 different WordPress themes for blogs. And the collection is designed to suit every style, business type, and budget.
But before we dive into the full list, let's first discuss a few factors up front, including what to look for in a high-quality theme as well as what sort of pricing to expect.
How To Pick the Best WordPress Themes for Blogs
It's a good idea to keep the following factors in mind as you take a look at the WordPress themes we've compiled here:
Pricing. If a theme's price is out of your budget, it's obviously not going to be an option. Be clear about how much you can afford to spend on a theme before you even start looking. This can help prevent some disappointment, too.
Quality. You should always be on the lookout for themes that are well-reviewed and bear all the marketing of a high-quality product. That is, look for themes that offer thorough documentation, clean code, speed optimization, and that are SEO-friendly.
Simplicity. If you want to use WordPress for blogging primarily, you're not going to need a million bells and whistles for that. A simple theme with straightforward features is most often best.
Compatibility. You'll definitely want to choose a theme that's compatible with the newest version of WordPress. And if you want to use Gutenberg, make sure it's a theme that makes use of blocks efficiently.
Bundled Features. If you are in the market for additional features, look for a theme that provides plugins bundled with it, or includes the features you're looking for in the theme options panel. A few examples include things like contact forms, call-to-action-buttons, sliders, galleries, and page builders.
So you want to create a new blog? 👩‍💻 The quest for the perfect theme starts here ⬇️Click to Tweet
Should You Pay for a WordPress Theme?
There are thousands of WordPress themes available for bloggers of all types. So when should you actually shell out cash for a theme? And when are you better off sticking with a free option? Let's briefly break down the difference.
Free themes cost nothing, but also come with no promise for quality or continual updates. However, they can be a good choice for those who simply want to build a blog and have no business or monetization goals tied to the endeavor.
Premium themes are more likely to guarantee support, quality, and ongoing updates since you're paying for it. However, this option is best reserved for those with money to spend or the budget for it.
It's also important to factor in hosting to your budget. You're definitely going to want to invest in a high-quality hosting option like Kinsta, which provides speed-optimized hosting for a reasonable price. We also offer free migration if your website is currently hosted elsewhere – or walk you through the do-it-yourself approach – and full 24//7/365 support whenever you need it.
If you expect your website to receive a decent amount of traffic, it's a good idea to invest in a CDN as well. Using a content delivery network means your website loads faster for site visitors, and can greatly improve the user experience. This is a must if you want to keep people coming back to your blog time and time again.
Coupled with this, managed WordPress hosting is typically the best choice for those lacking the time or skill set to perform website maintenance themselves. A managed host means your high-traffic blog will be performance-optimized and consistently updated, backed up, and supported.
31 Best WordPress Themes for Blogs in 2022
And now we've arrived at the part you're here for. This is our selection of the 31 best WordPress themes for blogs currently available in 2022. We've broken up the list into two categories: free and premium to make it easier for you to browse through your options. Certainly, at least one of these will meet your needs.
Free Blogging WordPress Themes
Here are 18 free blogging WordPress themes worth looking at.
1. Morning Time Lite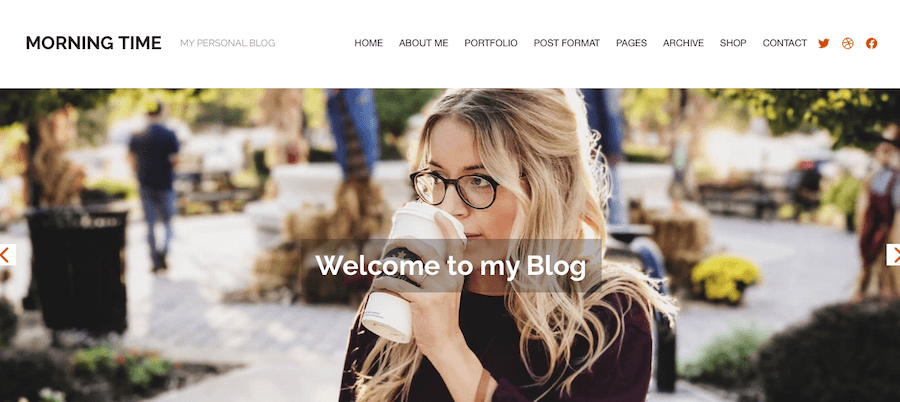 First on our list is the MorningTime Lite theme, which offers a simple and modern design that's intended for personal bloggers. It makes it super easy to create a blog that looks great, performs well, and doesn't overload you with the details.
If you want to build a website that you can use to document your daily life, share information about a hobby, or provide a simple news feed, this theme would make an excellent choice.
Notable Features
Supports gallery posts
3 menu location options
Clean code
Minimal design
2. Garfunkel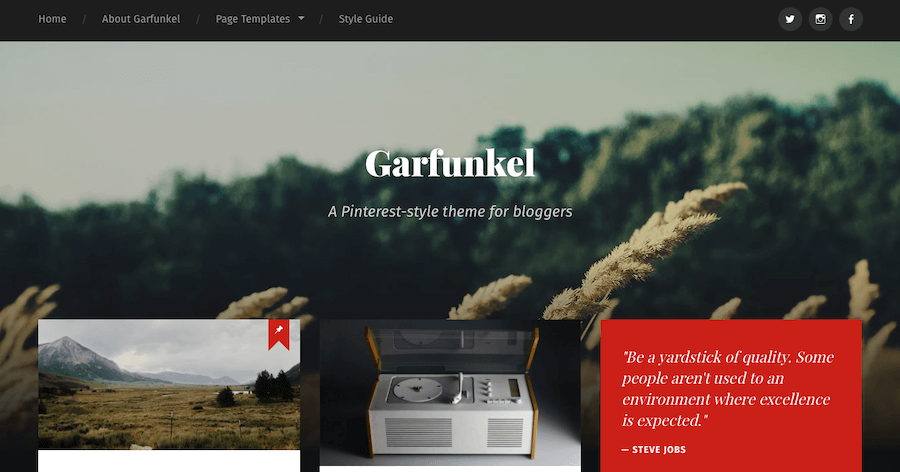 The next of the best WordPress themes for blogs is Garfunkel, which offers a stylish and visually-oriented design that's certain to serve those who use photographs, illustrations, or other visual elements prominently in their blogging endeavors. This theme is responsive and has a Pinterest style that immediately engages site visitors.
We could easily see this theme being used for a photography blog, travel blog, or fashion blog. It might even work well as a food blog if you were to add a recipe plugin into the mix.
Notable Features 
Masonry layout
6 post formats
Block editor support
A variety of widgets
Full-width page template
Support for Infinite Scroll
3. Hestia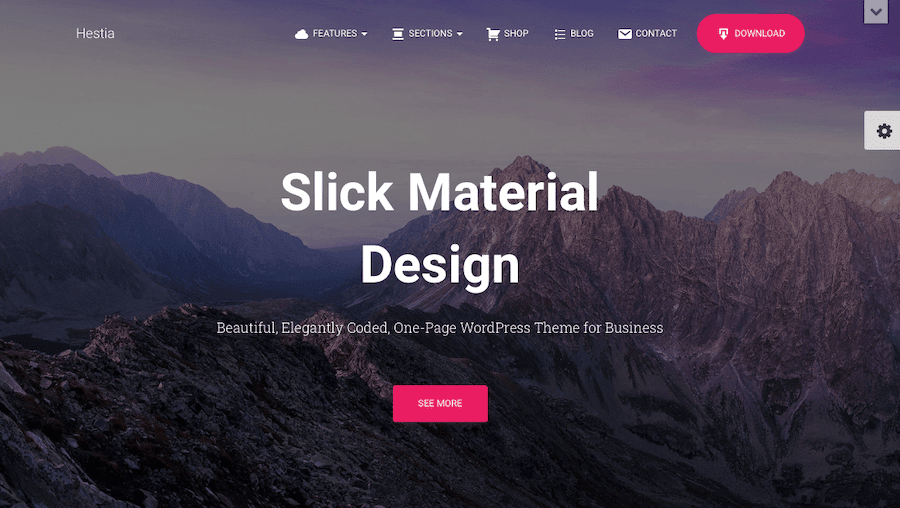 Another fantastic free blogging theme to consider is Hestia. This theme features a one-page design for drawing visitors into the story of your blog or website quickly. It's also optimized for performance, so you'll never need to worry about site speed or the overall user experience.
This WordPress theme features a material design and straightforward customization options you can access directly via the Customizer. Beyond blogging, you can also use this theme to set up an online store, a corporate portfolio, and more.
Notable Features
Gutenberg-ready
Compatible with top page builders including Elementor, WPBakery, Divi Builder, Beaver Builder, Brizy, and SiteOrigin.
WooCommerce integration
Includes starter sites
4. Namaha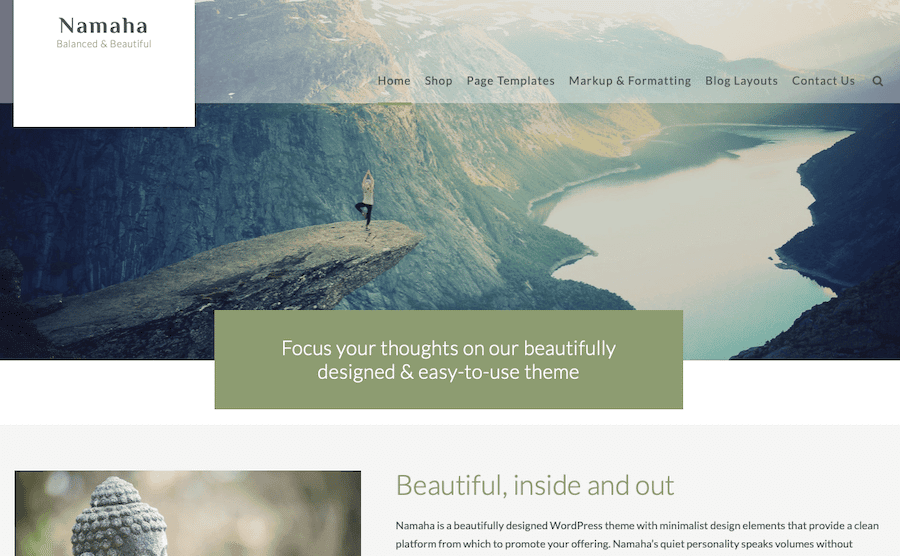 If you want something a bit more minimal and simple, the Namaha WordPress theme is a great choice as well. The design is undoubtedly simple but sometimes that's precisely what is needed to get your message across.
Though the emphasis here is on blogging features like multiple post formats and lovely typography, this theme can also be used to set up an online store or portfolio website.
Notable Features
Responsive design
Included demo content
WooCommerce compatibility
Premium version is available
5. Writee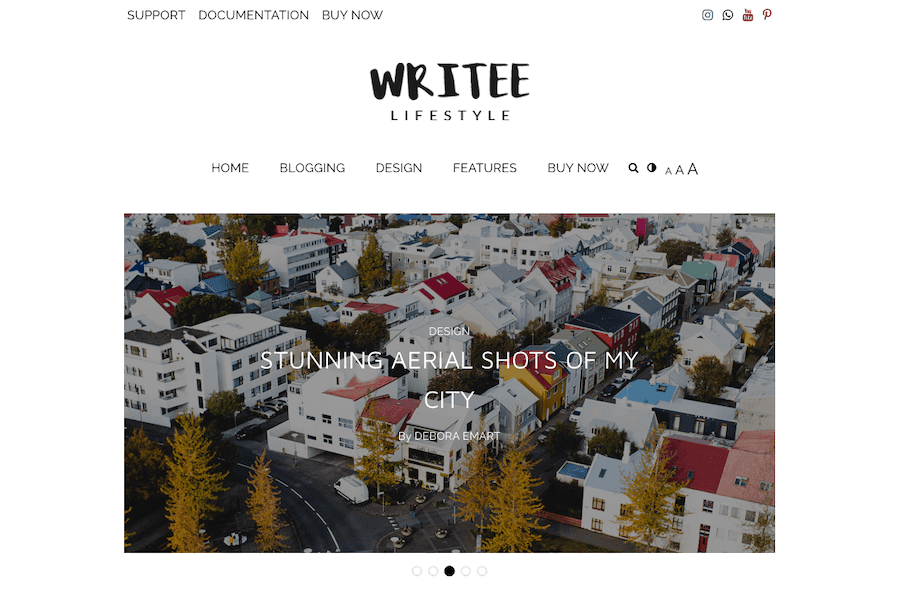 Another option is the Writee WordPress theme, which offers an elegant design that's suitable for blogs of all types. It can be customized to accommodate any topic and also provides several layout options for building blogs in the food, fashion, travel, and personal niches.
You can make a wide variety of adjustments using the Customizer, making it a good theme choice for beginners as well.
Notable Features
A multitude of Customizer options
A full-width and boxed slider
Translation-ready
6. Didi Lite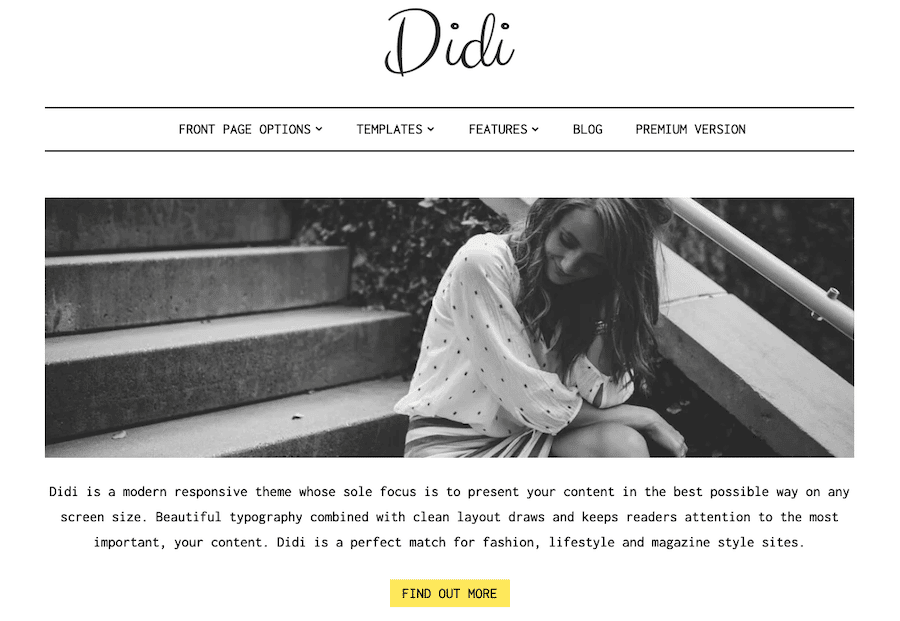 If you're looking for a theme that really is best suited for a personal blog or journal, the Didi Lite WordPress theme may be a good choice for you. It emphasizes typography with plenty of white space and room for prominent photos. It's an ideal choice for storytelling.
It's also been optimized for use on any device and offers a minimal experience without feeling or looking boring. Didi Lite would make a good choice for lifestyle or fashion blogs as well as personal journals.
Notable Features
Responsive design and layout
Live Customizer support
Demo content importer
Accessibility-ready
Supports RTL
7. Ashe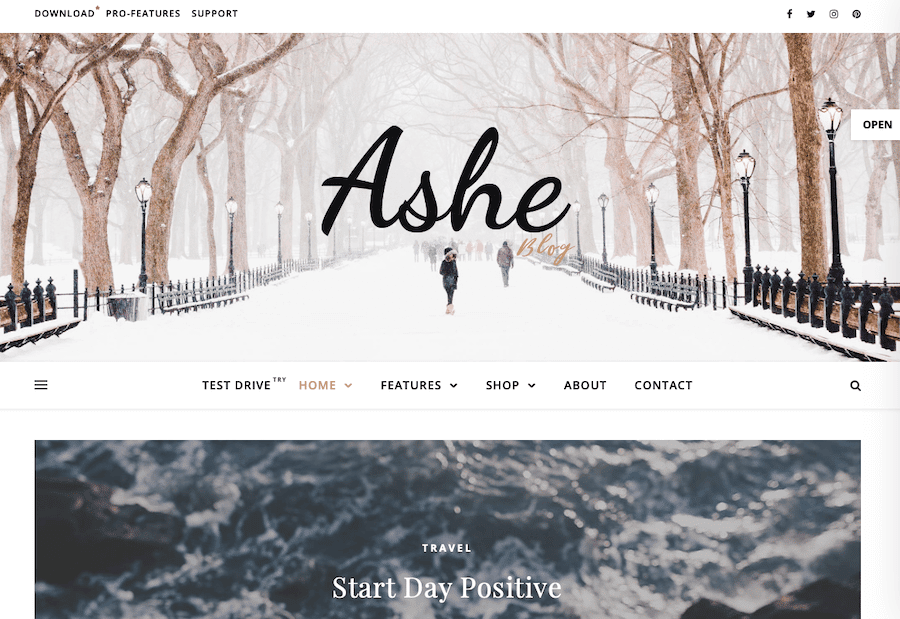 Another of the best WordPress themes for blogs to consider is called Ashe and it offers a decent set of features that should help you get a blog site up and running quickly. It offers a minimal yet modern design that could easily be adapted for use by any niche including blogs focused on food, travel, photography, lifestyle, or personal journaling.
Its design is responsive, as is standard these days, and offers several customization options for appealing directly to your audience.
Notable Features
Speed-optimized
Compatibility with top plugins and page builders including Elementor, WPBakery, Beaver Builder, and Divi.
RTL support
Text and image logo support
Fullscreen slider
Instagram slider widget.
8. Inspiro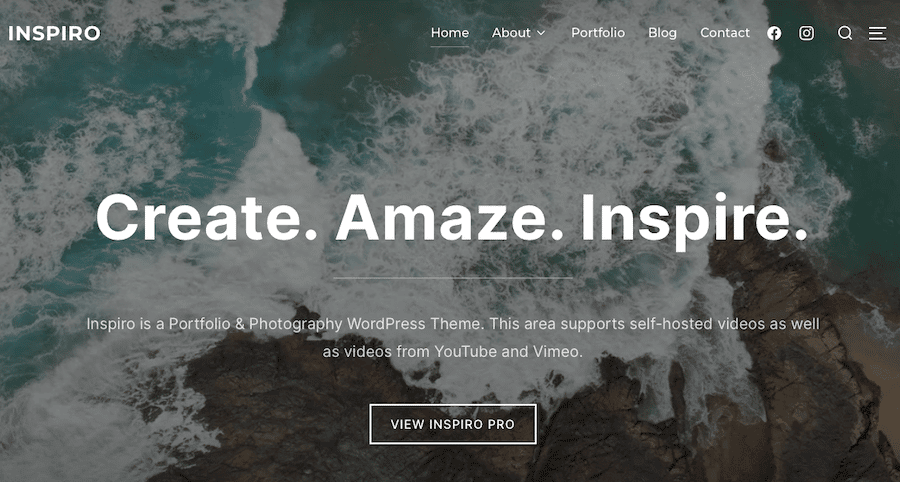 The Inspiro blogging WordPress theme is another modern option that offers more professional styling and can be used for both personal and corporate use. Its overall design is lightweight but it offers plenty of opportunities for showcasing both photos and videos in blog posts and on portfolio-style pages.
The feature set is impressive here, especially for a free theme.
Notable Features
Fullscreen area with support for YouTube, Vimeo, and self-hosted video backgrounds.
Page builder integration with support for Elementor and Beaver Builder.
Support for photography and video portfolios.
WooCommerce compatibility
9. Olsen Light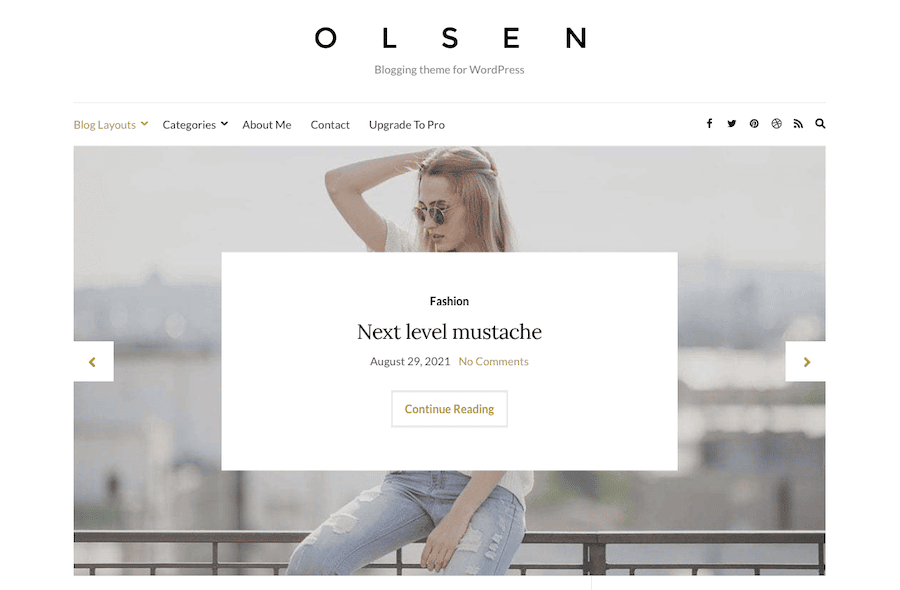 If you're looking for a fast WordPress theme that prioritizes speed, the Olsen Light theme is a good choice. This theme is appropriate for blogs across a multitude of niches, including cooking, lifestyle, fashion, travel, weddings, and health & fitness. It could also be used by photographers or even hobby bloggers.
Olsen Light is lightweight, easy to set up, and supports a variety of customizations including column layouts, excerpts, and logos.
Notable Features
Multi-author support
Full documentation
Responsive and retina-ready design
Homepage slider
Footer Instagram carousel
Compatibility with top page builders including Elementor, Brizy, Beaver Builder, and Divi
10. Bento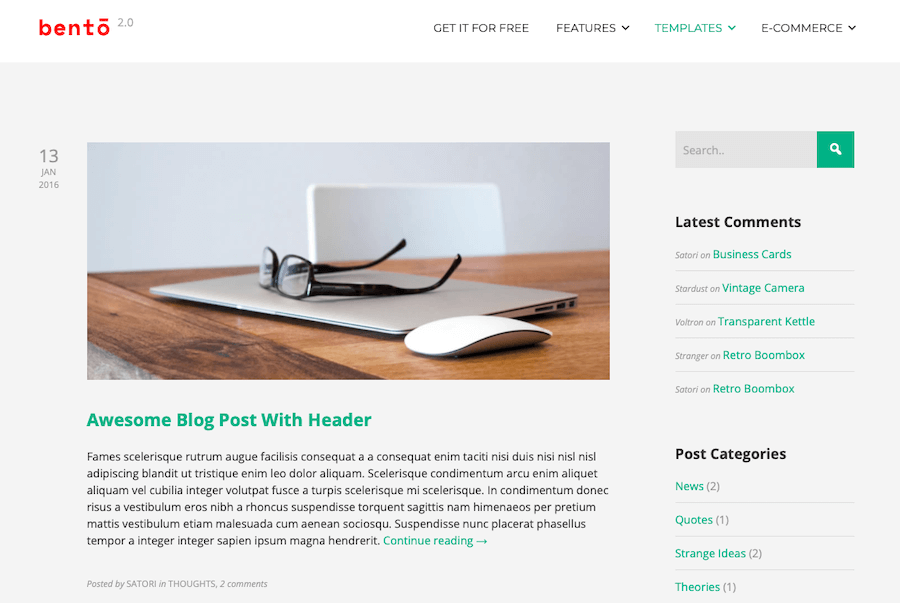 The Bento WordPress theme is another easy-to-use option for building a blog quickly and efficiently. Though it can be used for blogging, it also has features that you can use to build a full-fledged business website.
This speed-optimized theme offers a wide range of customization options that make use of the Customizer interface for added convenience. It also has full SEO optimization so any website you build with this theme will have a higher likelihood of showing up in search engine results.
Notable Features
Unlimited colors
500+ vector icons
WooCommerce integration with templates, widgets, and checkout styling
Full documentation
Comes with a child theme
11. Color Blog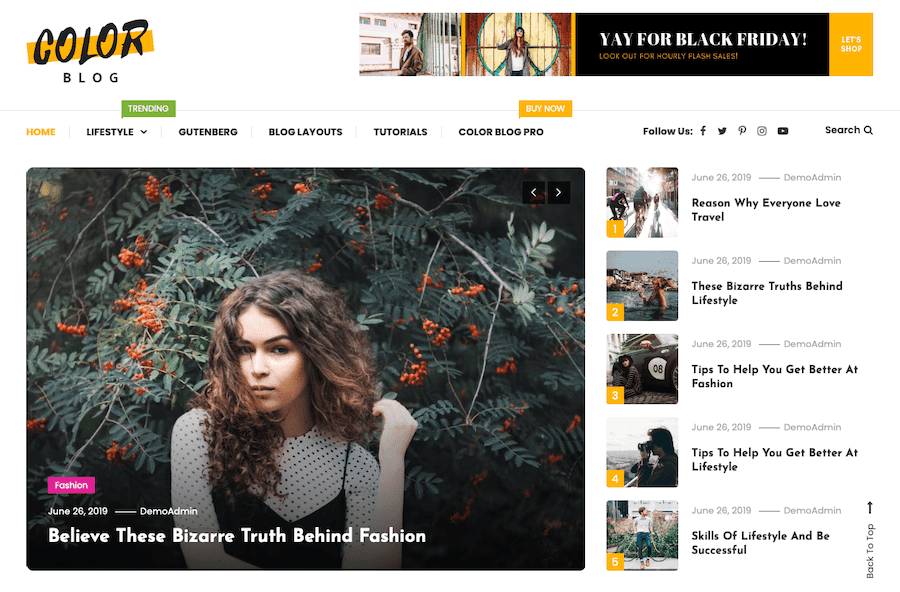 Another free blogging theme worthy of your consideration is the Color Blog theme, which as its name would suggest, is a super colorful and eye-catching option. It's a sure first for bloggers and authors who want to capture the attention of their readers (and keep it).
This theme provides numerous customization options by means of the live Customizer.
Notable Features
Several blog layouts
Translation and RTL-ready
Gutenberg compatible
Compatible with Elementor
Tons of custom color options
12. Fascinate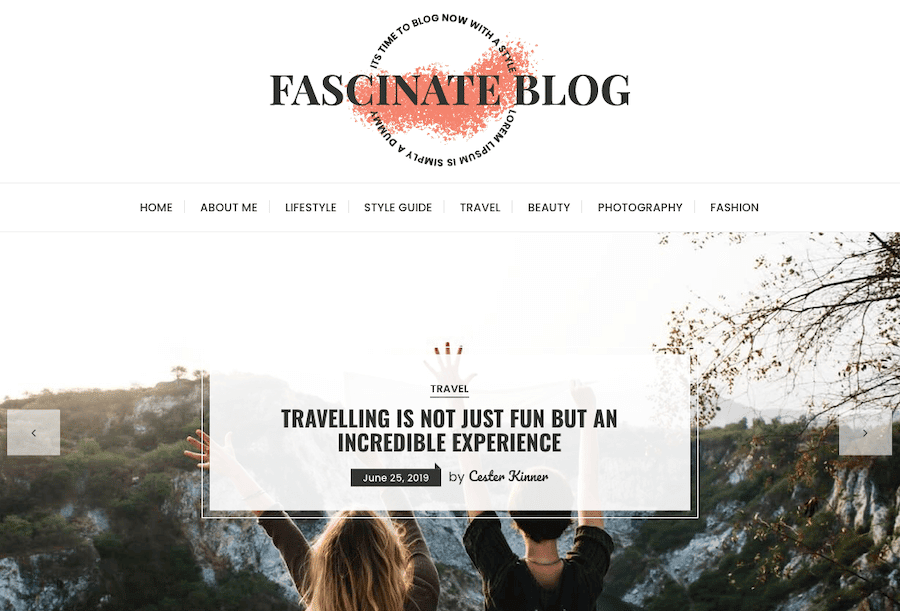 Here's another theme option that's fantastic for creating niche blogs of all types. Fascinate features a modern design with a minimal layout that allows your content to sit front and center. Use it to showcase photography, lifestyle tips, travel blogs, and more.
It also supports four different post formats so you can automatically share your content in a stylized way.
Notable Features
Responsive layout and design
Gutenberg compatibility
Live Customizer options
Custom author widget
Image lazy loading
Support for numerous plugins including Mailchimp, Yoast, and Contact Form 7
13. Vogue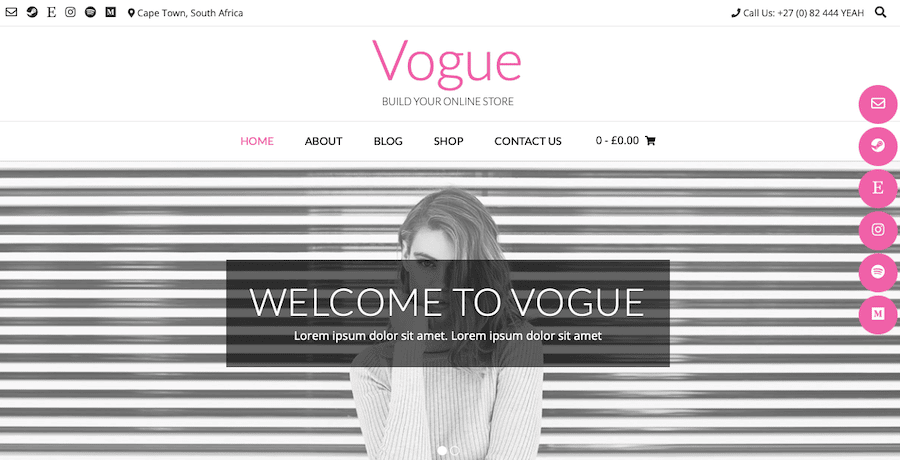 If you're looking for a fashion-oriented theme, Vogue is an obvious choice. This free WordPress theme is search engine optimized and ready to be put to work for your next blog project.
With speed-optimization on deck, Vogue offers a clean design that'll speak to fashion and lifestyle diehards.
Notable Features
WooCommerce integration
Several blog and footer layouts
A range of color settings
Customization settings built into the Customizer
Compatible with the top page builders
14. Tracks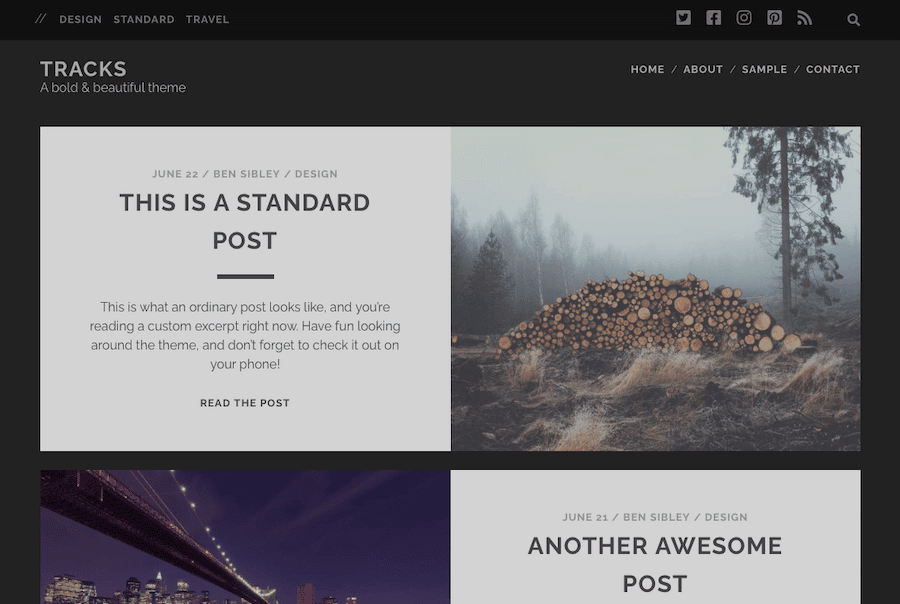 The Tracks WordPress theme provides still another quick and easy option for setting up a new website for your blog without having to spend a dime. It's a great choice for personal blogs, of course, but also includes features for setting up an ecommerce store.
The layout options here are intrigued and designed to capture attention – no matter the focus of your blog.
Notable Features
Minimalist design and multiple layout options
WooCommerce compatibility
Gutenberg compatibility
50+ social media icons
15. Elsie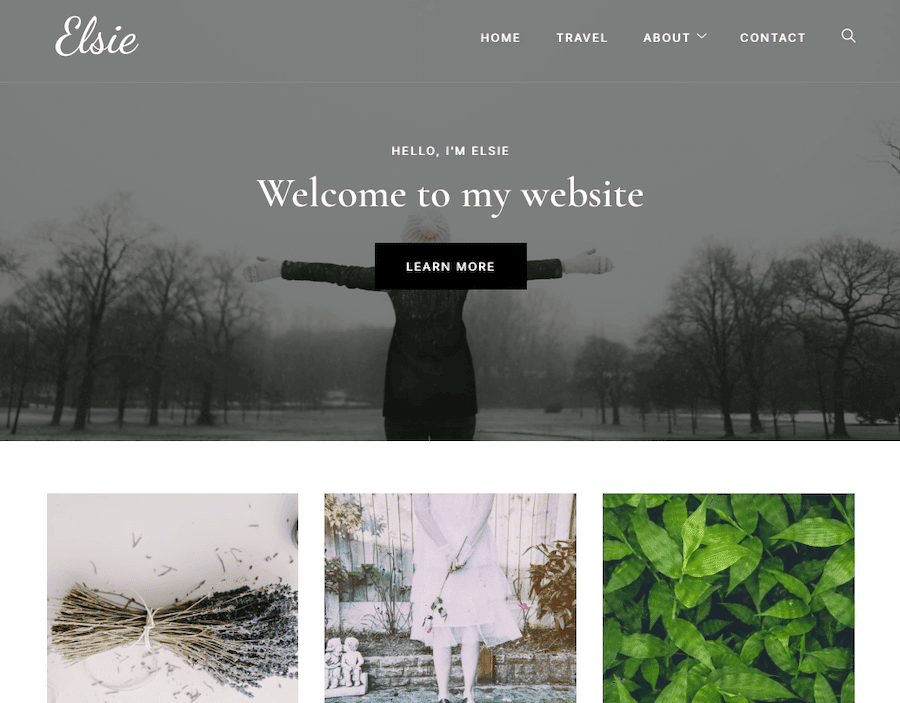 Whether you wish to start a simple online journal or a more robust photography blog, Elsie is a great theme to fulfill those needs. This WordPress theme is super customizable and offers an elegant design that will appeal to a variety of people across multiple niches.
It's also highly customizable.
Notable Features
Responsive layout
Full range of Customizer options
Lightweight design
Customizable header, footer, and hero sections
Control over typography and color
16. Maxwell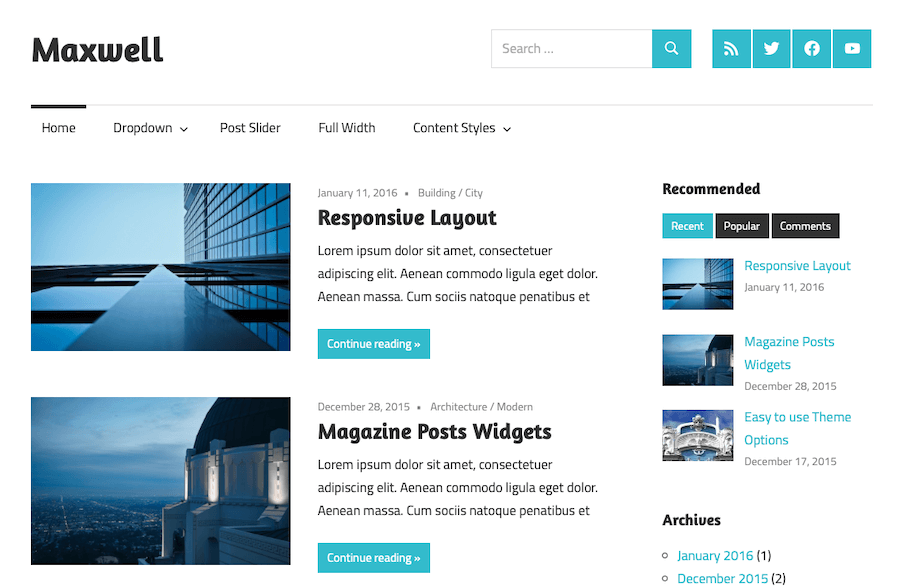 If minimalism is your thing, Maxwell is a great option. This WordPress theme offers a straightforward design that would work for most personal blogs on any subject. And with typography options and multiple post layouts, it's a great option for those who want an easy way to get started.
Notable Features
Responsive design
Optimized for search engines
Speed optimized for high performance
Built-in GDPR compliance
17. Shapely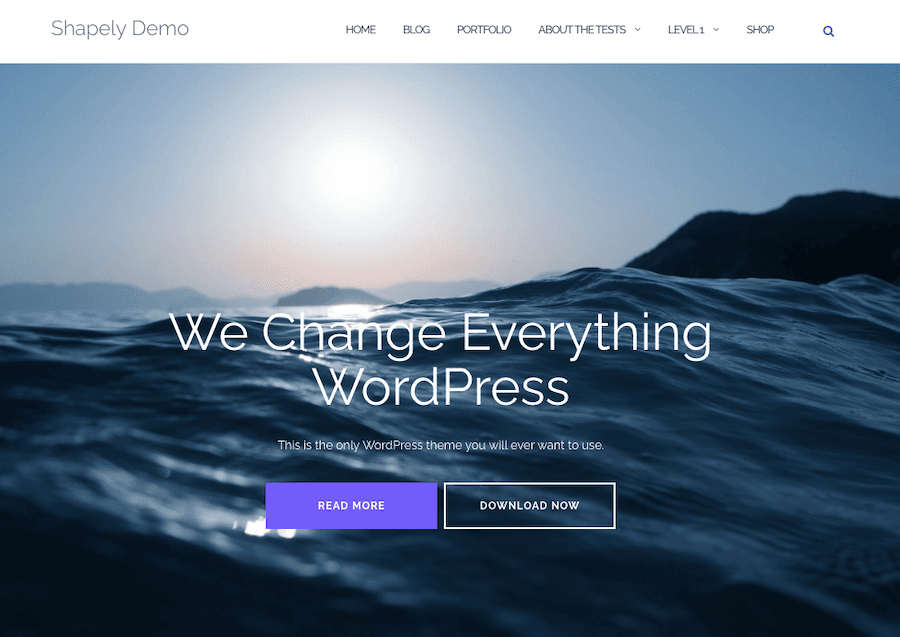 Shapely is another standout WordPress theme that offers powerful features for bloggers across every industry. Its versatile one-page design makes it a great choice for portfolios and service-based sites. But it can also be used for displaying blog content professionally.
Plus, it's easy to adjust the homepage thanks to several included homepage widgets for controlling things like testimonials, product info, and portfolios.
Notable Features
Compatibility with top plugins like Kali Forms, Yoast, and Gravity Forms
SEO-friendly
Mobile-optimized
Truly multipurpose options
18. Kale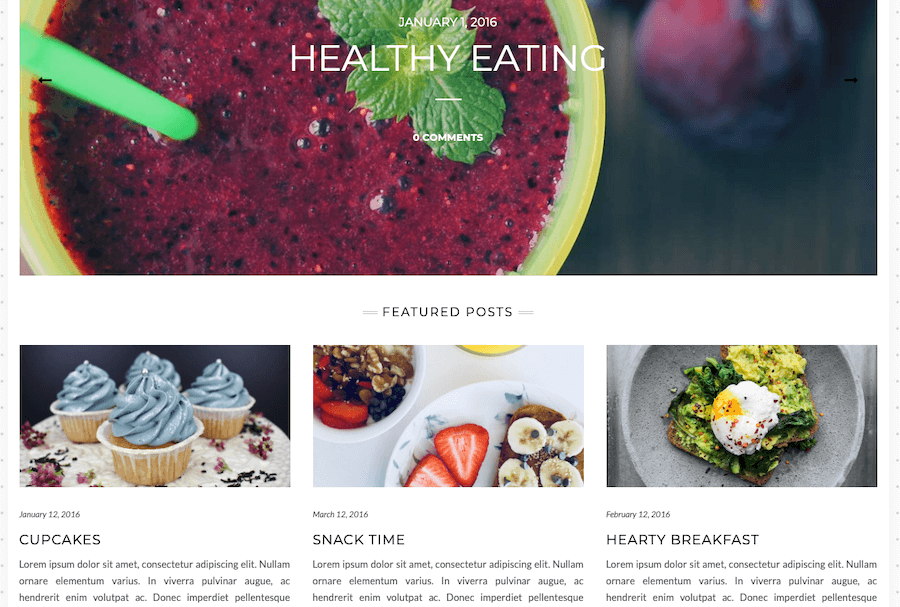 Kale is another beautiful blog theme, this time with a stunning design that suits food blogs and other photo-heavy blogs well. Lifestyle, beauty, and fashion niches would make great use of it as well. The design and layout include plenty of whitespace for a refined, uncluttered look but it's quite full of content, i.e. text and images.
This theme promises easy setup and full search engine optimization.
Notable Features
WooCommerce integration
Multiple post types and layouts
Social media menus
Banner and slider overlay options
RTL support
Premium Blogging WordPress Themes
While free blogging themes can serve you well, there may come a time when you're in need of an upgrade. Or, at the very least, you'll require a theme that offers a more robust feature set, additional support, or a combination of the two.
What follows are several premium blogging WordPress themes we've found to be reliable top-notch choices.
19. Personal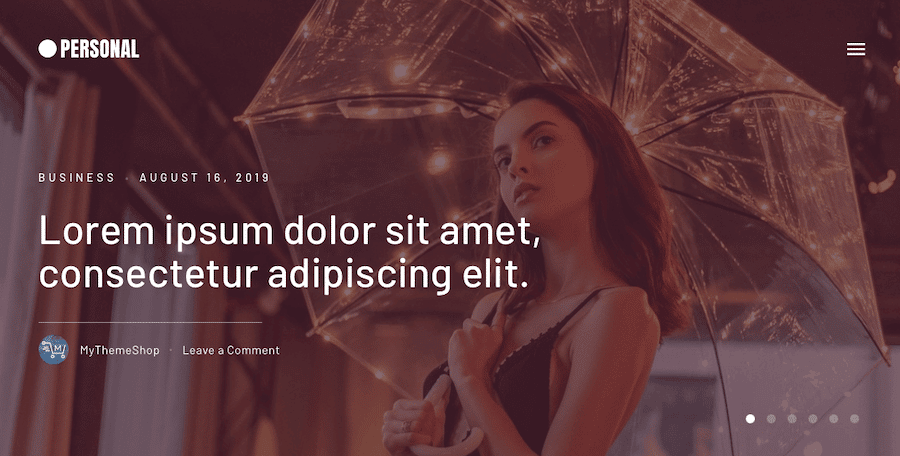 The first of the premium themes we'll be discussing here today is called Personal. Developed by MyThemeShop, this theme was designed with telling your personal story in mind. It's a fantastic choice for launching a journal or blog that needs to convey your personality.
This theme is not only beautiful, but it's also been thoroughly optimized for SEO as well as for speed and overall performance.
Pricing
The personal theme costs $39 for unlimited site licenses, which includes a 30-day money-back guarantee.
Notable Features
4 blog layouts
2 header layouts
Built-in featured slider
Opt-in subscription box
AdSense optimized
20. TinySalt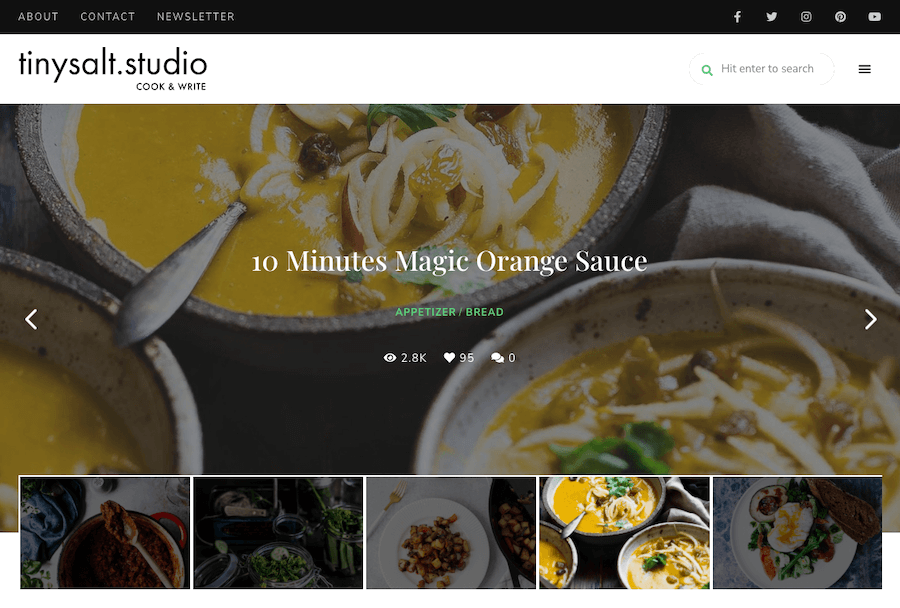 TinySalt is a lovely blogging theme for WordPress that makes for an ideal choice for food bloggers and recipe lovers. It offers a multitude of layouts and styles for creating a custom look. Likewise, it offers compatibility with numerous free plugins including Mailchimp and Contact Form 7.
And any customizations you want to make are made possible via the standard WordPress Customizer, which reduces any potential learning curve.
Pricing 
TinySalt costs $54 for a regular site license, which includes updates and 6 months of support.
Notable Features
12 demos with easy one-click importing
WP Recipe Maker plugin integration, making it easy to present recipes with photos, steps, and recipe metadata.
Includes an instant Ajax recipe search with filtering.
Fully Gutenberg-ready
WooCommerce compatible
21. Soledad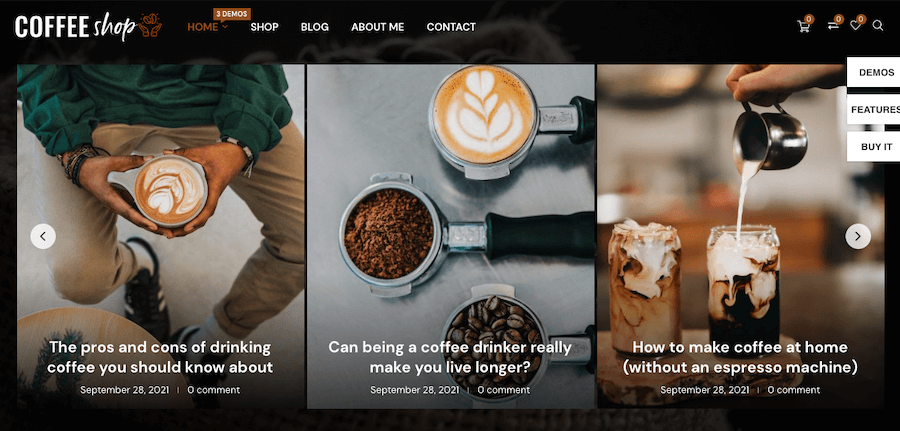 The next premium blogging theme we'll discuss is Soledad and this one is absolutely loaded with features, demos, and options. It can be used for creating any kind of website, including a business portfolio, online store, or personal photography collection.
It includes support for mega menus and includes a Mega Menu Builder, so you can create navigation that suits your specific needs
Pricing
$59 for a regular site license, including updates and 6 months of support.
Notable Features
6800+ homepage demos
Broad compatibility with top page builder plugins including WPBakery and Elementor
Header and footer builder
Mega Menu Builder
1000+ templates from the Cloud Templates Library
eCommerce compatibility
BBPress and BuddyPress compatibility
Real Awesome Gallery
1500+ options included in the WordPress Customizer
22. Indigo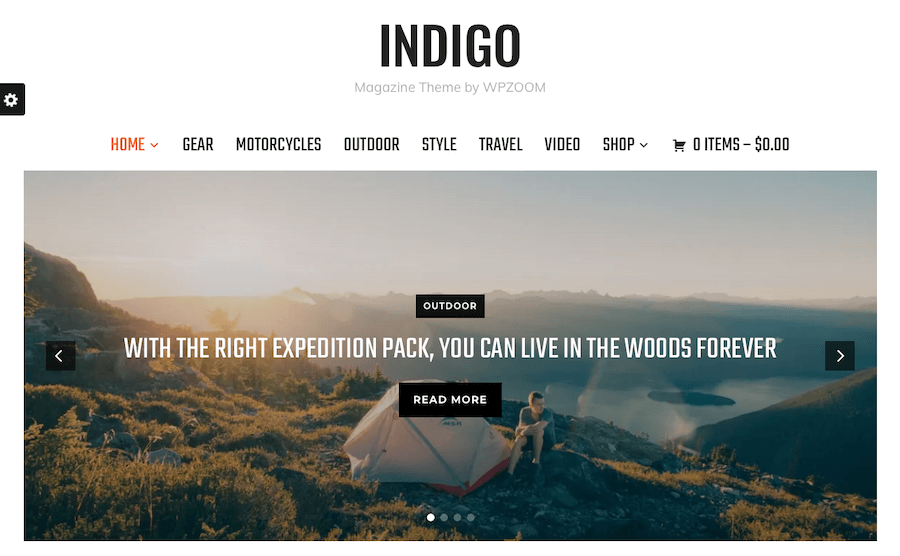 Now if you're looking for a blog theme that can work for a multi-author magazine-style website, Indigo might just be the solution. This theme is easy to set up and use and offers an array of features and layouts you can use to create a powerful website for your personal journal, online magazine, or business.
Indigo can be customized to work for any theme or subject and has features to support blogs that discuss topics like fashion, food, automotive, sports, and beauty.
Pricing
Starts at $59 per year and includes automatic updates and a year of support and updates. Or you can pay a one-time fee of $159 to use the theme forever plus receive lifetime updates and support.
Notable Features
Advanced Theme Options panel
Responsive design and layout
Relies on the built-in Customizer for making adjustments to fonts, colors, and styles
WooCommerce support
Featured slider support
Multiple widget areas
Gutenberg-ready
WPML compatible and translation-ready
SEO-friendly code
23. Chronicle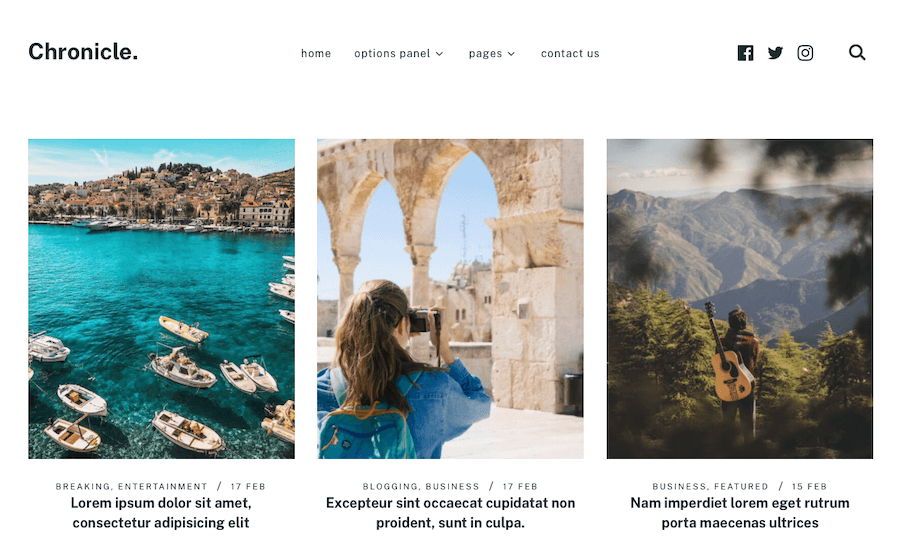 Looking for a simple theme that makes setting up a blog easy? The Chronicle blog theme is a good one to consider. Its minimal design, clean layout, and overall simplicity make it a great choice for showcasing your content – both text-based and visual.
This theme has a responsive design that allows it to look fantastic on any mobile device and offers a handful of layout options to give you the creative control you need.
Pricing
You can purchase Chronicle for $39 per year. You can use the theme on unlimited sites for this price and receive updates and support. Alternatively, you can purchase a membership to MyThemeShop for $199 per year which provides access to all their themes and plugins.
Notable Features
2 header layouts
3 blog layouts
SEO-friendly code
Speed-optimized
AdSense-ready
Advanced Theme Options panel for adjusting colors, backgrounds, and typography
Gutenberg-ready
Compatible with Elementor
24. Writing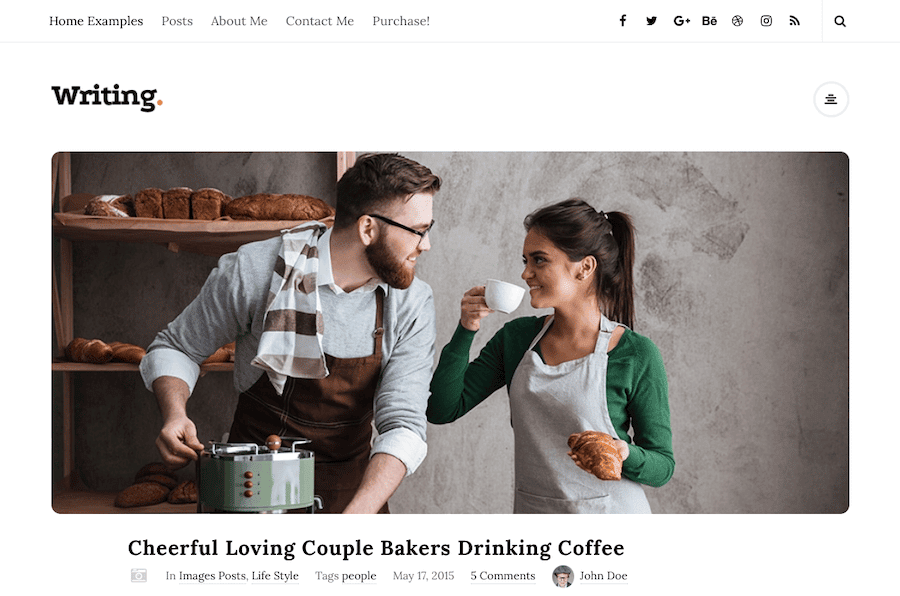 Another of the best WordPress themes for blogs is the aptly-named Writing WordPress theme, which provides a super simple design that puts all the emphasis on the words you write and any photos you choose to accompany them.
And best of all, the minimal layout is a real pleasure to browse and read through, making it more likely site visitors will return. Set up is simple, too, and you can easily launch a new blog within an hour using this theme.
Pricing
$49 for a regular license on ThemeForest, which includes updates and 6 months of full support.
Notable Features
Several blog layout styles
Solid social media integration
Clean typography options
SEO-optimized
Unlimited colors
RTL support and translation-ready
25. Typology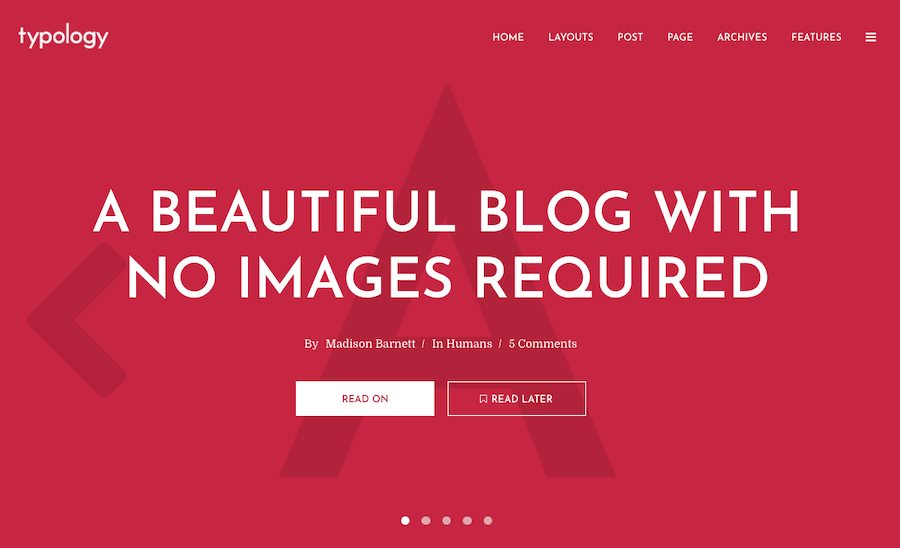 If all you're interested in is words, words, words, then the Typology theme might be the perfect fit. This theme emphasizes typography above all else and bills itself as a text-based blog theme where "no images are required."
This theme is pretty unique in that regard – it's designed to look fantastic and be a stylish choice without needing images to create a cohesive look.
Pricing
$59 for a regular site license from ThemeForest, including updates and 6 months of support.
Notable Features
Material and flat design options
Multiple post layouts
Superior control over typographic elements
Performance optimized
Compatible with top plugins including Jetpack, Disqus, Mailchimp, and more
WooCommerce support
26. Elegant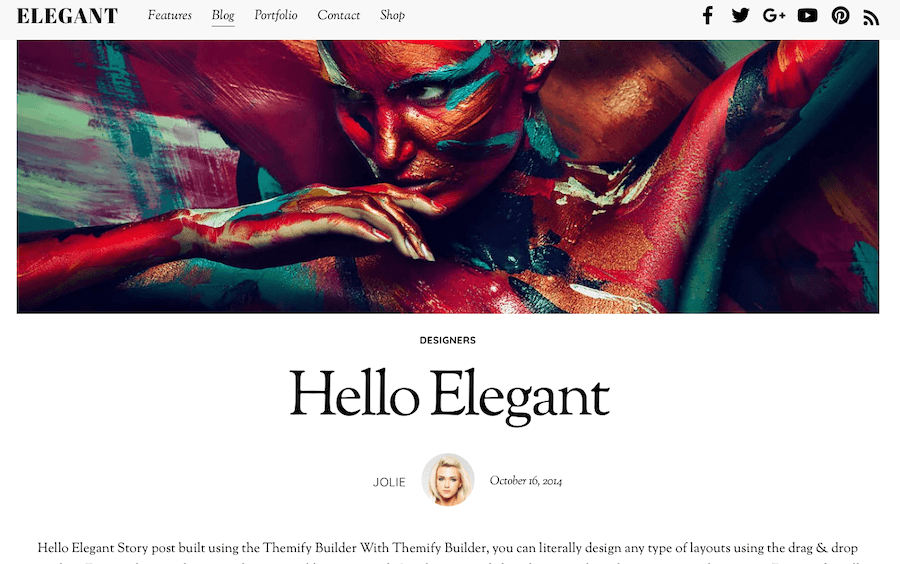 Another option that could serve a great number of people is the Elegant WordPress theme. This one offers a simple design that's quite sophisticated, offering a multipurpose focus that can be customized to suit any industry or niche.
This theme marries form and function well, offering a slew of features for customization while prioritizing the aesthetics that capture the attention of site visitors (and keep it). It's an ideal choice for bloggers who like to tell a story with images and text. It's also great for portfolios and magazines.
Pricing
Elegant is available from Themify for $59, which includes an unlimited site license plus a year of support and updates. Or you can pay $69 to receive the associated Photoshop files as well.
Notable Features
Themify drag-and-drop builder
Fluid and responsive design
Responsive and retina-ready
A wide range of typography options
Pre-designed color skins
WooCommerce compatibility
Masonry/grid portfolio post type
27. Foodie Pro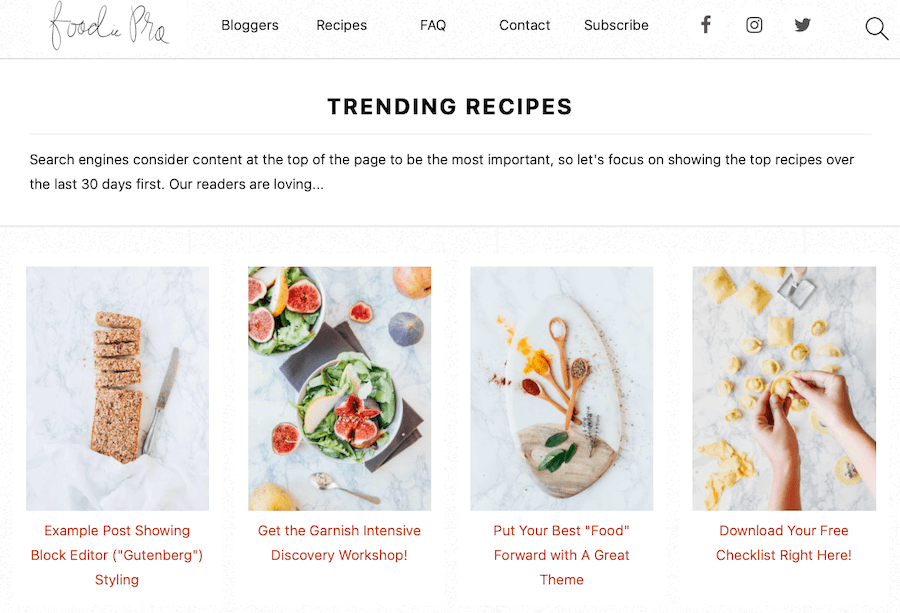 Now if you want to create a blog around the subject of food, specifically, Foodie Pro is an excellent choice. This theme is actually a Genesis child theme and it features a minimalist style that can be customized to suit your needs.
It's loaded with color and typography choices – unlimited, in fact. It is only available now when your purchase the Feast plugin, however.
Pricing
You can get access to the Foodie Pro theme (along with 5 other recipe blog themes) when you subscribe to The Feast Plugin for $249 per year. The Feast Plugin provides a new admin interface within WordPress that promises to be easier to work with.
Notable Features
Widget-enabled home and recipe pages
Ad space
Speed and performance optimized
Includes demo content
Continual updates and support
Block editor compatible
SEO optimized
28. Akea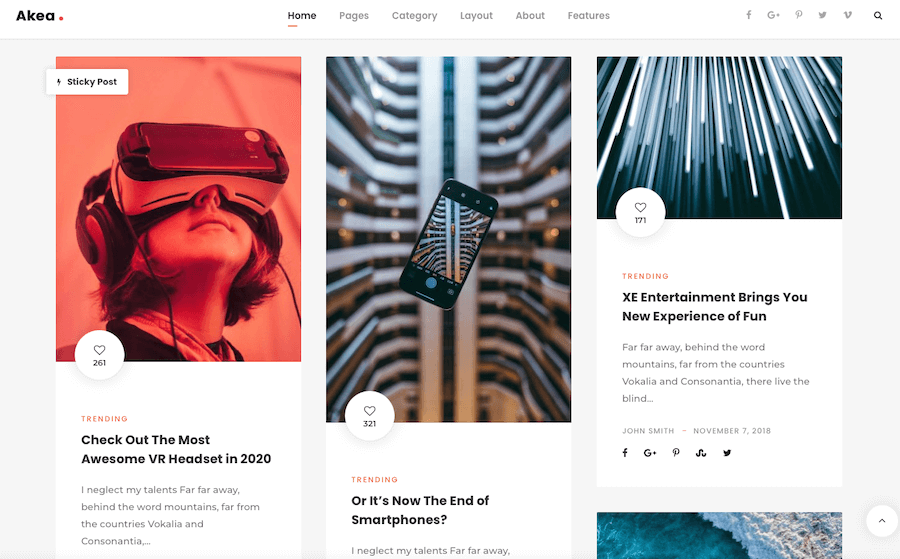 Or maybe the Akea WordPress theme is more your style? This one offers a minimal design that gives your content plenty of white space to breathe while still being visually interesting.
It can be customized to suit a blog of any sort, including personal journals, lifestyle blogs, magazines, photography portfolios, and travel blogs. And that's just to name a few of the possibilities. It's clearly designed for multi-author support, with sticky posts, visible "likes" and social share buttons, and prominently featured images.
Pricing 
Akea costs $54 from ThemeForest, which includes updates and 6 months of support.
Notable Features 
Gutenberg-ready
GoodLayers Page Builder comes built-in
WooCommerce-ready
Background wrapper options
Powerful demo importer
Fluid layout
Floating and secondary navigation options
6 footer layouts
29. Jevelin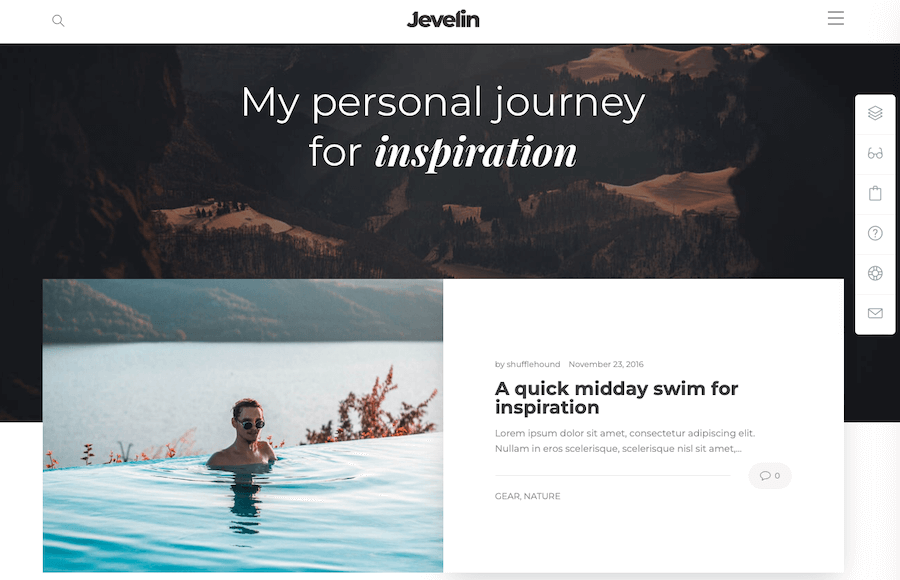 Sometimes you want more out of your blogging theme and that's okay. The Jevelin WordPress theme is a great choice on those occasions when you're looking for something a bit more versatile. This theme can be customized to work for a wide range of websites and in many niches. And the outcome will be professional every time.
In fact, it offers design options that would work well for landing pages, online stores, personal blogs, portfolios, and more.
Pricing
Jevelin costs $59 on ThemeForest and comes with updates and 6 months of support.
Notable Features
One-click demo importer
Comes with tons of pre-built demos for a variety of niches including weddings, gyms, yoga studios, portfolios, and more.
10 portfolio options
An easy-to-use theme options panel
Custom color schemes, fonts, and layouts
Comes with the Unyson drag-and-drop page builder
Includes the Slider Revolution plugin
Includes mega menus and custom widgets
Incorporates social sharing features
30. Fresh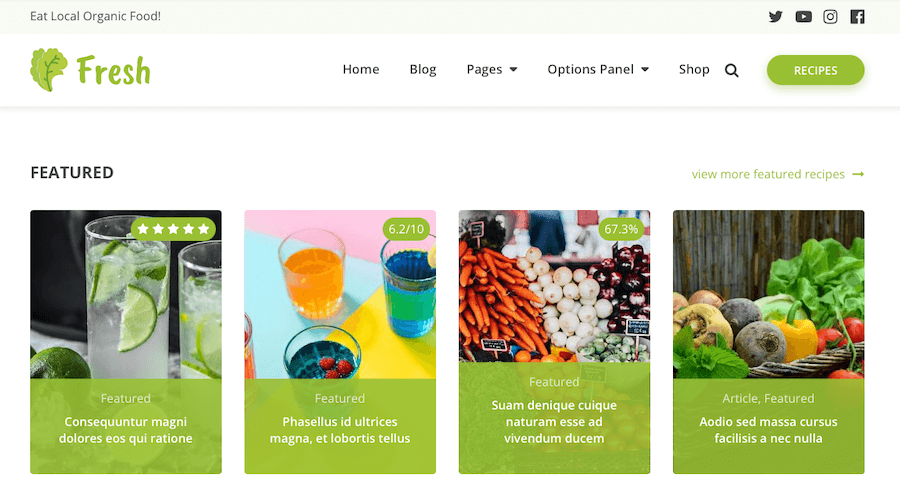 The Fresh WordPress theme is a fantastic choice for creating a blog, magazine, or online shop. It's loaded with features but its true appeal is centered on its gorgeous aesthetics.
This theme is immediately eye-catching and offers an optimized layout and combines form and function well. It's also responsive and optimized for mobile, so will look good on every device. Use this theme to create a recipe blog, craft store, travel review site, or anything else that could benefit from this minimal design.
Pricing
Fresh is available from MyThemeShop for $49, which includes an unlimited site license,
Notable Features
Drag-and-drop homepage editor, with 7 sections to adjust
3 header layouts
SEO optimized
Speed and performance optimized
Featured slider
AdSense optimized
Gutenberg and Elementor compatible
Includes an Advanced Theme Options panel
31. Memory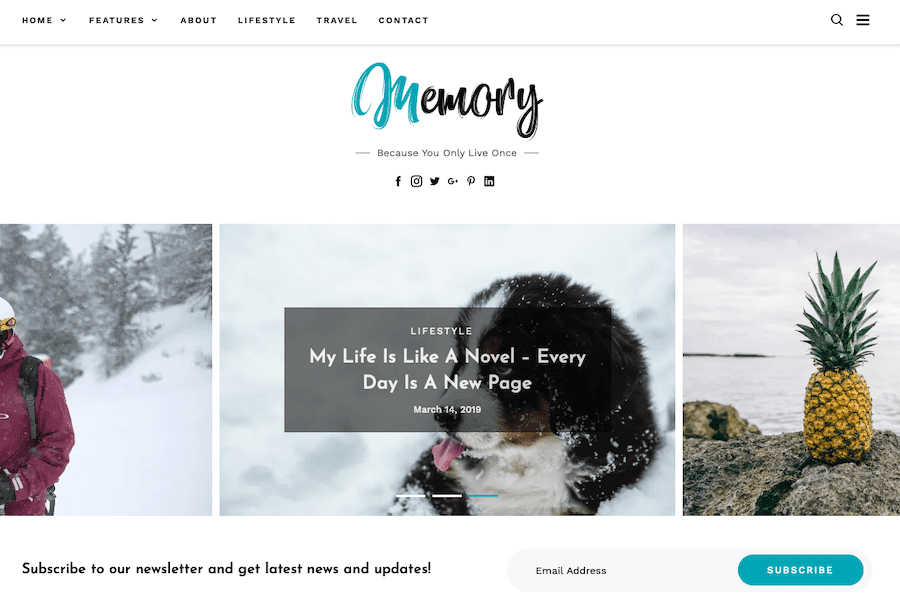 The last theme on our list here today is called Memory and its design and typographic choices make it an excellent choice for someone who writes personal essays or who wishes to share a travel journal.
The theme features a paneled layout and is stylistically reminiscent of blog theme trends of the past while still being decidedly suitable for the present moment.
Pricing
The Memory theme is available for $49 from GretaThemes, which includes a year of updates and support. However, you can also opt for the Premium Bundle, which provides access to all GretaThemes, plus updates and support for one year. The Lifetime Bundle is also an option, which provides access to all themes with a lifetime of support and updates.
Notable Features
Speed optimized
Comes with 7 demos
Dozens of page templates
Block-enabled and works with the built-in Customizer
4 slider styles
Advertising banners
Social media modules for Instagram, Twitter, and Facebook
Simple setup process
Look no further for the perfect WordPress theme for your blog ✨Click to Tweet

Summary
We hope you enjoyed browsing through this collection of some of the best WordPress themes for blogs. Each brings a little something different to the table, whether that's ecommerce integration, excellent typography, or portfolio support. Regardless, any of these themes would serve you well when trying to launch a new blog.
And by including free and premium selections, it is our hope you'll find something that suits your personal needs or company's brand, your chosen subject, and your budget. Good luck!
---
Save time, costs and maximize site performance with:
Instant help from WordPress hosting experts, 24/7.
Cloudflare Enterprise integration.
Global audience reach with 34 data centers worldwide.
Optimization with our built-in Application Performance Monitoring.
All of that and much more, in one plan with no long-term contracts, assisted migrations, and a 30-day-money-back-guarantee. Check out our plans or talk to sales to find the plan that's right for you.