ClickFunnels is in the limelight as a funnel builder that facilitates online brand management, sales, and delivery to optimize lead generation. It streamlines the marketing and distribution of products by using funnel choices tailored to the specifications of business owners.
Despite its popularity and prowess, ClickFunnels isn't everyone's cup of tea — mainly due to its expensive memberships, limitations, and low performance.
ClickFunnels isn't everyone's cup of tea – and it doesn't have to be, thanks to these handy alternatives 💪Click to Tweet
In this article, we'll examine the best 25 ClickFunnels alternatives that are worth trying if you want to build effective campaigns and increase your revenue.
What Is ClickFunnels?
Founded in 2014, ClickFunnels is a popular sales funnel builder with a large community of over 100,000 members. This multi-purpose marketing tool enables businesses and entrepreneurs to streamline their entire sales process in order to boost traffic conversion and generate leads.
ClickFunnels users can create sales funnels from a variety of pre-made templates. They can also build standard websites, landing pages, shopping carts, opt-in pages, membership forms, webinars, and other types of marketing content.
ClickFunnels Pros and Cons
ClickFunnels offers many interesting features to those who want to take their business online. Some key benefits include:
User-friendly drag-and-drop builder: No coding skills needed to design an attractive landing page.
A/B split testing: This tool is vital for maintaining a solid online presence. ClickFunnels allows you to test different versions of your landing pages and make improvements.
Sales analytics: Advanced analytics by ClickFunnels helps you monitor your sales numbers and statistics like gross income, earning per click, conversion rate, etc.
Different payment gateways: ClickFunnels offers multiple options to collect payments from your potential customers such as PayPal, Stripe, and Recurly.
Follow-up funnels and email lists: ClickFunnels makes it easy to generate email lists from the ground up with no third-party tools. It also lets you develop follow-up funnels to send email confirmation and cross-sales sequences.
Free trial: ClickFunnels offers a 14-day free trial to test its services before making a commitment.
Despite its perks and its stated purpose to serve many online business owners, ClickFunnels falls short in the following areas:
Generic templates: Although Clickfunnels makes it simple to create eye-catching landing pages, thousands of other people and businesses use those same templates. As a result, you'll wind up with generic landing pages rather than unique ones, diluting your brand's identity.
Pricing: ClickFunnels's pricing is considerably more expensive than other comparable services in the market.
Limitations: When compared to other page builder tools, ClickFunnels offers fewer page customization features, including a restricted number of funnels and visitors.
Performance: ClickFunnels users often report experiencing errors and slow performance with certain features, especially with the UI.
Support: ClickFunnels provides support via multiple channels, including email, live chat, and ticket. However, many customers complain about unresolved tech issues and delayed responses from the support team.
Do You Need a ClickFunnels Alternative?
In the world of sales funnels, ClickFunnels is like Apple: It's a good product, but it's limited in terms of versatility and not suitable for everyone. You might need to consider a ClickFunnels alternative in the following cases:
You run an online startup or a small business. Given its high price tag, ClickFunnels isn't a good fit for budget-conscious entrepreneurs. Its Basic plan costs $97 per month and the Platinum package is for $297.
You're a professional marketer. ClickFunnels will be too basic and inflexible for your needs. This is especially true if you need a huge number of funnels and visitors, as well as advanced functionalities and unique templates.
You're looking to boost your conversions. Stability and page loading speeds are a top priority for your business to reach high conversion rates . ClickFunnels is quite slow as opposed to a few other products.
Your primary focus is on customer care. Yes, ClickFunnels has a variety of support options and fantastic webinars. However, if you run across technical challenges that require immediate assistance, its delayed help is inefficient and will lead to dissatisfaction in your own customers.
What To Look for in a ClickFunnels Alternative
When you're searching for the right ClickFunnels alternative, it's important to choose a sales funnel solution that can help you accomplish the same goals as ClickFunnels, but with features or pricing better tailored to your specific business needs.
We used the following strategies when writing this article to help us find the best ClickFunnels alternatives:
Affordable pricing: One of the most popular reasons for seeking a ClickFunnels alternative is the cost. Therefore, we chose sales funnels with moderately priced business plans.
Flexibility: Although ClickFunnels has a lot of useful features, they aren't sufficient for many professionals and growing businesses. We chose feature-rich ClickFunnels alternatives that will not limit your company's needs.
Support: Without prompt and capable support for when things go wrong, you run the risk of ostracizing your own customers. If you're new to site ownership or management, you'll want a ClickFunnels alternative that renders responsive and helpful customer support.
Convenience: You don't want to waste time on code or dealing with technical problems. It's better to opt for a user-friendly and reliable ClickFunnels alternative that you can easily work with.
Individuality: Personalization improves the consumer experience while also allowing you to stand out from the crowd. A ClickFunnels alternative should have appealing and original templates to help you showcase your brand's personality.
Top 25 ClickFunnels Alternatives for 2022
You've come to the juiciest section of this article. If you believe Clickfunnels is not the ideal option for your requirements, we've rolled up a list of the top 25 Clickfunnels alternatives for you to explore.
1. Leadpages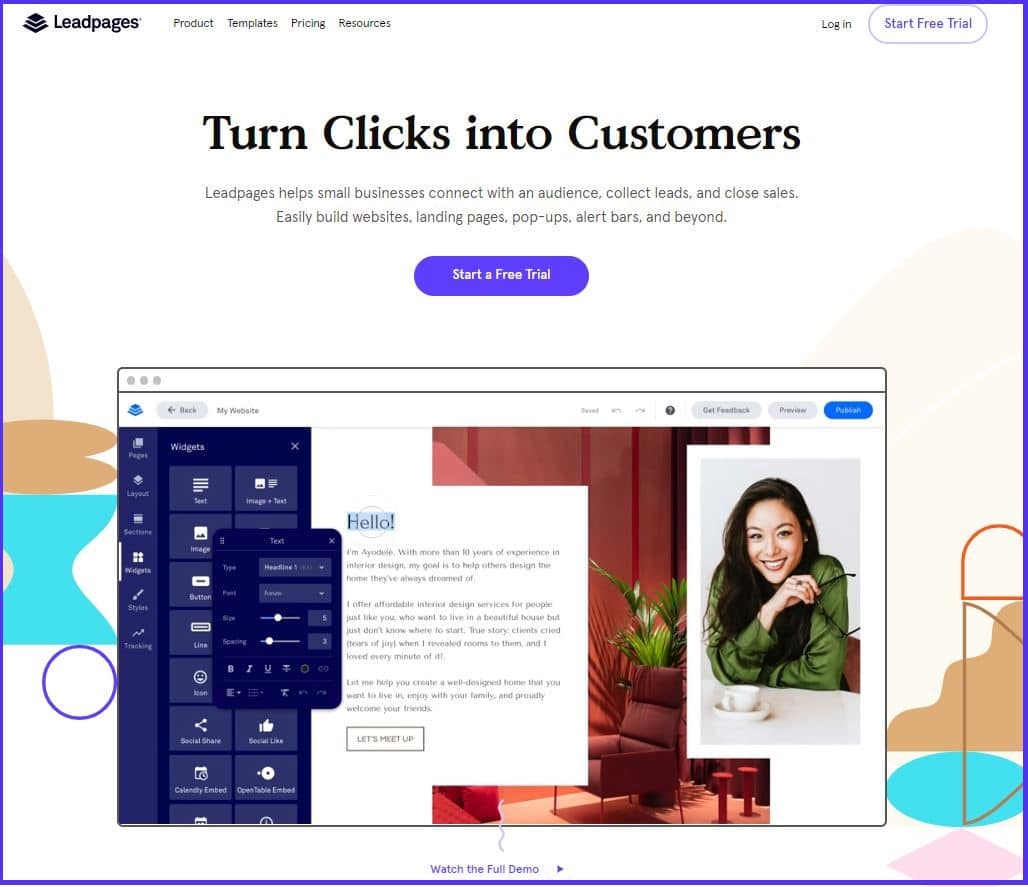 LeadPages is the most visible competition for ClickFunnels, and for a good reason, too. At a lower cost, LeadPages can achieve just about everything that ClickFunnels can, either directly or with the help of one of its 40+ integrations.
Landing pages, website building, pop-up forms, and alert bars are just a few of the essential features LeadPages supports for lead harvesting and funnel development.
What's more, if your app is disconnected, LeadPages resends the data stored from your integrations. This ensures that you continue to operate, even when one of your tools faces a technical problem.
Stepping into the customer support department, LeadPages offers several channels to get help. This includes phone, ticket, email, and chat. The company also provides comprehensive Knowledge Base and FAQ sections as well as virtual workshops and coaching sessions.
Key Features:
Unlimited number of funnels and visitors
Powerful drag-and-drop page builder with plenty of customization options
Compatible with Zapier, Drip, MailChimp, and Infusionsoft
Mobile-responsive templates
Unlimited A/B testing
Lead notifications and GDPR compliance
Real-time analytics
Free custom domains and hosting
Pricing:
LeadPages comes in two tiers: Standard and Pro. The Standard plan costs $37 per month, while the Pro package is available for $74 a month. You can subscribe annually if you prefer. There's also a 14-day free trial available to evaluate the service.
Do you run an enterprise? You can get in touch with LeadPages' support team to get a custom package.
2. GetResponse
GetResponse is a strong online marketing automation service that has served 350,000+ clients for over 20 years. For email marketing features in particular, GetResponse definitely takes the lead as a solid ClickFunnels alternative.
This hybrid funnel builder and email marketing tool is an excellent choice if you want to automate your campaign goals from a single platform at a cheaper rate than ClickFunnels.
For instance, GetResponse's Conversion Funnel feature comes with pre-made layouts and doesn't need integrations from other applications. Plus, it's super simple to set up. You can easily build automatic funnels to develop landing pages, generate sales, create automated emails, and reclaim abandoned carts.
If you want to add your own personal touch, GetResponse offers a blank template to help you design your landing page from scratch.
And what about support? Multilingual support is available around the clock via email, live chat, and phone. In addition, their extensive Help Center is present to help you learn about all the features provided.
Key Features:
Free-forever plan
30-day money-back guarantee
Email list for up to 500 contacts
High-quality landing page builder
Advanced analytics to monitor conversions, ROI, and leads
24/7 multilingual support
Built-in webinar feature
Pricing:
Price is one of GetResponse's strongest points. The Free plan includes several perks like landing pages, a website builder, 5 GB of bandwidth, up to 500 contacts, email marketing, and sign-up/contact forms. There are also three premium packages: Email Marketing ($15.50/month), Marketing Automation ($48.38/month), and Ecommerce Marketing ($97.58/month). All plans are covered by a 30-day money-back guarantee.
3. Instapage
Money isn't a concern and you want a fast, more sophisticated ClickFunnels alternative? Then you should absolutely check out Instapage , especially if you manage an organization with remote teams .
Instapage is a conversion-focused landing page builder that offers scalable, high-end tools for growing businesses. Compared to ClickFunnels, Instapage's drag-and-drop builder is more advanced. It also offers over 500 layouts as well as integration for WordPress, Zapier, HubSpot, and Marketo.
Another interesting feature is their AdMap tool. It helps you visualize how effectively your ads align with your landing pages. As a result, you'll be able to assess the success of your campaigns at a glance.
You can also observe activity on your website using Instapage's heat map function, allowing you to sculpt your sites with the user experience in mind.
Instapage is also popular for its award-winning A/B testing tools and in-depth analytics. You can quickly display the amount of activity on each section of your page, the functioning links, and any links that need improvement.
You can get support through live chat, email, and ticket system. Self-help tutorials and articles are also available in their Help Center section.
Key Features:
Robust landing page builder with 500+ layouts
Thor Render Engine technology for blazing fast speeds
Unlimited A/B testing and extensive analytics tools
14-day free trial
Instablocks
Heatmaps and Google Tag Manager
Real-time visual collaboration
Unlimited conversions
SSL encryption and GDPR compliance
Pricing:
Instapage is more expensive than ClickFunnels, but it delivers better-quality landing page resources and faster performance. Instapage's Building plan costs $299 per month or $199 annually. There's a Custom package as well, available through the sales team. You can use the 14-day free trial and request a free demo to explore the service before purchase.
4. SeedProd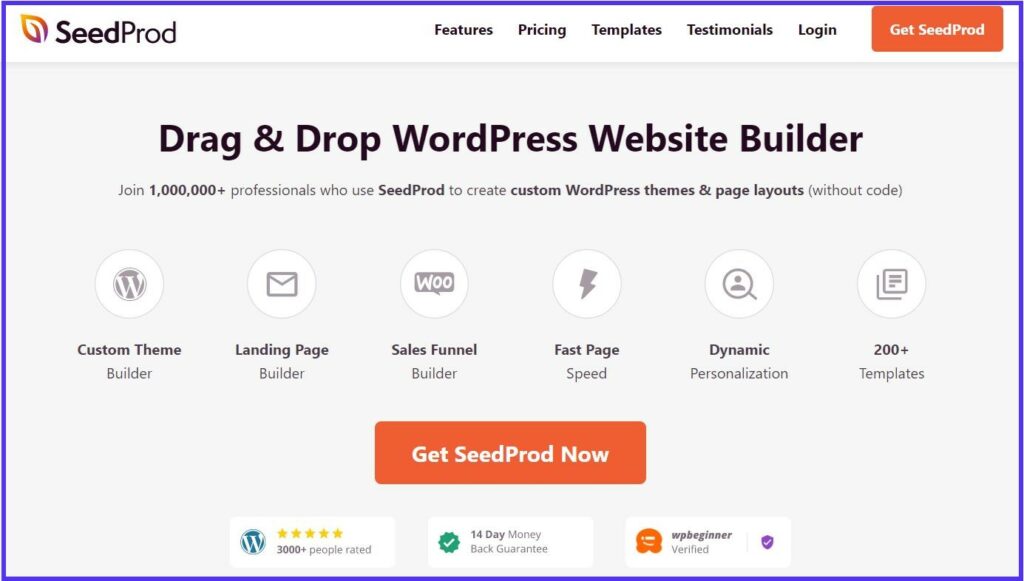 Next on our list is SeedProd , a popular page editor and WordPress theme builder geared towards beginners. Its user-friendly drag-and-drop builder makes it easy to design landing pages without the help of a developer .
SeedProd offers 170+ landing page layouts that are both customizable and mobile-responsive. Use the content blocks to design your landing pages and themes from scratch if you like. The WYSIWYG editor allows you to drag different content types onto your design and view the changes you make in real-time.
With the landing page blocks, you can drive leads to your brand rapidly. For example, you can use the lead capture forms to expand your email list, increase your followers through social media buttons , boost conversion rates through pricing tables, and more.
Support is available via email, ticket, and SeedProd's broad Documentation section.
Key Features:
FAQ, Call to Action, Hero area, and other ready-made landing page elements are included, reducing time and effort
Easy-to-use and intuitive drag-and-drop landing page builder
Efficient blocks tailored for landing pages
Lightweight and doesn't slow down site speed
3,000+ Zapier integrations
WooCommerce support
Pricing:
SeedProd has four subscriptions (Basic, Plus, Pro, and Elite) with prices ranging between $39.50 and $239.60 annually. The company also gives a 14-day money-back guarantee.
5. Kartra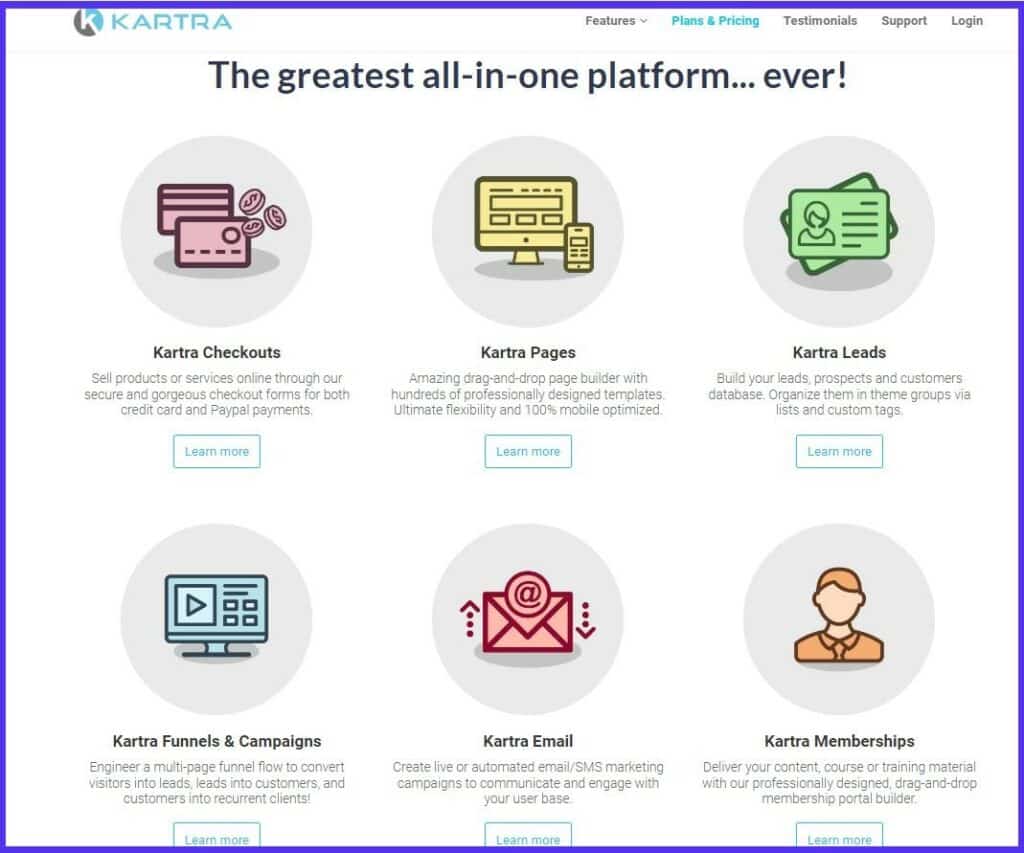 Kartra is an all-inclusive, 100% cloud-based digital marketing solution. Services include a website and landing page builder, email marketing and automation, a lead database (CRM), opt-in forms, checkouts, membership building, and more.
The biggest difference between Kartra and ClickFunnels is that Kartra can fuel your entire business, while the latter is dedicated to generating sales funnels.
Kartra is a solid ClickFunnels alternative if you want to automatically synchronize everything under one roof.
Let's say someone visits your Kartra page. That visit will be recorded by Kartra analytics. If the visitor completes your Kartra form, their contact information will be added to your newsletter subscription list via Kartra email.
Kartra, unlike ClickFunnels, allows you to self-host your videos, so you won't require third-party video hosting services like Vimeo or Wistia. Kartra also offers a plethora of templates for funnel creation. Using a drag-and-drop builder, you can effortlessly change the layout after adopting it.
Key Features:
Powerful One-time Offer (OTO), scarcity marketing, and behavioral marketing tools
Ability to export funnels and campaigns from your account to other users' accounts
Unlimited sales funnels
Video marketing and built-in calendar tool
Split testing for subject lines and email body
Affiliate program to get and manage affiliates and boost product marketing
Native integrations and extensive API
Pricing:
Kartra is moderately priced and offers four plans. The best thing is that all of its packages share the same features. They only differ in the amount of sales funnels, domains, bandwidth, hosted videos, and contacts you can have.
Prices begin at $99 a month with the Starter plan and go up to $499 per month with the Platinum package. You can benefit from discounts with annual subscriptions and get a 14-day trial period for $1.
6. HubSpot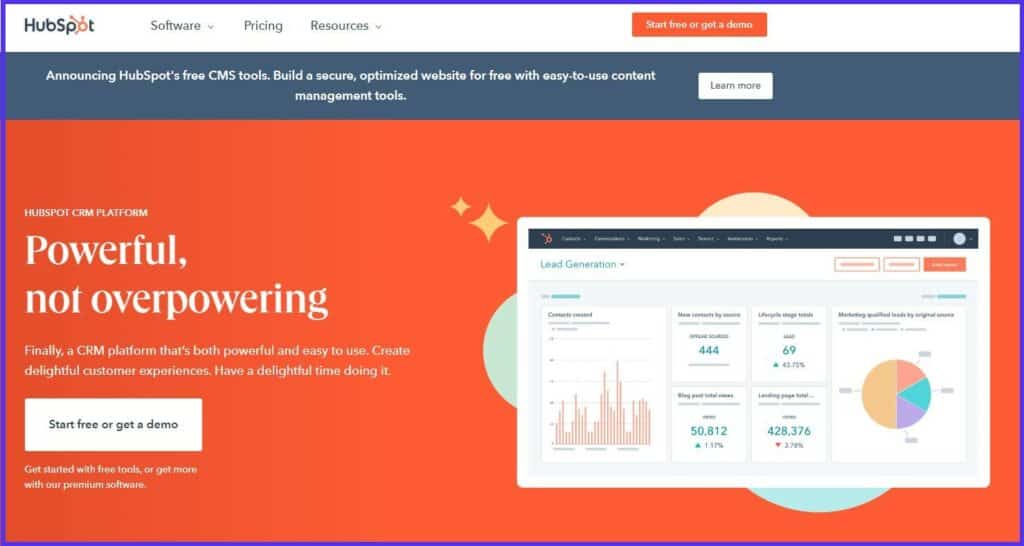 Bootstrapped in 2005, HubSpot is a big name in the marketing and sales world. Best for small businesses, using the HubSpot CRM platform allows your entire business to collaborate smoothly, from marketing to sales to customer support.
The impressive array of free tools that HubSpot provides to its subscribers is by far its strongest advantage over ClickFunnels. You can arrange sponsored ads, build landing pages, and harvest leads. Plus, the free CRM enables you to save your contacts' data and develop email marketing campaigns with ease.
Although HubSpot only offers around 10 templates for creating landing pages, they're professionally designed with a minimalist look. Using the friendly drag-and-drop builder, you'll still be able to produce beautiful sales pages, downsell pages, squeeze pages, upsells, and webinar funnels.
HubSpot is customer-oriented and has multiple support channels such as live chat, phone, and ticket. There are also vast self-help resources and tutorials to go through on their website.
Key Features:
A/B testing for many features
Support for Google calendar, Office 365, and HubSpot CRM
Ability to design and share email templates
Easy drag-and-drop landing page builder
Helpful support and thorough documentation
Pricing:
HubSpot offers a generous selection of free tools, including landing pages, forms, live chat, ad management, social media integration, email marketing, SEO optimization, and storage for up to 1 million contacts.
Premium packages are also available depending on your needs. Marketing plans come in three levels ranging between $45 and $3,200 monthly.
7. Unbounce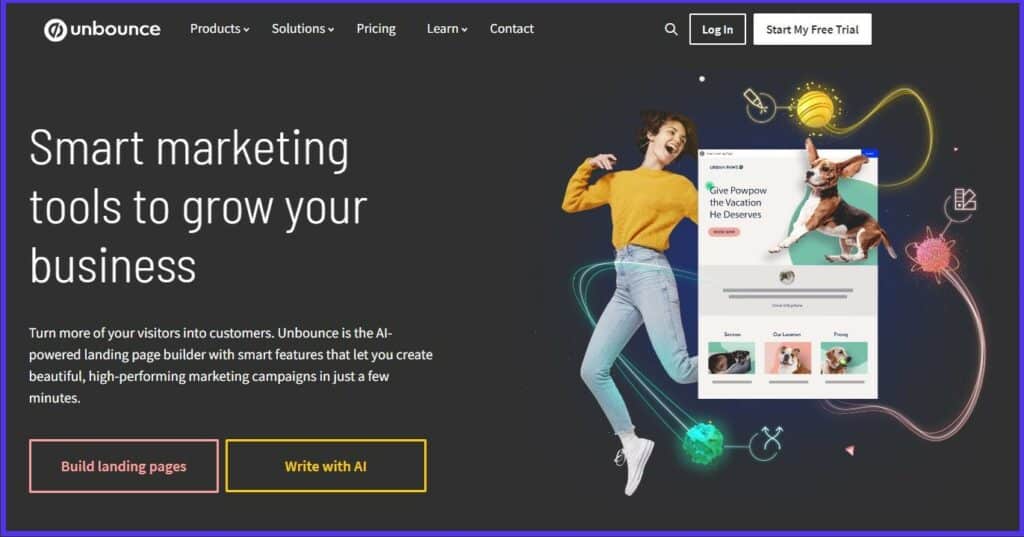 Unbounce may not be an all-in-one marketing platform, but it's undoubtedly a powerful and flexible ClickFunnels alternative.
Smart Traffic is the service's coolest feature. It combines your skills with its AI Smart Builder that analyzes data from over 1.5 billion conversions to determine which layouts and headlines would be most effective for your target customers.
Being its meal ticket, Unbounce takes the lead over ClickFunnels by presenting over 100 landing page templates with better aesthetic designs. Whether you know code or not, you'll be able to easily use Unbounce's sleek drag-and-drop builder.
Moreover, Unbounce offers very good lead capture tools. Using the same WYSIWYG builder, you can design pop-ups to generate leads.
Unbounce has a very helpful and responsive support team that you can contact through live chat, phone, and email. Like other ClickFunnel alternatives on the list, Unbouce has a large resource center and abundant learning materials that you can benefit from.
Key Features:
Unlimited landing pages, pop-ups, and sticky bars
Top-notch landing page builder
Large community and excellent support
Compatible with WordPress, Zapier, and Pabbly Connect
A/B testing and AMP
100+ mobile-friendly templates
Up to 2,500 conversions and 50,000 visitors
Pricing:
Unbounce has a similar price range to ClickFunnels, but offers more plans. You can choose from three tiers: Launch ($90/mo), Optimize ($135/mo), and Accelerate ($225/mo). Discounted rates are also offered with annual subscriptions.
Unbounce provides a 14-day free trial to take it for a spin before you sign up.
8. OptinMonster
OptinMonster is a cloud-based WordPress pop-up plugin and lead generation powerhouse. It's a cost-effective ClickFunnels alternative for all kinds of users, from freelancers to large enterprises.
It's incredibly easy and quick to create sophisticated campaigns using the OptinMonster campaign builder. You can create solid lightbox pop-ups, full-screen welcome mats, floating bars, and so much more.
With the drag-and-drop editor, you'll be able to personalize a library of over 400 visually stunning built-in templates to get more leads and boost your website conversions .
OptinMonster includes several advanced targeting rules like geolocation targeting, exit-intent technology, and OnSite Follow Up Campaigns to ensure that your intended audience sees your campaigns at the right moment.
Customer support channels are limited to live chat and a ticket system for members. Nevertheless, there are lots of tutorials and articles to use if you need help.
Key Features:
A/B testing
Campaign analytics, segmentation, planning
400+ mobile-responsive templates
Lead capture and segmentation
40+ integrations including WordPress, WooCommerce, Shopify, and Zapier
Forms and cart abandonment management
Up to 100,000+ page views
High-end target rules
Pricing:
OptinMonster offers four plans that are significantly cheaper than ClickFunnels. The smallest package costs $9 per month, whereas the most expensive subscription stands at $49.
All plans are billed on an annual basis. Plus, you get a 14-day money-back guarantee and access to premium courses for free.
9. Sendinblue
Founded in 2012, Sendinblue is one of the top digital marketing platforms for thriving businesses. This versatile service grants you access to a whole suite of tools for productive communication with your audience such as email marketing, a CRM, Facebook Messenger, and SMS.
To enhance conversion funnels, Sendinblue released its landing page creator in 2018. The drag-and-drop builder is smooth, and you can choose from pre-existing templates to customize your desired landing page.
On top of that, you'll be able to decide the purpose of your landing page by setting targeted CTAs and adding form fields linked to your Sendinblue account. This way, it'll be simple to transfer data to your contact database.
Keep track of visitor activity on your website with the Sendinblue Tracker tool. This allows you to develop automated workflows to scale your business using that information and email engagement analytics.
Sendinblue's multilingual support desk is known for being quick and helpful. You can reach them through a ticket system or by phone (Premium and Enterprise members only). Other resources include a blog, FAQ section, tutorials, and a YouTube channel.
Key Features:
Intuitive landing page builder with 20+ templates
A/B testing
Facebook Ads, SMS and email marketing
Real-time statistics
Audience segmentation
Chat, CRM, and shared inbox
Integrations
Free plan
Marketing automation workflows
Pricing:
Sendinblue has a flexible and affordable pricing structure. Everyone can try the Free plan, which includes unlimited contacts, 300 emails per day, SMS and email marketing, and live chat.
It also offers three paid subscriptions — Lite, Premium, and Enterprise — with prices starting from $25 to $65 per month, depending on the number of emails you need. All packages are non-refundable.
10. Systeme.io
Systeme.io is a no-fuss ClickFunnels alternative that has over 200,000 subscribers. You won't only create sales funnels with Systeme.io, but you will also be able to launch email marketing campaigns, build websites, design automation workflows, develop online courses, and set up affiliate programs .
The funnel builder is straightforward and doesn't require any special skills. The pre-made templates are elegant, fast to work with, and offer more in-depth editing for HTML/CSS than other services.
The Systeme.io editor also lets you implement membership sites, payment systems, and email lists. It's even possible to set up email sequences and grant access to online courses.
All Systeme.io features are interconnected to save you the hassle of switching between multiple services, and to improve the functionality and marketing success of your business.
Systeme.io provides excellent customer support through a 24/7 ticket system. Their Knowledge Base is very comprehensive and well-organized, too.
Key Features:
UI is clean, intuitive, and easy to navigate
Drag-and-drop website/landing page builder
A/B testing
Event trigger actions
Sales analytics
Data import and export
ROI tracking
Lead management
Customizable CTAs
Drip campaigns
1-click upsells
Custom domains
Pricing:
Systeme.io offers a free plan for startups with 2,000 contacts, unlimited outgoing emails, 3 sales funnels, 1 blog with unlimited posts, unlimited storage space, and other features.
Paid packages are divided into three levels: Startup, Webinar, and Unlimited. The smallest plan costs $27/month, whereas the biggest plan costs $97/month. Compared to ClickFunnels, Systeme.io is more affordable and provides better value for your money.
11. OptimizePress
If you're a WordPress user , you'll find OptimizePress a cheaper and effective ClickFunnels alternative.
Employed by 120,000+ entrepreneurs, OptimizePress is a plugin designed primarily as a WordPress conversion funnel. You can use it to produce all kinds of landing pages, including sales pages, registration pages, checkout pages, membership portals, and upsells and downsells.
The OptimizePress dashboard has an uncluttered and minimalistic feel with easy-to-browse command options. Over 250 pre-made templates are available for selection and customization. The page editor is fast — you can get your work done in under an hour without having to navigate to the sidebar every time.
The vast library of page elements in OptimizePress, though, is the cherry on top. It offers a variety of building components that you can incorporate into your website, sales pages, and landing sites.
There are only two ways to contact support: through a website wizard or via ticket submission. Nevertheless, you can get support from a lot of manuals, FAQ sections, and other self-help materials.
Key Features:
Optimized for WordPress and fast loading times
30+ integrations
250+ conversion optimized templates
Unlimited pages, leads, and traffic
A/B split testing
Conversion analytics
Two-step opt-in forms and boxes
Mobile-responsive layouts
Pricing:
OptimizePress offers three plans: Essential, Suite, and Agency Standard. Prices start from $99 per year and go up to $399 per year. A free trial isn't available, but there's a 100% 30-day money-back guarantee.
12. Wishpond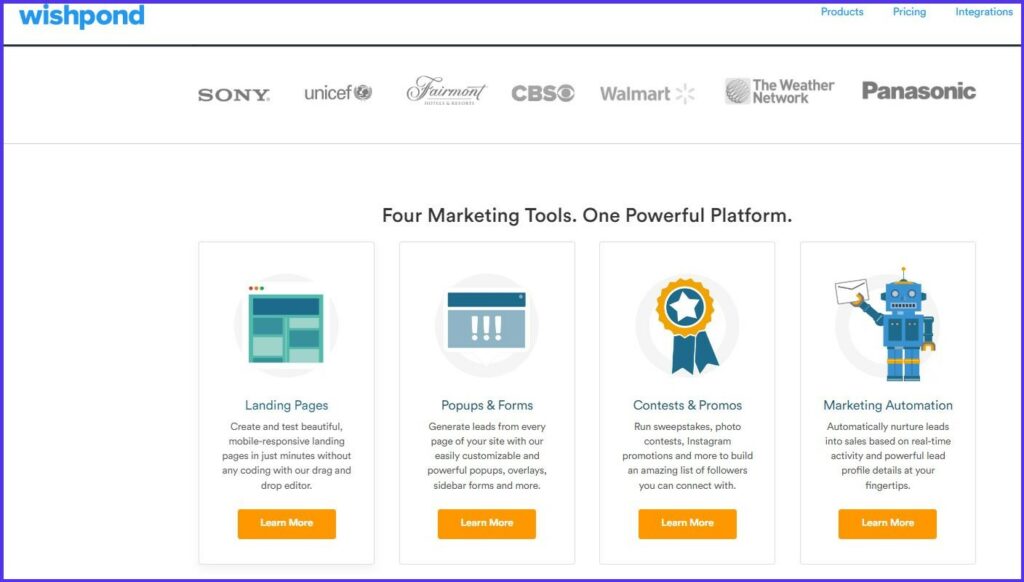 Wishpond is a feature-rich marketing and lead generation ClickFunnels alternative. With marketers in mind, the company offers tools for tracking lead activity, websites, online forms, landing pages, pop-ups, social media campaigns, and more.
Wishpond seamlessly integrates with the tools you already use, thanks to its 300+ integrations, which include email, analytics, sales, payment, and collaboration apps.
It's plain sailing when creating and publishing a landing page. It takes only minutes, and you get access to over 100 mobile-responsive designs crafted to match any business. You can create your own landing page from a blank layout, too.
To help promote your brand, Wishpond's Contest and Promotion feature will entice your loyal and potential clients to "Enter and win!" Additionally, the Referral suite is brimming with tools that can boost your online buzz.
Although Wishpond's extensive feature set is wonderful, it may often be confusing. To help, you can use live chat, email, and tickets to get in touch with Wishpond's support team. You'll also find multiple self-assistance tools, including guides, blog, Wishpond Academy, and ebooks.
Key Features:
Automatic conversion of leads into sales (depends on real-time activity)
300+ integrations including Zapier
Connection to 30+ marketing platforms
Create mobile-friendly landing pages in a few minutes
Rich pop-up building and behavioral triggering
A/B testing
Unlimited landing pages, visitors, pop-ups, forms, user accounts, and social contests
Drip campaigns
Pricing:
Wishpond offers a 14-day free trial before you subscribe to any of its three premium packages. Prices range between $49 and $199 per month and are billed yearly.
13. Builderall
Like a Swiss army knife for marketers, Builderall is a powerful ecosystem for digital marketing, website building, and website hosting.
The impressive spectrum of tools offered by Builderall includes an AI-powered dashboard, a funnel builder, a terrific drag-and-drop WordPress/website builder, a website chatbot, e-learning platforms, a support desk, and several others.
Builderall comes with three website builders: Pixel Perfect Builder, Responsive Builder, and Mobile First Builder, all of which allow you to develop professional websites without any prior experience. Unlike ClickFunnels, Builderall templates are offered for free.
You can even build membership websites with Builderall and collect a monthly fee from your visitors to access your content. You can also limit access to a particular area of your website to members only.
With the aid of Builderall's heat maps feature, you can determine precisely how visitors move about your website or sales funnel and make adjustments accordingly to optimize conversion rates.
You can send targeted emails, add or track new subscribers, and stay on top of campaign data with Builderall's Mailing Boss tool. Furthermore, you'll save time by utilizing preset email templates rather than starting from scratch.
Key Features:
Multiple drag-and-drop website, app, and landing page builders
Web hosting service
Variety of marketing tools and functionalities
Heat mapping
Supports membership website
Split testing
Integrations with several third-party services
Customizable templates
Pricing:
With sub-packages under each class, Builderall offers two primary categories: Builderall plans and WordPress plans. Builderall subscriptions range in price from $16 per month to $87.90 per month.
The least expensive WordPress bundle is $21.90 a month, while the most expensive one costs $87.90. A 14-day trial and a 30-day money-back guarantee are provided if you want to test-drive Builderall before committing.
14. Thrive Suite
Thrive Suite is another affordable WordPress-oriented ClickFunnels alternative that gives you access to the broad range of conversion-focused tools and products by Thrive Themes. For the sake of this guide, we'll focus on the Thrive Leads solution.
Thrive Leads is a strong WordPress lead generation and all-in-one list building plugin aimed at optimizing conversions. This way, you can increase leads without having to use different plugins or rely on only one tactic.
The drag-and-drop editor is convenient to use and includes over 250 templates. You can quickly design a beautiful landing page, with only one click needed to change all accent colors. Even more advanced forms, including those with numerous choice options or a two-step process, are easy to design.
Thrive Leads also features A/B testing to help you get a better understanding of your website visitors and to stimulate conversions. On top of all this, there are many API integrations available for linking forms with your email marketing software provider , such as Drip, ActiveCampaign, MailChimp , and ConvertKit.
Furthermore, the Thrive Leads advanced targeting tool lets you display one-of-a-kind opt-in offers (by category, tag, post, page, or URL) that are perfectly in sync with the theme of your WP site. You're also free to add forms using shortcodes, PHP code, and widgets.
Key Features:
Sophisticated drag-and-drop editor
Plenty of customization options
Actionable reporting and insights
A/B testing
Personalized pop-ups
Sticky ribbons
Multiple API integrations
Content lock and in-line forms
SmartExit and SmartLink technology
Pricing:
You can either sign up on a quarterly or annual basis with Thrive Suite. The Quarterly subscription costs $99, while the Annual membership is for $299. In addition, you're entitled to a 30-day 100% money-back guarantee.
15. WooFunnels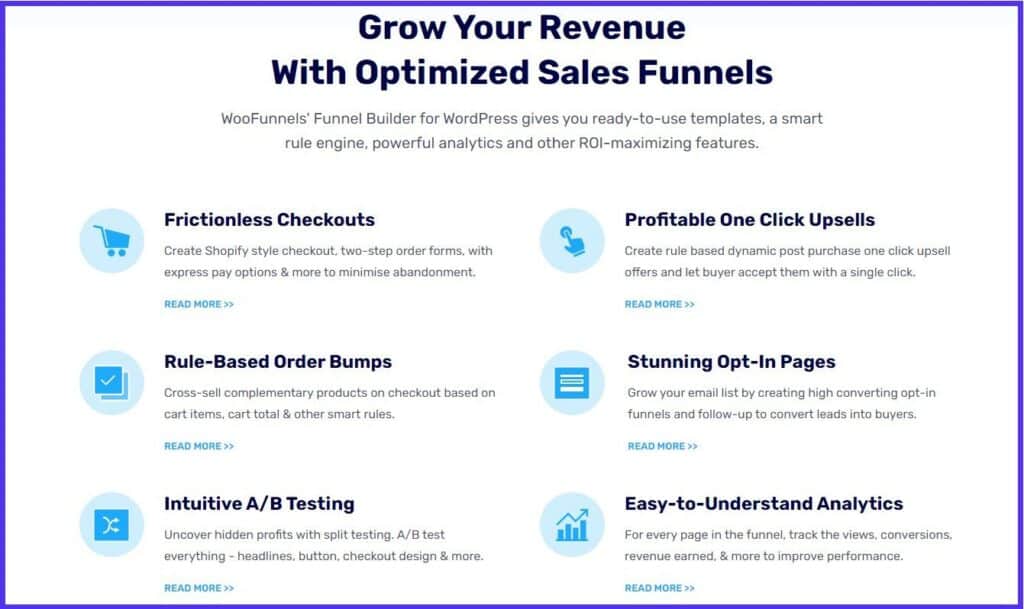 India-based WooFunnels is a WordPress sales funnel builder that powers more than 20,000 savvy users to generate automations, order bumps, checkouts, and one-click upsells that convert well and grow revenue.
The WooFunnels library is packed with high-converting, elegantly designed templates that work seamlessly with the WordPress block editor as well as other page builders like Divi and Elementor .
With the One Click Upsells feature, you can offer free upsells that are designed to enhance average order value following a sale. Consequently, you can improve sales without raising advertising costs or traffic.
The WooFunnels Order Bump tool comes in handy if you want to add related product upsells to your checkout. This feature alone can improve your sales by up to 30%.
As you may already have noticed, WooCommerce pages aren't really designed for conversion. But if you utilize WooFunnels, you can quickly develop bespoke checkout forms that are tailored to your company's and shoppers' requirements.
As a result, you'll be able to include elements that will help decrease cart abandonment, such as a two-step ordering process, a layout similar to Shopify's, express payment alternatives, and more.
WooFunnels support is available through a ticket system, and you can navigate through a variety of self-help resources like the WooFunnels blog, documentation, and FAQs.
Key Features:
Built-in analytics
A/B testing
One-click order bumps
Upsells and downsells
Rule-based funnel triggers
Attractive templates and user-friendly page builder
Optimized check-outs
Pricing:
WooFunnels offers a free version on WordPress.org . They also sell premium subscriptions for both single website owners and agencies with multiple websites. The lowest package has a yearly cost of $179, while the most expensive one is $399.
16. Keap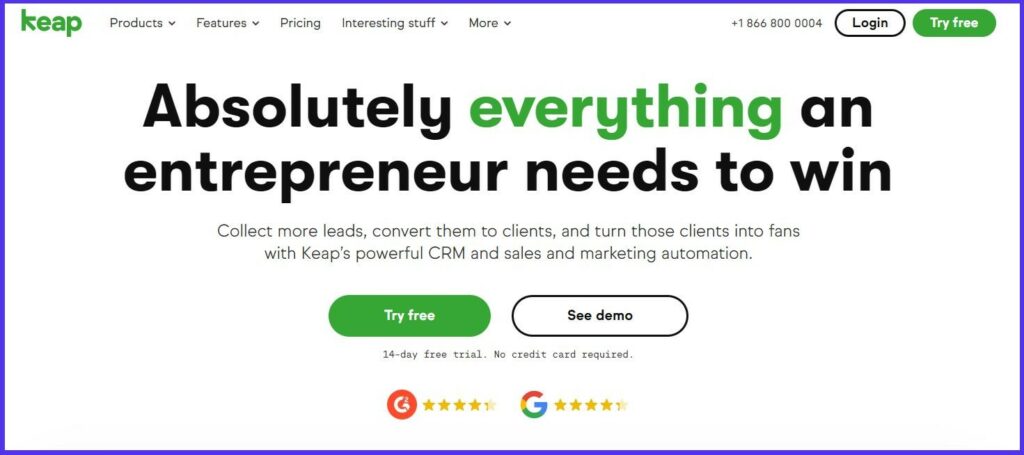 Seeking a robust CRM that combines both feature-rich email marketing tools and automation funnels? You should add Keap to your shortlist.
We recommend Keap (formerly known as Infusionsoft) not only as a ClickFunnels alternative, but also as an upgrade from ClickFunnels' features, especially if you already have an established business.
The Keap suite comes with a plethora of services like landing pages and lead-gathering tools such as forms, pop-ups, automation features, and email distribution. Staging your CRM is straightforward owing to Keap's dependable customer success manager, intuitive drag-and-drop sales funnel builder, and mobile-friendly landing page templates — without slowing down your page loading speed .
On your customizable dashboard, you can coordinate and monitor leads to keep an eye on everything until you close the deal. What's more, you can drive leads through the sales funnel by initiating automated follow-ups and tasks.
Keap has solid 24/7 support options like chat, phone, email, and ticket. It also boasts a large community, extensive documentation, webinars, and tutorial videos.
Key Features:
Unlimited email marketing
Fast-loading template
Clean interface and highly-functional builder
Powerful automation features
24/7 chat support
Lots of options for invoicing and payment processing
2,500+ API integrations via Zapier premium
Lead scoring and lead source tracking
Pricing:
Keap isn't cheap, so we don't suggest it if you're budget-conscious. Pro and Max are the two available plans. The price of the former is $169 a month, while the price of the latter is $249.
If you need a custom plan, you can contact the sales team and ask about the Max Classic package. Plus, you can try Keap for 14 days for free.
17. 10 Minute Funnels
10 Minute Funnels , or 10MF, is all about speed and efficiency, as the name implies. This young service does everything you'd expect from a sales funnel tool, but it does it considerably faster, making it a substantial ClickFunnels alternative.
Both novice website owners and experienced programmers can use 10 Minute Funnels to create any type of sales funnel in minutes. You can easily navigate the app because of its incredibly user-friendly, clear, and intuitive interface, design, and layout.
The abundance of pre-built templates makes 10 Minute Funnels incredibly versatile, with designs for everything from lead, sales, and upsells funnels to single web pages and events. You'll find it very convenient to modify your website without having any coding knowledge by adding and moving pre-existing elements using 10MF's live page editor.
10 Minute Funnels also offers a bouquet of mobile-responsive page addons and free plugins. For instance, the Opt-in Popup feature encourages visitors to join your mailing list in a subtle manner. Moreover, the service supports multiple order cart options, including Amazon, Samcart, Shopify, JVZoo, ShoppingCart, PayPal, and more.
10 Minute Funnels provides additional actions via custom script creation, URL redirects, connection to Google Analytics, and connecting two web pages from separate funnels.
Your support options are limited to email during working hours. Nevertheless, hundreds of videos, a 400-page user manual, an extensive knowledge base, and recordings of live training calls are all included in the full training package that's offered free of charge.
Key Features:
Fast performance
100% drag-and-drop builder
Split testing
One-click upsell
Integrations with third-party apps
Ability to use your own domain name
Up to unlimited funnels, visitors, pages, and custom domains
Pricing:
10 Minute Funnels offers two membership levels: Standard for $67 per month and Premium for $167 per month. The company also provides a 14-day trial for $1.
18. Pipedrive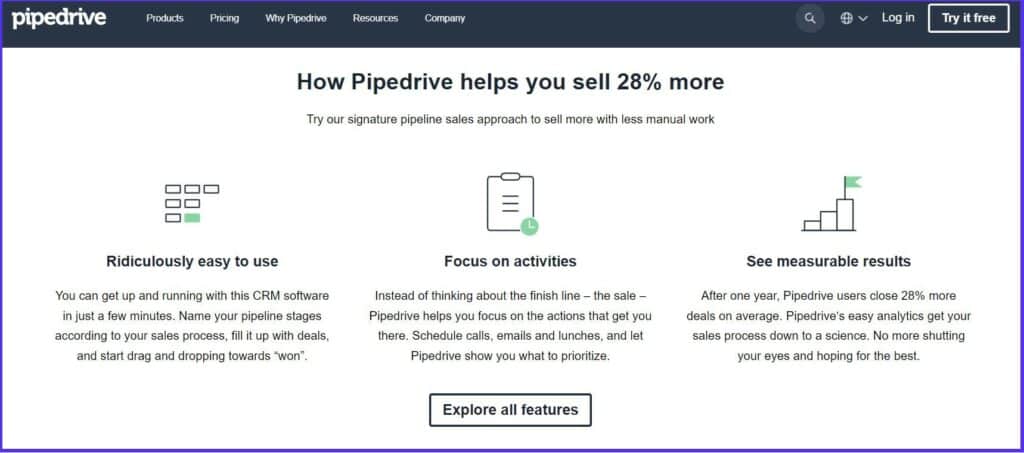 A crowd favorite as a ClickFunnels alternative for small businesses, Pipedrive is a user-friendly, sales-oriented CRM. Unlike some products on our list, Pipedrive is a genuine sales builder that acts as a visual pipeline for sales rather than just funneling them through.
You can create as many custom deal pipelines as you'd like using Pipedrive and drag and drop them into place. The straightforward user interface features a clean, uncluttered design. Pipedrive also provides clear calendar and email interfaces, highly configurable analytics, and automated workflows to speed up your sales cycle.
To give you a complete overview of prospects, leads, and current customers, the Smart Contact Data feature collects publicly available information about your contacts.
The software also has the ability to spot and merge duplicate contacts. Another cool feature is Leadbooster, a lead generation tool that can be integrated with your website to increase conversions. You can set up preconfigured questions to gather fresh leads, which Leadbooster can then add to your pipeline.
Key Features:
Robust mobile apps along with call and email synchronization
Drag-and-drop deal pipelines
Unrestricted automated workflows
Built-in email marketing tools
Revenue projections, forecasts, and advanced custom reporting
24/7 support
300+ integrations
Pricing:
Pipedrive has four budget-friendly plans to select from: Essential, Advanced, Professional, and Enterprise. Prices range from $11.90 to $74.90 per month. You have the option to be billed monthly or annually. Plus, there's a 14-day free trial available.
19. WP Simple Pay
WP Simple Pay makes it simple to collect one-time and periodic payments in WordPress without setting up a shopping cart. It was developed specifically to work with the Stripe payments service .
As a ClickFunnels alternative, WP Simple Pay comes with all the tools you need to securely accept payments on your website, as well as an easy-to-use drag-and-drop payment form builder. Coupon codes also are available to deploy, and the site supports 14 languages, more than 30 locations, and over 130 international currencies.
There are checkboxes, text fields, and buttons present for instant use. Plus, you can create custom fields to let clients know exactly what information you need when they make a purchase from you.
Key Features:
Payment form drag-and-drop builder
Multiple integrations (Divi, Zapier, Elementor, and more)
Ability to add buttons for Apple and Google Pay
Unlimited payment forms and transactions
No transaction or monthly fees
Tax rate management
PCI compliance and SCA-ready
Pricing:
WP Simple Pay offers four premium packages: Elite, Professional, Plus, and Personal. Prices range between $49.50 and $299.50 annually. You can also avail yourself of their 14-day 100% money-back guarantee.
A free version is also available as a WordPress plugin, which has no usage limitations.
20. SamCart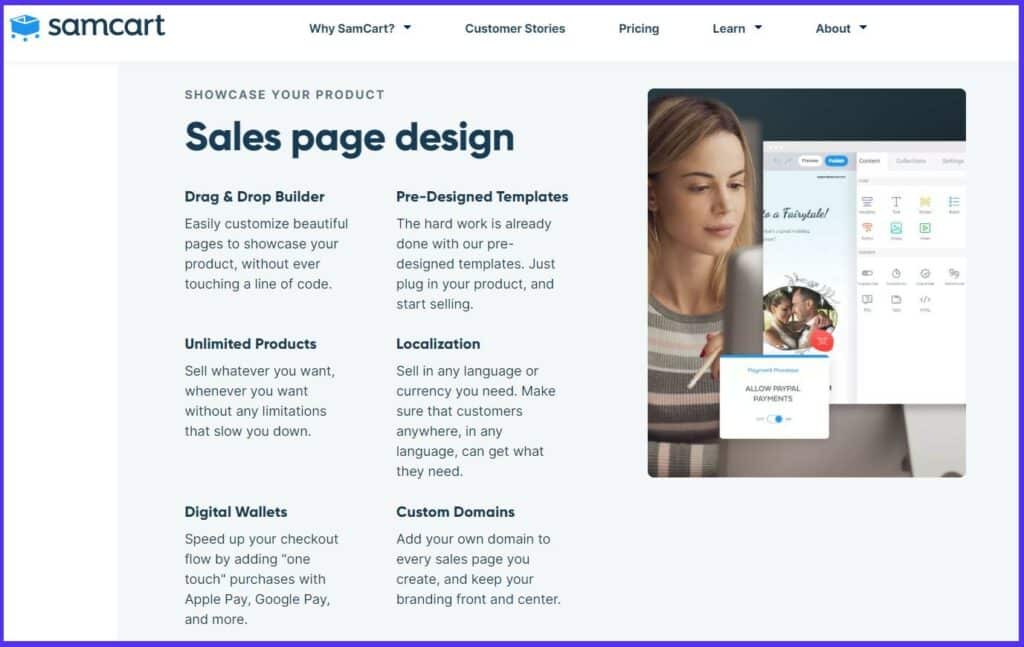 SamCart is a viable ClickFunnels alternative that concentrates on the purchase phase, which is the most important part in the sales funnel. SamCart assists online stores in optimizing checkout pages with lovely designs for a fluid buying experience.
SamCart has pre-made templates that you can modify using their drag-and-drop editor and split testing. Payment processing takes place through PayPal and Stripe . For upselling and coupons, Samcart is terrific.
You may use pop-up displays with SamCart to promote interaction and minimize cart abandonment on your checkout page. If you'd like, you can even transform your entire checkout page into a pop-up window. SamCart also provides you with a trust seal that you can add to ramp up user engagement.
SamCart may not have as many marketing options as ClickFunnels, but it still provides a broad variety of email marketing services and Zapier integrations for over 700 applications to help you maximize your digital marketing strategies.
Key Features:
Drag-and-drop page builder
Order bump collections
Unlimited products, pages, video uploads, and membership
Excellent A/B split testing tool
No processing or additional fees
White-label branding
Post-order upsells
CRM integrations
Highly accurate affiliate tracking feature
Pricing:
Three levels — Launch, Grow, and Scale — categorize SamCart packages. Pricing ranges from $49 to $199 per month. You can choose between a monthly or yearly subscription.
SamCart offers a 7-day free trial, and there's a 30-day money-back guarantee if you sign up for an annual subscription.
21. Webflow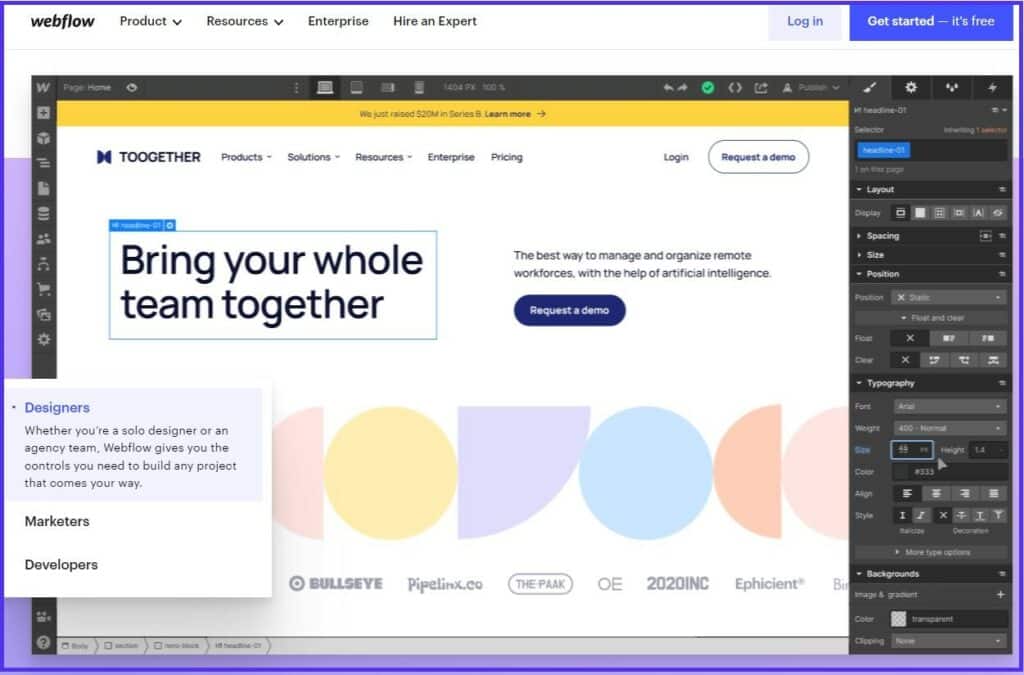 You can make lead generating pages using Webflow , a reputable website builder and hosting service. Although it lacks the vast capabilities and resources needed to create a robust sales funnel, it's a suitable alternative for those who only want to create simple and interactive pipelines.
This ClickFunnels alternative allows web architects to showcase mobile-friendly websites and landing pages. Additionally, you may configure these pages to vary and adjust in response to user behavior. The page builder doesn't require coding, and offers a wealth of 100+ stunning templates and customizations.
Moving to ecommerce tools, Webflow's automatic tax calculator will instantly compute and add on any applicable sales tax and VAT when a customer arrives at your checkout. Through Stripe , Webflow enables you to receive payments other than the typical credit and debit cards as well as Apple Pay and PayPal .
Key Features:
Top-notch templates for different content
Rich customization features
Automatic generation of HTML, CSS, and Javascript
SEO management
Multiple payment integrations
Strong security
Hosting service on AWS servers
Unlimited backups and storage
Pricing:
The Starter plan is a cost-free option provided by Webflow. They also offer premium subscriptions for both individuals and organizations. Prices vary depending on requirements. The lowest-priced package has a monthly cost of $15, while the most expensive option has a monthly cost of $235.
22. Landingi

From its name, you probably guessed what Landingi is aboutː landing pages. Similar to Unbounce, Landingi specializes in landing pages to beef up sales rather than going into great depth about the "funneling" process of revenue.
Landingi packs a bunch of impressive functionalities up its sleeve, such as mobile-friendly editor, lead capturing features, pop-ups, lots of integrations (e.g. HubSpot, Salesforce, and ConvertKit), and testing tools.
Landingi's drag-and-drop builder encompasses over 300 polished templates for different landing and funnel page goals, which you can quickly customize without the aid of a professional.
With the PageInsider package, you can easily figure out where visitors are most likely to direct their attention so you can focus on making essential tweaks there to raise your conversion rates.
Key Features:
300+ landing page templates
Unlimited conversions and landing pages
From 1,000 to 50,000 monthly visits
From 1 to 5 custom domains plus SSL
White label
A/B testing
50+ pop-up templates
Tons of integrations
Pricing:
Landingi has four packages available: Core, Create, Automated, and Agency. Subscriptions vary from $35 to $129 per month, but you can get a cheaper rate if you sign up annually or biennially. In addition, all Landingi plans come with a 14-day free trial.
23. Convertri
At its core, Convertri is similar to ClickFunnels, but with a better interface, higher performance, and a more affordable rate. The speed at which Convertri loads pages is one of its top features.
This ClickFunnels alternative has a drag-and-drop page editor that can be customized and includes a library of eye-catching, fast-loading preset themes. This builder also offers dynamic text that you can use to add premade content blocks directly to your website.
Convertri lets you keep an eye on your funnel's progress through their conversion tracking tool. Plus, you have the option to attach any funnel you created on other platforms to your domain and export it with Convertri.
Furthermore, the service comes with a WordPress plugin that you can easily integrate with your website — not to mention integrations with even more third-party apps like ActiveCampaign, MailChimp, Drip, and Keep.
Key Features:
250,000 monthly impressions
25 funnels and 250 pages
400+ templates
A/B testing
Hosting of up to 20 videos
Page importer
SSL and 100 GB monthly bandwidth
Up to 10 custom domains
Email support and well-stocked Knowledge Base
Pricing:
Convertri features just one price plan, which you can sign up for for $99 per month or $75 per year. There's also a 14-day free trial included.
24. GrooveFunnels
GrooveFunnels , or just Groove, might be a better option if you didn't find Builderall to be a good fit as your ClickFunnels alternative. The GrooveFunnels ecosystem includes numerous automation and sales services such as GroovePages, GrooveSell, GrooveMember, GrooveMail, GrooveKart, GrooveVideo, and many more.
GroovePages is a high-converting, user-friendly page and funnel-building tool. While creating your content, you can select from a variety of premade templates, and because GroovePages utilizes VueJS, the editor performs a lot better than ClickFunnels'.
With GrooveSell, you'll be able to benefit from OTO features like one-click upsells, downsells, and order bumps. You won't need to rely on other shopping carts.
GrooveFunnels' email marketing service, GrooveMail, is another excellent feature similar to ActiveCampaign and MailChimp. It comes with the most up-to-date email automation capabilities including text message and voice broadcasting plugins, behavior-based automation, split testing, email sequencing, and broadcasting.
Key Features:
350+ templates and funnels
Powerful drag-and-drop builder
Extensive email marketing tools
No monthly fees
Unlimited funnels, products, estores, page hosting, custom domains, and integrations
Membership sites
Funnel management, sales CRM, and video hosting
Pricing:
The Start Up bundle from GrooveFunnels is a lifetime free plan that grants access to a wealth of resources and features. There are, of course, premium options available, with costs ranging from $99 per month (or $79 yearly) to $299 per month (or $239 annually).
What's more, GrooveFunnels has a 30-day refund policy with paid memberships.
25. Kajabi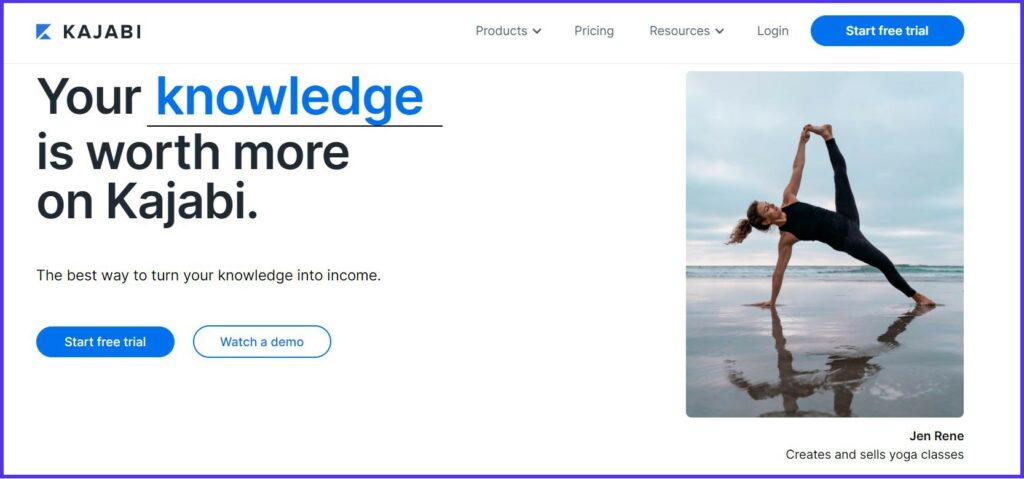 Kajabi is an all-inclusive platform you should consider using as a ClickFunnels alternative if you're a speaker, coach, or author who needs to boost your digital presence.
You can design and market items like podcasts , memberships, coaching, and courses with Kajabi. Mini-courses, mentoring, and drip courses are just a few of the formats you can build with. Further, there are no bandwidth or video hosting restrictions.
"Pipelines" are what Kajabi refers to as their funnels. These are made up of offers, email campaigns, and landing pages. Each Funnel has prewritten material that was built from the most effective sales funnels of the company's most prominent entrepreneurs.
Kajabi has an intuitive landing page builder that you'll feel comfortable working with. You can tweak every aspect of your page until it appears just right on every device.
The platform also lets you generate cart abandonment emails to recover lost purchases, push upsells, order bumps, and offer coupons (among other things) to gain followers.
Key Features:
Unlimited landing pages and marketing emails
From 3 to 100 funnels
From 10,000 to 100,000 contacts
Up to 20,000 active customers
Aesthetic ready-made templates
User-friendly page and funnel builder
Zero transaction fees
24/7 chat support and comprehensive documentation
Pricing:
Kajabi's pricing, like ClickFunnels', is on the steep side. It has three membership levels: Basic, Growth, and Pro, with monthly fees of $119, $159, and $319, respectively. If you wish to try out the service, you can do so for free for 14 days. In addition, the company offers a 30-day money-back guarantee.
Summary
As you can see, there's more than one ClickFunnels alternative at your disposal. Some are more comprehensive than others, but it all comes down to your business needs.
So whatever the reason you're hunting for a ClickFunnels alternative, you should know that the market is always rich in dependable platforms with varying price ranges.
Want to build effective campaigns and increase your revenue? 📈 Check out these helpful ClickFunnels alternatives to get started 🛠Click to Tweet
Still undecided on the right ClickFunnels alternative? We're happy to narrow it down for you!
If you're looking to tighten your belt, LeadPages, Kartra, and GetResponse are great options to save big bucks and get pretty much everything you can with ClickFunnels together with higher performance and better support.
Do you favor speed above everything else? 10 Minute Funnels and Convertri are your winners.
If you're a WordPress site owner, OptimizePress and Thrive Suite are excellent candidates.
For other specialized industries, Kajabi is terrific, particularly for elearning purposes, whereas Keap and HubSpot are perfect for email marketing.
Which ClickFunnels alternatives have you tried in the past? What did you think? Let us know in the comments below!
---
Save time, costs and maximize site performance with:
Instant help from WordPress hosting experts, 24/7.
Cloudflare Enterprise integration.
Global audience reach with 34 data centers worldwide.
Optimization with our built-in Application Performance Monitoring.
All of that and much more, in one plan with no long-term contracts, assisted migrations, and a 30-day-money-back-guarantee. Check out our plans or talk to sales to find the plan that's right for you.