Thank you for subscribing!
Google rules the search market, but don't sleep on Bing.
While the Bing search engine is largely overshadowed by Google, Bing SEO and PPC campaigns can still drive appreciable business growth.
It will take some effort to tap into this platform's potential. You have to know what people are searching for on Bing by finding the right keywords.
Bing Keyword Planner lets you dig into Bing's search queries database. You can see what people are Binging at any given time. This data can shape future SEO or PPC campaigns that you use to grow your business.
We'll look at how to use Bing Keyword Planner to research keywords and build a marketing campaign.
But first…
Why is Bing important for your marketing strategy?
Bing controls 26.8% of the US desktop search market. Since people do use Bing, you should mark it as a priority for your search marketing efforts alongside Google. Here are some more reasons why Bing should be on your marketing strategy to-do-list:
Low cost and competition
Google is the go-to search engine. Everyone uses it. In fact, Google dominates 85.6% of the search market. While Google gets significantly more traffic than Bing or other search engines, it also has fierce competition.
It can feel like a losing battle trying to rank on Google, especially if you're a small business competing against a well-established enterprise. Close to 91% of web pages get no traffic from Google.
Bing offers a ray of hope to young startups because fewer people go on it. That's where your opportunity lies—less competition.
Not as many websites are trying to rank high on Bing. If you think trying to rank high on a search engine with little search traffic makes no sense, think again. Bing still has 7.6% of the market share. This may look like a modest number, but it can lead to good organic traffic.
Bing could be useful for paid search marketing as well. One insurance company in India even doubled its conversions using Bing Ads. This company also decreased its cost per acquisition by 20% by making the switch.
Businesses with a limited marketing budget can use Bing to build affordable PPC campaigns, attracting valuable leads but spending much less per click compared to Google Ads. 
The audience is different and much more segregated
Everyone uses Google. It is a diverse search engine—and in some ways too diverse for marketers who are just getting started. Bing has a very distinct audience, making it easier for marketers to home in on their ideal consumers.
The majority of Bing users are  35 or older and have a decent average household income. This means Bing has a more mature user base with a stronger buying power. And for businesses whose buyer persona matches this demographic, Bing can be a jackpot.
Bing also gets a lot of attention from business owners. It could be a good starting point for B2B marketers to gain some online exposure and drive web traffic.
Bing relies on different ranking algorithms
Bing's algorithm works differently than Google's. For example, backlinks are not as needed for ranking high on Bing. You can do great with just a few backlinks from top-quality sites. 
Bing also clearly tells webmasters and content creators that it uses social signals as positive ranking factors. This means your social influence counts on Bing. It won't take as long for your website to rank high on Bing if you're already popular on social media.
Bing has a vast scope
Since Bing is a part of the Microsoft Advertising Platform, Bing's ads are displayed on its partner sites, such as Yahoo! And DuckDuckGo. Your message can still reach a wide audience if you invest in Bing ads—even people you'd find on Google.
Importance of keyword research in search marketing
The Internet reaches more than 60% of the global population, but you don't want to reach all internet users.
Of course not.
You want your business to target the right audience. Keywords help with that.
Keywords work as a linchpin between search queries and web pages. They explain to search engines what each web page is about to attract the right kind of audience to it.
This is why keyword research is foundational of all search marketing campaigns. Whether you want to run paid ads or you're trying to rank organically, keywords point you in the right direction. They help you streamline your efforts according to your customers' demands.
Keywords also play a slightly different role in paid search versus organic search marketing.
Keyword research helps you identify what your audience is looking for. Once you know what your audience is struggling with, you are in a better position to create valuable content for them.
Consider factors like search volume and competition among many others when searching for keywords relevant to your business. If the keywords you choose can help you rank higher on the SERP, target them.
Relevance is another major ranking factor on Bing. Bing judges relevance based on the presence of matching or relevant keywords on the web page.
Much like SEO for organic results, keywords determine the success of a PPC campaign. Thorough research becomes the most critical step because the wrong selection of keywords can lead to increased CPC with no appreciable revenue.
How to use Bing Keyword Planner to find keywords
Bing is very explicit about the priority it gives to keywords. It even states that keywords can help you rank higher.
But only if you get them right.
Bing Keyword Planner comes equipped with enough information for you to build a strong keyword list. It can be a starting point for your search marketing campaigns.
Before diving into our Bing Keyword Planner guide, let's first talk about Bing Keyword Planner itself.
Bing Keyword Planner
The Bing Keyword Planner reveals critical data. This includes search volume and search trends. It provides ample information about changes in search behavior over time. It also allows you to filter keywords according to countries, languages and devices. 
Use the Bing Keyword Planner to find keywords that were being used in a fixed time frame and get data on them.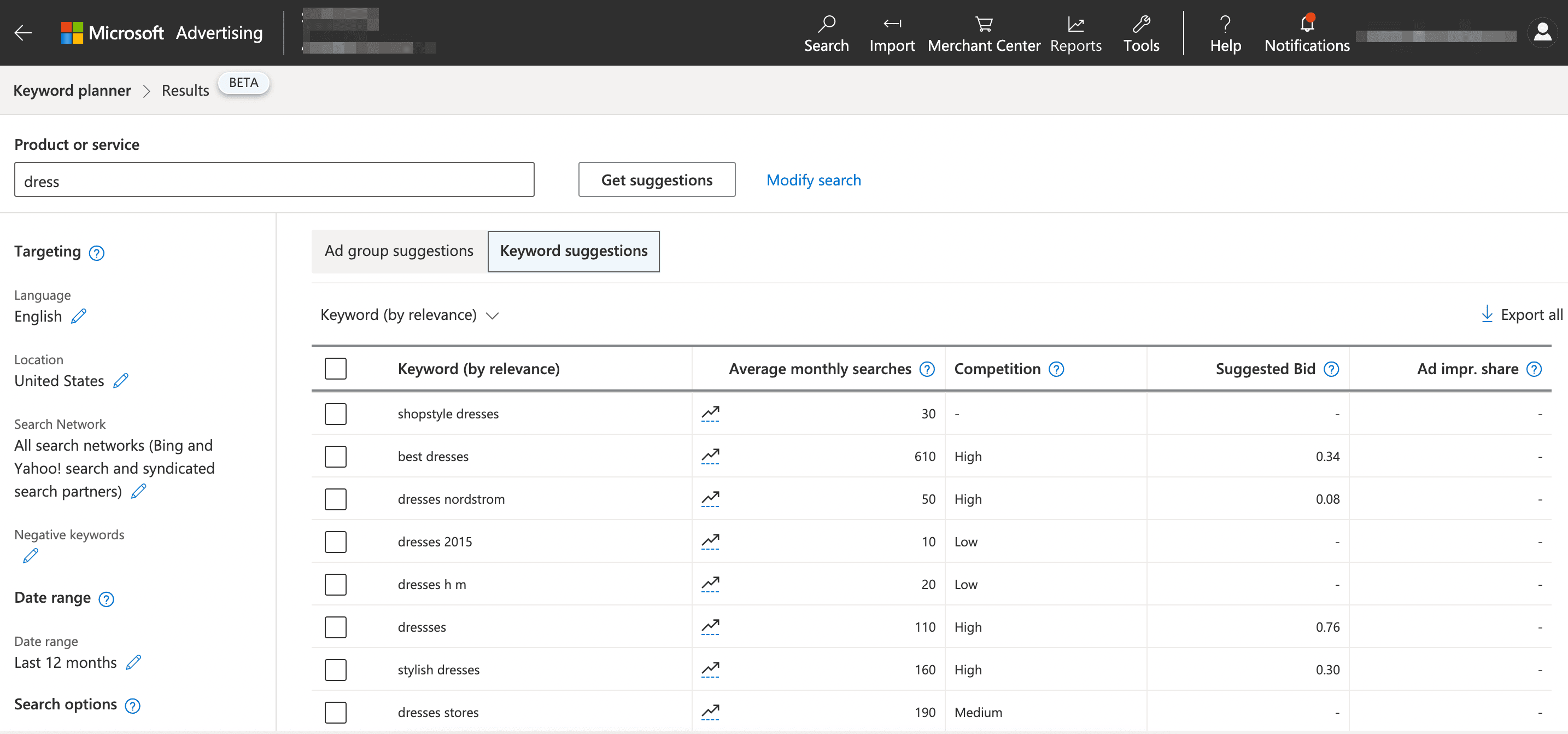 Bing Keyword Planner usage guide
Now that we know a little about the Bing Keyword Planner, let's dive into how you can start using it for keyword research.
Step 1: Brainstorm keyword ideas
Bing keyword research starts with brainstorming, just like any other keyword research process.
Get in your prospects' shoes and think to yourself, "What would my target consumers type in the search box when looking for what I have?"
For example, if you sell running shoes, your prospects will likely search with phrases like buy running shoes or comfortable running shoes.
Brainstorm a list of keywords, then start Binging them to see what results pop up.
Shortlist any keywords your competitors are ranking for. Let's say an affiliate blog, for example, is ranking for keywords like best running shoes while a shoe retailer is ranking for buy running shoes.
Shortlist the latter because it is the most relevant to your business. 
Scroll down to the very bottom of the page. You'll see some related searches. These phrases indicate what people are searching for. Pick these phrases up and add them to your list.
Do the same with all your brainstormed keywords and build a comprehensive list. Once the list is done, it's time for step 2.
Step 2: Head to the Bing Keyword Tool
Go to the Microsoft Ads page. Here, you will need to create a Microsoft account or sign in to access the webmaster tools Bing has for you.
Once you are through the signup/in process, click on the tools icon at the top ribbon of the page and find the keyword planner. Click on it.
You'll come across the Bing Keyword Planner Page. Click on the Search for new keywords option.
Step 3: Finding keywords
Once you click the Search for new keywords option, you'll see a couple of boxes in the drop-down menu. One of these boxes will be labeled product or service. This is for you to enter your root keywords. Type in all your root keywords and separate them with a comma.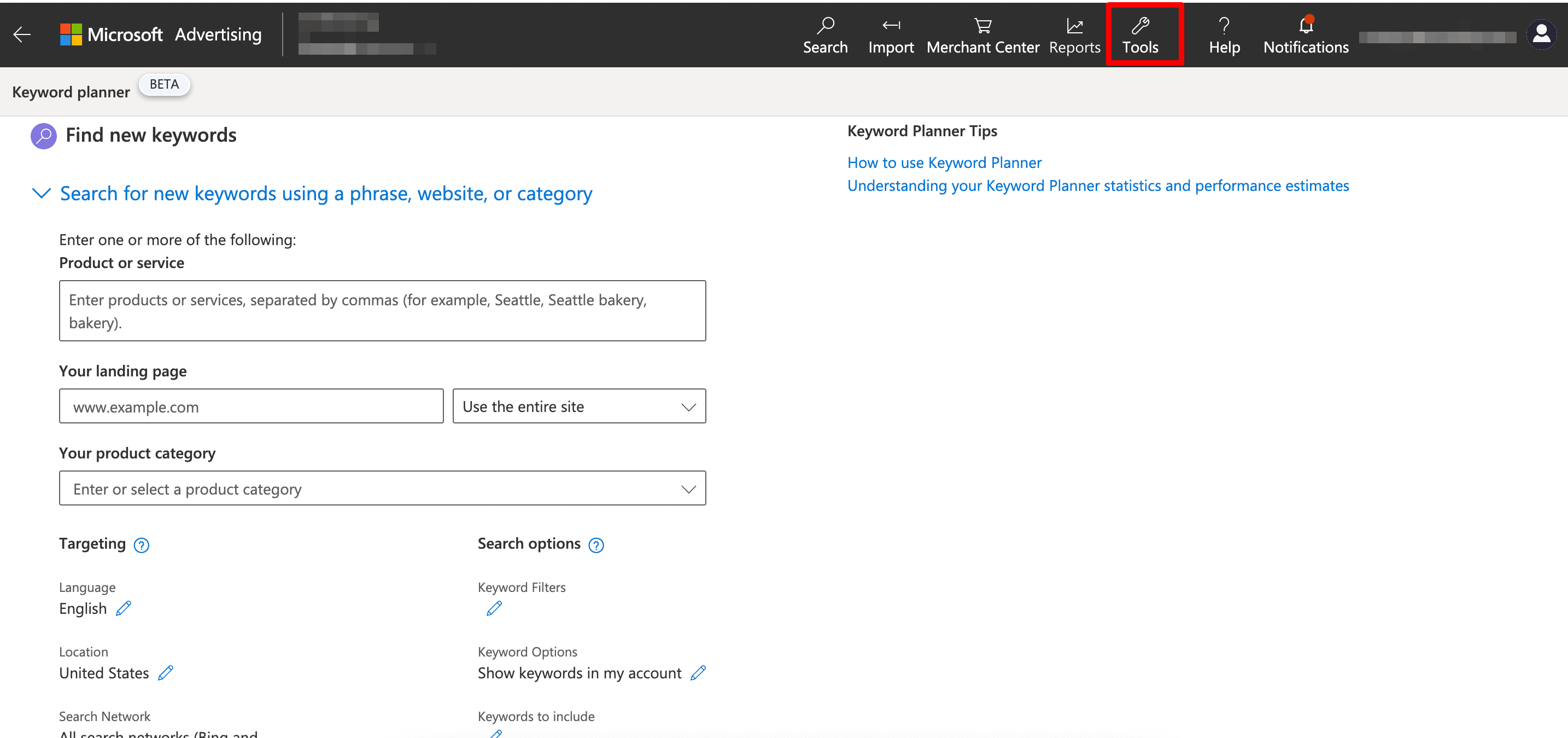 If you want to pull keywords from a specific landing page, you can also paste the URL of that page into the dialog box below the keywords box. Since we are focusing on the regular keyword research process, let's drop the alternative for now.
Once you have entered keywords, scroll down a bit to see a bunch of filters. Select the country you want to target, the language you are targeting, the time frame of data, and whether you want data from Bing only or from partner sites.
Finally, hit the Get Suggestions button, and the tool will generate a long list of keywords with search volume, competition, and cost-per-click displayed neatly in columns.
Step 4: Choosing keywords
Once you have keyword data displayed in front of you, your first inclination might be to find low competition, high search volume keywords. In a perfect world, you would find them easily with the best options. But we don't live in a perfect world, do we? This is why it can be a little challenging to find them.
So, what should your approach be if you can't find any of these ideal keywords?
It is okay to go for keywords with low competition and low search volume.
Remember that the keyword data from the Bing Keyword Planner is for Bing Ads (not for organic results) but can also be relevant for SEO.
For more accurate data on organic keyword targeting, check out SE Ranking's Keyword Research Tool which generates data from a vast database and allows you to select the right keywords for your campaigns.
Bing vs. Google Keyword Planner
Bing Keyword Planner has data relevant to Bing searches, and Google Keyword Planner reveals search data regarding Google searches. Whether you should use Bing or Google Keyword Planner depends on what search engine you are trying to rank on.
Both Bing and Google keyword planners share many features, but Google has more in-depth data because it has more users.
There is a feature that neither Google nor Bing offers—competitor analysis.
Competitor analysis can help you understand certain things about your business. It can play a vital role when you're trying to rank higher in search engine results. It can also help you streamline your campaign for better results.
SE Ranking's Keyword Research Tool has the edge over Bing and Google keyword planners and allows you to analyze historical and current competition in organic SERPs. On top of that, another SE Ranking tool, Competitive Research, allows users to view the most popular ads for each keyword and gain comprehensive insights on critical keyword data for both paid and organic search marketing.
Conclusion
Bing marketing is a less-visited avenue in the search marketing world, but it has its potential. When used right, it can help small to medium-sized businesses break through to the competitive world of search marketing.
Similar to Google SEO and PPC campaigns, Bing campaigns also rely heavily on keywords.
Bing Keyword Research Tool gives you insights into phrases being searched on the search engine (with key data for each phrase).
But this tool only gives information about the keywords for PPC campaigns and doesn't provide data on how the competitors are doing.
SE Ranking's Keyword Research Tool solves these problems and allows you to search for keyword data for SEO and PPC campaigns while also giving critical insights into what your competitors are up to in the search engine space.