What if I told you that you could write faster, better, and in a way that increases your odds of ranking highly on Google's search results?
Well, you can—with content outlines.
Outlining your content can improve your writing efficiency and content flow, as well as ensure you include the required bits for SEO in every article.
I've personally outlined thousands of articles over the last 10 years, and it's been the key to keeping up with the constantly changing pace and need for ever-more and ever-better content.
In this guide, you will learn the following:
A content outline is a detailed overview of what your article will include.
My outlines always include the headings and subheadings of the article (H2s, H3s, etc.). The outlines also include a look at the competing content in Google and important questions to address or long-tail keywords to be included.
They also include things like the goal of the article, the approach angle, the unique selling proposition, and more. We'll look at these in more detail later in the section discussing how to outline your content. But first…
I always draft an outline before I start writing an article. This is for several reasons:
An outline guarantees you include important things for search engine optimization (SEO) – These include having the right keywords and satisfying the searchers' intent by addressing their most common questions.
An outline helps you improve the flow of your article before you start writing – If you just dive into the writing, your ideas can be all over the place and you may have to spend a lot of time reorganizing the information to be more logical… and this process can be a nightmare without an outline.
You can more easily outsource content at scale with proper outlines – With a great outline, even a mediocre writer can produce great content. If you want to scale up your content production with any level of quality control, good outlines are a necessity.
So how do you write a great content outline?
Click here to make a copy of our content outline template.
This template includes everything you need to properly outline your blog articles, including the:
Target keyword.
Search intent of your target keyword.
Approach angle.
Goal of your content.
Unique selling proposition (USP).
Title of the article.
Headings and subheadings of your content.
Don't worry if any of the above confuses you. I'll break down what each means in the next section.
Luckily, outlining content is fairly easy once you learn the process. I break down each section of our template outline below:
1. Decide on the goal of your article
Before you do any research or put down any words, the first step is to decide why you're even creating this piece of content to begin with.
Your content can have many goals, such as:
Increasing brand awareness.
Explaining use cases for your product(s).
Building backlinks for SEO.
Growing your email list.
Ranking for keywords on Google to grow traffic.
Etc.
Throughout this guide, I'll be using ramen noodles as an example.
So let's say I want to write an article about how to make amazing ramen noodles. My goal is to promote my fake company's amazing hoisin sauce and build brand awareness. So I put that in under my "goal" section:

2. Pick your target keyword
I never write an article without doing some basic keyword research first. Even if the intention of your article isn't to rank for keywords on search engines, having SEO built into every article you write is still good practice.
Why?
Because it guarantees you build good habits. You may even be surprised at how much extra traffic you can gain—even from keywords that get almost no searches.
For example, I wrote an article about the best places to travel, and its goal was to get links from well-known travel blogs.
While outlining, I targeted the keyword "best places to travel in the world," which gets about 1,500 searches per month. That article is now ranking for over 200 keywords and gets Google traffic even though SEO wasn't the goal.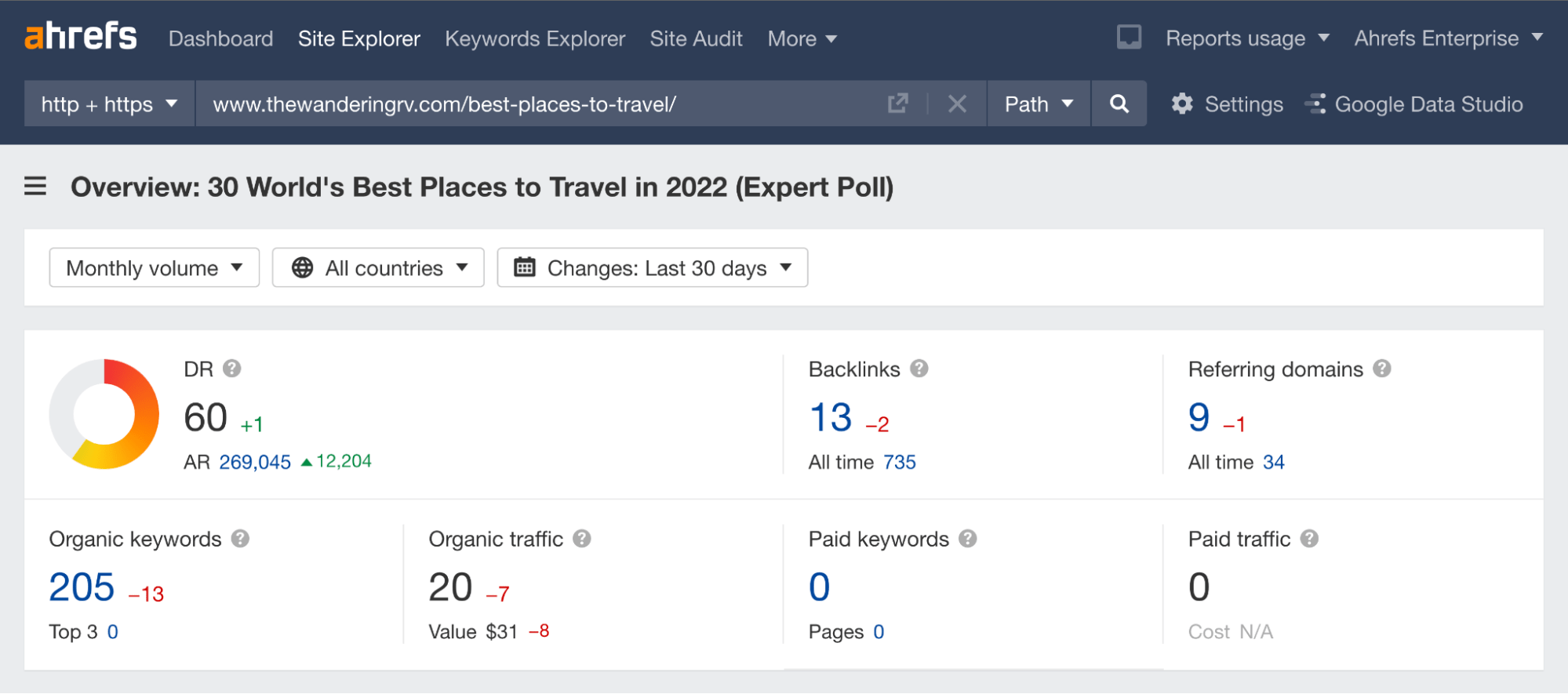 You can easily perform simple keyword research like this by putting keywords related to what you want to write about into Ahrefs' Keywords Explorer and browsing the results.
For our article about how to make the best bowl of ramen noodles, I start by searching for "ramen noodles" in Keywords Explorer: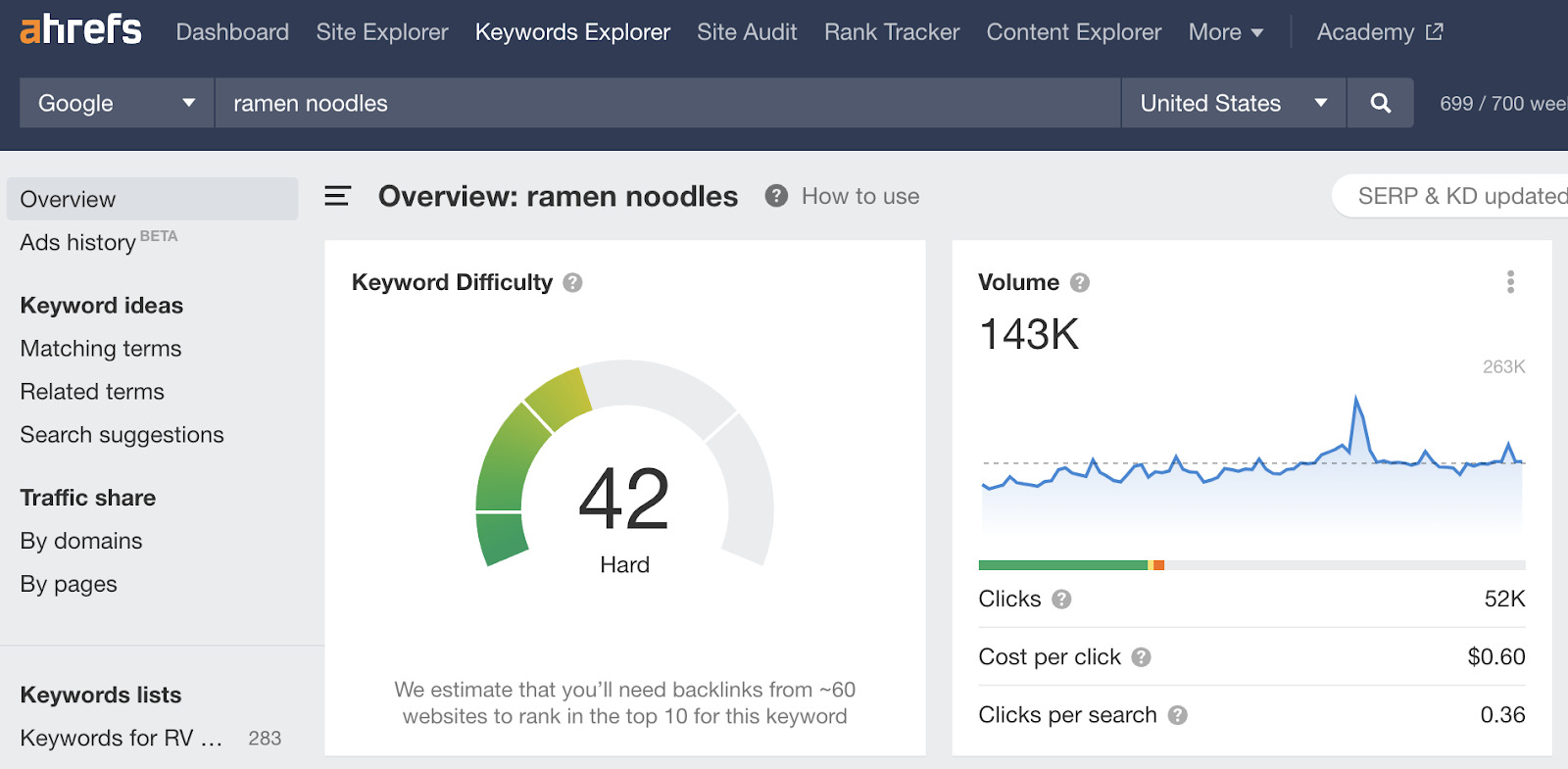 You can see it gets a whopping 143,000 searches per month. That's awesome—however, we need to see if our article idea can actually rank for this keyword.
Scroll down, and you'll see that the search results in the SERP overview consist of two product pages (Maruchan and Amazon). Those are followed by some extremely authoritative websites: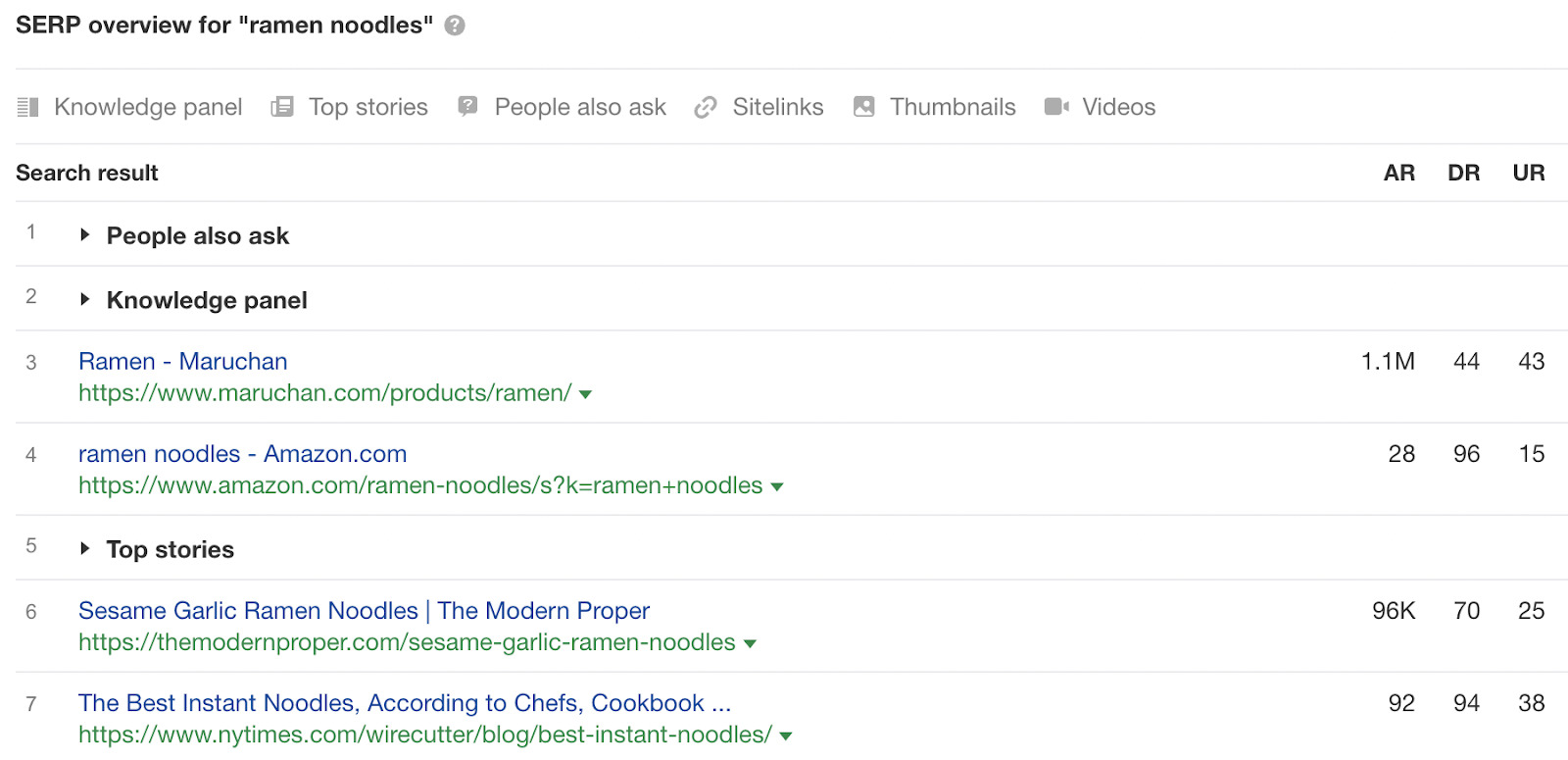 In other words, unless you already have a strong website, ranking for this keyword with a guide on how to make ramen noodles will be difficult.
Next, scroll back up and look at the Keyword ideas panel. Here, you'll see other ideas for potential keywords to target, such as "how to make ramen noodles."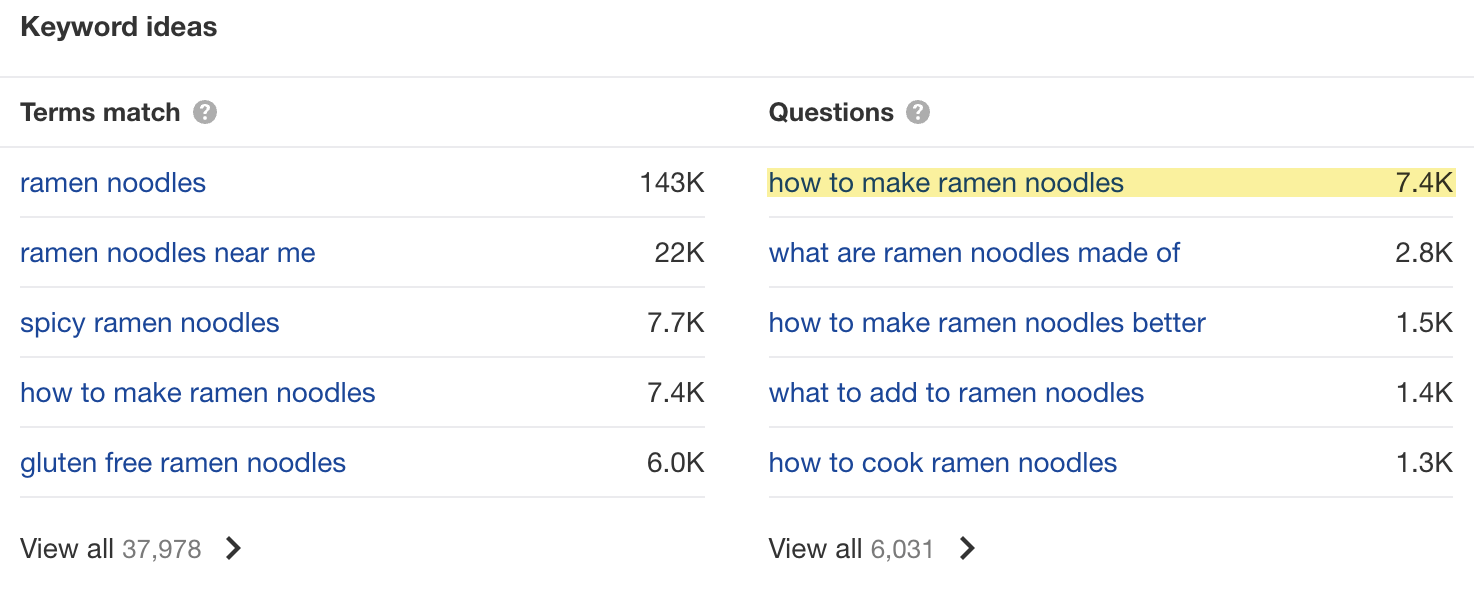 If we look at the Overview page for "how to make ramen noodles," we can see it may be a bit easier to rank highly on Google for this keyword because the competitors aren't as strong.
In fact, the featured snippet website has a Domain Rating (DR) score of just 20, which signals that even a newer website with fewer backlinks can likely rank for this keyword.

And that's how you do basic keyword research! Put your target keyword into your outline, and let's look at search intent.
3. Research your keyword's search intent and article angle
Search intent is the why behind a search query. Why did the user search for this keyword? What are they looking for?
Search intent is important because it determines the kind of content you should create for a given keyword. There are four primary types of search intent:
Informational
Navigational
Transactional
Commercial investigation
Refer to our guide to search intent for more information on each of these. For now, let's continue with the example we used above on "how to make ramen noodles."
This is an informational keyword. The searcher is looking for information on how to do something.
Most of the articles you will write are going to either have informational intent (what, how, when, etc.) or commercial investigation intent (like "best X" or "X vs Y"). Navigational intent and transactional intent are for other pages on your site, not blog articles.
But search intent goes beyond simply writing "informational" in a section and calling it a day. That's where the angle of your content comes in.
What is the angle your competitors are using?
For example, if we look at "how to make ramen noodles," we see that the top result talks about how to make ramen noodles from scratch. Other results talk about homemade ramen noodles.
The two angles here are making the actual noodles yourself or using prepackaged noodles but making them better with other ingredients. The former is ranking higher on Google, but either angle can work.
As long as you use one of these two approaches, you increase your odds of ranking on page #1 of the search results.
Now research the SERPs and use the "search intent and content angle" section to indicate what kinds of content are currently ranking and what angle YOU want to take with this article.
Here's how mine looks:

4. Decide on a USP and title
Your USP is what makes your content different from your competitors (and, thus, makes your article worth clicking on over theirs).
Oftentimes, your USP is made obvious by your title, which is why these steps are mixed together. Let's look at the USPs of our competitors: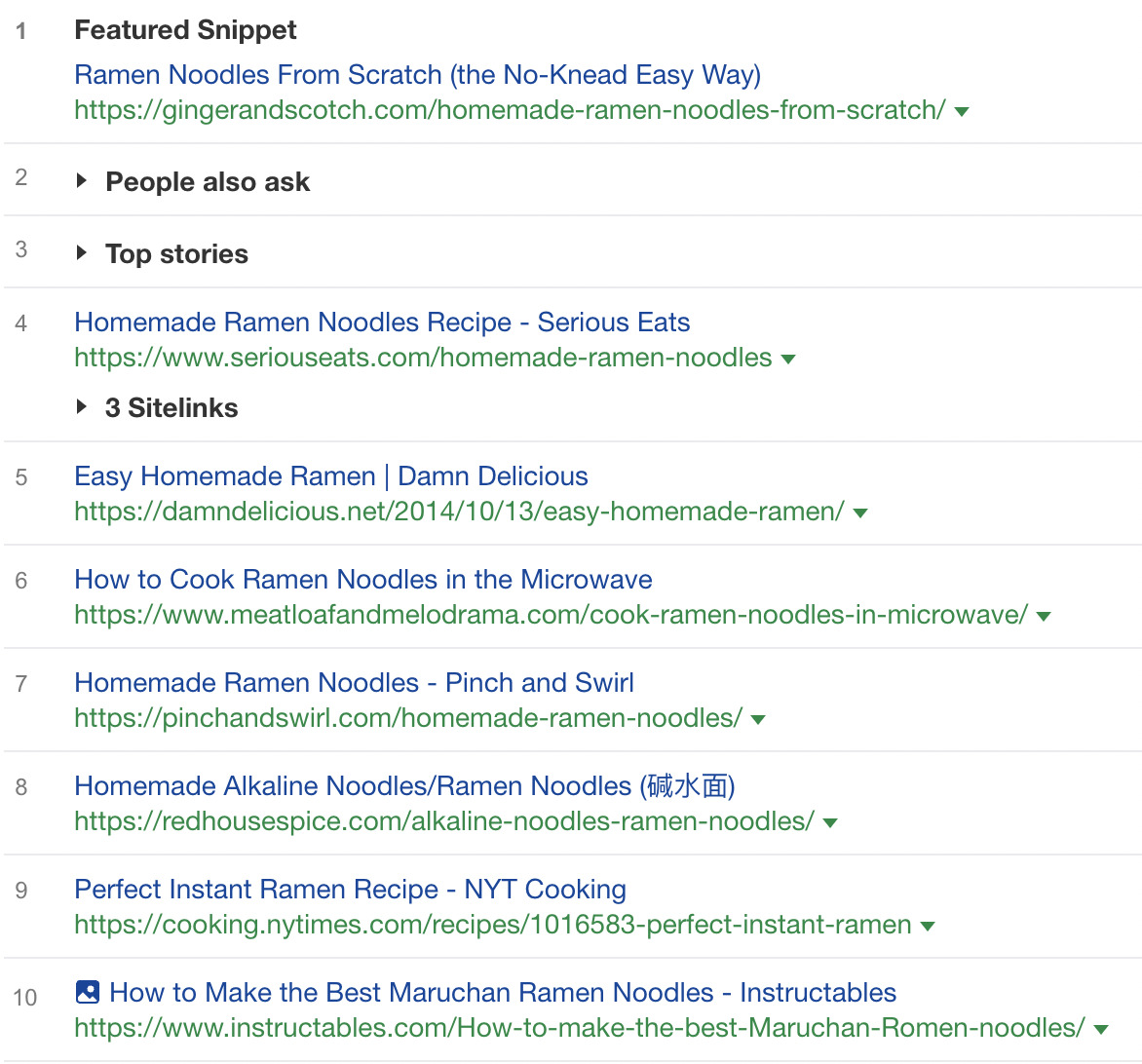 Many of their titles show exactly what you'll get from them over everyone else, such as these:
Easy Ramen Noodles
Ramen Noodles in the Microwave
Perfect and Instant Ramen Noodles
The one that displays its USP the best, however, is the featured snippet result: Ramen Noodles From Scratch (the No-Knead Easy Way).
This article makes two big promises in the title: The ramen is easy and from scratch—both of which seem to be what searchers are looking for.
Think about how you can make your article stand out among the crowd like these guys did. Dig into the SERPs and the "People Also Ask" boxes to try and determine what the searchers are going after. Read forum posts like those on Reddit and try to find ways you can address problems people are having that your competitors aren't talking about.
For my "ramen noodles" post, my USP is that our ramen is both from scratch and can be improved with better ingredients (something searchers seem to care about). I can also try a slightly different angle and go for authenticity to stand out from the crowd.
Some title ideas can be:
How to Make Ramen From Scratch (The Easier, Better Way)
How to Make Authentic Japanese-Style Ramen Noodles
This Is Exactly How to Make the Most Delicious Ramen Noodles
I always suggest brainstorming multiple title ideas. Then pick what you feel is the best one. This is because your title is so important for getting higher rankings and more traffic.
Check out this guide to writing the best blog titles for more information.
5. Outline your article with headings and subheadings
Here's where the bulk of the outline work comes in. Choosing headings, ordering those headings, and explaining what should go in each section will determine the quality of the final result. It's also important for on-page SEO.
This is where you dig into what needs to be covered and what order to cover it in. To do this, we go back to the SERPs once more and look at how competitors wrote their content for inspiration.
For example, the top result covers a few major points that we should probably also cover:
What ramen noodles are made out of
The steps to making your own ramen noodles
An "ingredients and instruction" section for the recipe
After looking at some other search results, I found they all have some variations of these three points.
Beyond looking at the competitors' content, you can also look at the "People Also Ask" box for questions people often search for when searching for the keyword you're targeting.

If you open a question to expand it, Google will display additional questions. Keep doing that to get more ideas.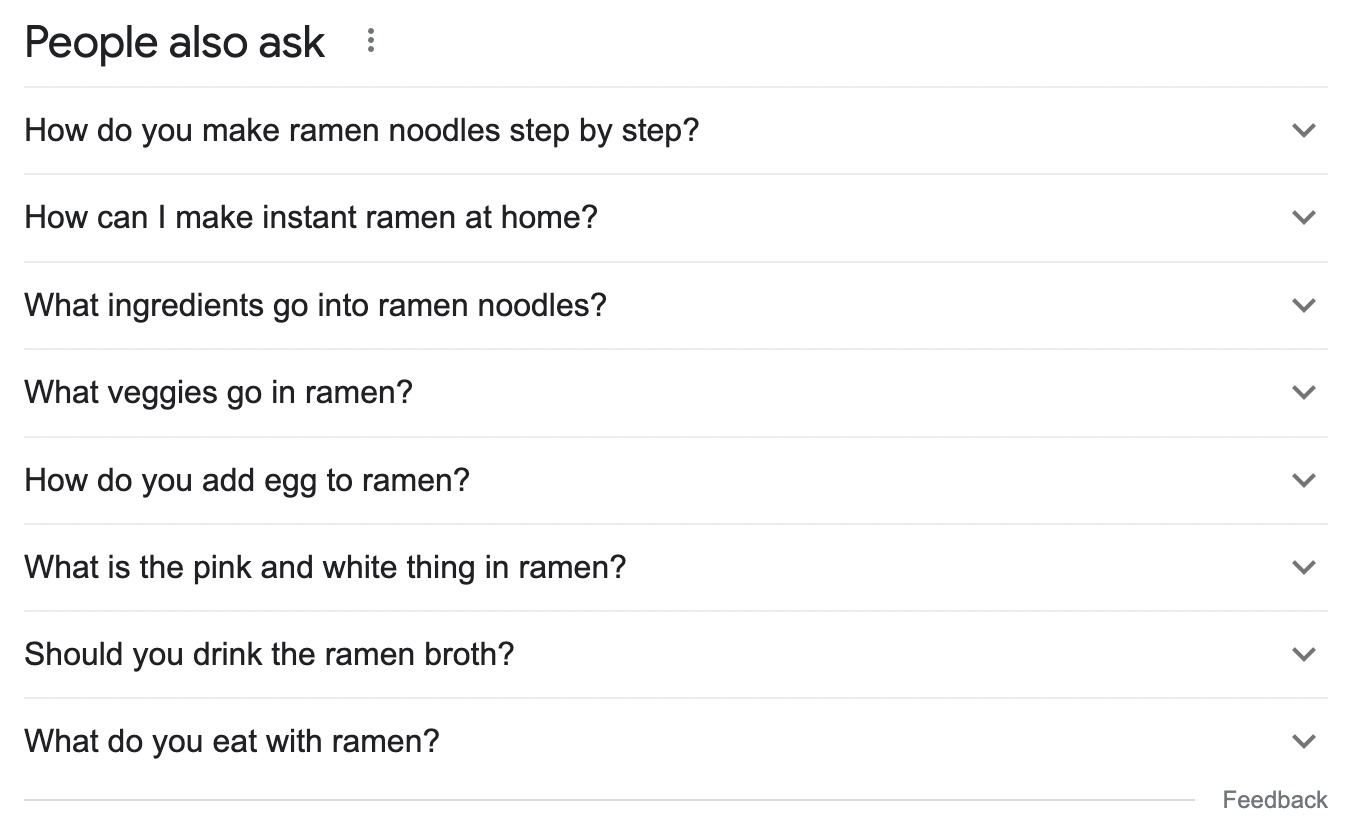 Looks like I can add sections on "what veggies go well in ramen," "how to add egg to ramen," and even "what else to eat with ramen" to cover the topic in more detail.
Finally, you can look at the related searches at the bottom of the SERPs for some extra ideas.

Based on this, we can add sections on "how to make ramen noodles without a pasta machine," "how to make ramen noodles better," etc.
Moving to our outline, I can create something like this based on my research: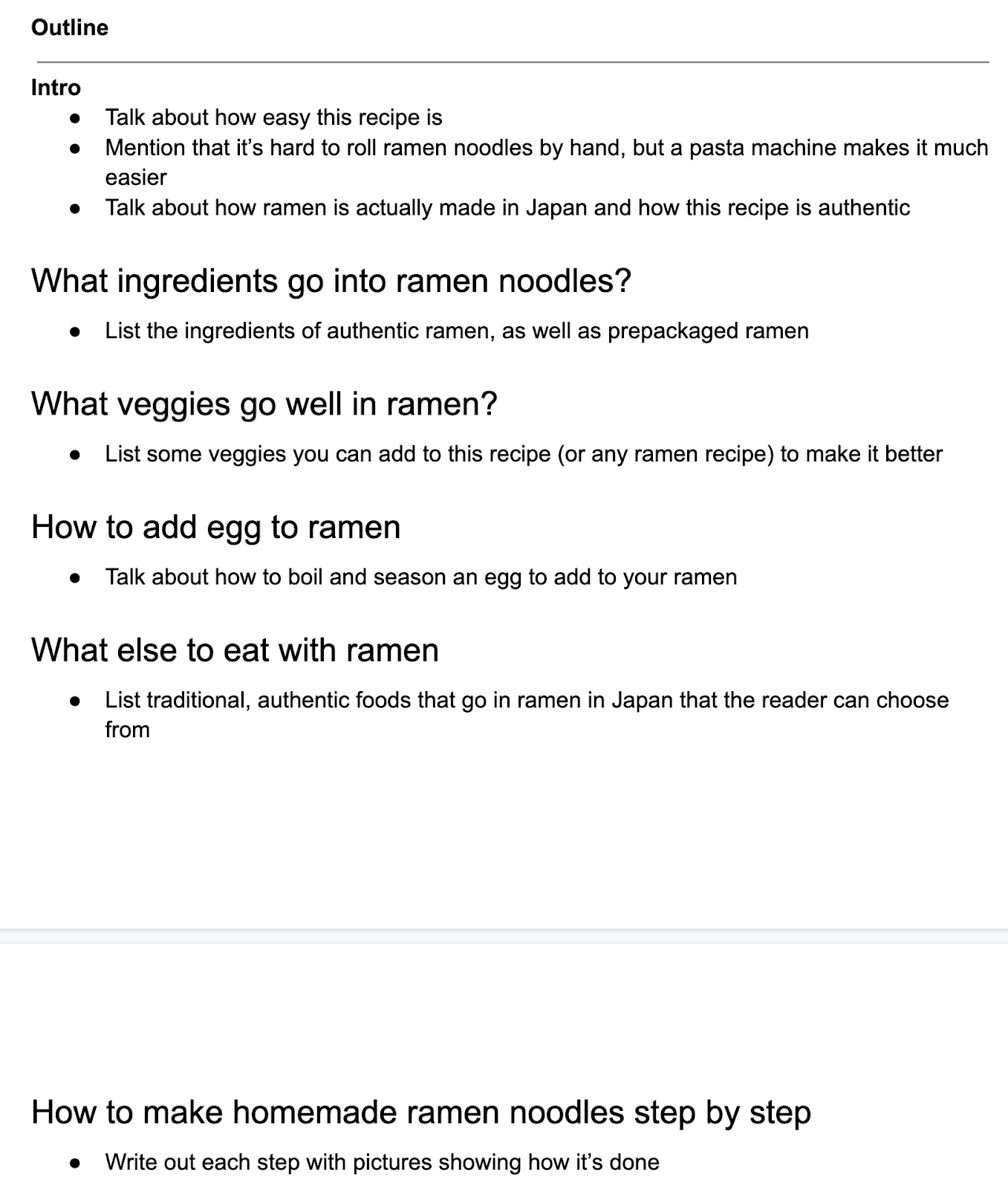 You can see I have H2s for all the main headings. Further down, I also have each step as an H3 (you can see that when you make a copy of the outline template).
Under each heading, I have at least one bullet point explaining what should go in that section so that the writer has more context. The more detailed you are about your expectations in these bullets, the higher the chances of you getting what you want from your writer.
And you're done!
Final thoughts
Having a content outline makes it easier to write content that's better, faster, and at scale. A great outline means a better chance at ranking on search engines and gives your writers a standard operating procedure to follow.
If you're not outlining your content, you're doing it wrong.
Want to learn more? Check out these other helpful guides: