Thank you for subscribing!
You won't rank on Google—or any other search engine for that matter—if you don't have content on your website. But even if you do, you need high-quality content to get to the top of the SERP. 
If you're wondering how to create content that search engines will want to display at or near the top of the results page, we've got the answer you're looking for! 
Welcome SE Ranking's Content Marketing Module, our brand-new content creation and automation powerhouse. Yes, you read that right! Our Content Marketing tool is finally live. 
Remember when many of you said that a content tool is one thing our platform lacks as far as covering all your SEO needs? Well, we heard you loud and clear. With this AI-powered assistant, you can now create SEO and reader-friendly texts faster and with less effort. 
In this post, you'll learn about all the features this module has, how it can streamline your content creation process, and what additional features to expect soon.
Who is Content Marketing Module for? And how to use it
There are several steps that go into creating content:
Analyzing competitors
Generating ideas
Researching keywords
Collecting requirements
Writing and editing text
Optimizing it for search engines
Assessing content quality
The range and scope of specialists you'll need to perform these tasks varies depending on the project's scale. Maybe your team consists of an SEO specialist, a copywriter, a marketing manager, etc., or a one-man band that does it all. Our content tool suits both cases and more.
Here's how.
SEO or marketing managers can use the Content Marketing Module to: 
Create content themselves or build comprehensive SEO briefs for copywriters.
Write notes for copywriters about the text and make edits to it together or separately. 
Evaluate the content's quality and its optimization level, then compare it with that of SERP rivals. 
Copywriters or content managers can use the Content Marketing Module to: 
Search for content ideas and identify relevant terms to use.
Write, rewrite, and optimize texts based on top-performing articles on the SERP.
Check content for grammar and punctuation errors and asses its readability.
Website owners or bloggers can use the Content Marketing Module to:
Develop a content strategy for their projects based on competitor analyses.
Generate more content faster, both on their own and by outsourcing.
Ensure that the content is SEO-friendly and has ranking potential.  
SE Ranking's content tool was designed for everyone involved in the content creation process, regardless of their expertise. It provides professional and in-depth competitor and keyword analysis but is user-friendly for those who are new to SEO. Instead of "killing" creativity with SEO parameters, this tool helps generate interesting content ideas and enhances them with data. 
What does the Content Marketing Module do?
SE Ranking's Content Marketing Module speeds up and simplifies the content creation process at every stage—from generating content ideas to writing and optimizing texts.
The module currently consists of two main tools: Content Editor and Content Idea Finder.
Content Idea Finder analyzes the keyword you entered and clusters related terms around it.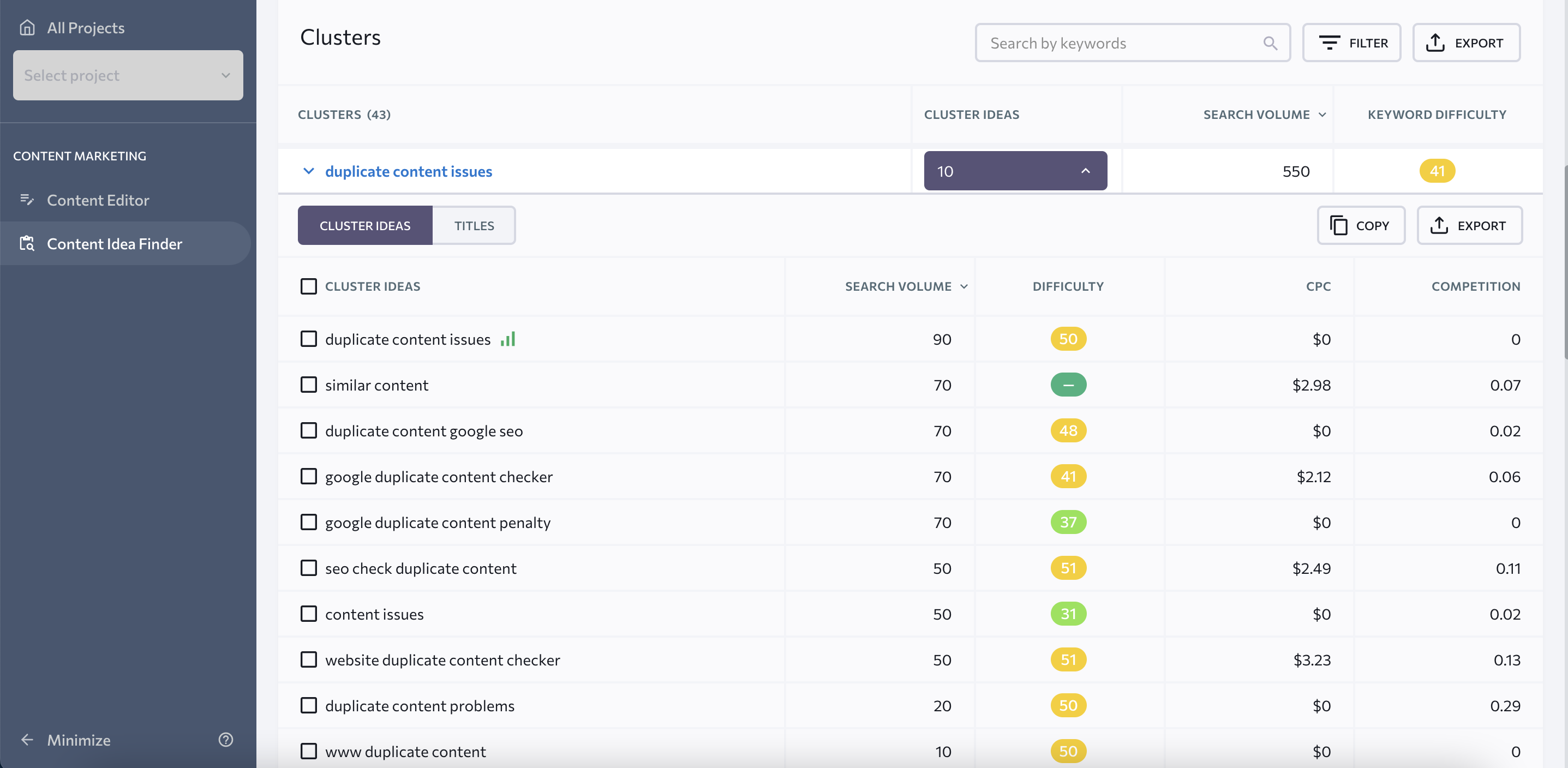 If you have a broad topic but aren't sure what to write about, this tool will help you come up with ideas by showing:
Terms that are semantically close to the keyword with the highest search volume in the cluster.
Competitors' titles that rank among the top ten in search results for the keyword with the highest search volume in the cluster.
Keywords come with all the necessary SEO and PPC data. You can compare them by difficulty and search volume, then export them to Content Editor in one click.  
Content Editor lets you build SEO briefs, write optimized texts, and score content quality. 
This tool is supported by SE Ranking's very own AI algorithm that analyzes top-ranking competitive content and presents 10 organic competitors paired with their Domain & Page Trust scores, the total number of referring domains, and word count. 
You can disable any competitors that you think are irrelevant to prevent them from impacting your text parameters.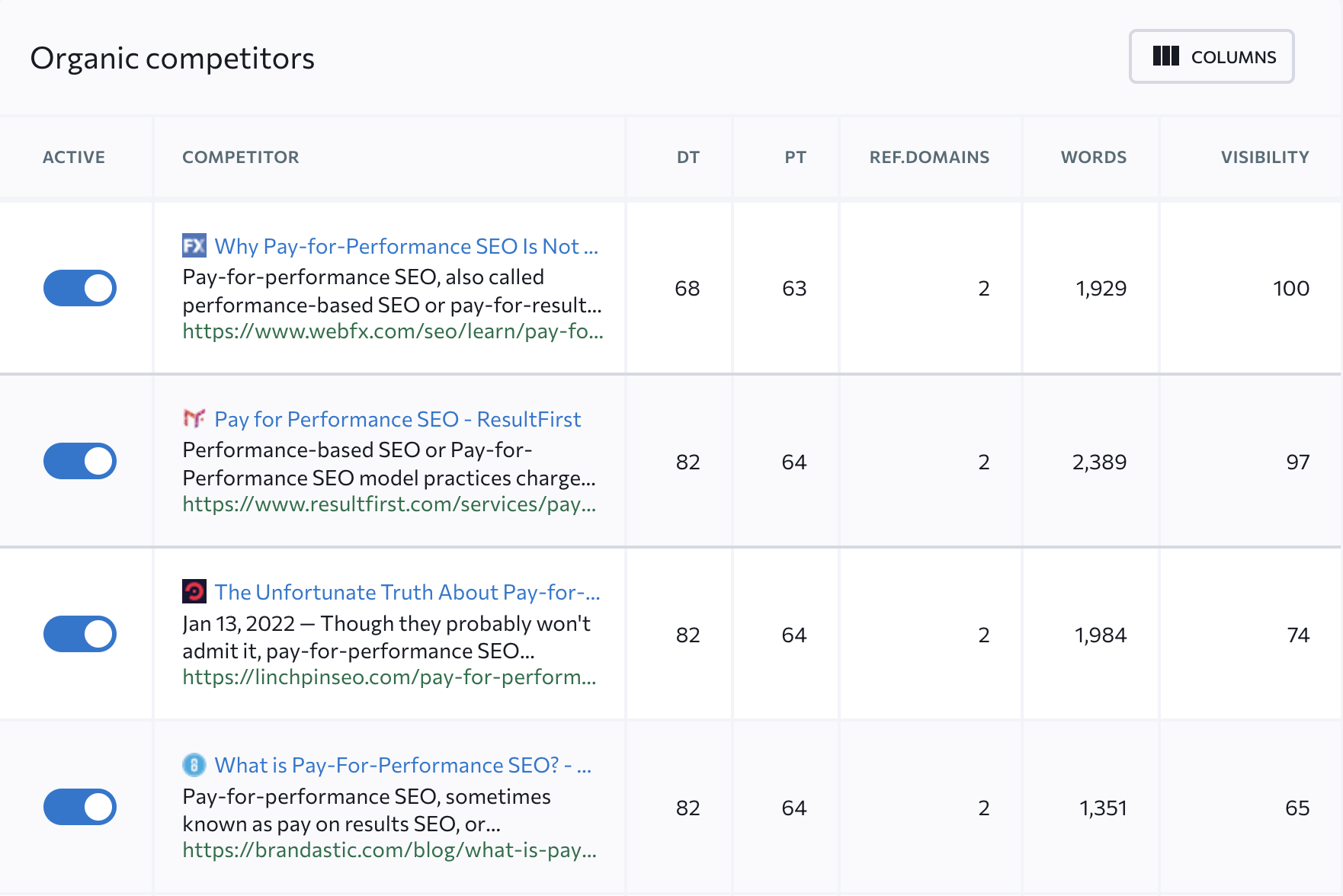 Based on competitive content, the tool suggests:
It will show you the recommended number of words/characters, headings, paragraphs, and images. You can change parameters if they don't work for you, bind and unbind them in the brief, etc.

You'll get a list of terms, including terms recommended by Google NLP. You can also add keywords manually. This tool shows all essential SEO data (search volume, keyword difficulty, density, recommended keyword count for your text, etc.)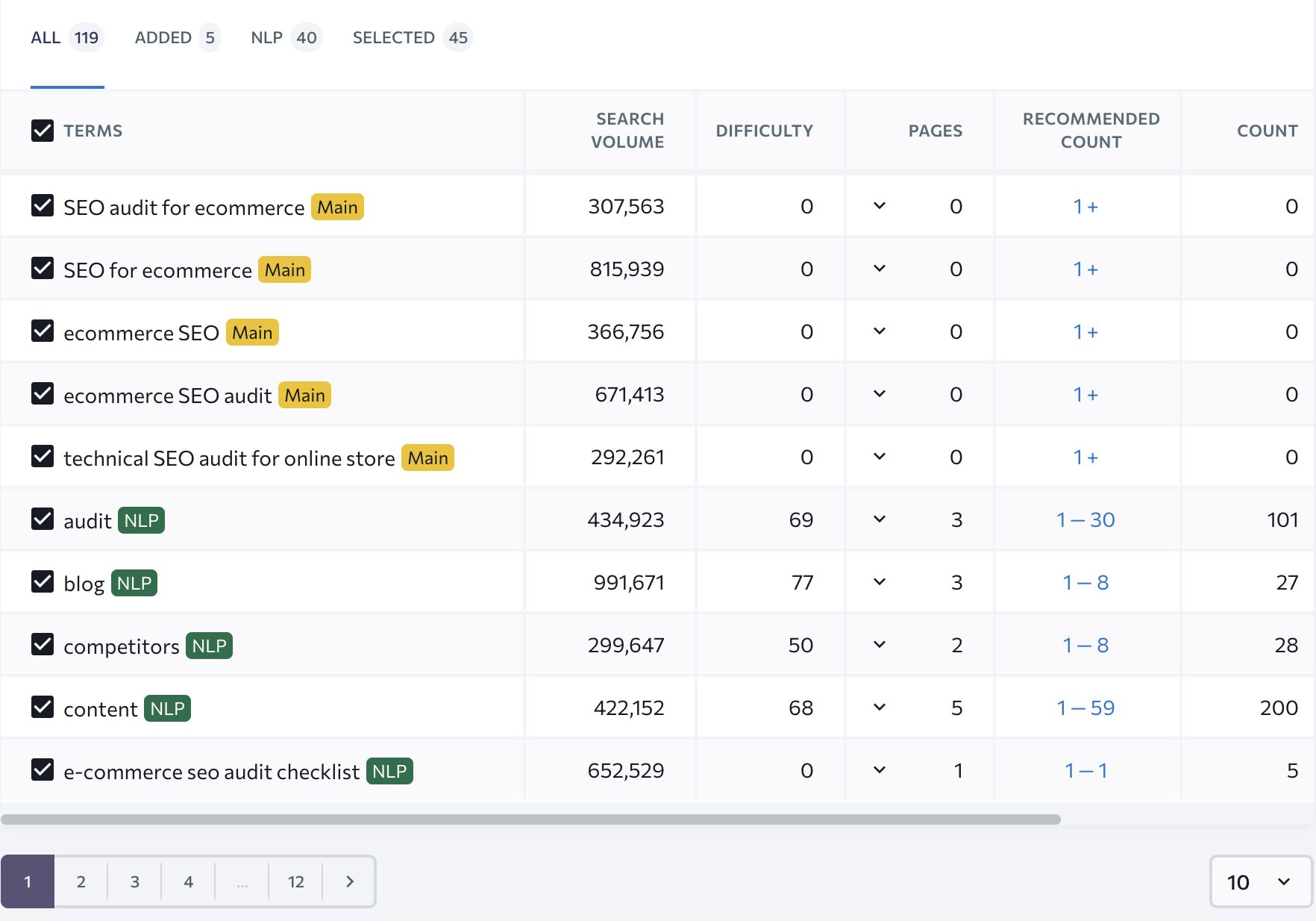 You can see the H1-H6's that your competitors are using and choose the ones you like as a point of reference for your own content. You can also create your own headings from scratch and add them to the brief.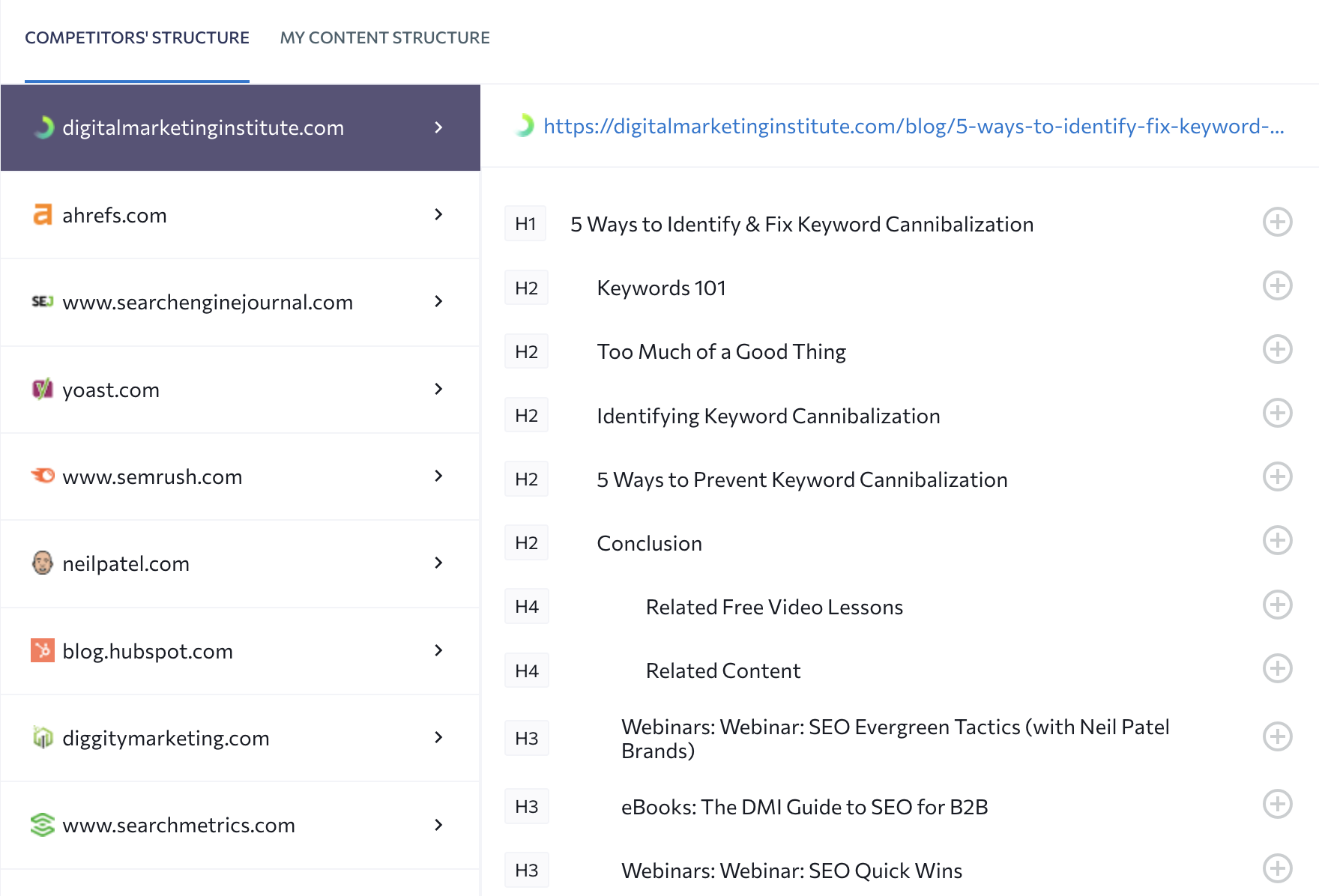 Once you've created a brief that suits you, you can start writing an article (either directly in the editor or you can paste your text in and edit it). With the Share feature, you can invite colleagues or copywriters to work on the text with you in real time. Keep in mind that only you have the option to change the brief settings.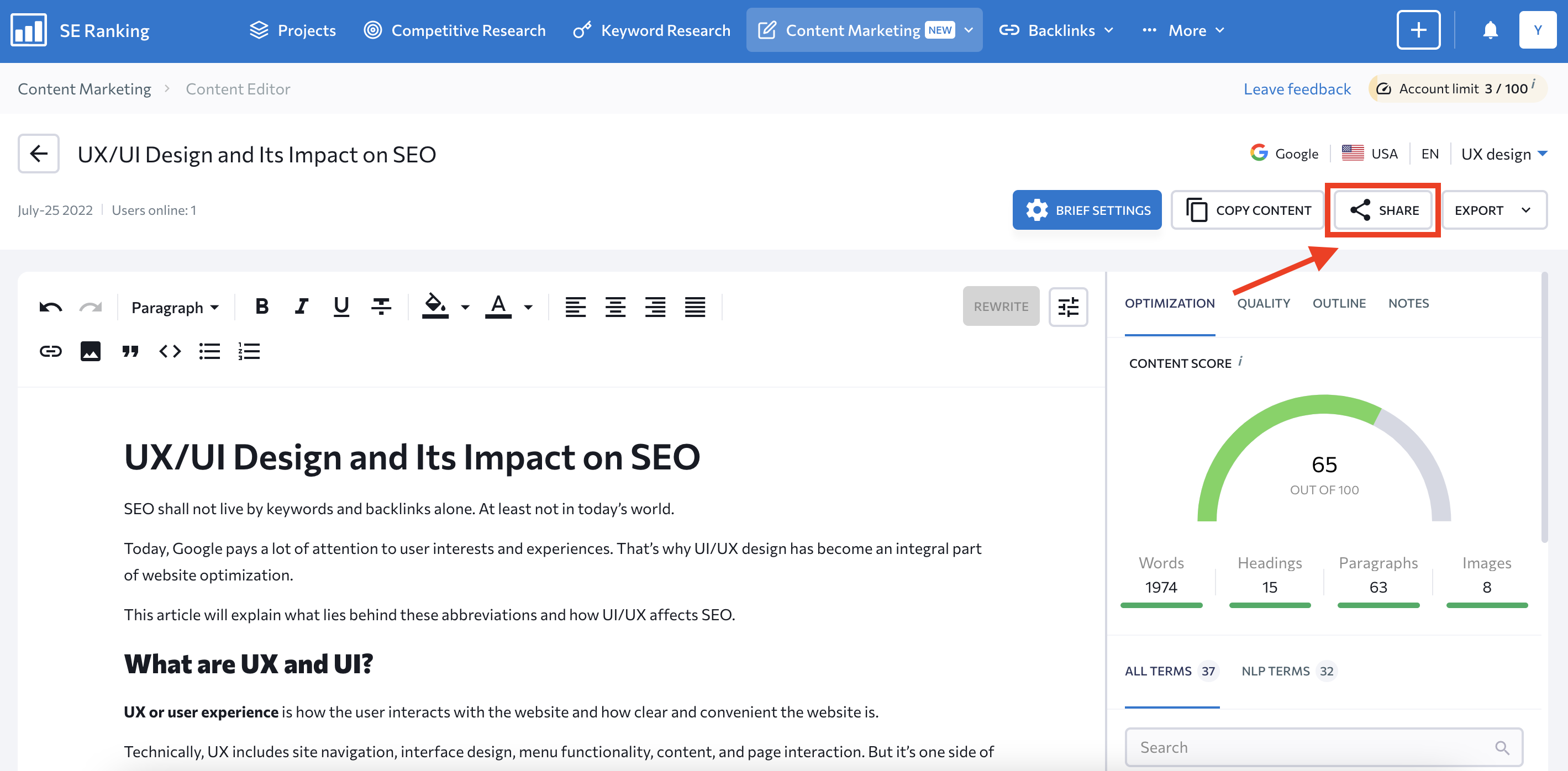 Content Editor uses a score system to evaluate how optimized your text is. It also shows whether your text met the brief's requirements. You can see in real-time how close you are to the ideal number of words, headings, paragraphs, and images. You can also track how many keywords you've already used and how many of them you still need to add.
The built-in quality evaluator shows grammatical and punctuation errors that you need to correct. It also reveals stop words to avoid.
The Outline tab shows the structure from your brief and your competitors' content headings.
If you have writer's block, just paste a piece of your competitor's content into the tool and use our AI rewrite feature. The tool can paraphrase up to 600 characters at a time and up to 2000 characters per article.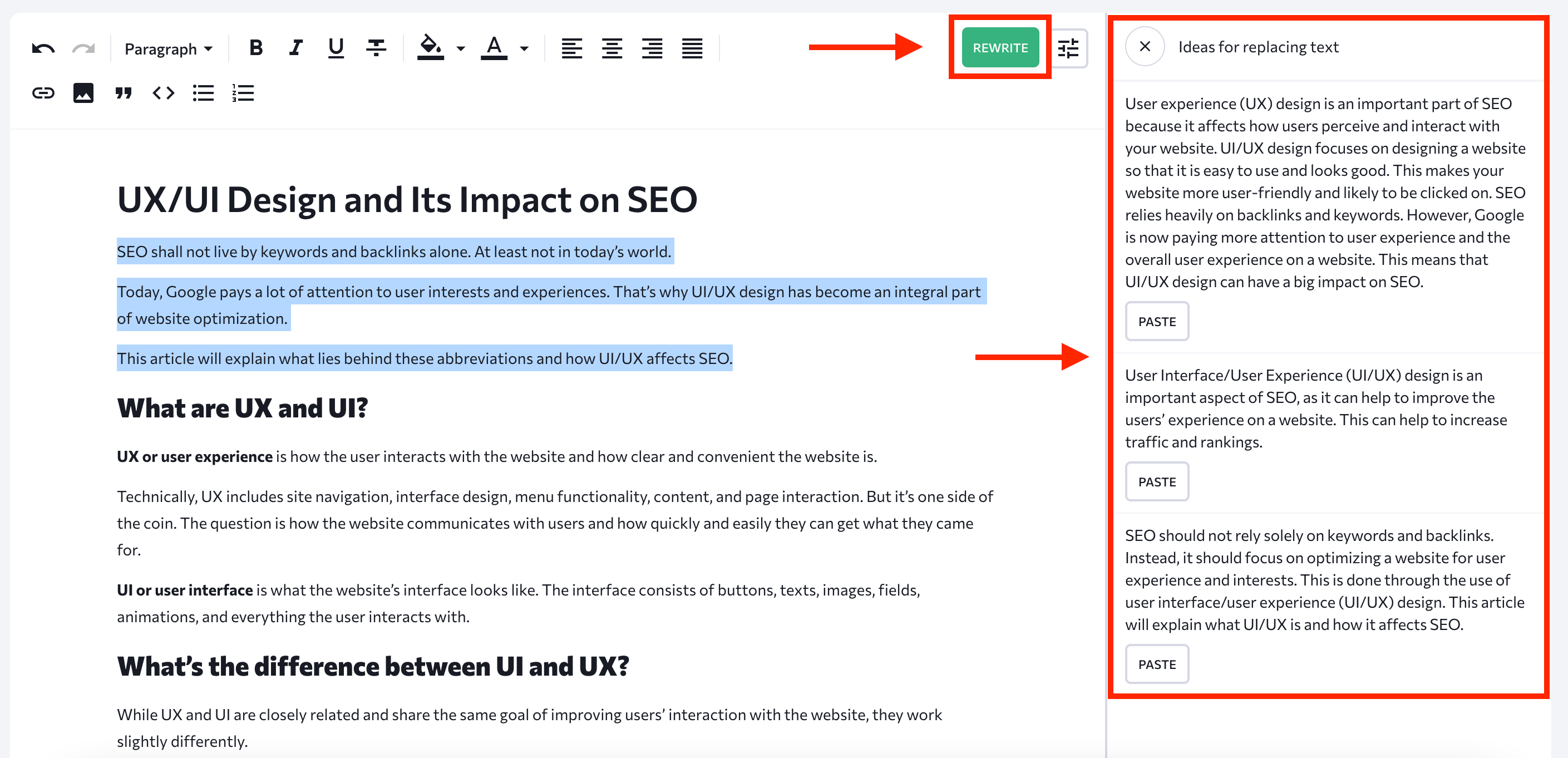 Features coming
The Content Marketing Module already drastically reduces the effort needed to create content. But it doesn't just help you create any run-of-the-mill content. This is a quality-centric tool that keeps you in check so you can start rolling out content that both search engines and your users will love. 
But these are only the early features of this tool. SE Ranking has a lot more in store for you! 
We're already working on improving the module and adding some other noteworthy features. By the end of 2022, you'll be able to use this tool to:
Сheck text for plagiarism.
Plan link anchors.
Create optimized titles, meta descriptions, and URL slugs.
Get suggestions for the best internal and external links for your article.
Use content tool functionality while working in Google Docs.
Identify questions related to your topic from People Also Ask.
In the first quarter of 2023, expect to see an extended Questions feature with Quora questions to enhance your texts even more and the AI Writer to automate content creation. That's a little further on in the future, but it's still exciting!
What makes the Content Marketing Module unique?
Now that you know who SE Ranking's content tool is for and how to use it, let's take a look at what makes it stand out from other tools on the market that are similar to it.
First and foremost, this tool was developed by a team of professionals who know all the ins and outs of SEO. 
SE Ranking created an entire SEO ecosystem, providing you with all the tools you need to approach your website promotion in the SERP comprehensively. 
Hundreds of thousands of users around the world use SE Ranking's SEO tools. 
We apply cutting-edge technology for keyword research and on-page auditing and know how different niches and markets work. 
We understand how to create content that rocks the SERP. Releasing the content tool was just a matter of time—a time that has finally come.
Some of our Content Marketing toolkit's outstanding features include:
Extensive keyword data that no other tool provides
Each term in the Content Marketing Module comes with search volume, keyword difficulty, TF*IDF (term frequency-inverse document frequency), count, density, the number of active competitor pages that include the given term, and where they put the terms.
NLP terms recommendation
Our tool offers not just keywords that you could use throughout the text but also NLP terms. These are the most relevant words and phrases that your competitors are using in their content on a given topic. Google considers NLP terms when ranking pages.
AI-backed competitive research
Our algorithm analyzes the main content of the page only. It doesn't consider the content in the header, footer, or sidebars. This allows the tool to more accurately extract the keywords your competitors are using on their pages and evaluate their content's H1-H6 structure. 
Content Quality Checker 
You don't need a separate tool to evaluate your written content. Our built-in grammar and punctuation checker highlights all errors and suggests how to fix them. It also analyzes the number of stop words and your text's readability level. 
Real-time content scoring 
You can see the content score going up or down while you're writing your text. The numbers (score) show how well the content meets your brief's SEO requirements. The score also shows how good the text is based on the number of grammatical and punctuation errors as well as the proportion of irrelevant content.
Why add the Content Marketing Module to your SEO toolkit?
By rolling out a new content module, SE Ranking yet again adds credence to its all-in-one mantra. Now you can really do all SEO-related activities under one roof—including content management.
No more time wasted switching to other tools.
No hassle with customizing the platform to your needs.
No need to go beyond your budget by purchasing multiple content solutions.
But that's not all.
Content Marketing Module uses SE Ranking's unique data collection and keyword analysis approaches, meaning the numbers you see are 100% accurate!
You can build a comprehensive brief with it in just 10 minutes rather than spending two hours or more doing it manually. 
By the end of 2022, it'll be the most equipped content tool on the market—yet still affordable to individual specialists, agencies, and enterprises. 
Next steps
There's no need to wait until the end of the year. You can start using SE Ranking's content marketing module to create amazing texts right now—your website will thank you.
If you already use SE Ranking, you'll get two free limits to test the tool (available for 14 days). Just go to the Content Marketing section in the top navigation bar.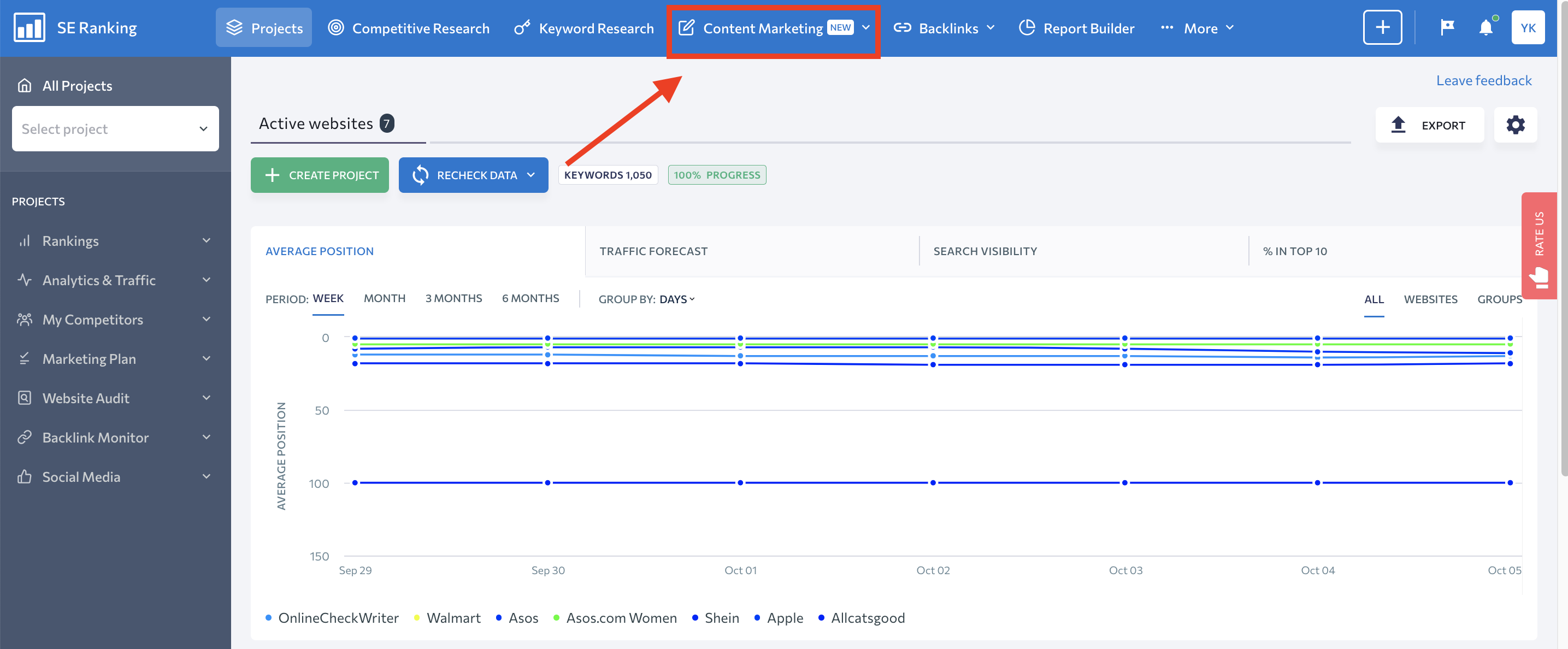 If you ulitimately decide that you like this module, which we have no doubt you will, feel free to choose between our subscriptions that are customized to different needs.
Not using SE Ranking yet? Try our 14-day free trial and explore all the tools we offer. You'll also gain access to Content Marketing Module with two free limits!
P. S. 
Your feedback is invaluable to us because it helps us improve our platform! If you notice anything that the Content Marketing Module is missing or if you think we should add other features to it to make it better, contact us or write a comment below.