Last week I visited the city of Prague to attend the European DrupalCon 2022. The even was held between September 20th and 23rd, and was attended by over 1,200 people.
This was my first physical conference since DrupalCamp London 2020, and the first DrupalCon I have attended since DrupalCon Dublin 2016. Despite the worries about covid I was still pretty exited to attend the event. I arrived on Monday night and as the event didn't start properly until Tuesday afternoon it gave me a small chance to explore the city of Prague before the conference started.
There were so many talks, sessions, meetings, and events during DrupalCon that I could write for pages and pages about the conference. I am quite sure, however, that no one would actually read all of that I'll just post a couple of highlights from each day and provide a sum up at the end.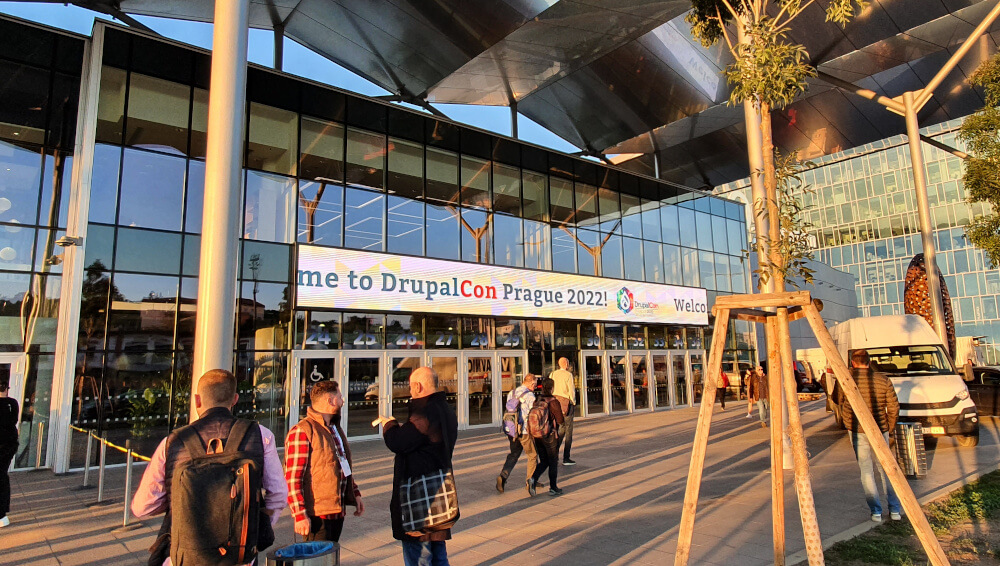 Tuesday
After the initial welcoming talk the conference started with an introduction to some of the initiatives that are being worked on at the moment, each one introduced by a member of the initiative team. The initiatives discussed where CKEditor 5, project browser, project update bot, GitLab integration, localize.drupal.org, distributions and recipes, and automatic updates.
It was really good to see so many great things being worked on in the Drupal world; including migrating and modernising some of the infrastructure components like GitLab and localize.drupal.org. Each of the initiative leads only got a few minutes to speak, but it was enough to show why their initiative was important and to show where people could go to if they wanted to help.
The afternoon had a few talks lined up, and perhaps the most interesting was Test Data Management Strategies for Test Automation in Drupal with Shweta Sharma and Akanksha Singh. This was a really good overview of the different ways that a Drupal site can be tested by using different testing systems, techniques and Drupal modules. Rather than focus in on specific technologies, this talk looked at strategies that could be employed to allow site functionality to be tested.
A few Drupal modules like default content and devel generate can be used to fill the site with some form of content, which could then be tested. I have certainly struggled with testing Drupal sites that contain data but the use of the custom content module to generate a known set of data on the site is a really good idea. I have used the module to do things like deploy content, but hadn't connected doing so as a basis of testing a Drupal site. Shweta also talked about testing anti-patterns, where fragile or brittle tests can cause problems in the project.
Wednesday
The first thing on Wednesday morning was Dries Buytaert's keynote speech (called the Driesnote). Dries covered his history of creating Drupal and what it means to him today, but his central theme was being able to own the data you put onto the internet and how Drupal is one of the best ways to do this. He talked about how social media companies will use the data you put on the internet to their own advantage, and you don't necessary get control over how that information is stored or used. Dries ended with addressing some of the concerns voiced in recent years over Drupal about how it is complex, or difficult to update.
Since the release of Drupal 8 it has been clear that some of the community has been left behind and Dries has been acknowledging this in his recent keynotes. With the release of Drupal 10 just around the corner and the multiple initiatives that are looking to simplify the experience of installing modules and updating Drupal it's clear that this is being addressed. Drupal 8 addressed a lot of the requirements of enterprise Drupal platforms, Drupal 10 looks to focus on addressing the requirements of small business and hobbyist site owners.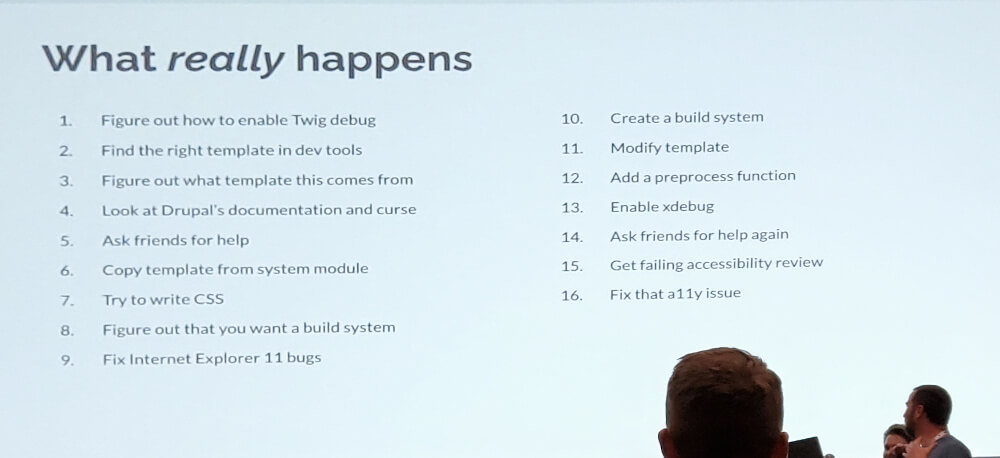 The rest of the day had so many good talks that I found it hard to pick just one to highlight. One standout, however, was How Drupal 10 will make you fall in love with Drupal theming with Lauri Eskota and Mike Herchel. There are a lot of developer experience improvements coming to Drupal, which should make life much better for front end developers. It has typically been quite difficult to theme Drupal as it requires knowledge of both back end and front end technologies as well as deep knowledge of Drupal itself.
Drupal 8 improved this experience with Twig, but the the improvements discussed here will mean themers will be able to create themes without these previous struggles. The ability to run the dump() function without the page crashing is also a fantastic improvement (and will be available in Drupal 9.5!). There are a few things still left to do so if you are interested then issues are available.
The Wednesday afternoon keynote by Taavi Kotka about "What are the next big things for Digital Societies?" was a fascinating look into the Estonian governments digital infrastructure. Taavi Kotka is the CIO of Estonia and could give first hand experience about how to manage and organise such a complex project.
If you get the chance I would also watch the video for Drupal performances from real production projects with Nicolas Perussel. This talk was absolutely crammed with hints and tips that go towards speeding up Drupal, and not just by removing Drupal from the page load response. Nicolas did address some of the ways in which performance could be measured, but also looked at quick wins like the use of PHP Igbinary to speed up the deserialisation of data.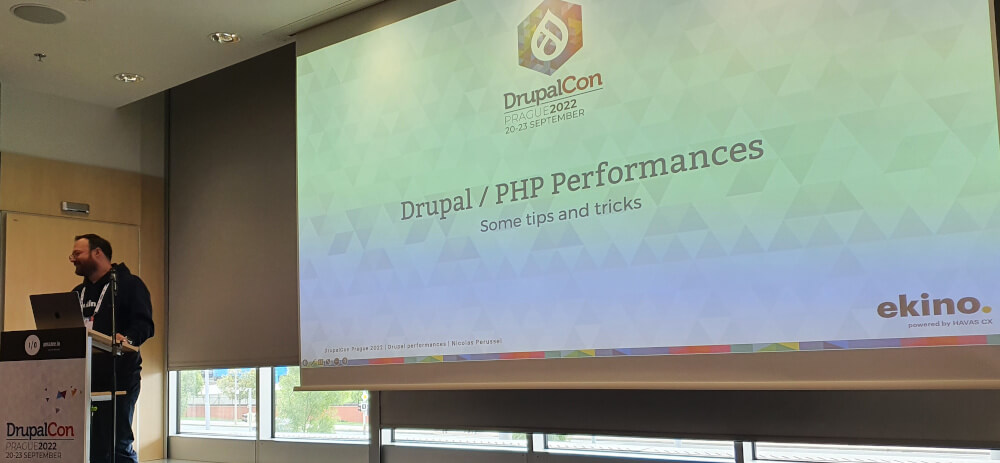 Thursday
The Thursday keynote was from Pavlína Louženská, who talked about Growing your business. If you get a chance I highly recommend watching the video for this talk. It confirmed quite a few things that I had considered good practice and presented a few stats to back them up. One stat that really stood out to me was this one:
100% of women will not apply for a job that they do not meet all of the requirements for
This was a revelation to me, but made quite a bit of sense sense. It made me realise that I have added more requirements than really needed to job specifications in the past. Something that I will certainly be addressing in future job specifications. I took lots of notes during Pavlína's talk, but this statistic stuck in my mind.
On the more technical side of things was The Form API Workflow with Ricardo Sanz Ante. This was a brilliantly crafted talk looking at what is really a quite complex area of Drupal, the form API. Ricardo based his talk around a workflow diagram that he has put together that details how the form API builds and submits forms. The form API workflow diagram is available on the Drupal website and is quite an extensive diagram and I will certainly be using the diagram in my training sessions. Even after years going through the form API this talk still taught me a few things about the workings of forms in Drupal.
Thursday night was the Drupal trivia night, where teams would compete for awesome Drupal prizes by answering questions about Drupal (and other things). Even though our team came almost dead last we still had a great night. Thanks to Stella Power and the Annertech crew for organising and running the night!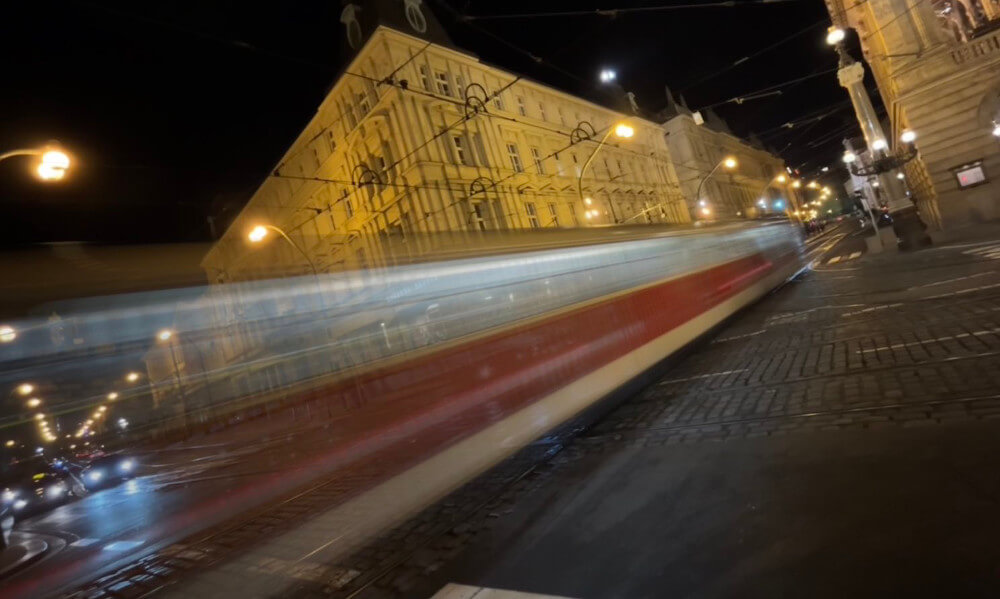 Friday
There were no sessions on the Friday, but people were encouraged to attend the conference venue to contribute to Drupal. If you were new to contribution then you could go to a mentored contribution room where you could get hands on help with setting up, finding issues to work on and (hopefully) contributing back to Drupal. You could also attend a second room where you could join a table and help to contribute to all kinds of projects (including the initiatives).
I joined a table in the second general contribution room, where I worked on a couple of Drupal core issues and managed to get in a couple of patches ready for review. What was really good is that I was able to talk with other Drupal developers about the issues we were working on and we could provide feed back and advice that improved our contributions.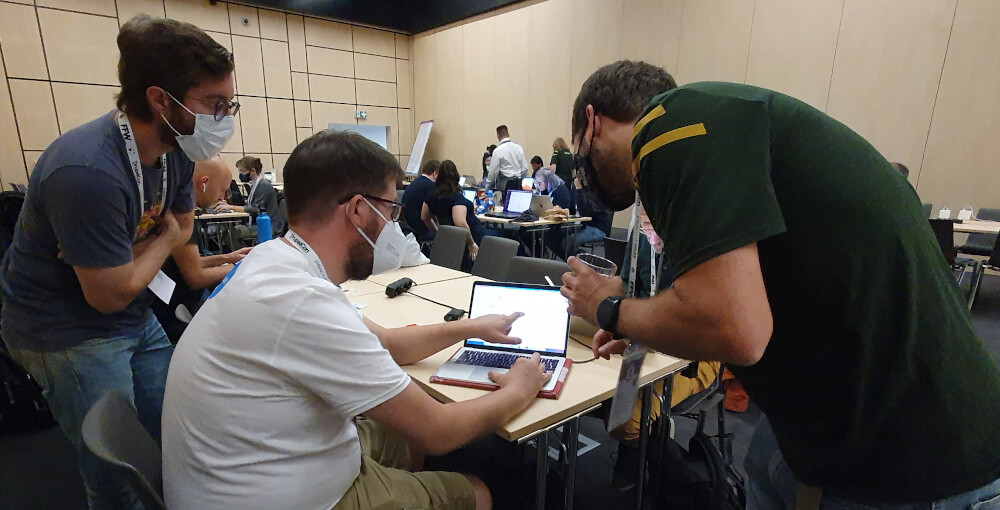 As the new GitLab mechanisms are being rolled out across the contribution space it was good to get to grips with the new way of doing things. I'm quite used to GitLab from my day-to-day work, but being shown how to go through the process on drupal.org was invaluable. In fact, the table I was working on popped into the mentored contribution room for a few minutes to go over some of the finer points of GitLab workflows in the Drupal world.
Conclusion
Prague is a great city to visit, it's a mix of old and new and has plenty of bars and restaurants as well as other attractions. It is quite a large city, but has a great public transport system so getting around wasn't difficult. A great touch by the conference organisers was to give out travel passes, which lasted for the week of the conference and made getting around so much simpler.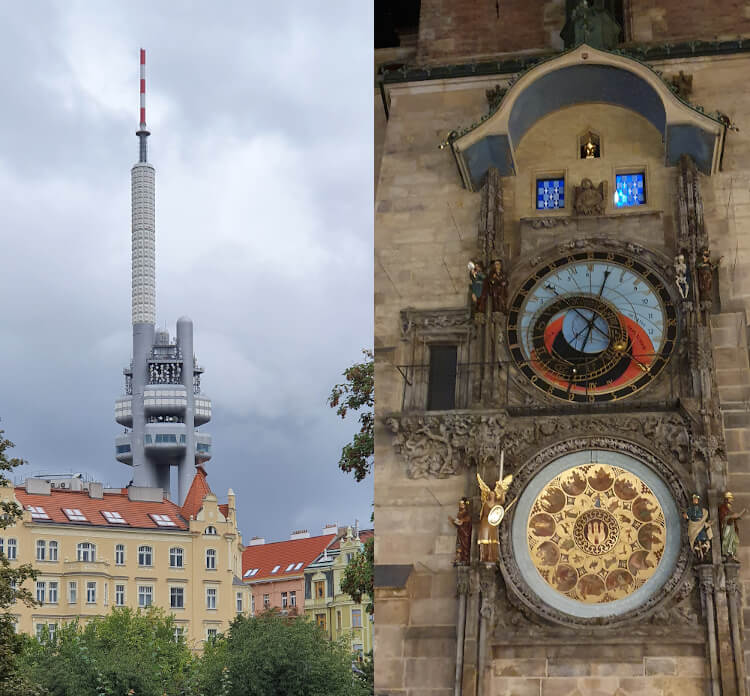 I couldn't get into all the first pick talks that I wanted to see due to the number of people already in the room, but this actually allowed me to go into talks that I would otherwise not have gone into and learn something completely new. All of the sessions were recorded and so I'll be catching up on the talks I missed.
There was the ever present reminder of Covid being a part of the world now, but people mostly adhered to the rules of wearing masks and taking precautions.
Overall, it was a really good conference. Everything was well organised and well communicated and everyone was really friendly and welcoming. I took pages and pages of notes that I'm still going through and will likely be a part of my day job and even form the basis of a few new articles.
It was also really good to meet old friends and new acquaintances, including a few people that I have never met in person before. The event has rekindled my enthusiasm for Drupal and I will certainly be trying to continue my contributions going forward.
The next European DrupalCon will be held in Lille in 2023. All being well I will attend that event as well!