When building a new website or changing your existing site's design, it's often effective to use a page builder plugin. These tools don't require any coding, instead providing simple page editing tools to speed up the development process. Elementor is one of the most popular options, but its high prices can be limiting.
Fortunately, there are many alternatives that you can use instead of Elementor. Many of these third-party page builders can target your specific design goals while remaining cost-effective. Even without Elementor, you can get the features you need to build a beautiful website.
In this post, we'll explain what Elementor is and why you might want an alternative. Then we'll offer a list of ten other page builders to use instead. Let's get started!
An Introduction to Elementor
If you're new to website creation, you might worry that web design is a complicated process. Before page builders, this was an understandable concern. Website owners without the necessary know-how often had to rely on hired developers to code a functional website.
However, now anyone can use a page builder to design a beautiful website. A page builder is a WordPress plugin that enables you to edit your site's look and layout by simply dragging and dropping elements onto the page. Using the right page builder, you can add just about anything to your website, from text and images to social media icons and contact forms.
Although there are many page builders you can use, Elementor is a popular choice. Its drag-and-drop live editor provides you with full control over your web design: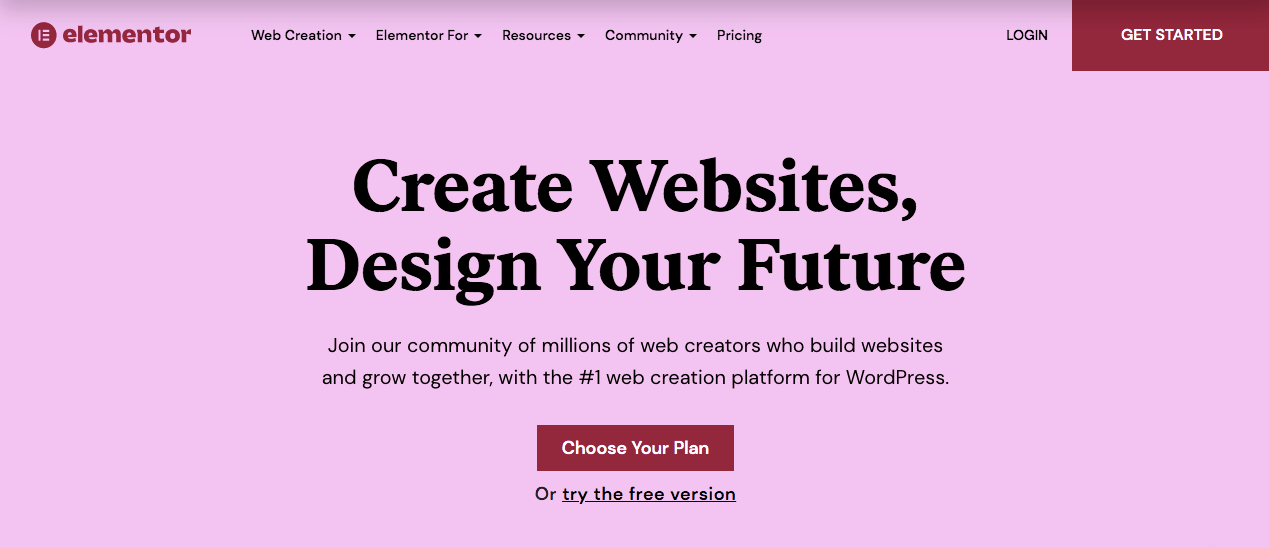 Even with the free version of Elementor, you can access over 40 ready-to-use widgets and a fully-stocked Template Library. Elementor Pro comes with more advanced features, such as a theme builder and over 100 widgets.
Elementor is an effective page-building tool, but it won't suit everyone's needs. Especially if you need more than one license, Elementor Pro plans can be expensive. Plus, it might not be optimized for your specific WordPress theme. When these issues arise, it can be beneficial to find an alternative tool.
Elementor is one of the most popular page builders, but its high prices can be limiting. 🙅See 10 great alternatives in this post ✅Click to Tweet
What To Look for in an Elementor Alternative
Since you'll want to find the best design software for your needs, it's important to review all of the possible options. To do that effectively, you'll have to know what you're looking for.
Here are some factors to consider when choosing an Elementor alternative:
Performance: A page builder should be responsive, customizable, and fast.
User reviews: You'll want to see if other website owners, with your experience level, found a certain page builder easy to use and functional.
Easy-to-use features: Look for a simple drag-and-drop interface and a wide selection of widgets.
Price: Evaluate the pricing tiers and compare them to the free version (if one is offered).
Finally, it's important to evaluate your current WordPress theme. While a quality page builder should work well with most themes, some themes are designed to work especially well with specific page builder tools.
Top 10 Elementor Alternatives in 2022
To help you find the best page builder for your website, we've compiled a list of the best Elementor alternatives. These are some of the top WordPress plugins for customizing your web design, whether you're just changing your home page or altering your entire site's look and layout.
Every page builder is different, but most have a similar installation process. Of course, every new plugin you add to your site means more complexity and the need to manage additional software updates.
In the MyKinsta dashboard, you can manage your plugins and themes by performing bulk updates, backups, and troubleshooting. This way, you can use the right page builder for you without changing your website management process.
1. Divi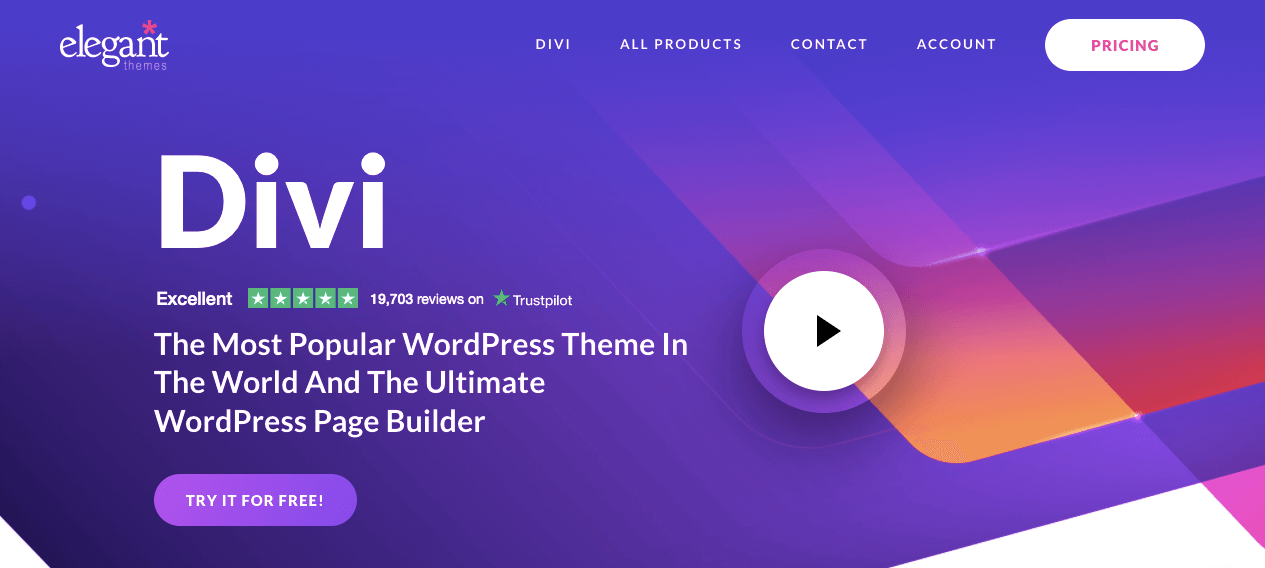 One of the best Elementor alternatives available is Divi. This page builder offers a complete design framework that you can use to customize your entire website. Website owners of all experience levels can benefit from Divi's easy-to-use drag-and-drop interface.
In comparison with Elementor, Divi provides similar design elements, such as pre-made templates. However, you can access over 800 templates and 100 layout packs. This can give you more options if you don't want to build your own layout from scratch.
Plus, Divi can be a better choice for developers and marketers. It contains built-in A/B testing, whereas Elementor requires a third-party tool. With this advanced feature, Divi can enable you to test the effectiveness of different modules before you publish them.
Key features:
Drag-and-drop live editor
40+ modules and 800+ pre-made designs
Ability to save custom designs for reuse
Global elements and design settings
Customizable CSS
Price: To start using Divi, you'll need to purchase a yearly plan, which starts at $89. This can be a better alternative to Elementor because there are no site limits.
2. Beaver Builder

With Beaver Builder, you can access a fast and user-friendly interface, enabling you to quickly build and customize your website. Due to its clean coding and reliable updates, Beaver Builder is a developer-friendly page builder.
One of the benefits of using Beaver Builder is its live, front-end editing. Rather than having to preview each edit, you can view changes as you make them. Although Beaver Builder offers fewer layouts than Elementor, it has a more diverse set of options. This can help you build landing and content pages for any type of website, including blogs and e-commerce sites.
Key features:
Drag-and-drop front-end builder
Content modules for images, text, video, buttons, and more
Ability to save modules, templates, and rows
Global Settings
Option to add CSS classes and IDs
Price: The Beaver Builder developers offer a free version, while paid plans start at $99 for the first year. Like Divi, even the cheapest plan supports unlimited sites.
3. Thrive Architect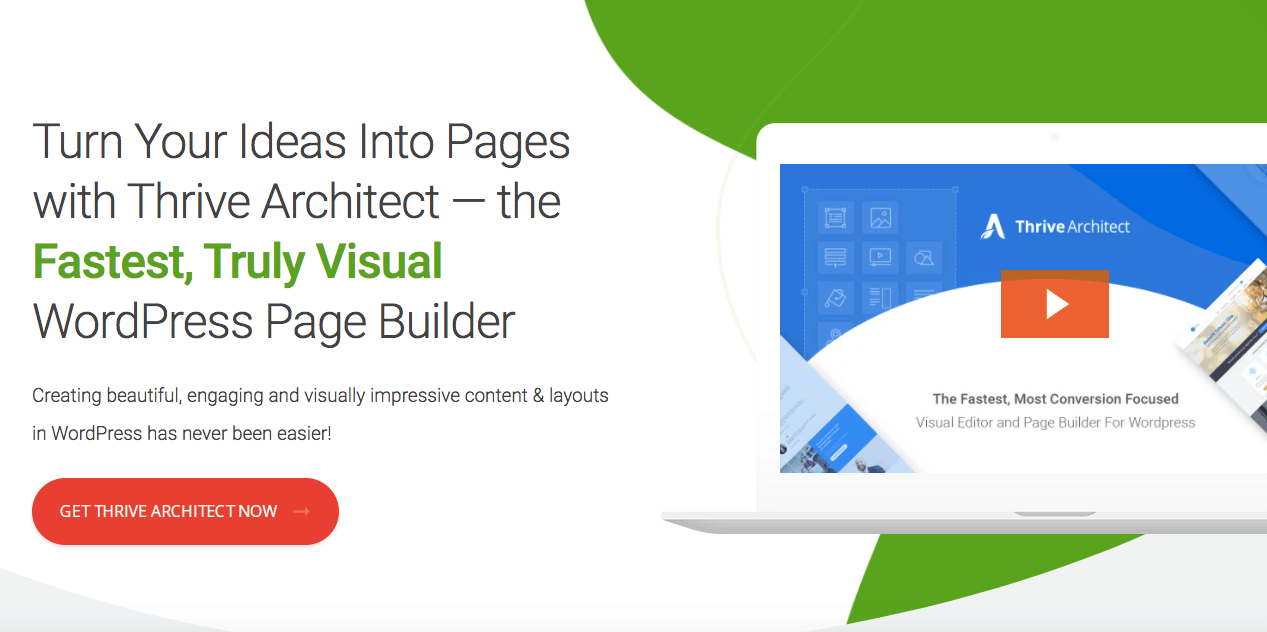 The developers of Thrive Architect wanted to create a page builder that doesn't waste your time. Using its front-end editor, you can rapidly implement new design features without taking your attention away from your business.
As a business owner, Thrive Architect can enable you to create a website that generates new leads. With its conversion-focused elements, you can engage visitors with action buttons, countdown timers, contact forms, and more. Plus, you can dedicate more time to growing your business by using pre-designed professional landing pages.
Key features:
Front-end editor
'Click-to-edit' modules
319 pre-built landing pages
Conversion-focused building blocks
Custom HTML blocks
Price: Thrive Architect subscription plans start at $97 per year. This basic plan covers one website but includes hundreds of page templates and beginner tutorials.
4. Oxygen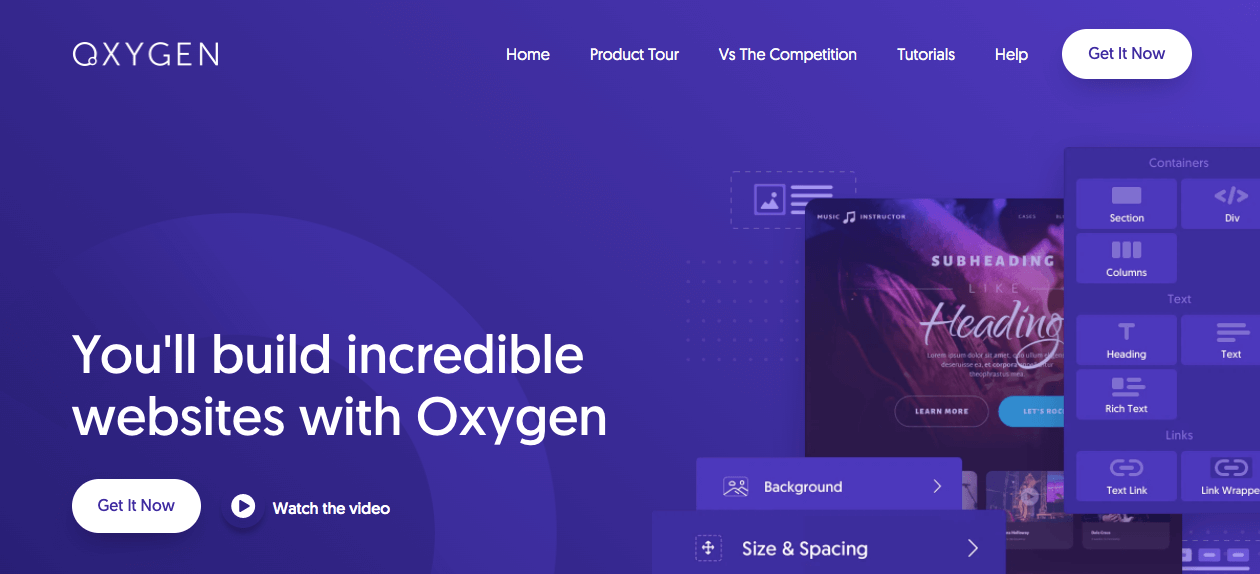 Unlike other page builders on this list, Oxygen is a visual designer for your entire website, rather than for specific pages. Using this option can give you more control over your site's appearance, from headers to footers.
Oxygen can be particularly useful when building a WooCommerce business. It offers over 20 e-commerce elements so you can customize any part of your store, including shop pages, individual products, and checkout pages.
Key features:
Drag-and-drop editor
Hundreds of design blocks
27 animation types
Global colors
Flexbox and CSS grid
Price: All Oxygen plans have one-time payment plans that start at $129 for the basic version. However, higher tiers offer WooCommerce integration and a Gutenberg Block Builder.
5. Brizy

Brizy aims to provide a decluttered page-building experience, so you can focus on one design element at a time. While other builders feature a fixed sidebar of widgets, the Brizy editor only shows what's needed.
If you're looking for an easy-to-use and affordable page builder, Brizy can be a great solution. Even using the free version, you can use over 500 pre-made blocks to design your website in minutes. Then you can integrate your favorite marketing tool to start collecting leads on your new site.
Key features:
Drag-and-drop editor
Over 500 pre-made blocks
100+ design templates
Desktop, Tablet, and Mobile viewports
Global styling
Price: You can download Brizy for free. Pricing for Brizy Pro starts at $49 per year or a one-time payment of $149.
6. WP Page Builder

With WP Page Builder, you can access all the features you'd expect in a quality page builder. Its drag-and-drop real-time editor enables you to create simple or complex layouts without any coding. This user-friendly interface can be especially beneficial for website owners who are new to WordPress.
WP Page Builder comes with over 30 addons for inserting buttons, contact forms, and feature boxes into your content. You can make your workflow faster by creating reusable layouts and duplicating any element with one click. More experienced designers can even design their own addons for advanced functionality.
Key features:
Drag-and-drop front-end editor
Ready-to-use block library
Option to save designs for future use
Responsive and mobile-friendly web pages
30+ addons
Price: WP Page Builder is a free WordPress plugin, but you can purchase WP Page Builder Pro starting at $39 per year.
7. Visual Composer

Visual Composer is a page builder that goes beyond simple page design. With other page builders, you might need additional plugins to customize your theme or provide specific functionality. However, Visual Composer offers an all-in-one solution for editing the look and feel of your website.
You can design every detail of your website using Visual Composer's Theme Builder. For more extensive customization, you can overwrite themes with custom layouts. If you don't have time to design your website from scratch, you can browse pre-made professional templates that are designed for different industries.
Key features:
Drag-and-drop website builder
500+ addons, templates, and blocks with the Visual Composer Hub
300+ content elements
Theme Builder
Developer API
Price: You can download Visual Composer for free, while premium plans start at $49 for a single website.
8. Page Builder by SiteOrigin

Page Builder by SiteOrigin has one of the most simple interfaces you can find, allowing you to edit content in a grid. Similar to other page builders, SiteOrigin has drag-and-drop functionality, which makes it customizable and easy to use. You can simply reorder rows, move widgets, and resize columns to create a personalized website.
One benefit of SiteOrigin's page builder is its flexibility. For each row, you can choose the exact number of columns you need. Then you can add the precise weight for each column. The SiteOrigin Page Builder also provides row and widget styles to add custom spacing, CSS, and class fields.
Key features:
Drag-and-drop grid-based interface
Option to use common WordPress widgets, plus some addons
Ability to create custom layouts with custom rows and columns
Feature for inserting your theme's prebuilt layouts
Price: SiteOrgin's page builder is free to download on any WordPress website. If you need advanced features, the premium addons start at $29 per year.
9. SeedProd

Although SeedProd started as a builder for Coming Soon and Maintenance Mode pages, it now has enough functionality to help you build an entire website. SeedProd remains one of the best tools for creating landing pages, but you can also use it to customize every part of your WordPress theme.
With SeedProd, you can edit headers, footers, pages, and posts without using any code. To save time, you can even implement a pre-built theme, which will be responsive, fast, and SEO-optimized. When you need to perform website maintenance, you can easily enable SeedProd's built-in Maintenance Mode, Coming Soon, or 404 error pages.
Key features:
Drag-and-drop functionality
80+ Pro blocks
Pre-built themes and landing page templates
Built-in subscriber management
WordPress Theme Builder with Full Site Editing
Price: The core WordPress plugin is free, while paid plans start at $39.50 per year.
10. Themify Builder

The Themify Builder works alongside your WordPress theme to help you customize your content layout to your exact specifications. With this page builder, you can control the appearance of your pages by inserting modules and editing their layout in rows and columns.
Plus, the Themify Builder comes built-in with all Themify themes. If you find an option from Themify that meets your needs, you won't need to worry about finding a third-party page builder plugin. This can be an affordable way to keep your primary website-building tools compatible and functional.
Key features:
Back-end and front-end editing
40+ pre-designed layouts
Ability to copy/paste or duplicate modules and rows
60+ animation effects
Price: You can download the Themify Builder plugin for free, or get the pro version starting at $69 per year.
Looking for an Elementor alternative? 😄 We've got you covered 💪Click to Tweet

Summary
If you have the budget for it, Elementor can be an effective tool for creating a unique web design. However, you might consider other options that have functional software at a lower price. This way, you can dedicate more funding to your online business.
Both Divi and Beaver Builder can rival Elementor in terms of functionality and features. However, unlike Elementor, they both offer low pricing tiers that support an unlimited number of websites. For a completely free option, you can consider SeedProd or Themify Builder.
Do you have any questions about choosing an alternative to Elementor? Ask us in the comments section below!
---
Save time, costs and maximize site performance with:
Instant help from WordPress hosting experts, 24/7.
Cloudflare Enterprise integration.
Global audience reach with 34 data centers worldwide.
Optimization with our built-in Application Performance Monitoring.
All of that and much more, in one plan with no long-term contracts, assisted migrations, and a 30-day-money-back-guarantee. Check out our plans or talk to sales to find the plan that's right for you.