When registering a new domain to the domain name system (DNS), you have so many options.
You need to decide which domain name to choose, where to host your website, and what features you require.
Unsure of how to buy a domain name? It's not a difficult process, but you might be wondering why you'd want to shop around in the first place.
Most people jump straight into what they want their domain name to be, but looking at which company you register with is just as important.
There are many great domain registrars to choose from. In this guide, we'll be taking a deeper dive into Google Domains and GoDaddy, two of the most popular domain registrars on the market today.
We'll go over important issues like pricing, security, and ease of use in our breakdown of Google Domains vs GoDaddy.

Need a new domain registrar? Look no further 😌Click to Tweet
A History of Google Domains

Google Domains, part of Google's huge suite of website tools on offer, quietly launched back in 2015. While the service has been around for years, it only officially came out of beta in March 2022.


Unlike most domain name registrars, Google Domains doesn't offer web hosting. Instead, you'll need to register your domain through Google, then find a separate hosting company. This is pretty easy if you're familiar with domain parking.
While Google might not offer hosting services yet, its domain website is simple to navigate and doesn't push you to purchase dozens of upsells you won't need later. Since you can choose your own web host, you can easily sign up for WordPress hosting or another website builder with Google.
Google even includes privacy protection in its prices, so you aren't paying any separate fees to keep your information safe from scammers.
If you already use G-Suite tools like Gmail, Google Search Console, or AdSense, you'll be able to sign up even quicker with your existing Google login, then link your domain to that account. The whole process is very quick and simple, from start to finish.
A History of GoDaddy

GoDaddy is one of the largest ICANN registrars in the world. As of 2022, the company has registered almost 13% of all known domains. This publicly-traded business was founded way back in 1997 in Arizona and started registering domains in 2000.
Unlike Google, GoDaddy focuses almost exclusively on domain names. The company offers a few other services related to domains, like website hosting, but it's nowhere near as diverse as Google.
While this can be good for people looking for a dedicated web domain registrar, it does mean that GoDaddy makes its money from these products alone, meaning its prices aren't always as low as Google's.
Many of GoDaddy's domain names can start for very low prices for one year, only to have an annual renewal fee that's twenty times higher. The company also pushes a number of extra services that can quickly take a discount domain into expensive territory.
Google Domains vs GoDaddy: Head-to-Head Comparison
Now that we've summarized Google Domains and GoDaddy, let's take a look at some of the key features you'll want to keep in mind with a domain registrar.
In our breakdown of Google Domains vs GoDaddy, we'll be looking into:
The services each company offers
How they compare in domain pricing
How easy they are to use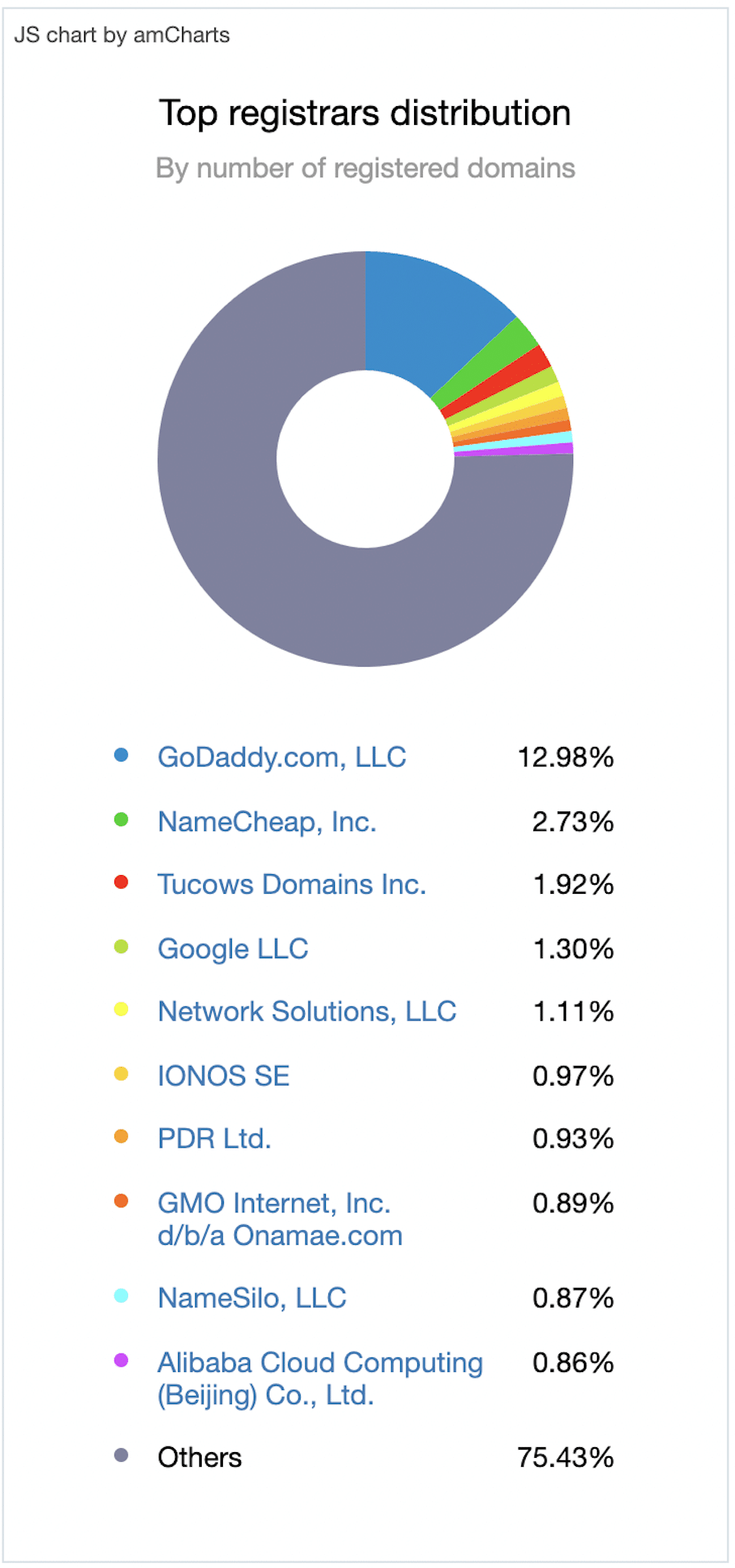 Ease of Use
Both Google Domains and GoDaddy have easy-to-use websites. Both help you navigate through the registration process quickly, and you can have a new web domain in minutes.
While the functionality of a domain registration service is pretty similar across the board, we're giving this round to Google Domains for having a marginally simpler website.
Google Domains' website is slightly easier to work with as it isn't pushing as many additional services. Plus, if you already have a Google account, you're likely familiar with the Google site layout, and you'll be able to complete your domain name registration even faster.
Domain Extension Availability
When it comes to Google Domains vs GoDaddy, both carry an impressive collection of top-level domains, including the popular .net and .com options.
Google Domains offers over 300 secure domain extensions from its website. When you enter the domain you'd like to register, they will show the most popular options available now, as well as additional domain names with alternative spelling or similar themes.
Meanwhile, GoDaddy has a selection of approximately 500 different top-level domains, but the company notes that availability will vary based on your location. Some domains have additional requirements to purchase, especially those for certain region-based extensions.
In addition to showing available domains, GoDaddy offers a brokerage service to try and help you purchase your desired domain. It's not guaranteed, but if you have your heart set on a specific .com, this might be worth considering.
Domain Privacy
Google Domains includes a high level of domain privacy in its standard fee for domain registration. Your contact information on the WHOIS database will be masked, ensuring free privacy for you. Google also includes two-factor authentication (2FA) standard with all domain purchases.
Since Google isn't a web hosting provider, it doesn't offer SSL certification, but the company makes it easy to check if your hosting provider has that running on your domain.
GoDaddy is a bit more opaque in its privacy features. It has started offering basic domain privacy but pushes additional features at checkout for $9.99 per year per domain.
GoDaddy doesn't offer two-factor authentication unless you elect to pay for this additional service. If you want to ensure unknown users can't access your GoDaddy domain, you'll need to factor in this extra cost.
GoDaddy does sell SSL Certification starting from $63.99 per year with a 2-year term for a single domain validation certificate.
Similar to domain privacy, you might be wondering about the DNS servers each company offers. The good news is that both Google and GoDaddy have nameservers that you can use.
Google offers Domain Name System Security Extensions (DNSSEC) standard with its domains. This helps protect against spoofing or hacking on your website. GoDaddy offers DNSSEC as well, but for $2.99 a month.
Domain Transfers
If you already have a domain but would like to transfer it to a new registrar, both Google and GoDaddy can take care of this easily.
Transferring domains is straightforward with both services, but if you've transferred a domain before, you'll know transferring away your domain is where things can get tricky.
Google Domains follows ICANN rules and only places an initial 60-day hold on transfers. The company is transparent in all the rules you'll need to follow and doesn't make it difficult if you decide to transfer your domain at a later date.
GoDaddy, meanwhile, follows some of the optional rules in place but chooses to restrict transfers for a period of 60 days if you change your name, email address, or business name. The transfer process also isn't as simple to complete as Google's.

Email Forwarding
GoDaddy doesn't include email forwarding with its standard domain hosting. If you already have an email hosting plan, this might not be a deal-breaker for you. We actually think having your email and hosting separate is a good idea!
It's worth noting that both companies offer email account hosting. Google offers G Suite, while GoDaddy partners with Microsoft 365.
Pricing
Pricing is where most people point to GoDaddy as the clear winner. The company offers top-level domains for as low as $1.99 a year, after all.
That low price is only for the first year, though. The renewal price for many domains can be more than twice that of the initial year. Discounted prices are usually less common on popular top-level domains.
It's easy to comparison-shop on the two services and see how much a domain will cost on either.
For example, a search for "thisiseasy.com" found that, while that domain was taken, "thisiseasy.org" was available for $12 per year from both providers. But GoDaddy will then increase that price to $25.10 for the second year.
It's also worth remembering that Google includes the cost of two-factor authentication with its domain price, while GoDaddy will tack on an additional $9.99 for the service.
The price of a domain name can vary depending on perceived value or how long the name is. You might decide to try a low-priced domain for a year, but we recommend turning off auto-renewal if the price is significantly higher after the first year until you're sure you'll stick with the domain.
Support
While you might not need to contact your domain registrar customer support frequently, it is an important consideration. If you have a problem with your domain, it can affect your entire website, along with your audience and customers.
Google Domains support channels include phone, email, and chat. The company has made support available in multiple languages, and it provides helpful estimates for wait times.
GoDaddy also offers phone and live chat, with hours that vary depending on location. While the brand doesn't offer email support, it does offer 24/7 support in some regions.
Pros & Cons of Google Domains vs GoDaddy
GoDaddy has been a domain registrar since 2000, and it's probably the first company most people think of when it comes to registering a new website.
Google Domains is newer, but it also provides a name people are familiar with.
Let's sum up the main differences when it comes to Google Domains vs GoDaddy:
| | Google Domains | GoDaddy |
| --- | --- | --- |
| Ease of Use | Simple to navigate, similar to other Google pages. | Easy to sign up, but additional features pushed during signup. |
| Domain Extension Availability | Over 300 domain extensions. | Over 500 extensions. |
| Domain Privacy | Privacy and two-factor authentication included in price of domain. | Limited privacy included, additional two-factor authentication available for $9.99 per year. |
| Domain Transfers | Yes — after initial 60-day wait. | Yes — after initial 60-day wait or additional 60 days after changes to account. |
| Email Forwarding | Yes — up to 100 addresses. | No. |
| Pricing | Varies by extension, typically $12–15 per year. | Varies by extension; typically cheaper the first year with a large jump from year two onward. |
| Support | Options for email, chat, and phone support. | Chat and phone support available. |
Google Domains is also much easier to navigate, with transparent pricing and terms.
Overall, when it comes to Google Domains vs GoDaddy, we recommend Google. You'll find it a more streamlined experience, especially if you plan to use other Google services, like Gmail email hosting.
Google Domains doesn't offer web hosting, so take a look at some of Kinsta's plans for a secure host for your domain to live at.
Having trouble choosing a domain registrar? 😅Thuis guide has you covered 💪Click to Tweet
Summary
Both Google Domains and GoDaddy can help you get started with your domain registration. They're both trusted by thousands of customers and host millions of websites.
GoDaddy offers the chance to save money initially, but many common features aren't included in its domain base price. If you want security and tools like email forwarding, it's probably not the best choice — unless you're prepared to pay extra. A $2 domain from GoDaddy can quickly rise to $30 or more per year when you factor in the price of email forwarding and DNS management.
Google Domains may be newer, but it's part of the Google brand. It offers straightforward options that are easy to compare.


Google Domains' prices are competitive with other domain registrars and don't fluctuate as much as GoDaddy's do. Google also makes it simple to make changes to your account with an easy-to-navigate help tool.
When it comes to comparing Google Domains vs GoDaddy, Google Domains wins as our pick for a secure domain registrar.
Partner your new domain with Kinsta to get access to our Cloudflare integration for a secure website that loads faster than ever. And share your opinions about Google Domains vs GoDaddy in the comments below!
---
Save time, costs and maximize site performance with:
Instant help from WordPress hosting experts, 24/7.
Cloudflare Enterprise integration.
Global audience reach with 34 data centers worldwide.
Optimization with our built-in Application Performance Monitoring.
All of that and much more, in one plan with no long-term contracts, assisted migrations, and a 30-day-money-back-guarantee. Check out our plans or talk to sales to find the plan that's right for you.