Reviews or testimonials are mostly said to work based on social proof. Social proof is a psychological process in which people copy the behavior of others in an attempt to reflect correct behavior. In addition, search engines are increasingly looking for that proof as well. In this post, I'll look at how reviews work, how you can get them, and how structured data can help bring them to the search results. Plus, we've got some great tips for getting reviews from the experts at Opinew.
If you're a business owner, one of your online goals should be getting more reviews from your (satisfied) customers. It's important to get reviews or ratings, because these help Google in determining the value of your company or products for its users. If you have a nice amount of four-star and five-star ratings, Google considers you a more valuable result on their search result pages, contributing to better rankings for your site. In this post, we'll dig a bit deeper into reviews and convince you to ask your customers to rate you. Of course, loads of positive reviews will also help build trust for your potential customers, too.
Before we get started, let's get clear about some details. When is something a review, and when is it just a rating? And what about testimonials? These terms are used a lot, and sometimes they get to mean something similar. So, what is the difference between testimonials, ratings, and reviews?
Testimonials
A testimonial tells you that someone you can identify with has bought a product and loved it. That might mean the product is just the right thing for you as well. A testimonial is often a page of text and photos of customers explaining why your product or business is great. Also, video works really well for this. You could feature a recognizable expert endorsing your product.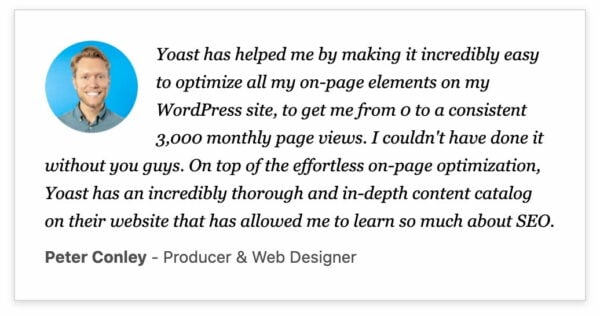 Ratings
Ratings are — often star-based — valuation of your website, online store, or service. Customers can rate your entire business or a specific product.
Business ratings
You will most likely get ratings for your brand or shop on a website like Trustpilot, Reseller Ratings, or Google My Business. Google will see these ratings and will even add Google My Business ratings to their Knowledge Graph information.

The time that Google added stars to search result pages for any website that added these ratings in Schema.org structured data is over. Google was flooded with ratings, so it made less sense to add them to all the results. That doesn't mean they are entirely gone, as the opinion of your visitor or customer is still very valuable to Google. So, where it makes sense, Google will still show that rating. Google also tends to show shop ratings in their Google Shopping results, by the way.
Product ratings
Product ratings are a bit of a different breed, although they work pretty much the same. Have people rate your product, and add an aggregate rating on a nice spot on your product page. Next to Google picking up on that rating and showing it in, for instance, the Google Shopping result, it increases trust in a product.

Besides, in the search results, you can also find product reviews from major websites in the search result pages, like this one from CNET:

CNET is a trusted source for Google, so they feel comfortable showing that rating and link these reviews on page one in the search result pages.
Obviously, it's key to monitor these ratings and take action if products are getting negative reviews. Either contact the reseller and ask them to fix the issues or stop selling that specific product. More on negative reviews later on in this post.
Reviews
Most of the time, the ratings we discussed earlier are just half of a package deal. Ratings are great, and great ratings even greater. But if a detailed review accompanies that rating, people will relate to the experience another customer had even more. Regardless if that's for a product or an entire business. These reviews influence the decision-making process of your visitor. If they come to your website and see only negative reviews written by real people that speak from experience, they will think twice. If these reviews are all raving about the product, people will be a little less hesitant to hit that buy button.
Reviews influence ranking
Reviews tell Google about the public perception of a brand or website. Google can process these reviews and take them into account for rankings if needed. It can even influence your E-A-T (Expertise, Authoritativeness, Trustworthiness) signals. If you have a local business, there's some research which shows reviews are especially important for local search results.
Websites like Yelp and Tripadvisor help people from all over the world to find the right coffee shop or bakery. Sites like Booking.com tell people where to stay and allow people to share their experiences afterward. If you have good reviews, Google shows these ratings and will let you stand out from their search results. If you search for a specific hotel in Google, you'll find even more reviews in the search result pages: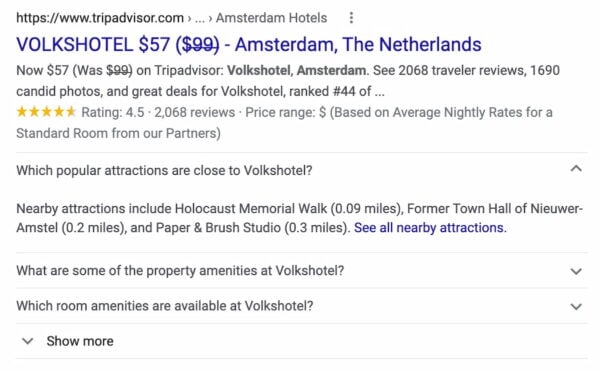 It's up to users to decide which source they trust more. But we think you can't go wrong with this hotel, right?
Negative reviews matter too
Asking for reviews, for instance, right from your (support) email inbox, like in the signature of your email, might feel a bit strange at first. However, it will trigger your brand ambassadors to leave a review, after seeing that signature email after email. And yes, you will get some negative reviews as well from people that are not completely satisfied with your product or service. And you want these. Every negative review will allow you to improve your business.
Don't feel bad when you get one; feel motivated! Negative reviews give you a chance to go beyond yourself in showing how customer-driven you are. They allow you to fix the issue this customer has. After fixing it, ask them to share the solution and/or their experience with your company, so others can see what you have done to turn that disappointed customer into a satisfied customer. Learn how to respond to online reviews of your business.
It's your job to make your customer happy, and good reviews will follow. Speed up that process by asking your customers for their feedback!
How to get reviews from your customers
Ask your customers for a review in person
It's really that simple: ask your customers for a review. Yelp may advise against this; Google promotes it. We agree with Google on this. Someone in the coaching business could ask his customers after finishing the coaching process to leave a review on his Google My Business page. This might help him achieve a local #1 ranking — that and an optimized site, of course.
It might feel a bit odd to ask your customers for a positive review. However, we think most of your customers will be more than happy to do this for you. It's a small token of appreciation for your great service, product, or your friendly staff. If you believe in your business and take extra steps to help your customer, your customer will for sure leave that review for you. Especially in local businesses, where you know your customer and perhaps have been serving them for decades, ask.
Ask your customers for reviews on your website or social media pages
Feel free to ask your customer for a review on your website, for example, right after purchase. If a customer wanted your product so bad they made the purchase, they might be willing to leave a review about their shopping experience as well. Even a simple "How would you rate your experience with our company" could give you that rating you want.
And why not leverage Twitter, Facebook, and other social media? Twitter works pretty well, especially for local purposes. In every town, there should be people talking to each other about happenings in their hometown. Most of these people visit local stores. Not just that, but they'll probably also have an opinion on these stores. And they might be willing to share that opinion.
Get reviews using email and SMS
Remi from Opinew has put together some great advice for getting reviews from other sources. Opinew is a Shopify app that lets you collect product reviews for your store. You can use Opinew easily with Yoast SEO for Shopify thanks to our in-built integration. Here are Remi's tips:
Collect reviews with email automations
The most common form of getting reviews from customers is through email review requests that you can send post-purchase. One thing that we recommend keeping in mind:
Set the right timing: Make sure to send it a day or two after the product has been delivered and your customer had the time to test it. If you're using a tool that allows you to follow the delivery status, bingo! Otherwise, you can build up an estimation based on how your past deliveries went.
Set the right messaging / tone: Make sure to encourage honesty and be straight to the point. Customers are expecting review requests and are used to receiving them.
Add coupons: Incentivizing reviews is your best chance of getting a review! It's a win-win situation for both, and a great way to turn your customers into repeat customers once they left their reviews.
However, with email marketing being used by every brand nowadays, it's becoming harder to stand out and you may suffer low open rates on those emails. We definitely recommend diversifying your communication channels and trying different techniques to make sure they receive, read and engage with your messages.
Collect reviews with SMS automation
One of the great alternatives to email marketing is SMS marketing. While a bit more intrusive, it's also more immediate.
Mailchimp's Email Marketing Benchmarks and Statistics by Industry, claims that e-commerce's average open rate stands around 15%.
According to Text Anywhere's study, SMS marketing has an average open rate of about 98%.
That's a lot more chances of you getting your customers to actually read your message. Of course, nobody likes pending notifications so there's a chance they might just open it without even reading it, but there are a few ways to optimize your chances:
Timing: Research shows mobile phones are most used between noon and 6 P.M. Start from there and test it for a while, then you'll be able to study your data and see which time has the best open rate and especially conversion rate.
Send other SMS updates before asking for a review: Send your customers some updates on their order status, and delivery status, so they're used to you sending them SMS. Make sure to keep a reasonable frequency so they're not perceived as spam texts.
Send a reminder: without being abusive, one reminder can increase the chances of getting a review. Maybe they were busy the first time they received your request and just forgot about it.
Import reviews from other sales channels
If you're selling on Shopify, there's a great chance you are using a review app to manage all your reviews. Some of them will allow you to import reviews from other sales channels such as Amazon, eBay, or AliExpress. If you're selling on these other channels, you could even synchronize new reviews automatically to your Shopify store!
Want to get a review snippet? Use schema
By adding certain Schema.org elements to your code, Google can add reviews and ratings to your search results. You need to tell which parts are about the review and what that element represents. In Schema.org, a rating is an aggregate value a product gets. A review is a rating with an explanation in the text.
First, let's see what Google has to say about reviews. On their review datatype page, they clearly state that Google may display information from aggregate ratings markup in the Knowledge Panels with your business' details.
They state that they're using the following review snippet guidelines (we've paraphrased; if you want to, you can take a look at the official guidelines in Google's documentation).
If you include multiple individual reviews, also include an aggregate rating of the individual reviews. Make sure you use the correct AggregateRating schema markup for this.
It must be clear which product or service the reviews are for, using nested schema markup.
The reviews and ratings you want Google to use must be readily available for users to view, and it needs to be immediately obvious that the page contains review content.
Reviews need to be about a specific product, service or business (not categories or lists of items).
Reviews shouldn't be aggregated from other websites.
If you have a local business or an organization, you need to follow some additional guidelines:

You cannot use reviews that you are in control of to make use of the star ratings feature.
Ratings need to be obtained from users directly.
Don't use ratings information which has been created, curated or compiled by a human editor.
As you can see, there is a clear focus on genuine reviews. It's a good idea to display the name, position, photo, and any other relevant, public information of each reviewer. That always helps in showing that your reviews are indeed genuine. Also, try to keep a fresh stream of reviews coming in. If you get a lot in a short space of time and then nothing for months, that might seem suspicious to Google.
Yoast SEO makes it easier
We've mentioned Schema.org structured data quite a few times in this post. Schema is a kind of code designed to help search engines understand the information it finds, and how that connects with other information. It can be hard to work with, especially if you're not already familiar with it.
Luckily, Yoast SEO can do that part for you, whether you're working on WordPress or Shopify. So to get those star ratings, you don't have to go through all the hassle of adding AggregateRating schema yourself. Plus, if you're using Yoast SEO for Shopify, it's good to know that we've set up an integration with four popular review apps to make life even easier: Opinew, Loox, Ali Reviews, and Judge.me.
Conclusion: Aim for the stars!
Hopefully, this guide has given you some ideas on how to get online reviews and ratings. In addition, we've told you how to add them using structured data, so search engines know they are looking at a review. Especially for local businesses, having good reviews is getting more important by the day. Be sure to reach out to your current customers and get them to share their experiences. If you get it right, you'll soon be admiring your star rating in the Google results.
Good luck!