According to
HubSpot
, 69% of marketers actively invest in SEO. But is SEO worth the time and money in your case? If you're looking for a quick, straightforward answer to this question, just use this flowchart: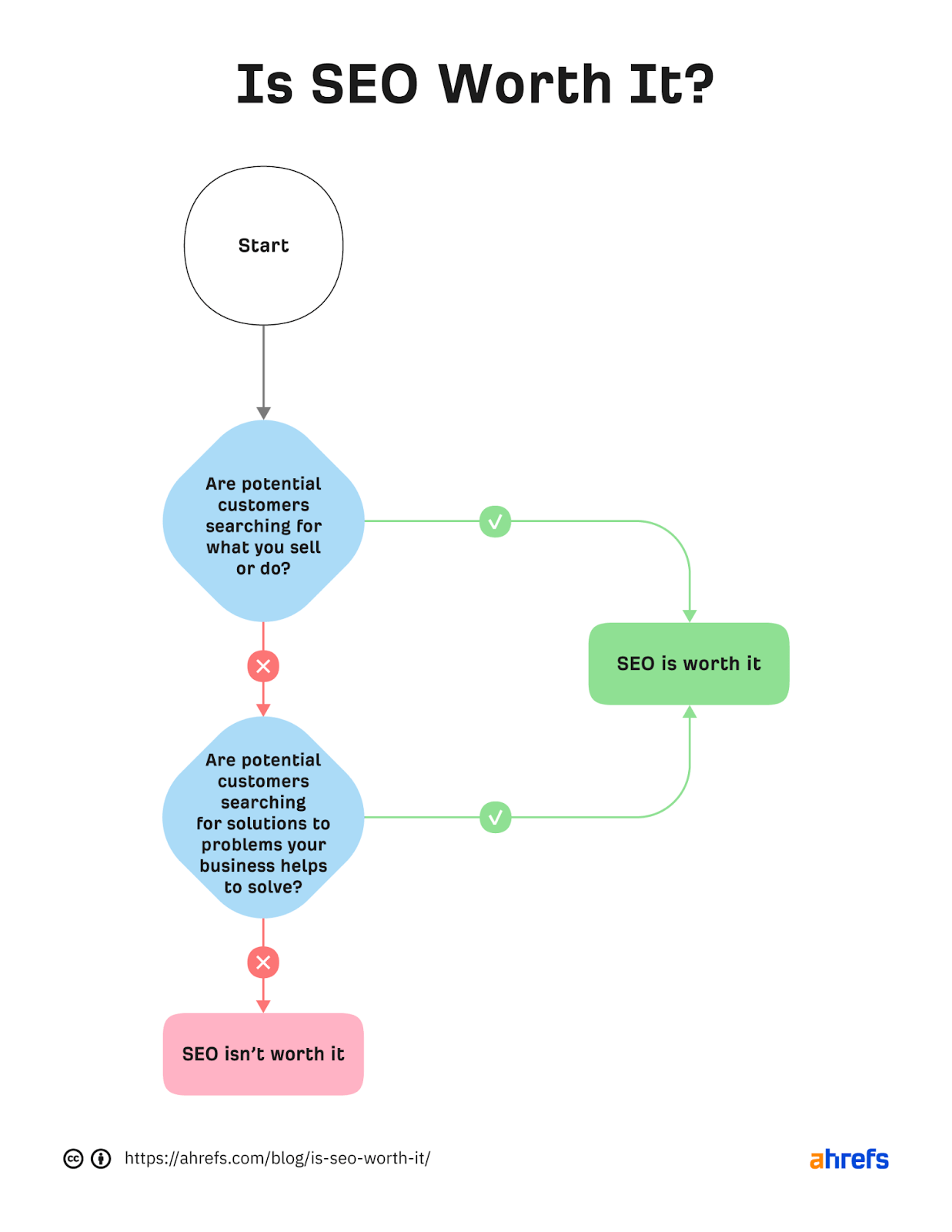 Here's how it works: If the answer to both questions is "yes," then SEO is probably worth it for you. This is because SEO increases your chance to rank high for relevant search queries and get consistent, qualified traffic that you don't need to pay for.
But if the answer to all of them is "no," then you may be better off with a different type of marketing.
Not sure how to answer those questions? Read on to learn more.
Question 1. Are potential customers searching for what you sell or do?
If you run a local business, then the answer to this question is almost certainly "yes"—at least statistically:
4 in 5 consumers use search engines to find local information (Google).
76% of people who search on their smartphones for something nearby visit a business within a day (Google).
28% of searches for something nearby result in a purchase (Google).
In short, if you're not showing up for relevant local queries, then you're leaving money on the table. Local SEO helps with this, and we have a full guide on that.
But if you have an e-commerce, SaaS, or small online business, this may not be the case, especially if you're doing something completely new or really niche.
So the first step is to plug what you do or sell into a keyword research tool and see if there's any search volume.
For example, if we plug "commissary kitchen" into Ahrefs' free keyword generator, we see that it has an estimated monthly search volume of 5,900 in the U.S. alone. This answers our question: People are searching for what we do.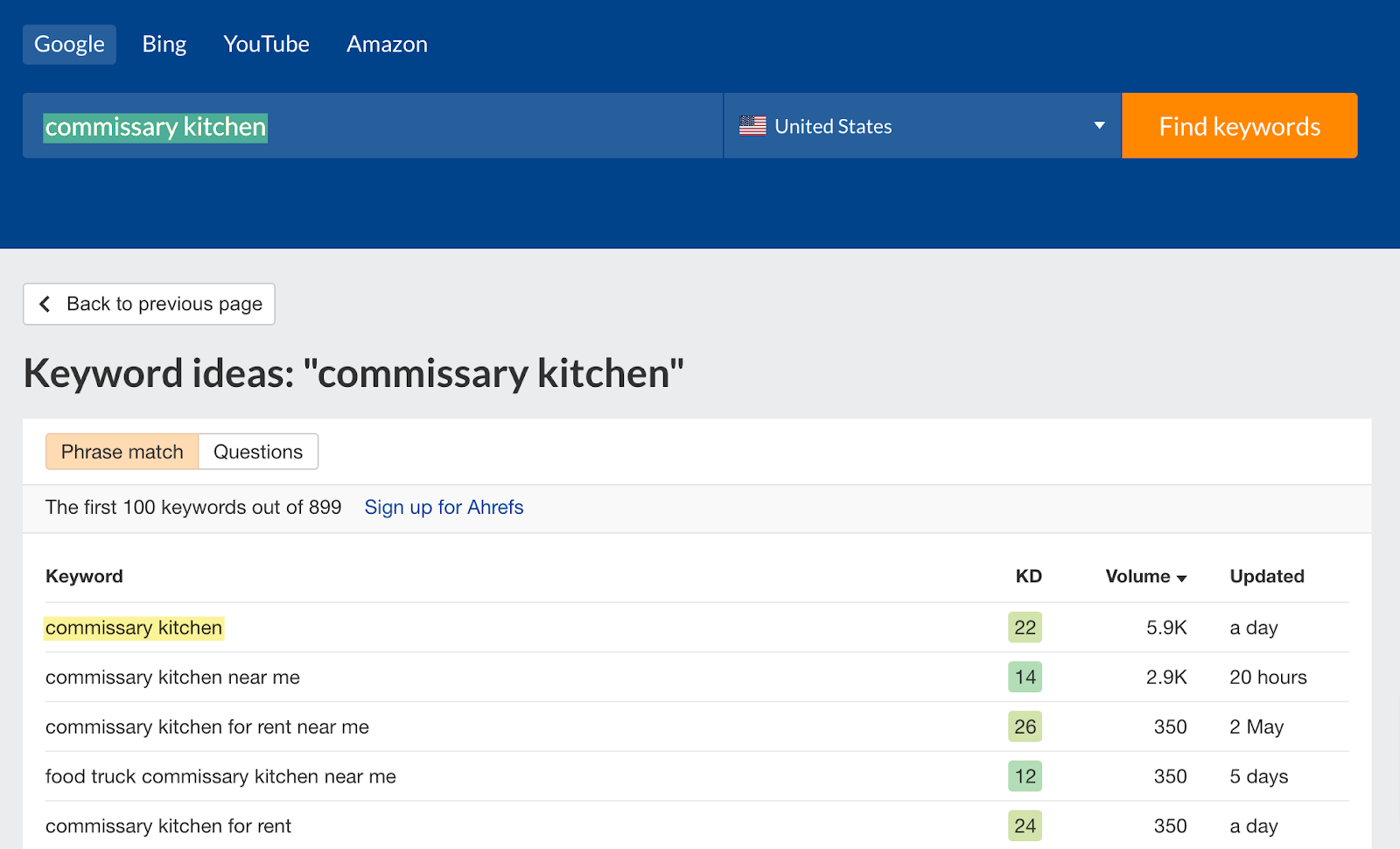 But even if this isn't the case, people may be searching for individual products or services you offer. So it's worth plugging some of these into a keyword tool as well to see if people are searching for them. If that's not the case, don't worry. SEO may still be worthwhile—and that brings us to question #2.
Question 2. Are potential customers searching for solutions to problems your business helps to solve?
Even if people aren't searching directly for what you do or sell, they may be searching for problems to solutions you can help with. And there's quite a high chance for this given that:
68% of online experiences begin with a search engine (BrightEdge).
71% of B2B researchers start their research with a generic search instead of queries containing a brand name or product (

Google

).
53% of shoppers say they always do research before a purchase to ensure they are making the best possible choice (

Google

).
For example, we have a tool called Content Explorer that's basically a searchable database of billions of webpages. Virtually nobody is searching for it on Google. However, they're searching for problems the tool helps to solve, such as link prospecting or finding content ideas.
SEO is often worthwhile in this case because you can create content that teaches searchers how to solve their problems with the help of your product or service. This is precisely what we do at Ahrefs.
To see if people are searching for problems you can help solve, just use a keyword research tool as we did in question #1. This time, insert the name of the problem your product or service can solve. Also, see the Questions tab to look for relevant questions.
TIP
If you need more information for your research, you can take it to the next level with features offered by premium SEO tools. Not only can you look up more keywords in one run, but you also get more metrics, have access to advanced filters, and can even see your competitors' keywords.
How much does SEO cost? 
So if you answer "yes" to question #1 and/or question #2, then SEO is worth it in theory. But there's one more thing to it: the cost/effort may outweigh the reward.
Basically, you have three options for investing in SEO:
Hiring an agency – Probably the most expensive option, costing $134.66/hour (+ retainer) on average. But you don't have to learn SEO, and you can start fast.
Building a team or outsourcing to freelancers/consultants – Somewhat expensive. On average, SEO consultants cost $122.33/hour (+ retainer), freelancers cost $68/hour (+ retainer), and an in-house SEO specialist costs $71K/year (in the U.S.). You need to know what you're doing, and you need to invest time in the hiring and onboarding process.
Doing it yourself – The cheapest option. But it takes time and skill.
There may be a fourth "hybrid" option: hiring an agency/freelancer for some time to see the results. Then you may want to build an in-house SEO team or even learn SEO yourself.
Sidenote.
We surveyed members of the SEO industry to find out how much they charge for SEO services and what pricing models they use. Read the study here.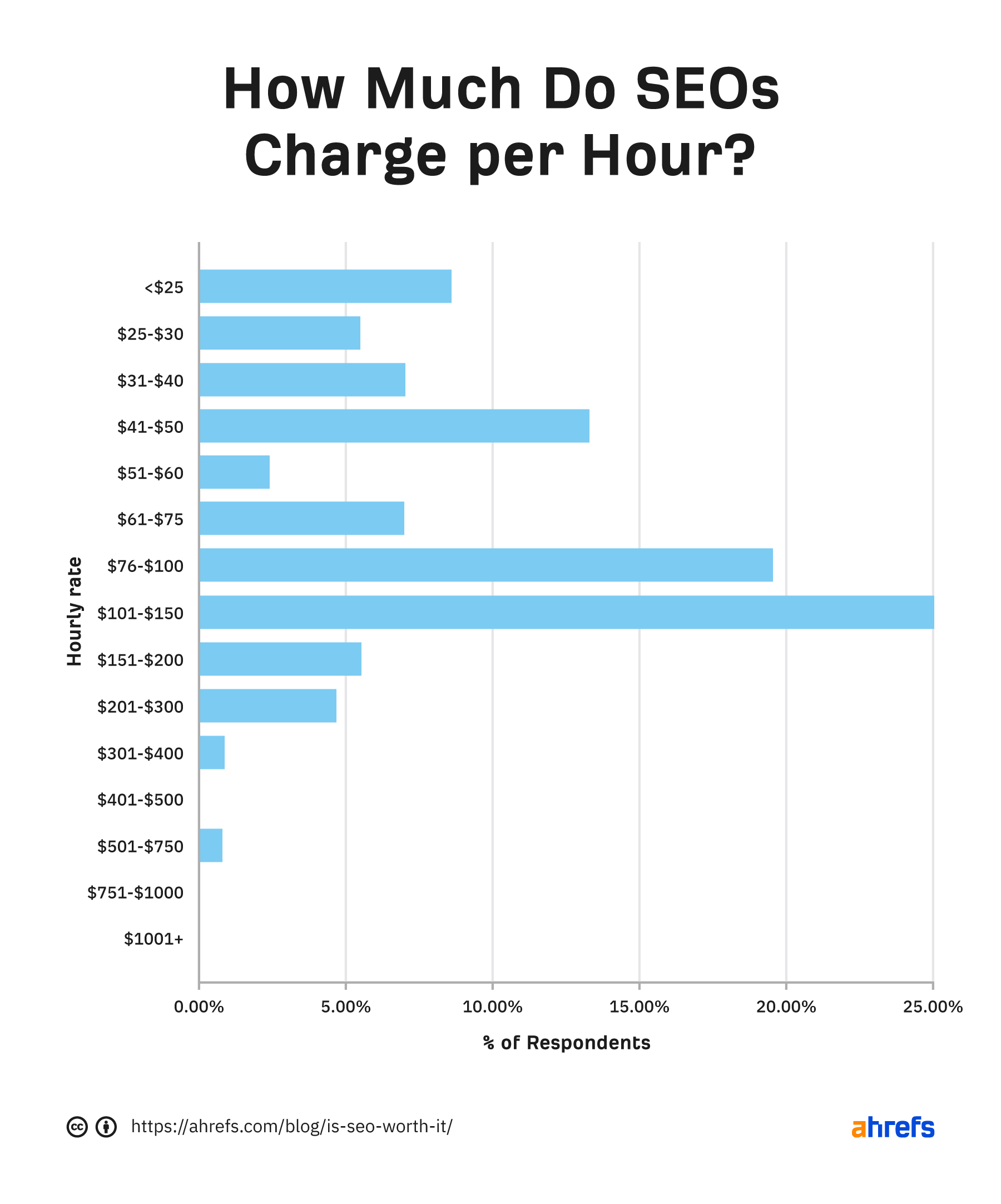 If you decide to hire an SEO agency or a consultant, ask them if they think SEO will be worthwhile for you. A good agency will give you an honest answer and be able to explain why it's the case one way or another.
If you're going to do it yourself or hire folks to do it, you need to learn how SEO works and do keyword research to make sure you're pursuing the right keywords.
Generally speaking, the more people search for something, the more competitive and difficult it is to rank for the said thing. That's why if you're new to the SEO game, then it's likely worth it to go after low-competition keywords to start—as long as they're still relevant to your business.
If you want to learn more about SEO to make informed, confident decisions, go to our free learning materials:
Final thoughts
So if you're looking to boost your business with SEO, the absolute number #1 consideration is to determine whether queries related to your business get any search demand. After all, SEO is all about channeling a part of that search demand to your website.
Finally, I believe the answer we tried to provide in this article is the most straightforward, i.e., the quickest answer you can get to this question. But obviously, it's just that. It's not a thorough analysis of your business and its market environment. Treat this as the first step in your SEO journey: an invitation to create or ask a professional to devise an SEO strategy just for you.
Got questions or comments? Ping me on Twitter.