You've put a lot of work into your website and need to understand how users interact with it.
That's why data analytics are so important to the success of a modern web-based business. The most significant name in website analytics right now is Google Analytics, but it's far from the only name in town. There are several Google Analytics alternatives, like Matomo.
Both of these services are widely adopted and easy to use. They also integrate easily with WordPress, the world's most popular CMS. But which service is better, Google Analytics or Matomo? There are certainly arguments for both. These are quality services that are popular for a reason.
We're not here to tell you which service is better between the two because better is subjective in this scenario. Different businesses have different needs, and while Google Analytics might be more appealing to one company, Matomo's features might fit in perfectly with another.
Instead, we're going to focus on comparing these two services so that you can make an informed decision.
In this article, we'll explore Matomo and Google Analytics, comparing them in several key areas to help you decide which is the better analytics platform for your needs.
What Is Matomo?
Matomo is a web analytics platform that was formerly known as Piwik Analytics. Piwik started back in 2007 but rebranded to Matomo in 2018.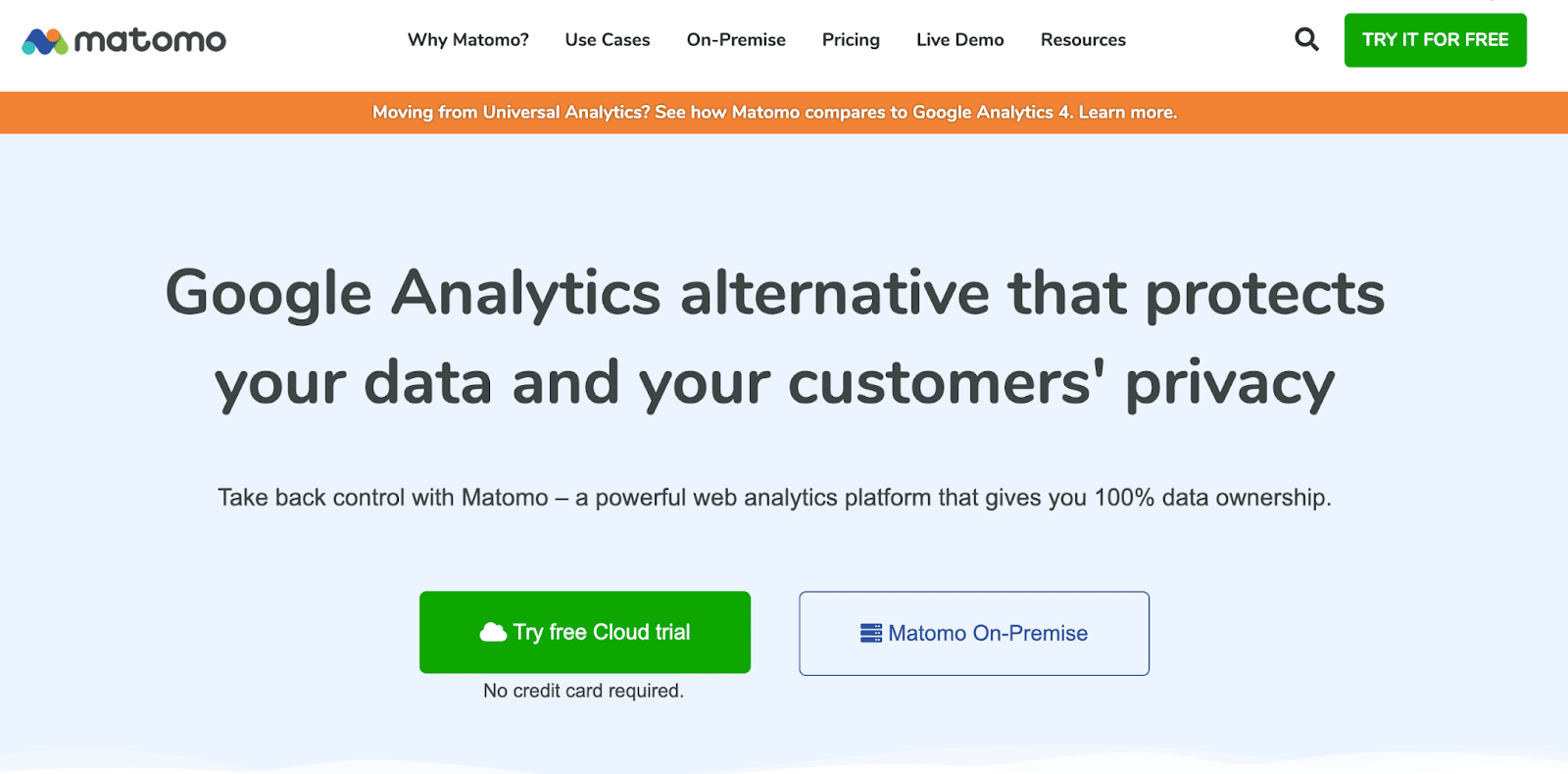 One reason for Matomo's popularity is that it's an open-source analytics platform. That means it's maintained and updated by the user community. This ensures that Matomo is always on the cutting edge of the industry.
More than one million websites are currently using Matomo's service in more than 190 countries. You can leverage this platform to gain information on website visitors and insights into your various marketing campaigns.
Matomo also makes it easier to optimize the customer experience and gauge the effectiveness of your content.
You've put a lot of work into your website… so you need to understand how users interact with it! 🤝 Enter, data analytics 📈Click to Tweet
Benefits of Matomo
Matomo is a platform with many impressive benefits. That's why it has gained so much popularity since rebranding just a few short years ago.
This private system provides full control over data to its users. It has both a free on-premise option and a paid cloud subscription to choose from. Additionally, because of the open-source nature of Matomo, you can customize it into the platform of your dreams.
If the site you're analyzing is small, Matomo has some unique benefits. Any blog with under 10,000 monthly visits uses just a small amount of server consumption. These server expenditures are also cheaper because of the unrestricted storage you get with your Matomo plan.
Matomo Standout Features
Matomo is a platform that provides detailed reports on website visitors, allowing you to gauge how many people are coming to your site, where they're from, and how they found you. It also shows users the different search engines and keywords that people used to arrive on your page.
Matomo even displays the language spoken by the user to give you a better understanding of how people are consuming your content.
When looking into how people use your site, Matomo excels with some memorable features. For starters, it provides information on the pages each individual user visited. This can help you determine where most of your traffic is going and which pages are flopping with the target audience.
You can also track the screen resolution of your website visitors, along with any links they clicked and files they may have downloaded.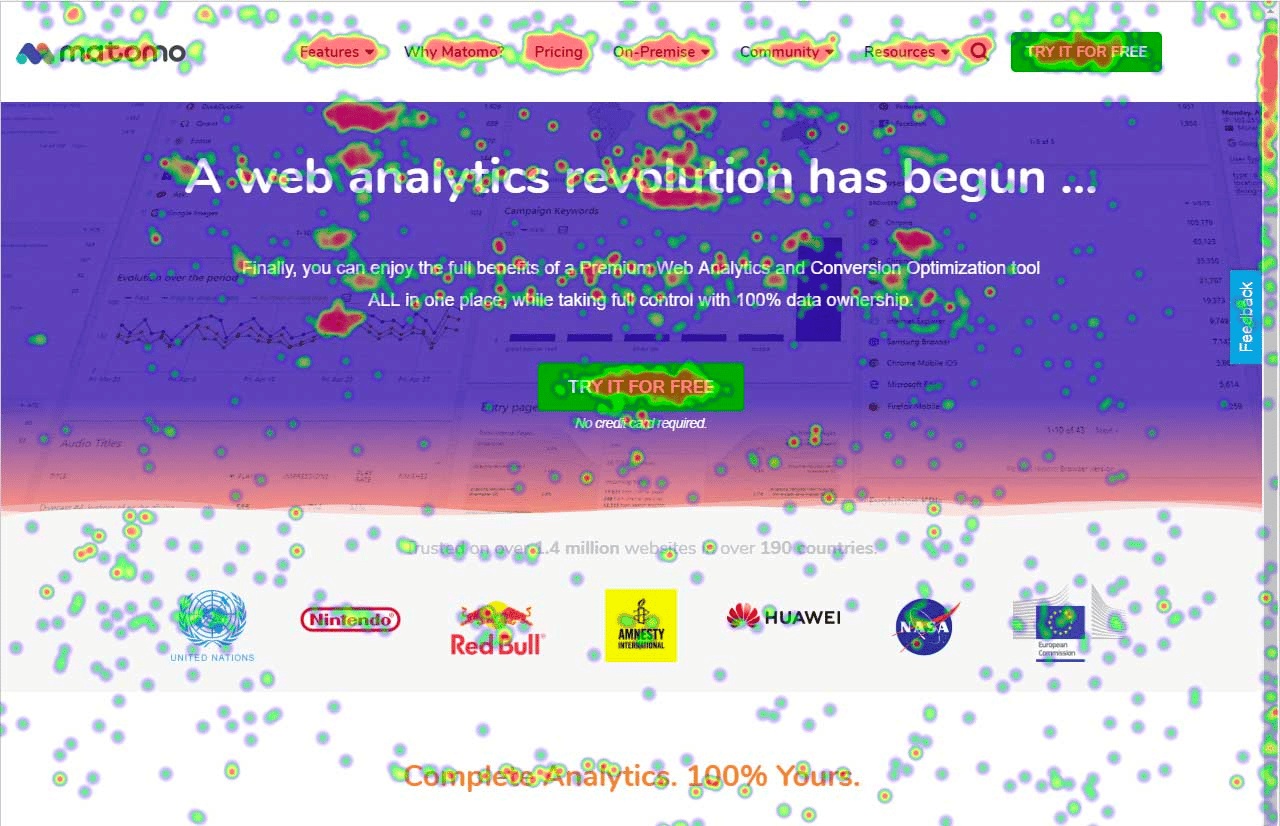 Heatmaps are another excellent feature of Matomo, which are available with a premium subscription. These maps show where users click the most on your page. It can help you view the effectiveness of your layout and even identify instances of rage clicking, which might show you that either the site is too slow or a feature is malfunctioning.
Session recording is also available with the paid service. You can use this feature to watch a replay of how people interact with your pages. You can even track user IP addresses for better demographic research.
What Is Google Analytics?
Google Analytics is a free website analytic service run by Google. It comes with that classic Google brand name which is well trusted by the general public.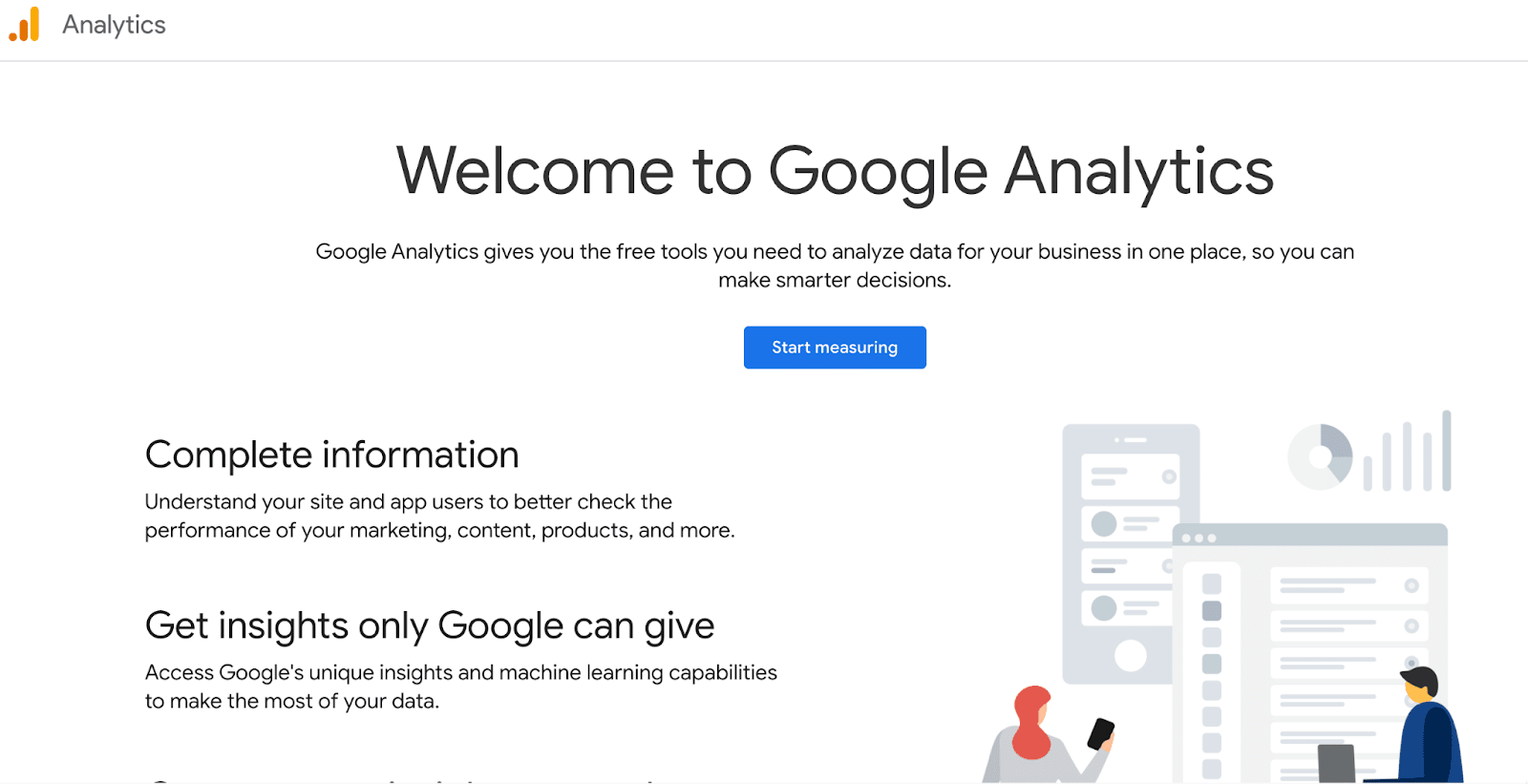 Google Analytics has been around since 2005 when Google bought Urchin Software Corporation and adopted its analytics tool.
This is a much more widely adopted service than Matomo, with more than 50 million websites worldwide using it for detailed analytic research. That makes Google Analytics the most popular analytics tool in the world.
You can use Google Analytics to receive segmented and grouped data regarding your site's users. It also provides detailed reports on user behavior, which can be beneficial when planning your marketing outreach.
Benefits of Google Analytics
You don't become the world's number one analytics platform without some key benefits. Google Analytics has many useful features that have pleased website owners for years.
With Google Analytics, you can track the information of users who visit your website, including their browsing behaviors, geographic location, search origin, and more.
This free service comes with a user-friendly interface that's easy to pick up quickly. Many tools you use daily, like a CRM or marketing software, can be integrated into Google through specialized APIs.
One of the key benefits of this service is that it's so widely used. Because of that, there's a lot of information out there, including tutorials and tips that will help you get the most from your experience.
Google Analytics Standout Features
One of the best features of Google Analytics is its real-time reporting. This allows you to explore insights into the behavior of users minute by minute.
It also provides you with bounce rate analysis, giving you insight into how many people are navigating away from your site right away. By examining this, you can identify any confusing or off-putting features of your site that might be repelling potential customers.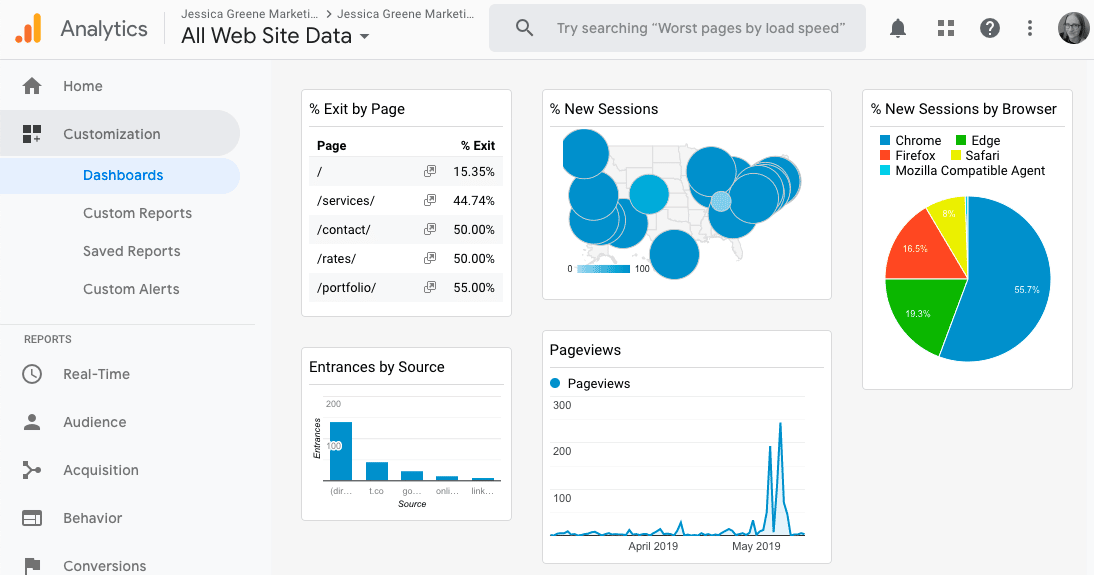 Your Google Analytics views can be personalized using filters, which are part of its customizable dashboards. The goal-setting feature of the service is also handy when setting up new campaigns to drive website traffic. You'll be able to measure the analytics you gather through Google Analytics against these benchmarks to determine your success or failure.
There's also ecommerce tracking, which enables online stores to keep a closer eye on their customers and how they shop. Insight into the ecommerce section of a website can show a lot about cart abandonment and the effectiveness of your checkout process.
You can also use Google Analytics for custom metric tracking, making the platform completely yours in a unique way.
Similarities and Differences in Matomo vs Google Analytics
When deciding between services like Matomo and Google Analytics, it helps to look at how these products are alike and how they're different. Perhaps a key feature of Google Analytics fits your needs, but Matomo doesn't have an equivalent.
That's why we're going to look in-depth at these services, determining how they're alike and different.
Similarities Between Matomo and Google Analytics
Matomo and Google Analytics have a lot of features in common. Both feature customizable dashboards, allowing you to personalize your views.
They also have objective monitoring, which means you can measure the data you gather against the objectives you set for yourself. These services both allow for real-time data monitoring and location tracking of the various users who make their way onto your site.
Google Analytics and Motomo are accessible through mobile devices, thanks to apps for both iOS and Android. You can also use APIs along with these platforms to connect with the various software tools you use for the rest of your business.
With Matomo and Google Analytics, you can engage in campaign and ecommerce tracking. You can also use both systems to generate automated email reports.
Differences Between Matomo and Google Analytics
One key difference between Matomo and Google Analytics is that Matomo offers its users video analytics, while Google Analytics does not. Matomo also offers heatmaps showing how users interact with various pages through color-coded splotches. This is another feature you don't have access to when using Google Analytics.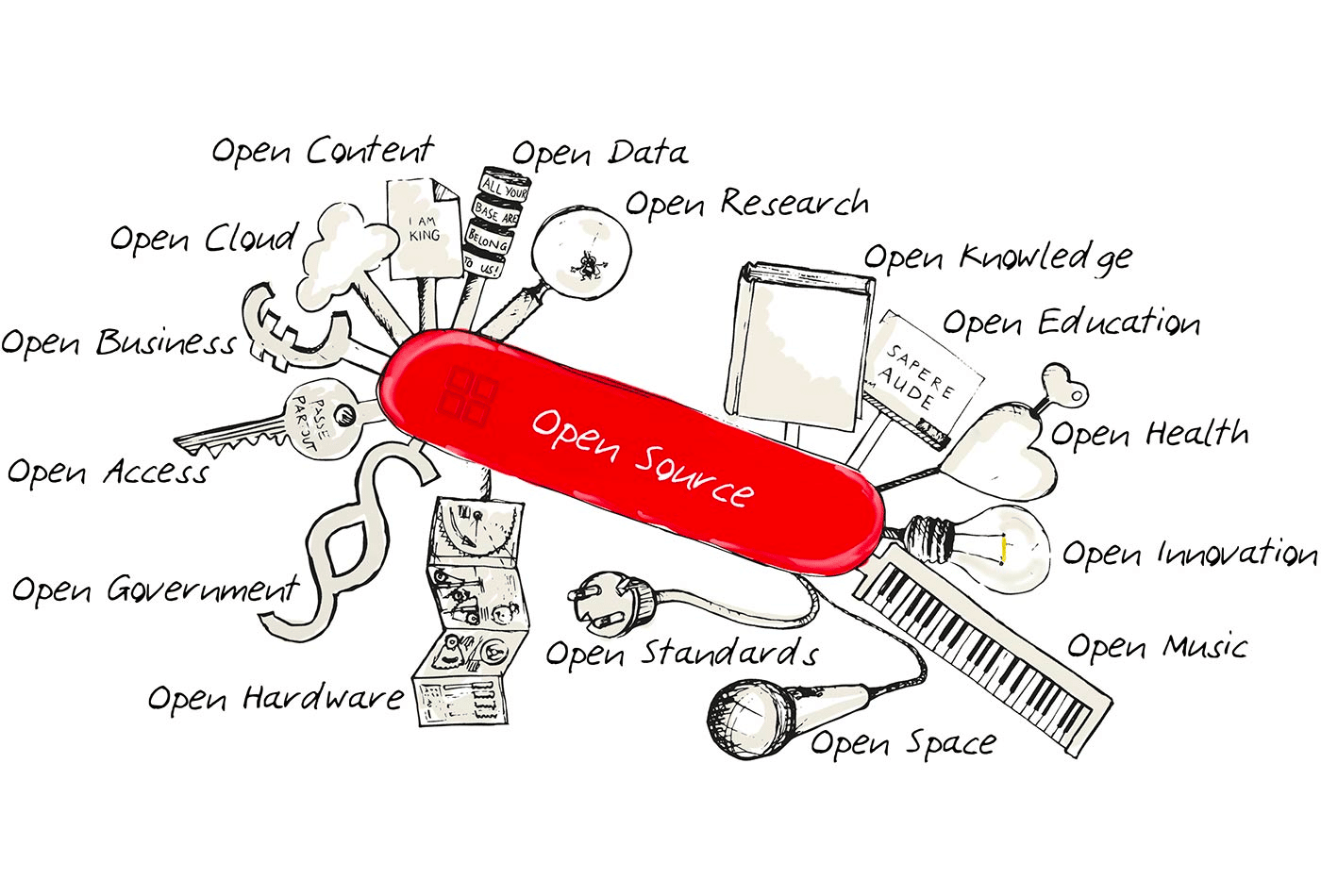 Google Analytics is also not an open-source platform like Matomo. That means while Matomo is updated and maintained by the developer community, Google Analytics is controlled solely by Google. Matomo also doesn't use cookies, meaning you own all your data.
When using Matomo, you're getting more advanced privacy controls. But many of these enhanced features enjoyed by Matomo users boil down to one key difference between the two services.
Google is 100% free, while Matomo comes at a price.
Matomo vs Google Analytics: Head-to-Head Comparison
Now let's compare these two services head to head, examining their installation processes, ease of use, data tracking abilities, and cost-effectiveness.
Installation
For the sake of this article, we'll keep our installation comparison focused on WordPress websites. Let's start with Matomo.
Matomo Installation
There are two different versions of Matomo offered to users. You have Matomo Cloud, which is hosted on the cloud for a premium subscription price. Then you have Matomo On-Premise, which is self-hosted, open-source, and free to use.
When using Matomo, the first thing you have to do is sign up for an account. To do this, you'll need to provide your email address, website URL, and analytics subdomain.

You'll then receive a confirmation email with all of your login details and a Matomo subdomain. Take the tracking code provided by Matomo and apply it to your WordPress header.
Matomo On-Premise needs to be installed. That means you'll have to host Matomo software on your servers. You'll also need to have an expert developer on hand for the installation. Once complete, you'll receive the tracking code to insert into your WordPress header.
Google Analytics Installation
When installing Google Analytics, you'll first have to create a free Google Analytics account. This also requires you to have a Google account (which is also free).
Once you've signed up, the system will provide you with a JavaScript tracking code. You then have to add that code to your website header. Of course, there are also plugins available with no coding required.
Ease of Use
When comparing Matomo to Google Analytics, you'll find that Google is far easier to use. Matomo On-Premise requires expert-level coding for the lengthy installation process, and while Matomo Cloud is far easier to install, it also comes at a price. Google Analytics is always free.
When signing into the services, Google has a very user-friendly static login page, but Matomo requires you to enter your Matomo subdomain to get into your account every time.
Google Analytics is a user-friendly platform, separating your reports into five areas. They are:
Real-time
Audience
Acquisition
Behavior
Conversions
The Matomo dashboard is also easy to understand. It shows you visits in real-time, includes a sidebar menu for added usability, and even has a visitor map.
Tracking
Both of these quality services include basic tracking. This includes tracking locations, devices, landing pages, exit pages, real-time users, and more.
However, Matomo Cloud limits your tracking as per the features of your paid plan. The Cloud plans come with 30 team members, 150 goals, 100 segments, and 30 action custom dimensions. Many of these are unlimited when using the On-Premise plan.
Google allows unlimited users, segments, goals, and custom dimensions, all at no cost. It also integrates with Google tools and platforms like Google Ads. This means you can optimize your site for Google's core web vitals and see how users interact with the ads you're running.
Matomo also allows automatic form tracking, while Google Analytics requires event tracking to be set up separately.
Cost-Effectiveness
Google Analytics is a completely free service. That obviously means you don't have to pay to use it. When you consider that the service comes with unlimited users, goals, segments, and dimensions, you realize that it's highly cost-effective. You're getting a lot for literally nothing.
So while the battle for cost-effectiveness is a solid win for the free Google Analytics, we also need to break down Matomo's paid plans.
Matomo On-Premise is always a free service regardless of your site's traffic. However, as we mentioned before, it requires a lot of work and an expert-level developer to install it on your servers properly. When you factor in the cost of hiring a developer to install Matomo, it's not really free at that point.
A number of features are included in Matomo Cloud that can be applied to Matomo On-Premise for an additional fee. These include, but are not limited to:
Activity logs ($29 per year)
Woocommerce Analytics ($39 per year)
Funnels ($199 per year)
Heatmaps and session recordings ($229 per year)
SEO web vitals ($89 per year)
And many more
Matomo Cloud is a premium paid service that varies in cost depending on your monthly traffic. The lowest tier is for sites with up to 50,000 monthly hits. This goes all the way up to 100 million hits.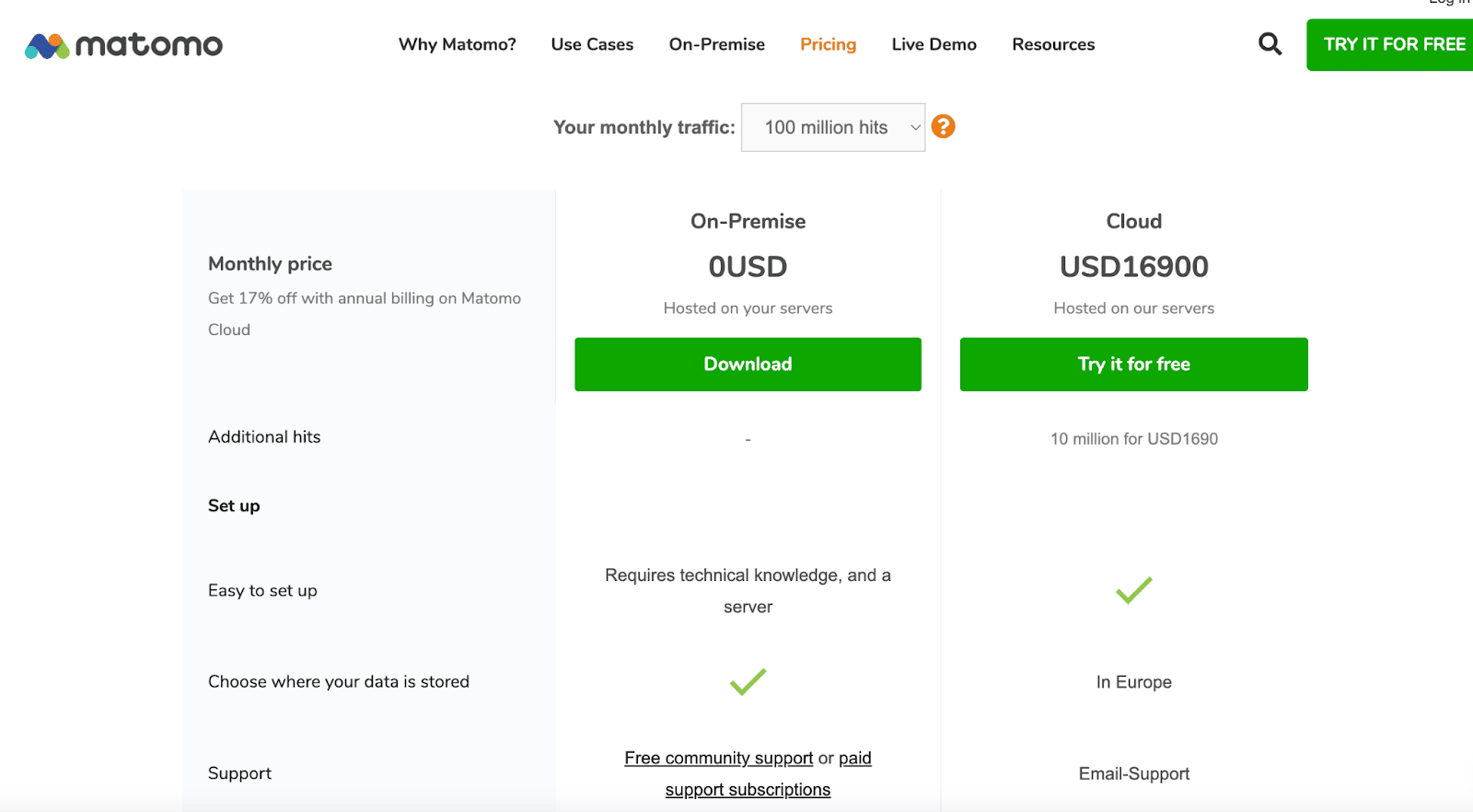 Let's break each of these pricing options down one at a time.
50,000 Hits – $23/month
100,000 Hits – $39/month
300,000 Hits – $79/month
600,000 Hits – $129/month
1 Million Hits – $189/month
2 Million Hits – $369/month
5 Million Hits – $929/month
10 Million Hits – $1,790/month
25 Million Hits – $4,390/month
50 Million Hits – $8,590/month
100 Million Hits – $16,900/month
As you can see, the pricing for Matomo varies quite a bit. While the system has many advanced features and can be highly affordable for smaller websites, the cost will grow exponentially as your numbers grow. Hence, you need to make sure you can afford to scale your Matomo subscription as your business grows.
Can Matomo and Google Analytics Be Used Together?
Analytics services like Matomo and Google Analytics can be used simultaneously. This will allow you to get insights from both platforms and compare the similarities and differences between them. With Google Analytics being a free service, you might be ready to jump headfirst into this concept, but we recommend taking a moment to consider what it entails.
If you were to have Matomo and Google Analytics running on your site simultaneously, you'd have two different JavaScript codes running at the same time. This could toss a major monkey wrench into your operations by negatively impacting page load speeds.
When trying to improve your website's user experience, site speed is one of the most important elements to consider. A staggering 47% of consumers will leave a website if it takes more than two seconds to load.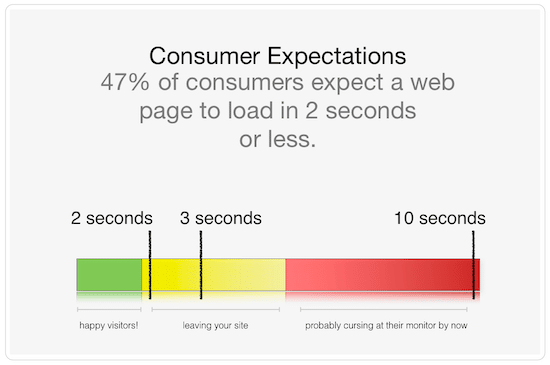 Additionally, site speed is something Google checks for when assigning your SEO rank. That means anyone looking to grow their SEO score needs to ensure that their site runs at an optimal speed. We recommend using a free tool like KinstaAPM to determine what needs to be fixed. This is essential for building a positioning strategy for your brand, as you want people to associate your brand with functionality and efficiency.
So while it's possible to run Matomo and Google Analytics on your page at the same time, it's not recommended.
Want to better understand your site? 👀 These two data analytics options are here to help 🚀Click to Tweet

Summary
Matomo and Google Analytics are two excellent analytics tools that can give you an excellent window into the habits and behaviors of your target audience. You can use these platforms to monitor your SEO growth, understand your target demographic better, and measure the success or failure of your marketing campaigns to determine which actions you need to take next.
But as to whether Google Analytics or Matomo is the better option, it all boils down to your specific needs as a business. It will be worth the investment if you can afford Matomo and think that services like heat mapping are important for your continued success.
However, if you're a small site with a small profit margin and you need a quality free tool, then Google Analytics is a safe and effective bet. If you're not happy with either of these options, we can also recommend MyKinsta Analytics, our own website analytics platform.
Regardless of which analytics tool you decide on, you'll need quality managed WordPress hosting to get your site out before the masses. Contact Kinsta today and schedule a demo.
---
Save time, costs and maximize site performance with:
Instant help from WordPress hosting experts, 24/7.
Cloudflare Enterprise integration.
Global audience reach with 34 data centers worldwide.
Optimization with our built-in Application Performance Monitoring.
All of that and much more, in one plan with no long-term contracts, assisted migrations, and a 30-day-money-back-guarantee. Check out our plans or talk to sales to find the plan that's right for you.