If you want your web pages to rank at the top of the search results, creating well-designed pages with quality content may not do the trick. What you need to do to achieve high rankings is make sure that your pages are better than that of your competitors.
We at SE Ranking are excited to announce that we have rolled out a revamped and updated version of our tool On-Page SEO Checker that helps you do just that!
Through the power of this tool, you can learn how your pages are seen by search engines, get them ready for human visitors, and learn how they measure against your competitors so that you can outrank them and acquire more traffic as a result.
Here, we want to provide you with a complete breakdown of the On-Page SEO Checker tool and its unique capabilities. 
Spoiler alert: We went the extra mile to make sure the tool provides actionable, data-driven insights that will help you get better results.
What does the On-Page SEO Checker tool do?
SE Ranking's On-Page SEO Checker tool measures every analyzed web page against 94 parameters that impact search rankings. These parameters range from the meta title and description to content length, and through keyword density, page usability to the page's backlink profile. 
If any one of the analyzed page's parameters doesn't fall within the recommended value range, the tool qualifies it either as an error, a warning, or a notice. This categorization largely depends on how each parameter impacts the page's overall ability to rank high in search. 
For example, if your metadata is a bit off, but everything else on the page is squeaky clean, your page should still perform pretty well. However, if it is the other way around, you should definitely get to work. The good news is that the tool provides recommendations on how each type of issue should be handled as well as a to-do list of tasks, so you won't be lost not knowing what to do.
The best thing about the On-Page SEO Checker—and we can't stress this enough—is that it analyzes your page's top and direct SERP competition to show you how exactly your pages can be improved. 
So, instead of just giving you your typical SEO best practices, the tool actually digs in deep to pull up data that helps you outperform your digital rivals in search.
What tasks can the On-Page SEO Checker help you with?
We want to point out that we made extra sure that the On-Page SEO Checker tool can help professionals make any type of web page rank better, be it a homepage, a landing page, a product page on an ecommerce site, or even a blog post. 
Taking into account all of the 94 parameter checks and the AI that powers the tool, the On-Page SEO Checker can be very useful when you're performing several important tasks. 
For example, you can: 
Quickly assess how well your pages are optimized both for search engines and human visitors, as well as find out what may be holding them back from top-ranking positions. Is it the quality of the page's content? Are technical issues getting in the way? Or is the page's backlink profile not authoritative enough?
Carefully study how your pages are different from the top SERP players in your niche and learn what exactly needs to be optimized for better results. Since each parameter is analyzed with regard to competitors, you won't have to blindly guess what you need to  optimize and to what extent.
The AI-powered On-Page SEO Checker covers a wide range of tasks that you'd normally perform manually, ranging from vitally important ones, like analyzing keywords and content, and on to simpler checks, like content originality. However, the tool is revolutionary in the sense that it thoroughly analyzes your competition.
What makes On-Page SEO Checker unique?
Now that we've looked at what the tool can do and how it can benefit your page optimization efforts, we want to draw your attention to several distinctive capabilities of the tool that make it stand out from other similar solutions.
Get suggestions based on competitor performance
With the On-Page SEO Checker, you don't just get recommendations based on classic SEO standards. You get fix suggestions based on the actual metrics of your top-performing competitors. 
Since parameters like keyword density and title length vary across different industries and niches, the one-size-fits-all approach doesn't apply here. However, thanks to SE Ranking's powerful AI-based technology, the On-Page SEO Checker tool can thoroughly analyze every aspect of a competitor's web page and let you know how each parameter should be optimized. 
For example, most tools will point out that your title tag should be under 70 characters in length, but this recommendation is a bit outdated. As a matter of fact, with mobile search taking a more prominent position, it's actually advised to create title tags that are not longer than 60 characters.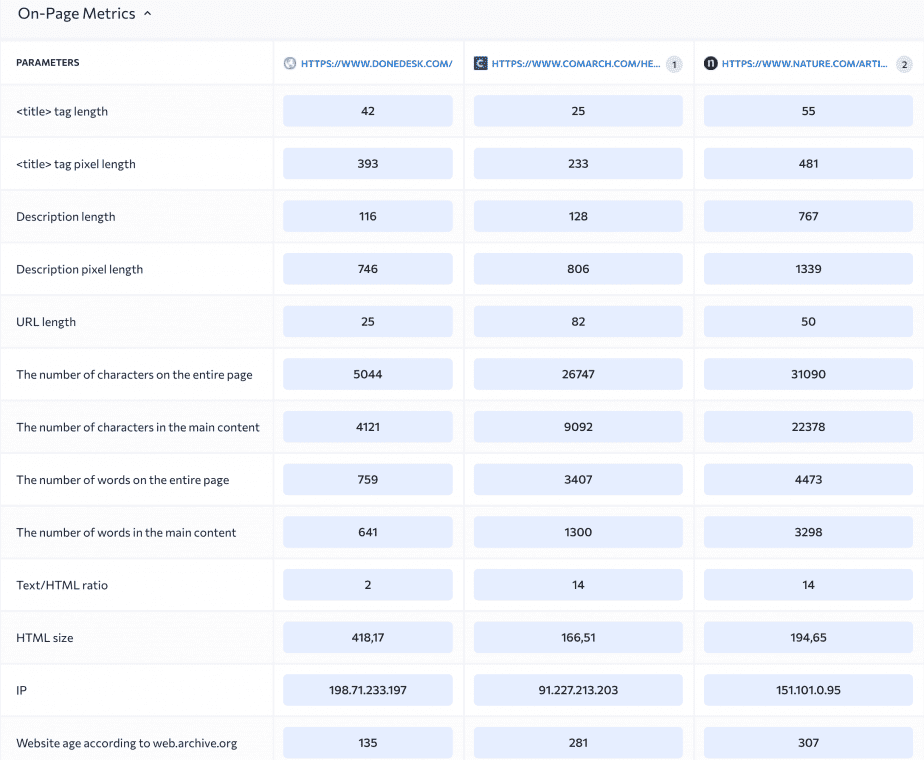 But don't just blindly follow these recommendations—see what your rivals are doing. If the traffic you get in your niche mostly comes from desktop, your competitors may opt for longer titles. And so should you. 
Since a lot of parameters are niche-specific, you want to make sure your pages correspond to your industry. What works for an ecommerce product page won't necessarily work for blogs, and what works in gambling can be devastating for a healthcare site or a tourism agency.
Again, we want to highlight the fact that you won't even have to do much additional research to figure out how to improve your pages. The On-Page SEO Checker does all the heavy lifting for you and provides recommendations on what works best in each specific case based on practically real-time data.
Get accurate page quality scores
To help you quickly understand how well your pages are optimized, the On-Page SEO Checker tool gives each analyzed page its own quality score. This score is based on around 70 parameters, with a different weight attributed to each parameter, and evaluates page quality based on keywords, marketing parameters, and technical metrics that are adjusted to the average value of the selected range of top search results.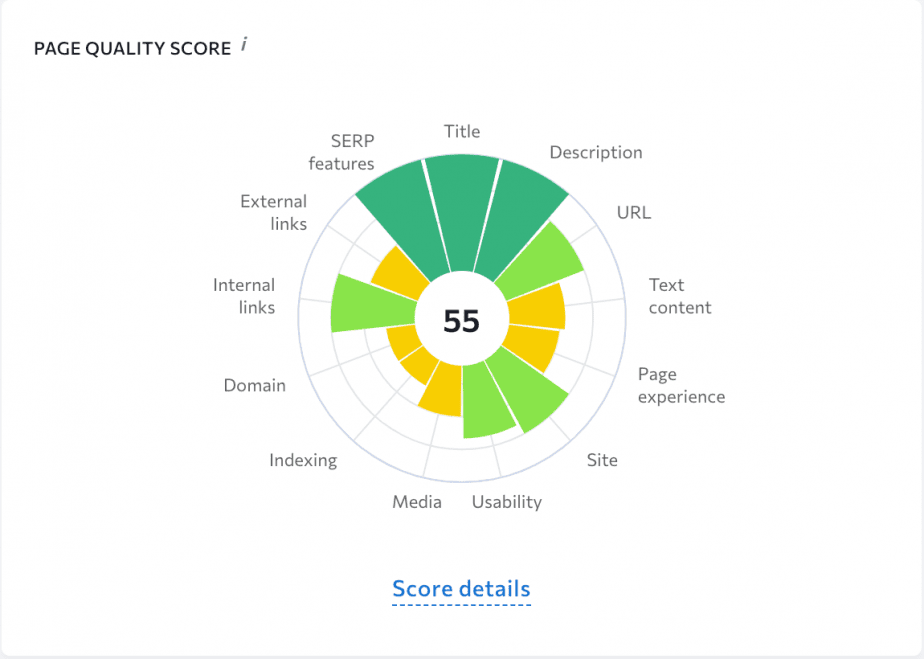 Specifically, metrics that have a strong impact on rankings have a greater impact on the page's overall quality score, while metrics that are not decisive are given less weight. In addition, metrics related to off-page SEO are also included in the page report but don't impact the score. 
As a result, the quality score lets you see how well your pages are optimized for their primary keyword and secondary keywords even before you start going into any details. 
Decide how many competitors you want to compare your page with
The On-Page SEO Checker gives you the freedom to choose the number of competitors that should be analyzed when assessing your pages. This enables you to cast a wider net when benchmarking your pages against that of your competitors.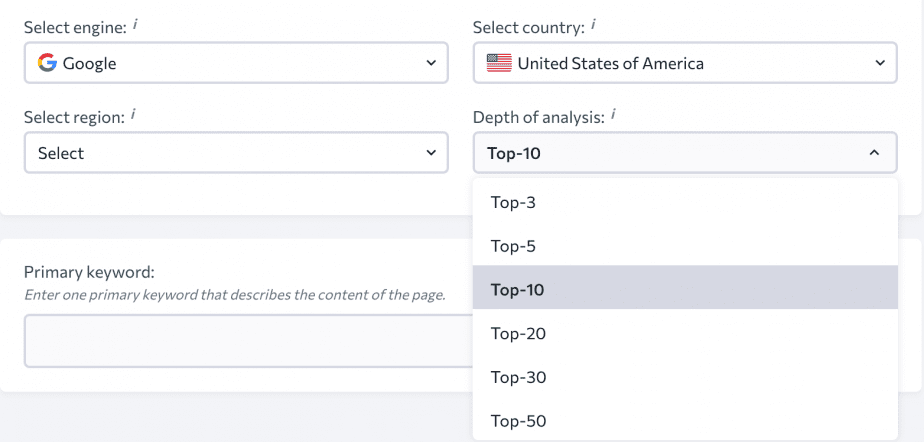 As you are setting up the tool for a specific web page, decide how many SERP competitors you want to get insights on: the top 3 or go all the way up to the top 50. Depending on your goals and your niche, you have the freedom to dive in as deep as you want. 
This feature and its flexibility is truly unique for on-page SEO tools, and we are looking forward to seeing your pages take advantage of this capability.
Get insights on both main and secondary page content
Another feature that makes the On-Page SEO Checker tool stand out is that it looks at the main and secondary content separately, which provides more accurate recommendations as a result.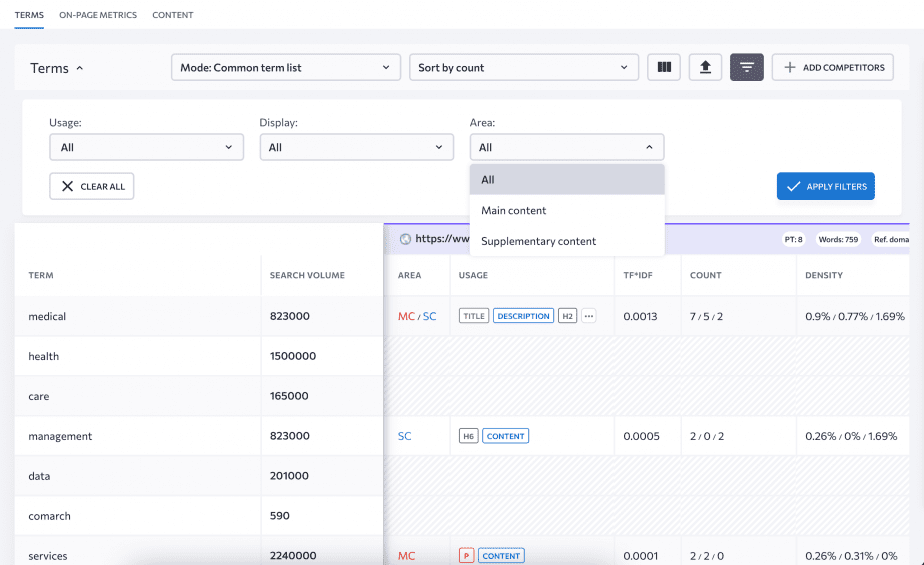 Why is this important? Because Google doesn't treat all page content equally. The rule of thumb is that main content has a bigger weight, while secondary content is not as significant. 
Tools that don't take this into account end up providing its users with recommendations that are misleading, which, in turn, leads to keyword-stuffed pages and other issues. Our tool, on the other hand, gives you specific recommendations for different types of page content, which ultimately gives you better chances of properly optimizing your pages. 
What parameters does the tool analyze?
SE Ranking's On-Page SEO Checker focuses primarily on what matters most to your pages' visitors: the content.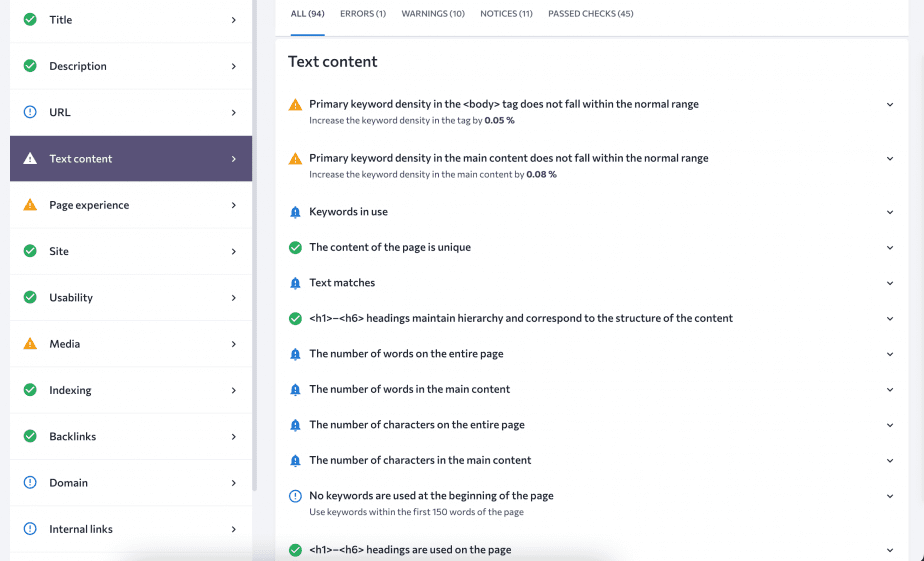 You get overviews of such important content parameters as length and uniqueness, usage of heading tags to make sure the structure is clear, usage of title tags and description meta tags as well as their respective length and keyword usage, and so on. On top of that, the tool also checks every internal and external link found on the page. 
One of the most valuable insights offered by the tool is keyword density. With the help of this metric, you can see which exact keywords your competitors use and how many times they are featured on the page. 
As you've probably guessed by now, you can leverage this data to make sure your pages aren't going overboard with keywords, yet search engines still understand the main topic. Moreover, you can find keywords that your page isn't targeting to make sure every search query that search engines find relevant to the covered topic is included on the page.
Furthermore, the On-Page SEO Checker reports on key technical parameters that impact page rankings, such as Core Web Vitals or HTTPS protocol usage, to name a few.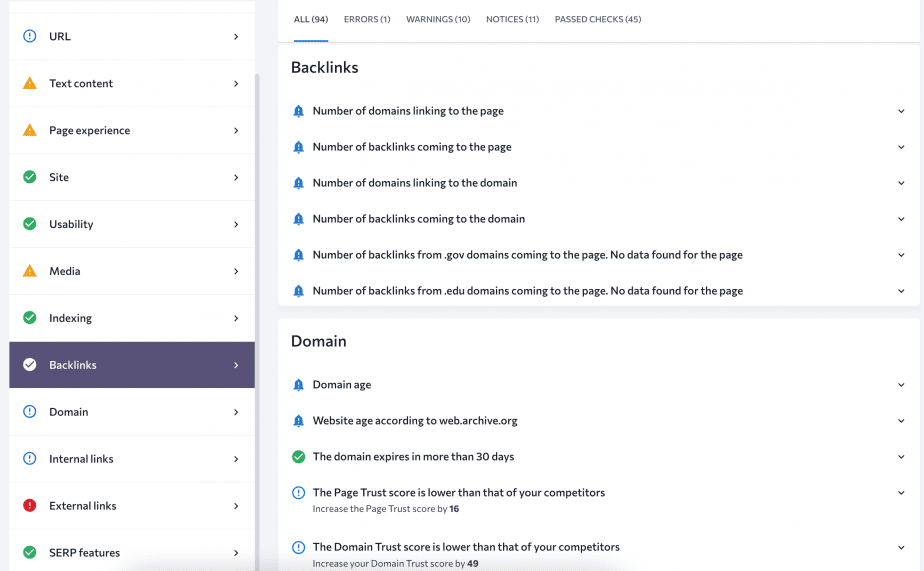 Finally, the tool gives you an understanding of the page's off-page SEO. Although the number of backlinks doesn't impact the overall on-page score, it can explain what's preventing the page from climbing the ranking ladder.
How do you get started with the tool?
To get a comprehensive report on a page's on-page SEO, you just need to enter all of the relevant details and start the audit.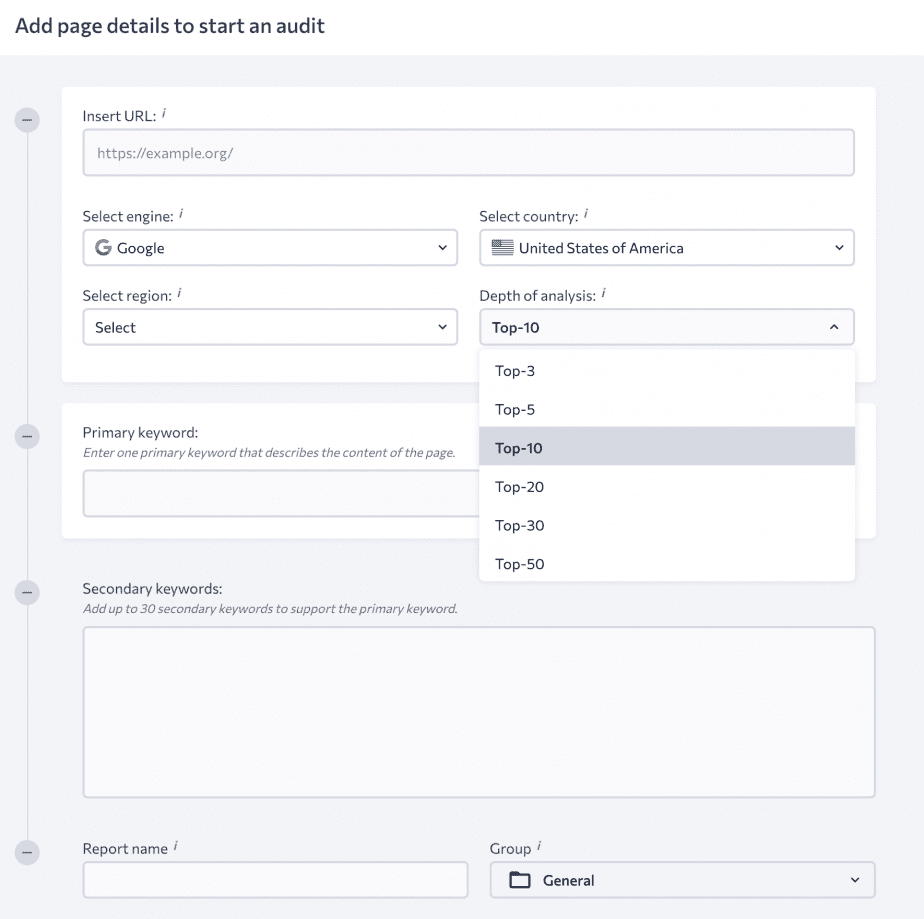 Here's what you need to specify:
1. Enter the URL of the page you want to analyze.
2. Select the country or a specific location that your page is targeting.
3. Select the number of competitors you want to analyze.
4. Enter a single primary keyword that best describes the content of your page.
5. Add up to 30 secondary keywords to support the primary one, as in additional keywords related to the page's topic.
6. Enter the name of the page report and don't forget to create a group for it. 
7. Launch the audit. 
The tool will then automatically analyze the selected range of top search results in the selected region for your primary keyword and provide you with a page score after it analyzes your competition.
What should you prioritize first? 
To help you decide on your plan of action, the On-Page SEO Checker offers a to-do list containing every issue and suggestion from the report that are arranged by their level of importance. 
If you're the only one working on a web page, you're welcome to start making changes with no delay. Focus on high-priority issues first, then make your way down to issues that are not as significant. 
If you work in a team, and the actual optimization work will be done by a webmaster, just export the list as a PDF file and send it over to them. Since we at SE Ranking have been focusing on making our tools customizable over the past few years, you are at liberty to change the priority of issues to make it clear what you want to optimize first. 
If you see that you have an issue with a part of your page that was set up in a specific way on purpose, you can click the Ignore task button, and that issue will be removed from the report and won't impact your overall score. 
And, of course, you add your own custom tasks to the list if you are confident it should be addressed. By the way, they can be edited or deleted at any time.
At the end of the day, it is always up to you to decide what your pages should look like and how their content should be structured, but the On-Page SEO Checker definitely gives you a lot of data to work with.
Your needs matter most
We want to take this opportunity to remind you that we welcome your feedback. So, if you see that something is missing for you in the On-Page SEO Checker tool, please don't hesitate to reach out to us or leave a comment under this post.
In the meantime, we'll keep improving our tools, including the On-Page SEO Checker, to make sure it checks every critical parameter that impacts the bottom line. And hope that you, in turn, will start optimizing your web pages with our AI-powered tool.
If you're not using SE Ranking yet, be sure to check out our 14-day free trial and explore all the tools we have to offer within our all-in-one SEO platform!