Did you know? According to Statista, nearly 6 in every ten of all US consumers above the age of 12 listen to podcasts.
The reason being listeners find podcasts more engaging, and most people tune in to learn something new. This engaging factor substantiates why US podcast ad spending growth is expected to surpass $2 billion by 2023, which is a 27% year-over-year growth.
Not surprising, even search engines like Google have already recognized the potential of podcasts and feature rich results to enable them to stand out in search results.
So, if you're planning to explore this marketing channel – you'll find what you need in this guide.
In this guide, we'll take a look at:
1

Why Should You Consider Podcasting?

A study by Neilsen revealed that podcast audience is growing at a rate of 20% per year in the US alone, and 65% of these podcast listeners tune in from their portable devices such as smartphones and tablets. Thanks to the technological advancements of smart devices that made this audio streaming very much feasible.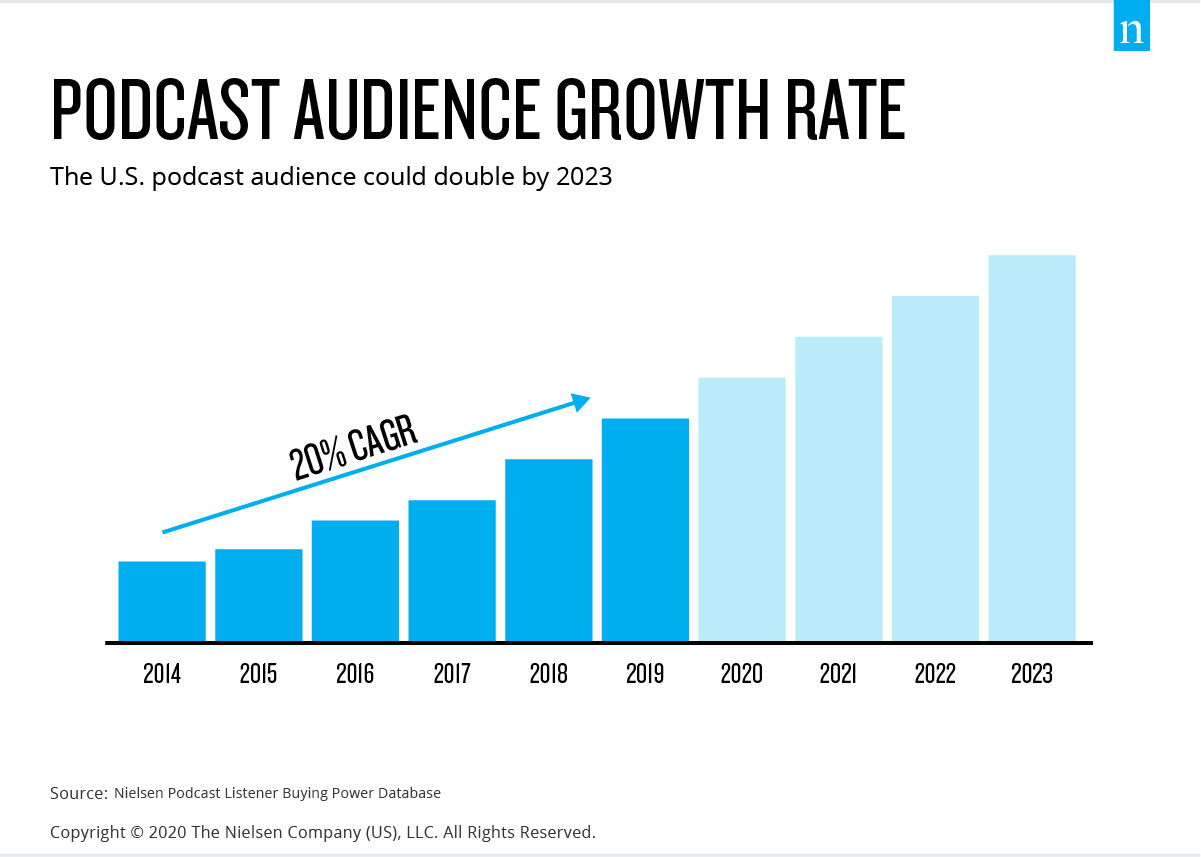 To date, there are over 2 million podcasts, and this growth trend presents an early opportunity for brands and digital marketers to dive into this podcasting bandwagon before it gets saturated.
Simply put, if you have sufficient resources to widen your marketing efforts, podcasting is worth the effort in building a loyal audience. And, if you're ready to get your hands on the mic, let's dive further into what it takes to get your podcast off the grounds!
2

How to Create Your Own Podcast?

There are several detailed guides, covering right from choosing the podcast topic to recording your podcast similar to this one. Hence we wouldn't be covering them all here once again, but to give you an overall idea of what it takes to record your own podcast:
Choose a topic you're interested in podcasting – do a bit of research using tools like Google Trends to understand the topics your audience would be interested in tuning in.
Pick a good Podcast name – your podcast name is your brand, so choose something that is brandable and sticks with your audience.
Create a compelling description for your podcast – ideally, it should summarize what your audience should expect out of your show.
Decide your Podcast Format – whether you want to go solo, do a one-on-one interview with guests from your industry, panel interview or anything else.
Create your Podcast artwork and music – ensure they suit your topic and fit into your marketing strategy
Buy your podcast equipment and essential software for recording
Plan your scripts and start recording your podcast episodes!
3

What Are the Podcast Requirements?

So once your podcast episodes are ready, you'll need to host them somewhere just like your website – this could be one of the various podcasting services available online like Buzzsprout, Libsyn, Audioboom, or it could be your own server.

Rank Math goes a step forward and allows you to host & manage your podcasts right from your familiar WordPress dashboard.

And now that brings us to a probable question, how my target audience will find my podcast?

To get your podcasts to reach your target audience, you should distribute them across various platforms. Ideally, you want your podcast to be available wherever your audience regularly tunes into.

Most podcast distribution platforms would allow you to submit your Podcast episodes to them as an RSS feed. The Podcast RSS feed is nothing but a standardized format that all these podcasting platforms can understand and can easily fetch data from.

Besides the RSS feed, you need to have artwork to represent your podcast channel. Most podcast applications may require you to have it with an aspect ratio of 1:1 (square) with a dimension of at least 1400x1400px.
4

How to Publish Your Podcast Channel & Episodes Using Rank Math?

To publish your podcast channel, at first, you need to ensure you've Rank Math PRO installed and activated on your site (if you haven't already subscribed to PRO, you can choose a plan of your choice from here).

Then navigate to Rank Math > Dashboard > Modules and enable the Podcast and Schema (Structured Data) modules.
Then you can configure all the basic details of your podcast from Rank Math > General Settings > Podcast. We have a detailed guide to help you configure these details.
Once you're done configuring, click the Save Changes button, and now we're good to get started with uploading the podcast episodes.
Next, open a new post in your favourite WordPress editor and open the Schema Generator from Rank Math's Meta box.
Then choose Podcast Episode Schema and start adding the details of the Podcast. If you're unsure of what to fill in any of these fields, you can always refer to our Podcast Schema article.
Once done, save the Schema for this post and add the Schema Block in Gutenberg to get the Podcast added to your post.
If you aren't running WordPress Block Editor on your site, but anything else, we've always got you covered. Simply copy and paste the Schema shortcode inside your favourite editor to get the podcast added to the front end. The podcast would look similar to this:
That's it! You've successfully created a podcast channel and published your first Podcast Episode.
5

How to Optimize Podcast for SEO?

Now that we've understood how to make use of Rank Math for podcasting, let's get into the nitty-gritty of optimizing for Podcast SEO.
5.1

Have a Dedicated Page or Website for Your Podcast

It isn't a hard and fast rule to have a dedicated page or website for your podcast, as you well know, a podcast can be hosted anywhere and distributed across various platforms. But, it's good to have a dedicated page at least, even if not a dedicated website, to list down all your podcasting episodes.

A well-designed podcasting page or website greatly improves the user experience for your audience. Plus, from a marketing perspective, it's a great opportunity to put forth your branding elements and build a relationship with your audience for the long run.

Here is how Google brands itself with its Search Off the Record podcast.
5.2

Craft Your Podcast Description

As said before, a compelling podcast description is a key requirement for your podcast, as it's included in your Podcast RSS feed. Beyond that, when you distribute your Podcast RSS feed, your podcast description is bound to appear in various places.

A well-crafted podcast description should,
Introduce yourself and the other speakers of the show.
Be concise and right to the point – it is highly unlikely your listener would like to go through long blocks of text to find the basic details of your podcast.
The description should convey what the podcast is about, who this podcast is for and what the listener can expect from your show.
Above all, carefully insert keywords to your podcast description, so your podcasts would get a chance to feature when your audience searches for podcasts on these topics.
5.3

Syndicate Your Podcast to Google Podcasts and Other Services

There are so many different podcasting distribution solutions, and it could be overwhelming to choose the ones you should go with.

Ask yourself, where does your target audience regularly tune into Podcasts?

It could be Google Podcasts, Apple Podcasts, Spotify, Anchor, or could be anything, and you should try to get your podcasts over here for your audience to easily find your show.

Luckily, the process is straightforward.

You only have to submit your Podcast RSS feed once to these platforms and configure it. The next time when you publish a podcast episode, these services will automatically fetch the details from your RSS feed, and everything is set hands-off from here on.
If you're unsure how to get your RSS feed submitted to these podcasts platforms, worry not, as later in this guide, we'll go through how to get them done.
5.4

Use Podcast Episode Schema Markup

To feature your podcast in Google, you only need a Google compliant Podcast RSS feed to be submitted to Google.
But as we already know, search engines can read & interpret structured data well, henceforth a recommended practice.
For that reason, Rank Math has a dedicated podcasting module with the ability to add PodcastEpisode Schema. So the structured data could better help search engines to understand your pages and also to help you rank for relevant queries.
5.5

Optimize Your Episode Titles

Each episode is an opportunity to target a specific topic (or keyword). And a well-optimized title for your episode not only makes your episode findable across various podcast directories but could help your episode pages rank for relevant keywords in search.

So it's a win-win strategy. There aren't any set guidelines for crafting your Episode Titles, but some good practices include:
Be short and concise
Avoid losing space for obvious terms like 'Season', 'Episode' or your podcast name, as they are likely to appear once again on your podcast description and podcast details.
Use keywords for your audience to find your episodes.
5.6

Optimize Your Show Notes

The Show Notes are more similar to what you see as video descriptions on Youtube. It could include all relevant details to episodes, but not limited to:
Summary of all the main points the show covers
Introduce your guests and a quick summary of their whereabouts and what they do
Include the transcript of your show
Any relevant links mentioned in the episode
Social media links to share your podcast episode
Include relevant keywords without overusing them
Besides all these — it's a great opportunity to place your Call-To-Action. It could lead the audience to your product, your affiliate link, discounts, newsletter subscription or anything else.
6

How to Submit Your Podcasts to Podcast Distribution Platforms?

If you have followed along with this guide, you should now have at least one podcast episode added to your Podcast RSS feed and should be good enough to start submitting your podcast to various podcasting apps and directories.
The process for submitting podcasts remains the same for most services — as all you've to do is to submit your Podcast RSS feed URL and verify that you're the owner of the Podcast. For the sake of this tutorial, we would only be submitting to a few major platforms such as Google Podcasts, Apple Podcasts and Spotify.
6.1

Submit Your Podcast to Google Podcasts

As a Rank Math PRO user, you don't require manually submitting your podcast to Google Podcasts. Rank Math includes a built-in feature to automatically submit your podcast to Google Podcasts. So don't be surprised, if you find your podcast on Google, even before submitting it to Google by yourself.

But if you're running your podcast on other hosting services or prefer to manage and customize your podcast on the Google Podcasts platform, well, you can do that from the Google Podcasts Manager.

Follow along the steps the Setup Wizard walks you through to submit and verify the ownership of your podcast.
6.2

Submit Your Podcast to Apple Podcasts

To get your podcast on Apple Podcasts, head over to the Apple Podcasts Connect and log in with your Apple ID. You can always create and activate one if you don't have an Apple ID.
After logging in to the Apple Podcast Connect, choose the Add Show option that appears at the centre for adding the podcast.
Then a popup would appear asking you to choose the Show type. Since we have the RSS feed created and readily available, we would proceed with the 'Add a Show with an RSS Feed' and then move on to the next screen.
Then add your Podcast RSS feed that we've just created earlier using Rank Math.
On the next page, wait for a few moments for Apple to fetch the details of your podcast. Once done, you can review the podcast information. Finally, save and publish your podcast.
That's it! Now your podcast will be published, and you can share your podcast link with your listeners.
6.3

Submit Podcast to Spotify

To submit a podcast to Spotify, head over to Spotify for Podcasters and log in to your account. If you haven't already registered, you could do that easily from their platform.
Now, get started with adding your podcast feed.
Add the Podcast RSS Feed that Rank Math has generated and proceed to the next page.
In the next step, Spotify will send a verification code to the email address you've added to the Podcast in Rank Math.
On the next screen, verify the code and proceed to enter the details of your Podcast.
Then review the details you've entered and finally submit your feed.
That's it. You have successfully submitted the podcast, and now it will take a few hours for the podcast to be available for listeners on Spotify.
7

What's Next? – Grow Your Podcast Audience

And, that's it. We have now successfully launched a podcasting station and distributed your podcast across popular platforms for your listeners to tune in.

Though this guide covers more on the technicalities and optimization of your podcast. But that doesn't ask for ignoring the content.

If you want to quickly build an audience for yourself and spike off the charts, you need to deliver solid & engaging content to your audience through podcasts time and time again.

Have any questions about growing your podcast audience or need any help in setup a podcast station using Rank Math? Tweet @rankmathseo. 💬