RTINGS.com (small for "ratings") is one of the few affiliate websites that dominate the search results for a wide range of consumer electronic products, including televisions, headphones, and vacuum cleaners. It ranks high even for some of the most generic, fat-head keywords like "tv," which has an estimated volume of 462K monthly searches in the U.S. alone.
As of October 2022, the website drives approximately 9.5M organic search clicks in a month, making up a massive 160% year-over-year growth: 
Like many other successful affiliate websites, it started by just reviewing televisions. It's best known for its straight-to-the-point, in-depth, and data-driven reviews. 
However, unlike Wirecutter, RTINGS.com doesn't come up in conversations in SEO communities during discussions on affiliate marketing or case studies in general. But there's a lot to learn from its website's success.
When I started my research, something that impressed me the most was its website structure and the usage of programmatic SEO. Here are the most interesting takeaways:
A properly planned website structure is invaluable when building your SEO foundation. It helps visitors and search engines quickly discover and navigate content while supporting your SEO efforts. 
But it's easier said than done, especially when designing one for a large website. The approach needs to be scalable by keeping the future of the website in mind.
With over 20K+ indexed pages (based on the site: search operator), RTINGS.com requires a robust website structure to win on the SERPs. And it's nailed it.
Let's understand its structure better by analyzing its "tv" subfolder, which has over 2.1K pages and is responsible for 23% of the total organic traffic: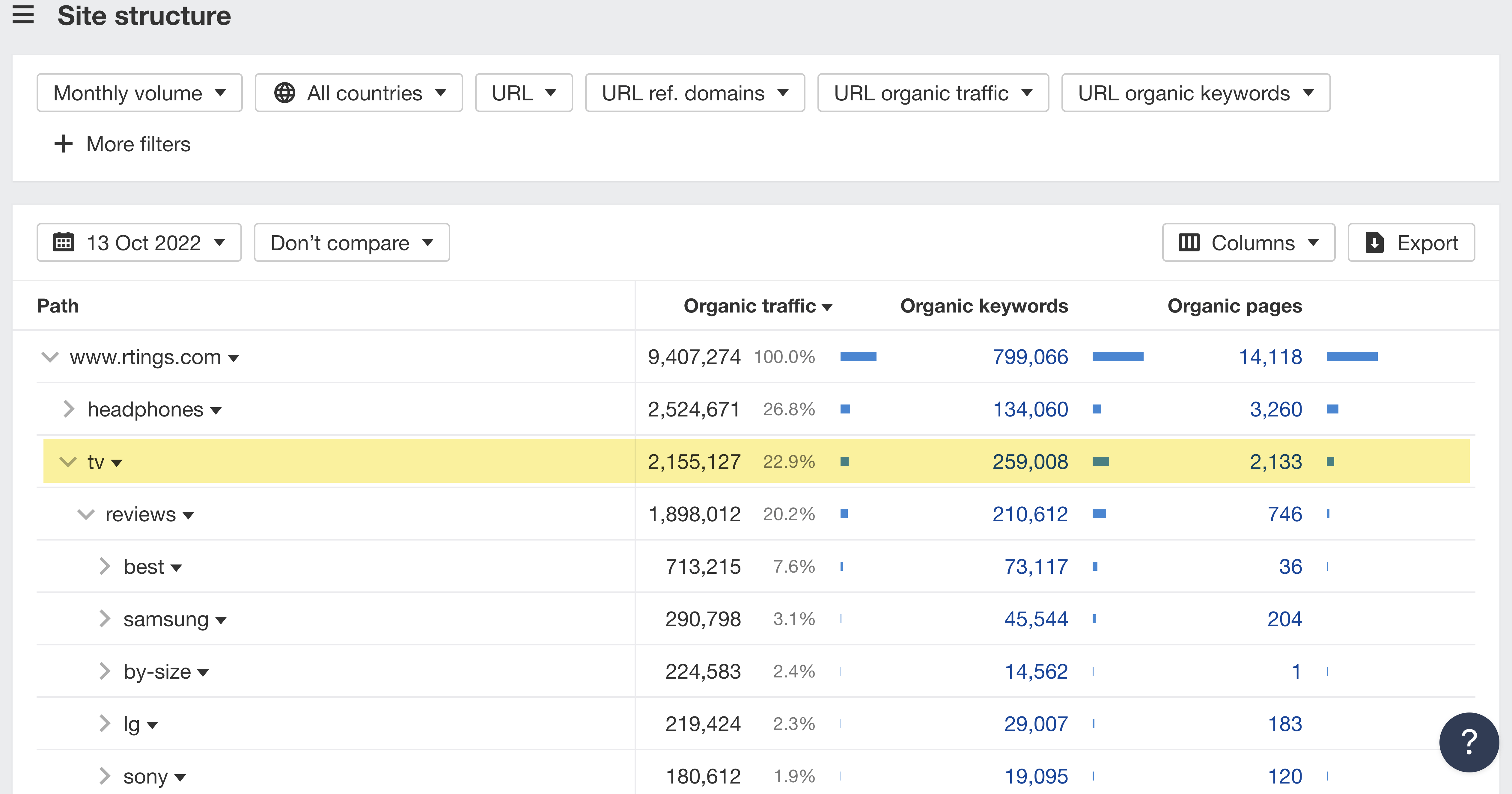 Below are the top organic keywords for the "tv" subfolder. And if you look closely, you'll find that the website ranks on the first page for all sorts of keywords with various search intents: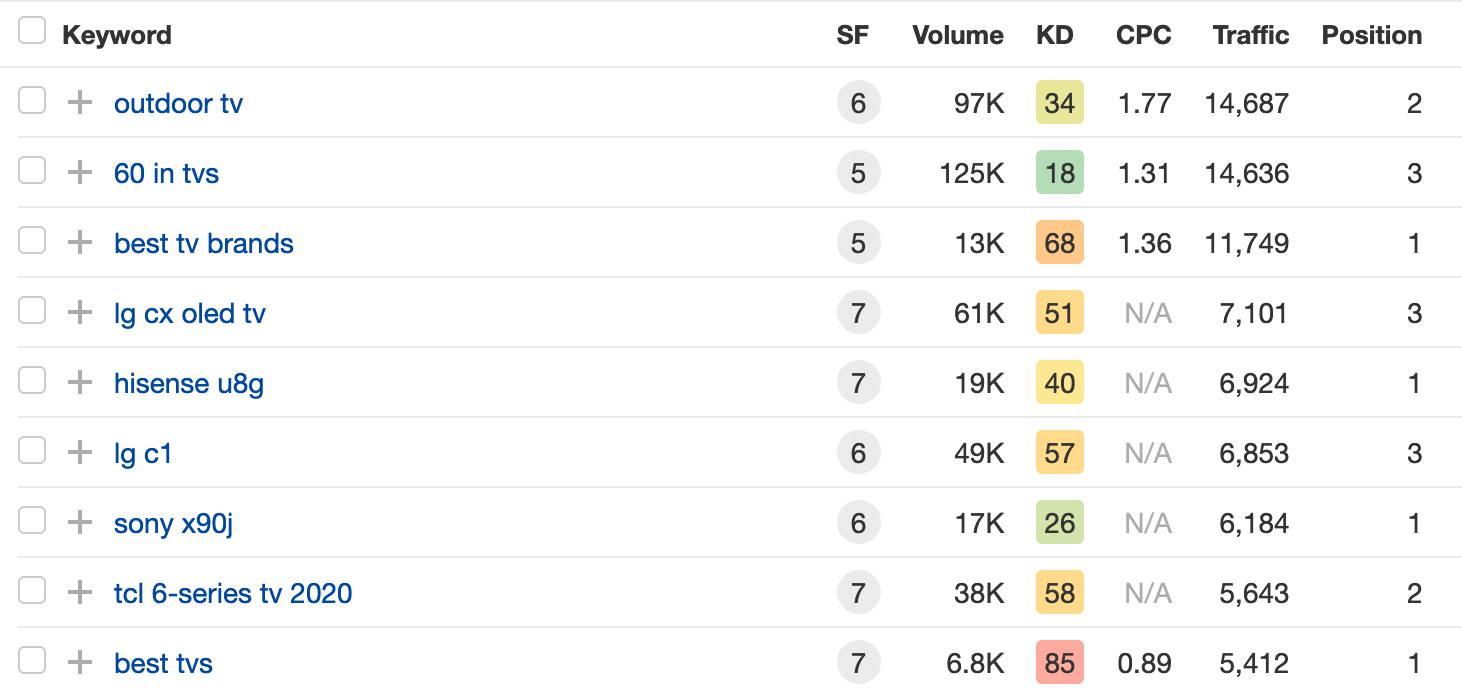 In general, we can classify most of the articles as: 
Reviews of individual products (e.g., lg c1 review).
Best of posts (e.g., best samsung tv, best 120 hz tv).
Informational posts (e.g., what is refresh rate, oled vs qled).
Comparison articles (e.g., lg c1 vs c2).
Here's a bird's-eye view of its website structure:
It's worth going into more detail here.
Brand categories and product pages
All the television reviews are hosted inside their own brand subfolders: 
You can see that one of the brand pages with the highest traffic is the brand category page. These are all dedicated articles that are often updated: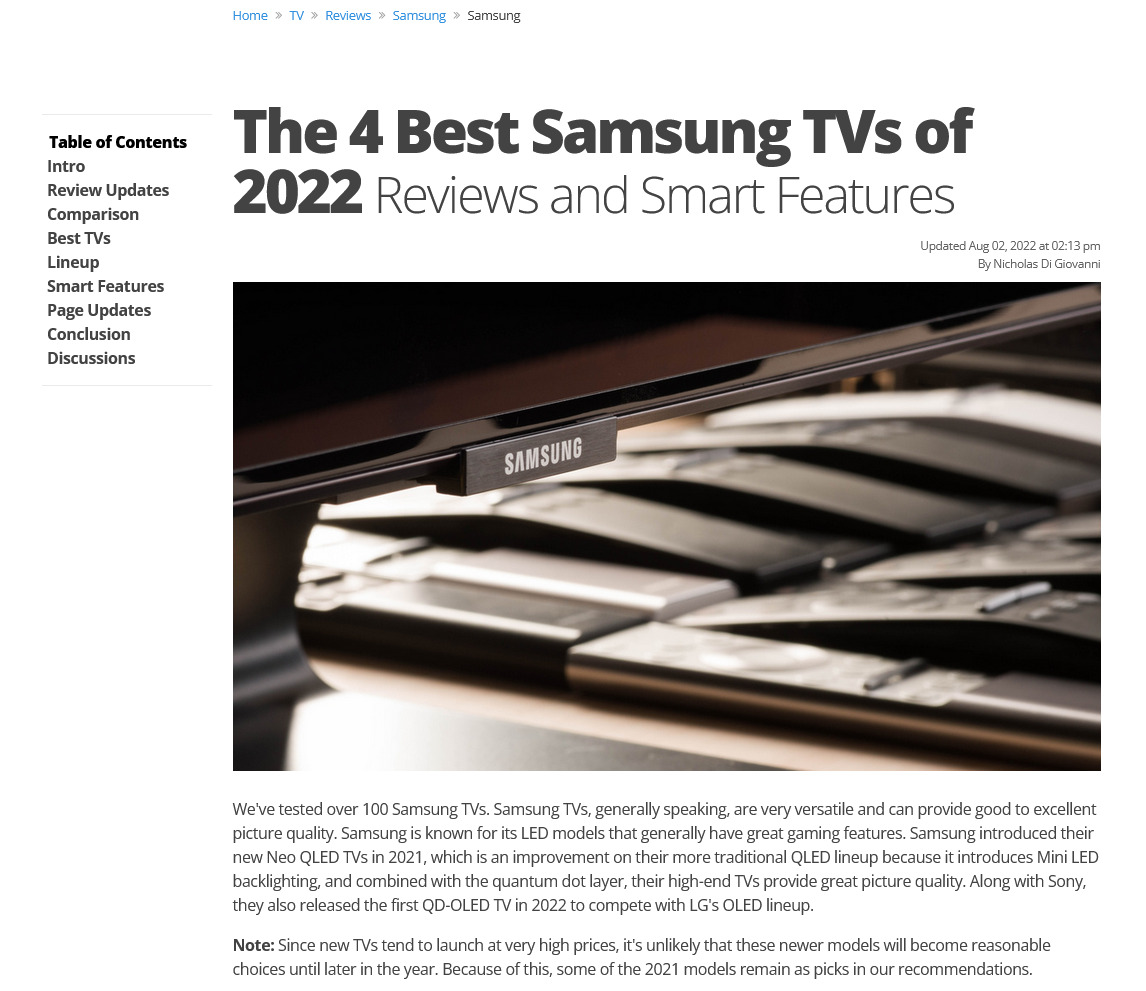 And they pass valuable link equity to the individual product review pages RTINGS.com chose to feature there. These pages then shine on the SERPs, thanks to their schema markup implementation:

Best by [parameter] pages
Finding the best television that fits your budget and requirements likely starts with broader search queries than specific product reviews. It can be on the basis of the size of the TV (e.g., best 65 inch tv), on the usage (e.g., best tv for playstation), or refresh rate (e.g., best 120 hz tv). In fact, RTINGS.com has content for six such overarching parameters with a proper subfolder for each.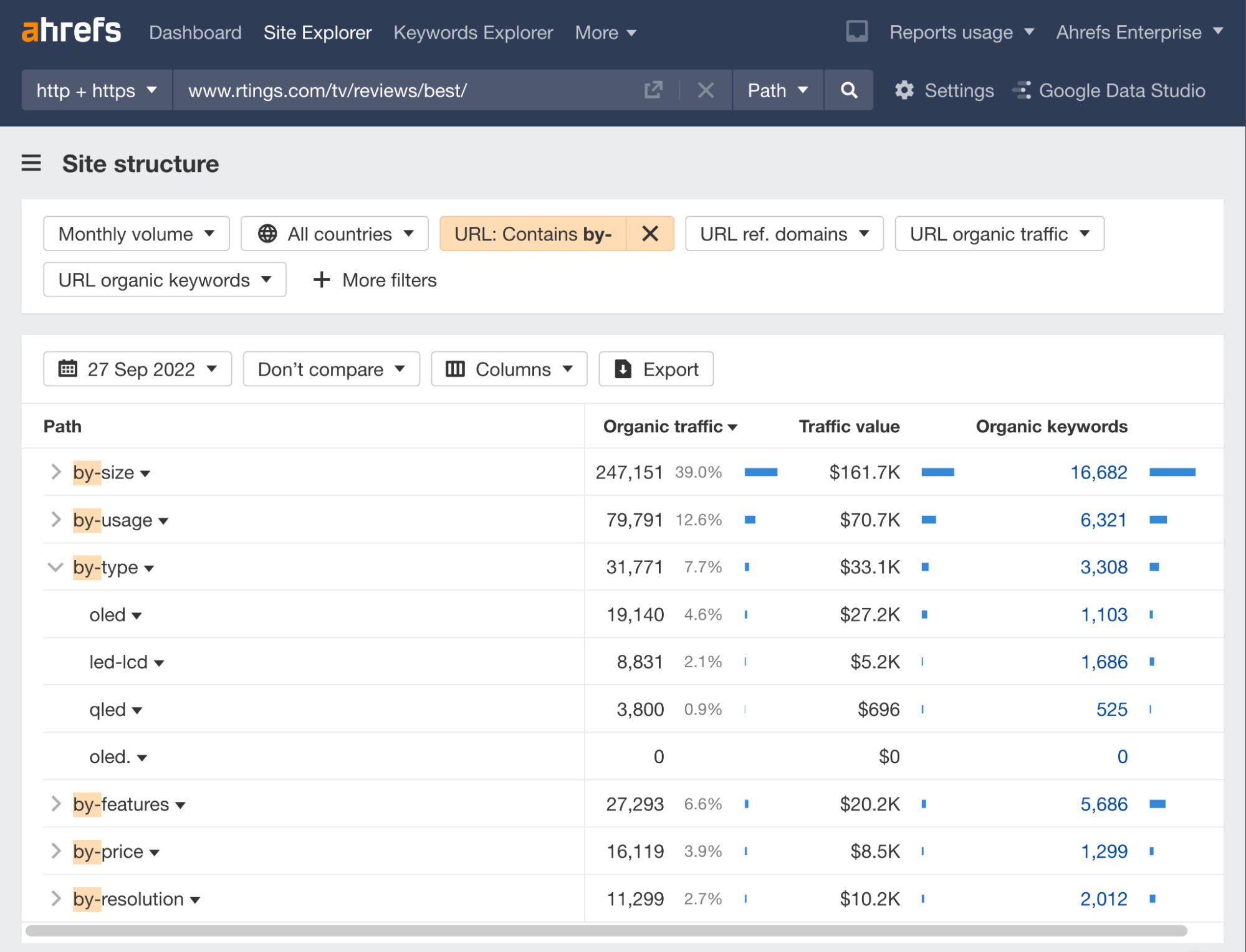 This is how the parameters navigation looks like on the website: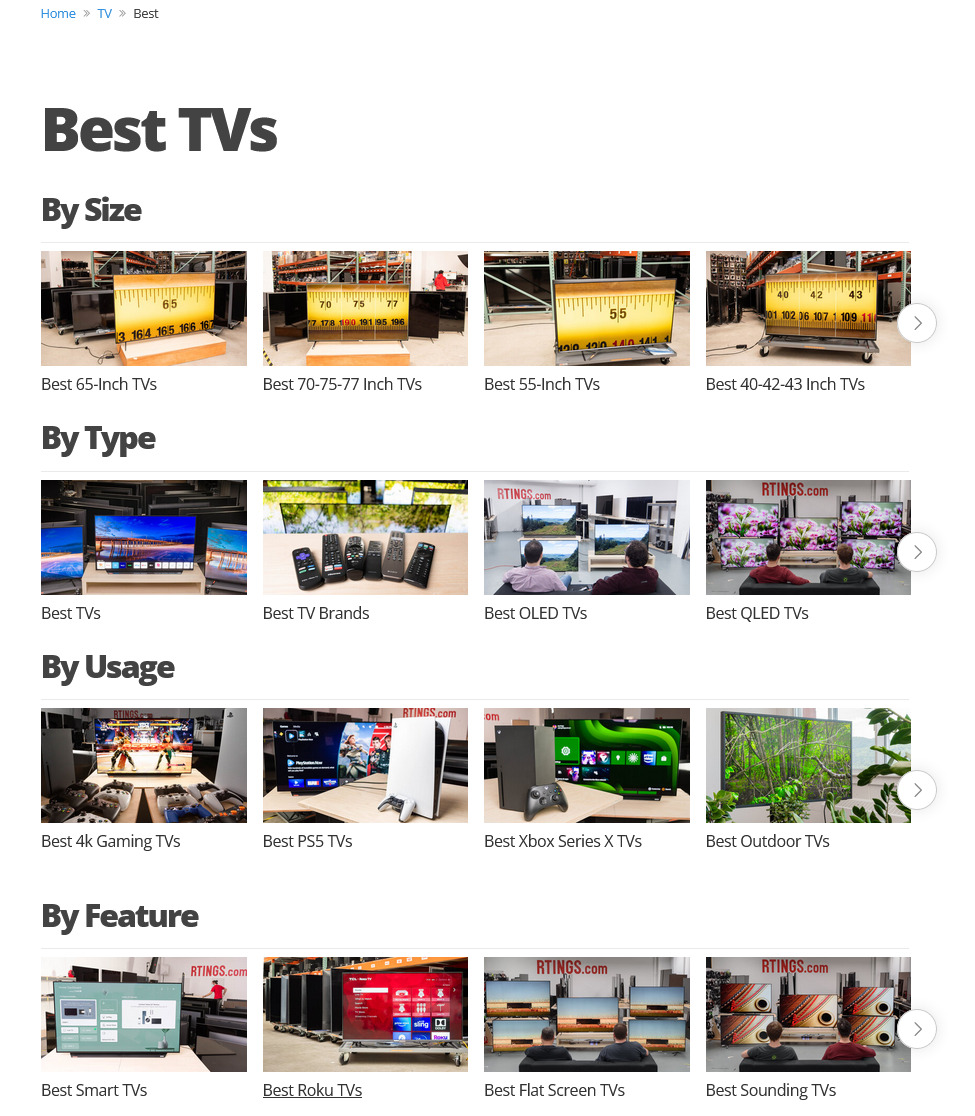 Learn (tv/learn/)
Informational articles create great support for the review content seen above. For example, besides reviewing OLED televisions, RTINGS.com has content about the technology behind them and the pros and cons as well.
Here's a look at the top "learn" pages in the TV niche:
The subfolder shown above drives 83.3K organic traffic, which is nice. But it pales in comparison to what RTINGS.com drives to its review content. However, such informational content further educates readers and boosts topical authority. These are invaluable benefits, which this supporting content provides.
With so many products on the market and more released every other day, it only makes sense to compare one with the other before making a purchase decision. But covering all of this content usually requires a huge team of writers.
This brings the question of whether complete human content curation is necessary in this case. The RTINGS.com team seems to have taken a hybrid approach and makes use of programmatic SEO to make things easier to produce and scale.
Programmatic SEO is a method used to generate many pages from a set of data using the power of automation with the goal of ranking on Google.
For example, rather than writing a dedicated review comparing AirPods' first generation with the second generation and other alternatives, it'll compare the two on the basis of certain parameters like the battery life, bass, fitting, and more.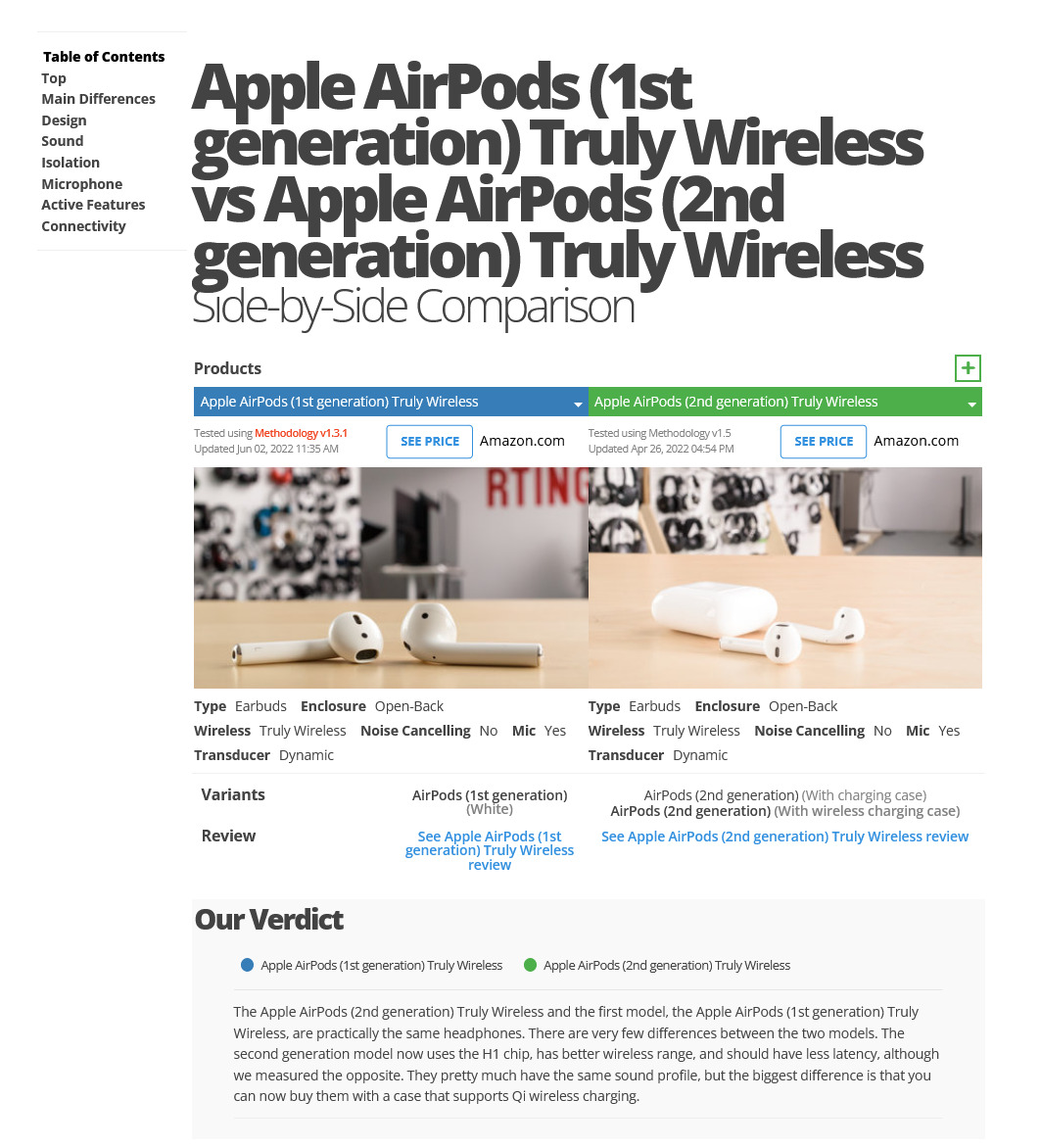 Something to note here is the focus on visual comparisons too: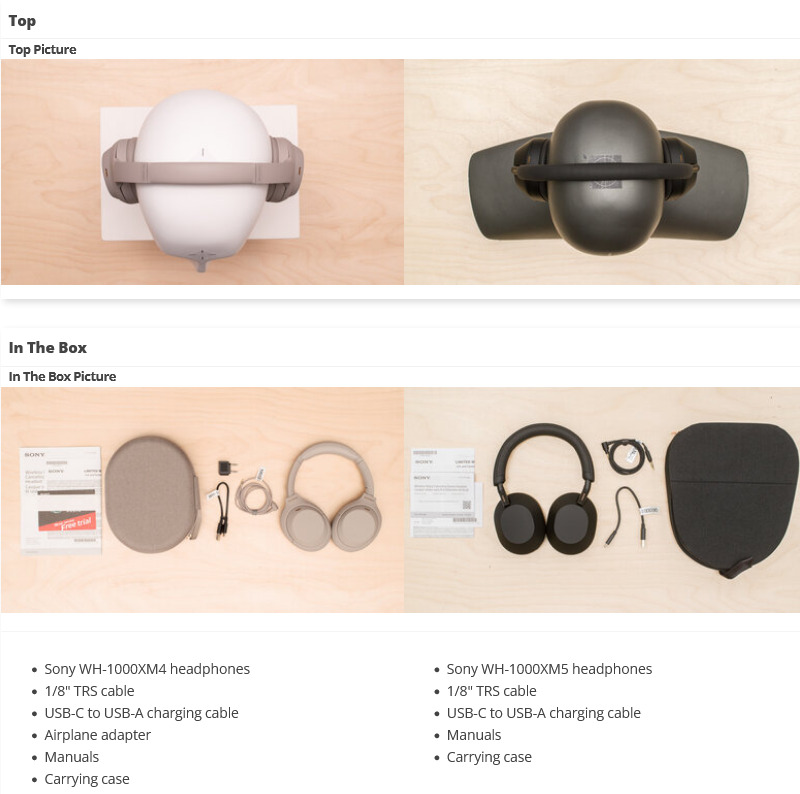 RTINGS.com used this method and created a comparison tool for multiple consumer electronic categories like televisions and headphones. The Headphones Comparison Tool, for example, currently has 2.4K pages published and drives over 200K organic search clicks every month.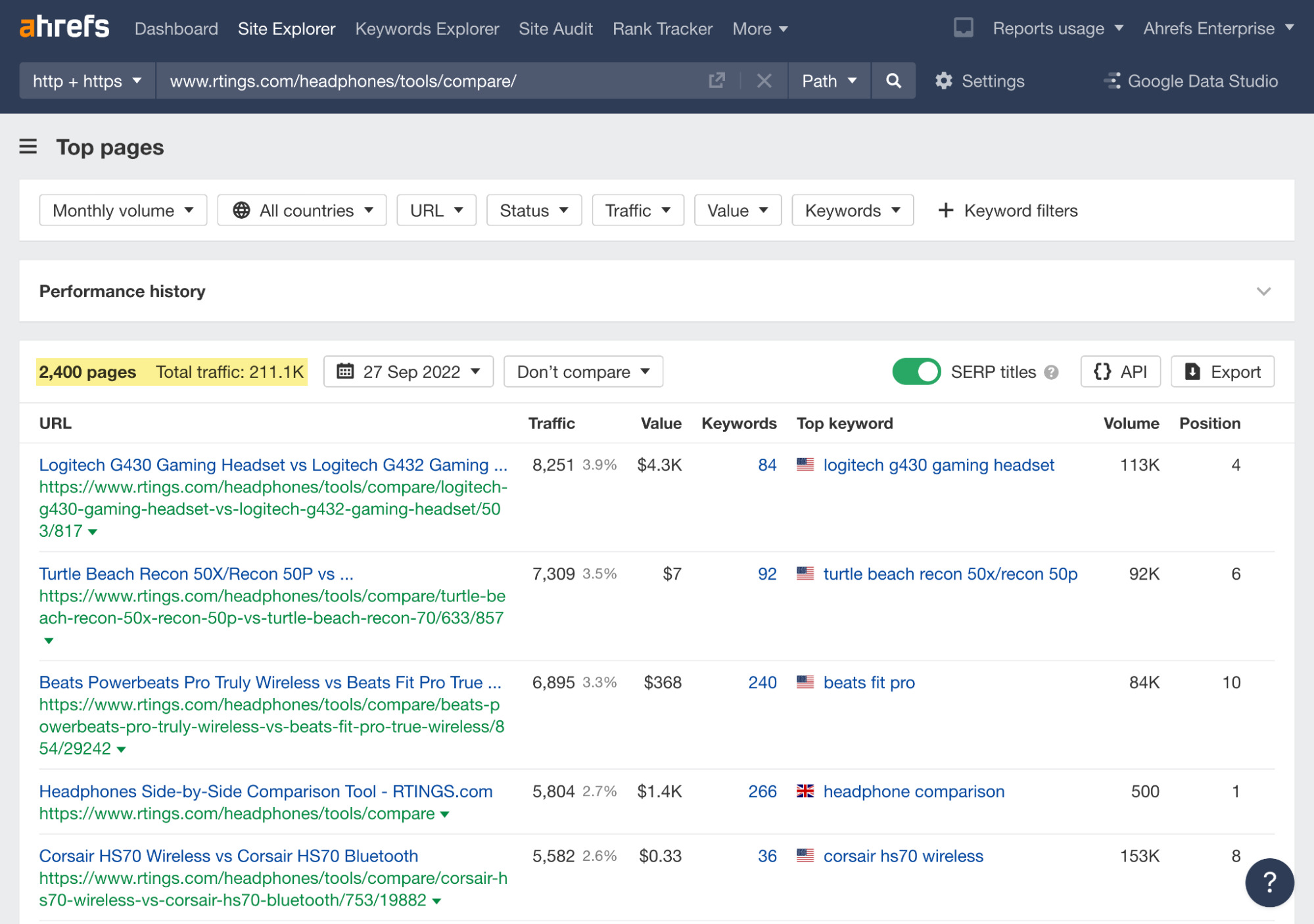 What could be surprising to many is that it's also monetizing the comparisons through a monthly subscription that provides users with unlimited access to all its tools and early access to test results for new products. So if you're in two minds about programmatic SEO, you should keep in mind that there's an audience ready to pay for such content.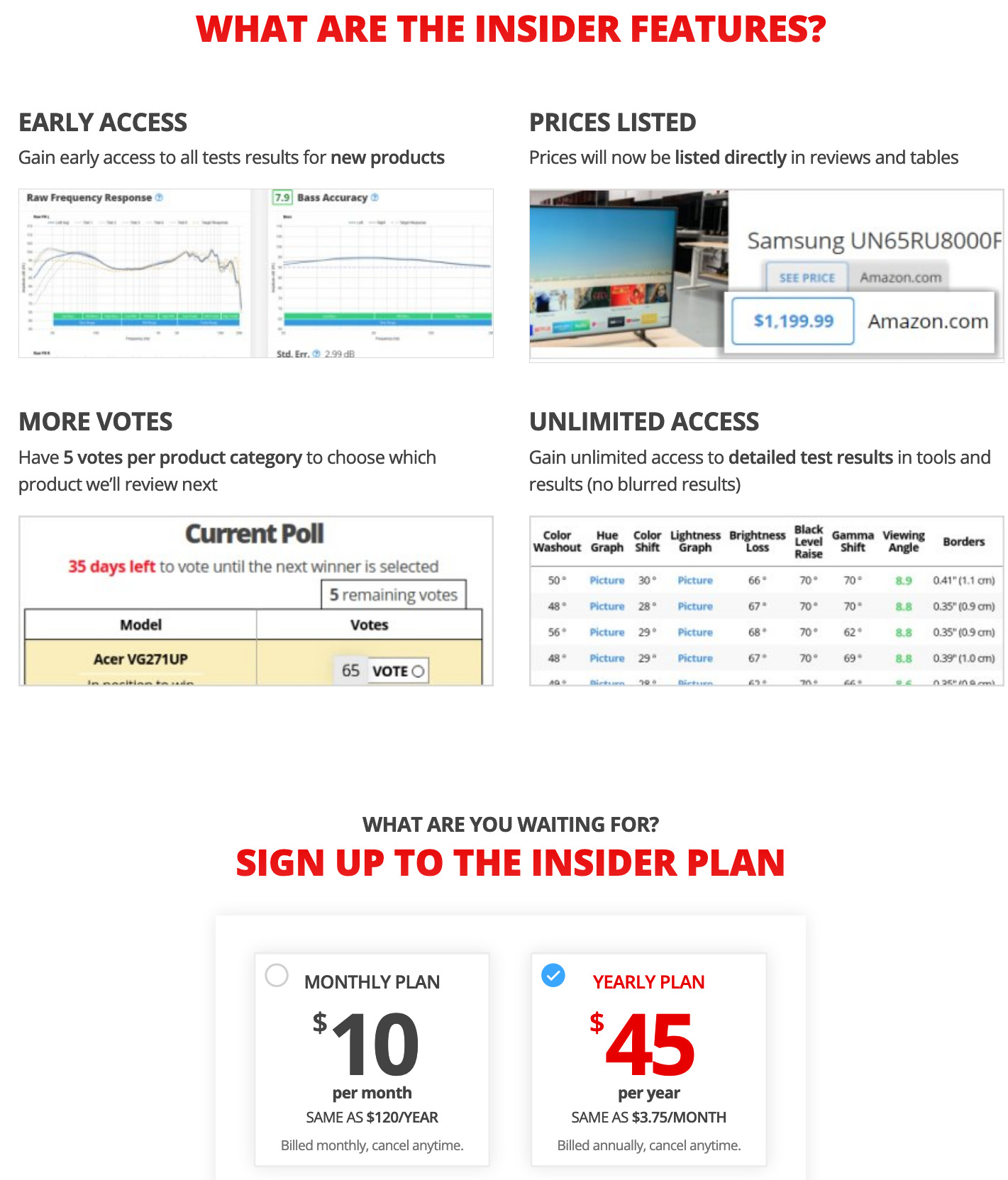 Each comparison page is hosted on a different URL that looks to be generated by some sort of algorithm. Each individual page can be indexed and drive organic traffic.
However, the RTINGS.com team still likely takes on quite a bit of manual work on those pages, including writing review summaries, creating title tags, and so on. Here's a look at the top-ranking comparison keywords: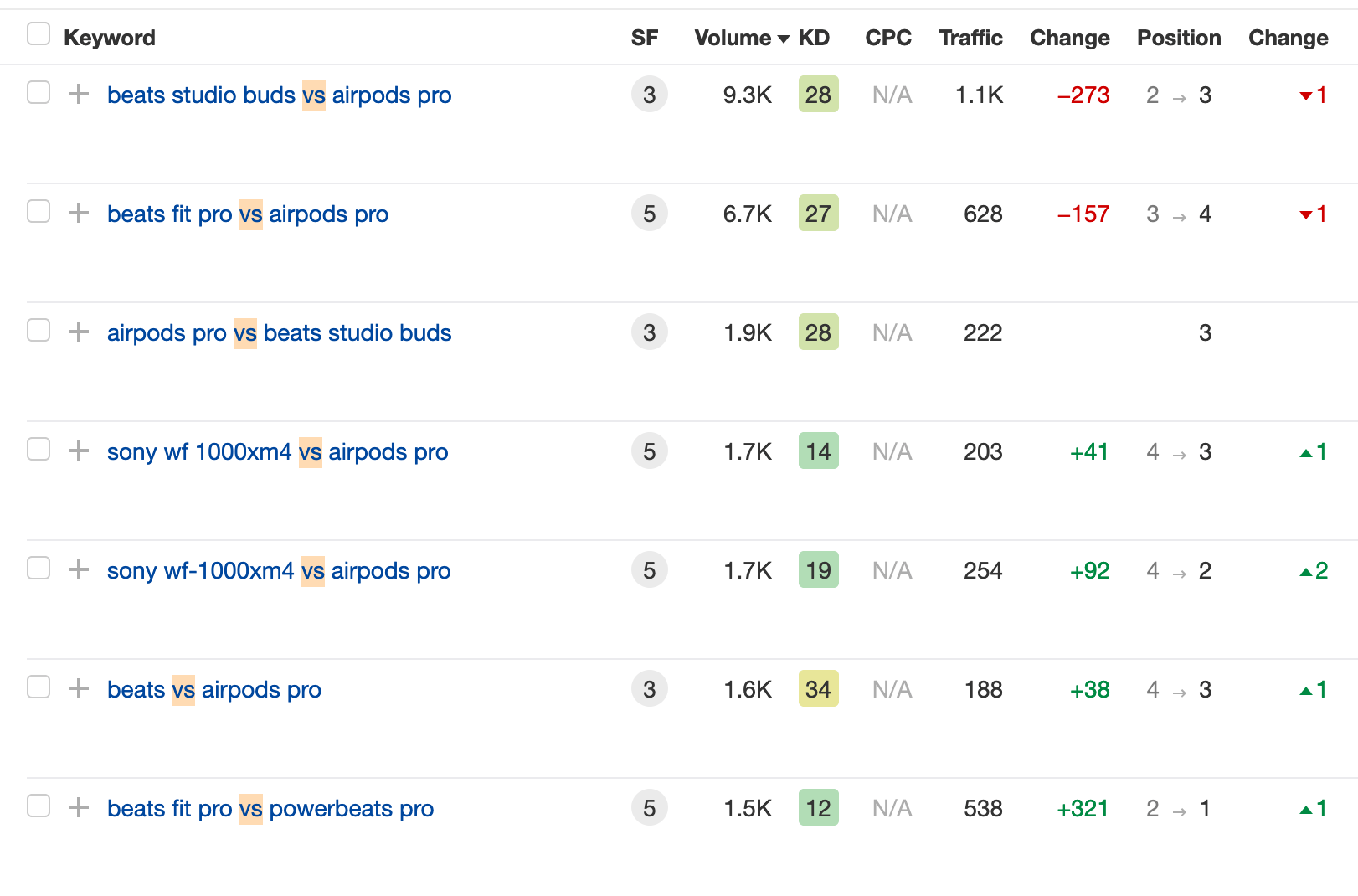 If you're interested in another example of using programmatic SEO, check out the Wise SEO case study as well.
Continuously adding and updating internal links is a rather low-hanging SEO fruit for many websites. Internal links not only pass link equity but also help with discoverability and creating a delightful experience for the reader (as long as they're relevant, of course).
The Best by links report in Ahrefs' Site Explorer shows us that some of RTINGS.com's pages, even deep down the site structure, get thousands of internal links: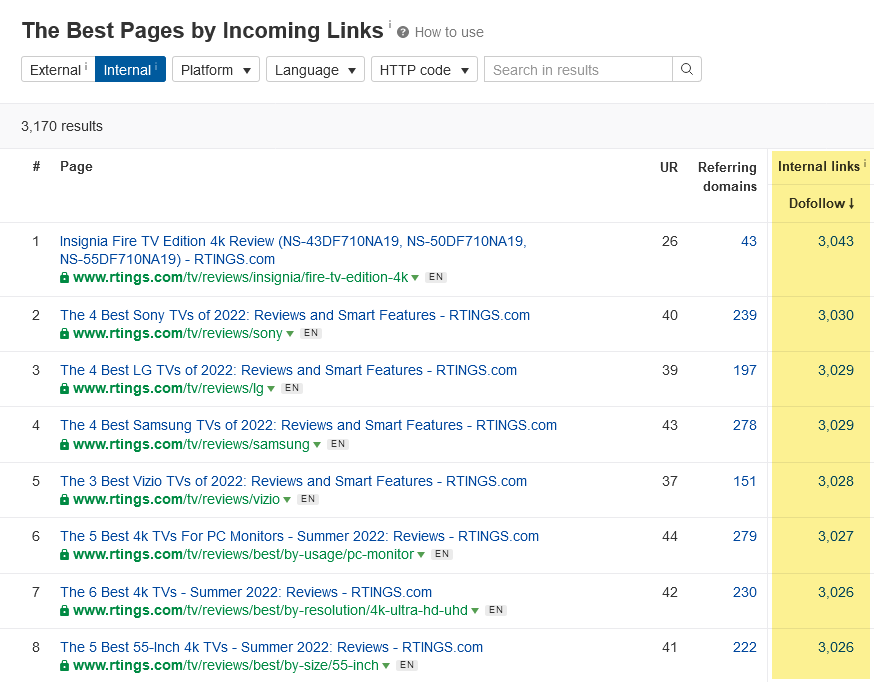 For example, individual TV reviews can be mentioned in "best of" posts, as done below: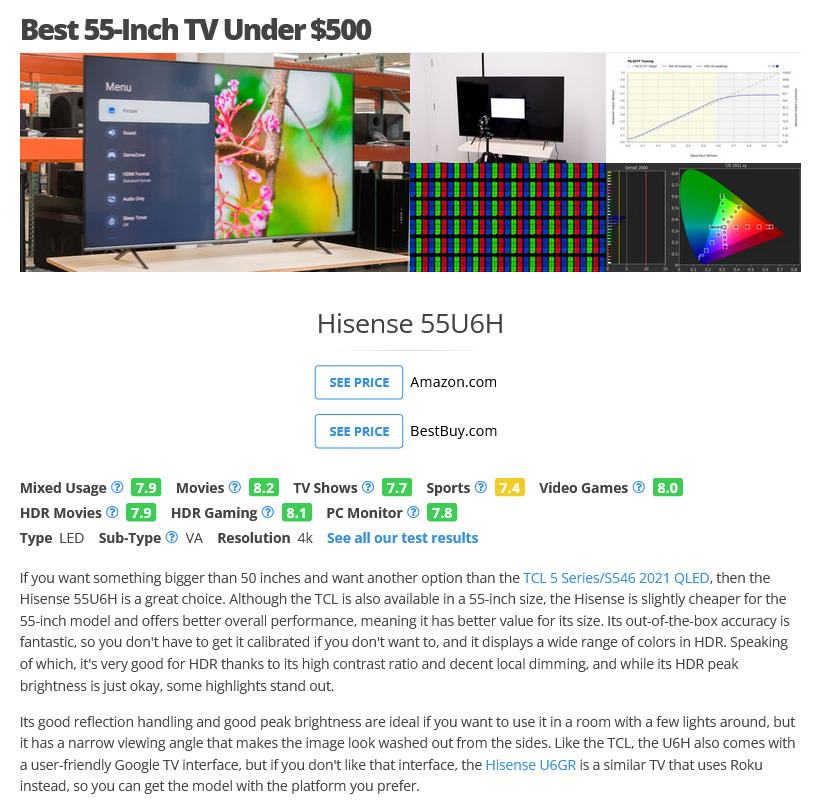 Additionally, it has a dedicated "related article" section, which likely promotes its most important pages and contributes to the huge number of internal links some pages get.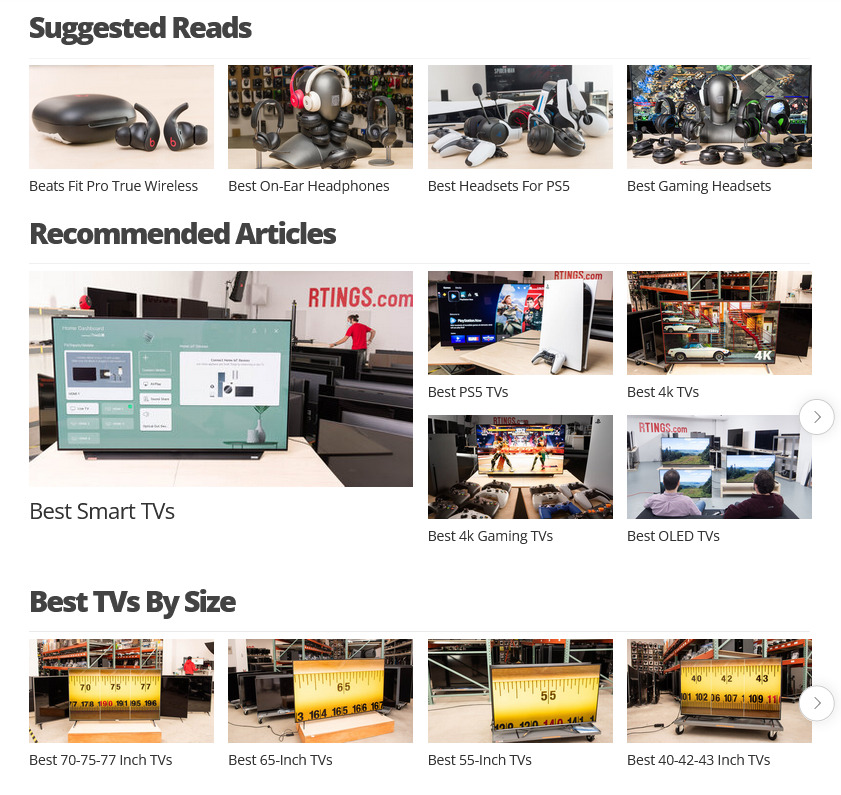 Improving navigation 
Once a website starts counting its pages in the tens of thousands, the user experience from the navigation and discoverability point of view becomes critical to success. A good UI/UX is equally important to a properly planned website structure here. And there's a lot we can learn about that from RTINGS.com.
For example, look at its homepage and how good a job it does to show new and updated posts. It's minimal yet usable.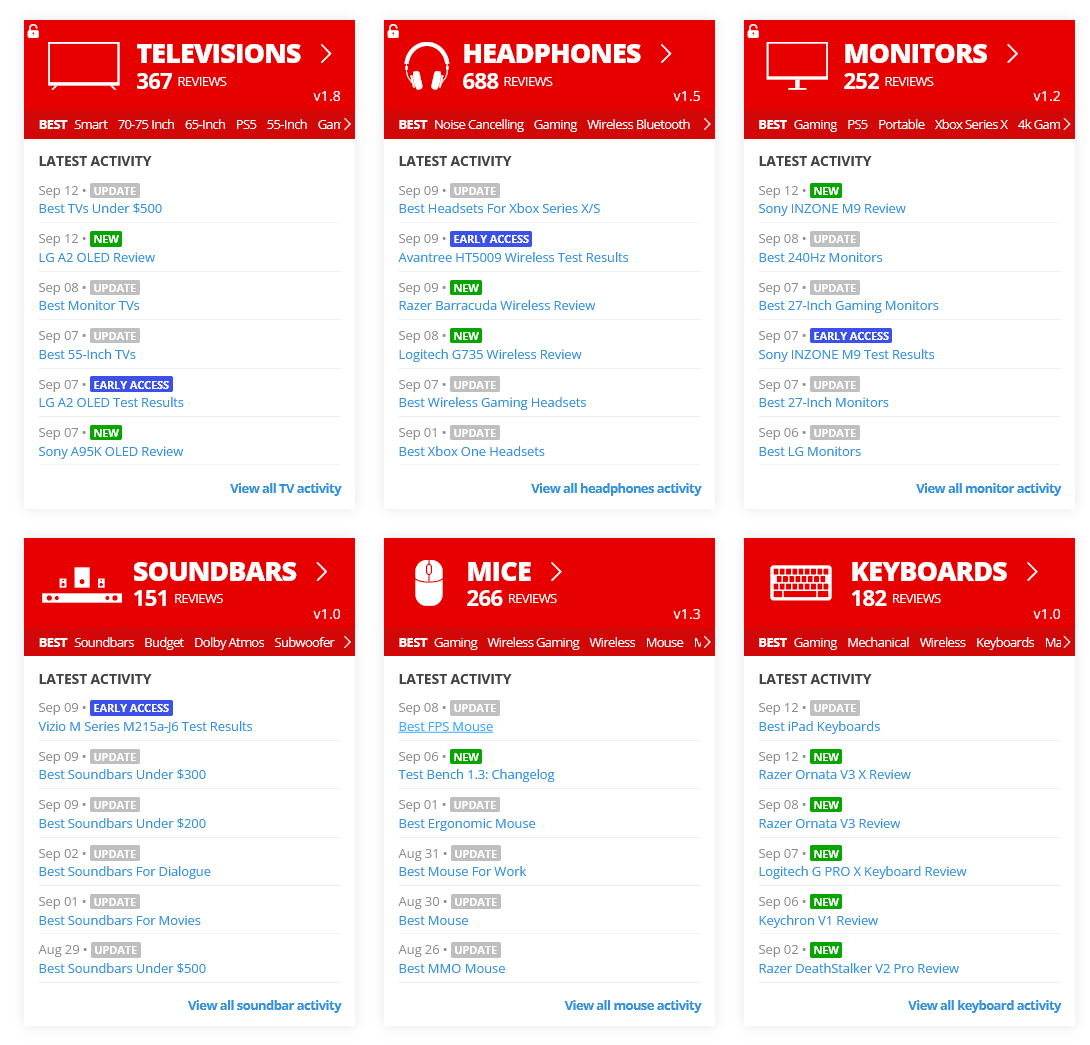 All the articles are tagged under "New," "Update," or "Early Access." It also shows the number of articles published under each category, instantly adding a lot of credibility. The best part for me is the menu bar for each category. 
We're in 2022, and there are many who prefer watching a video review to reading a detailed article. Since all of RTINGS.com's devices go through so many tests, it only makes sense to document everything and share it in a video. The team figured this out early on—2013, to be exact.
As of October 2022, its channel has 327K subscribers and over 58M views: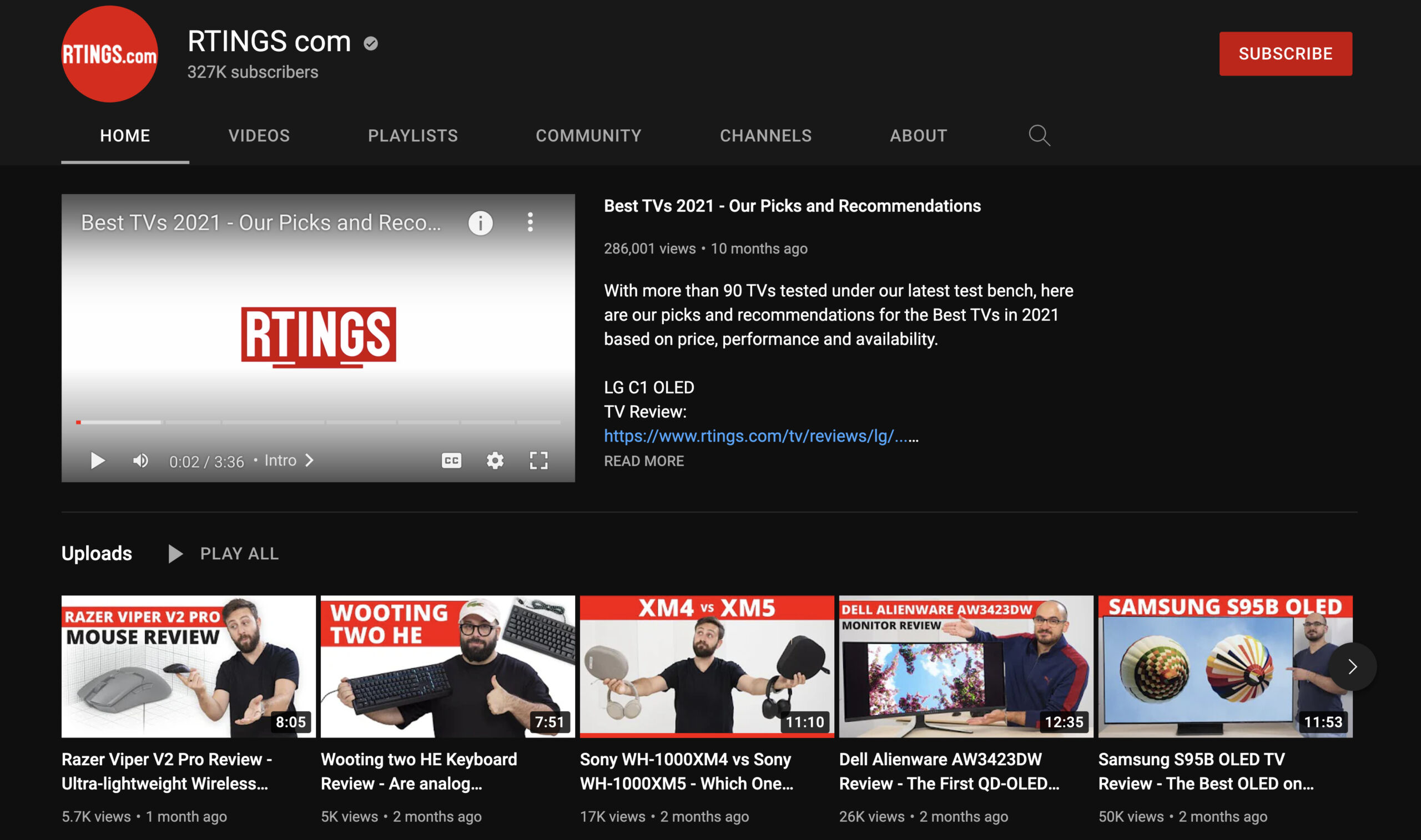 Most of its videos are either product reviews or comparisons. All the videos are linked to the review articles it publishes, and this is where we start to create the SEO connection.
The thing is that its website and YouTube channel both rank on the first page for many keywords, maximizing its SERP "real estate."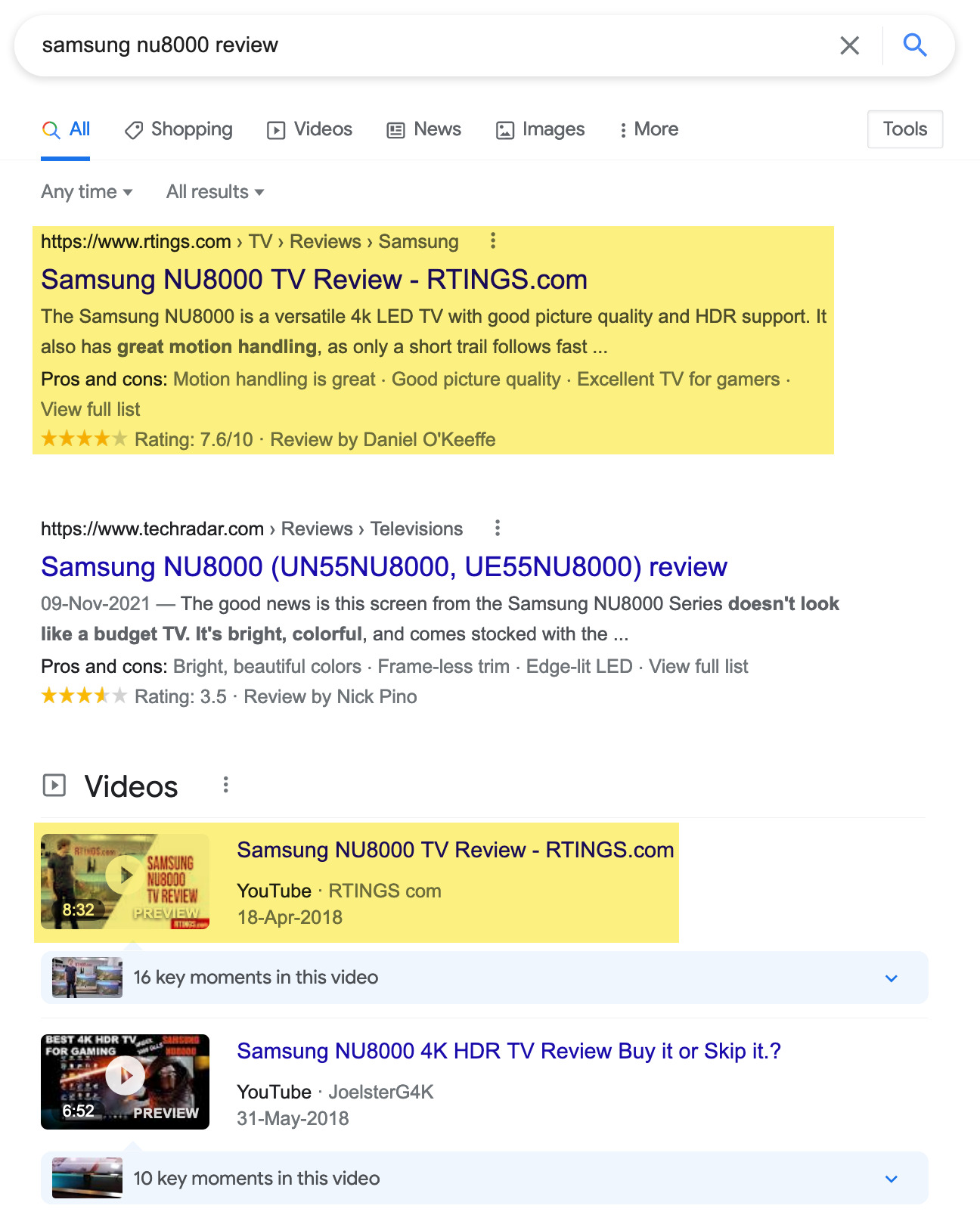 While it hasn't seen a hockey stick growth in terms of subscribers, its videos have consistently garnered views monthly.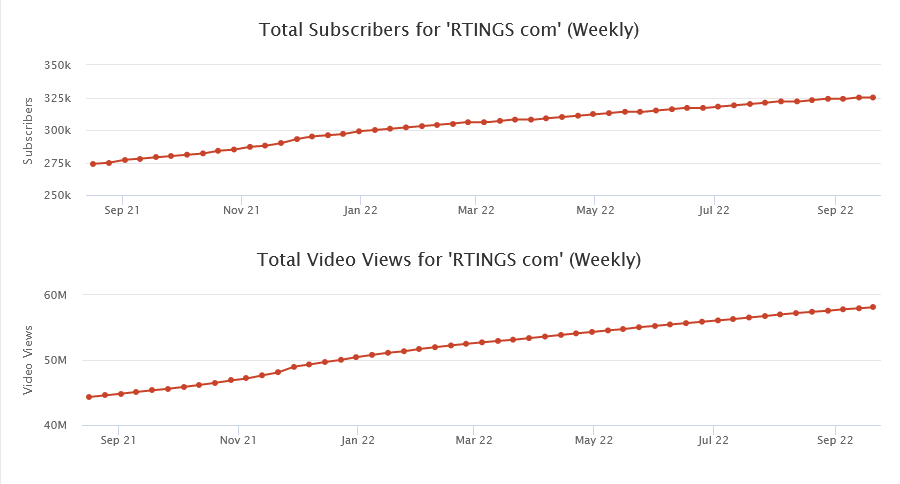 Overall, YouTube is the perfect channel it can double down on to increase its organic visibility. There's tremendous potential. In fact, it ranks on the first page for over 100K keywords where Google shows videos in the SERP results. All it needs to do is identify the right products and publish videos about them.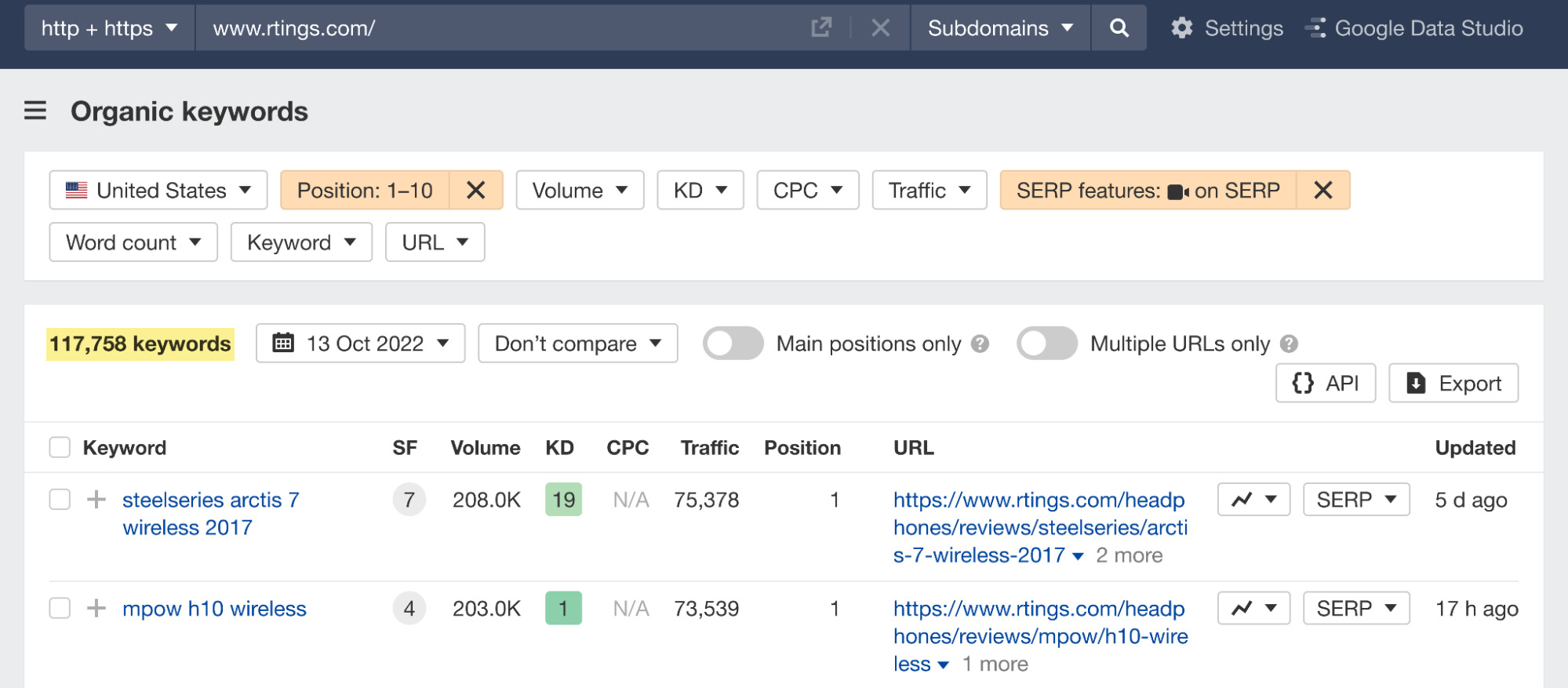 Last but not least, I love how it uses the Community tab to connect with subscribers by showing them behind-the-scenes content of upcoming reviews.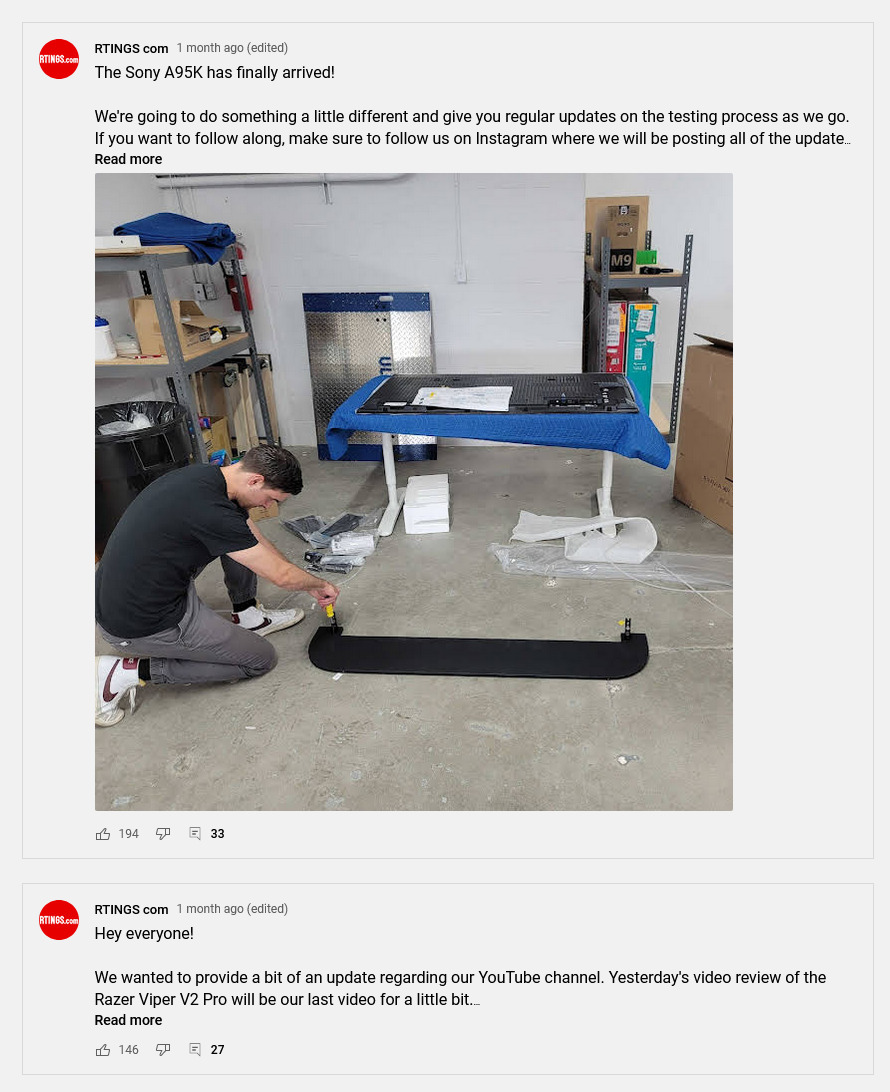 Just think about the content distribution benefits of having a highly engaged community. Connections to SEO are pretty much everywhere.
Final thoughts 
RTINGS.com has created a strong moat in a few product niches over the years. This has helped it to grow from an already impressive monthly organic traffic of 2M two years ago to over 9M today. 
There's a lot to learn from it, especially if you're looking for tips on improving website structure or planning to run experiments using programmatic SEO.
Got any questions? Ping me on Twitter.