Starting with SEO can be overwhelming—many technical terms, checklists of tens of tasks to do, learning resources contradicting each other, and the list goes on. I remember when I got into the game.
This SEO tutorial should get you on the right track. We'll go through seven essential steps to help you increase organic traffic and ensure you have the right foundation to advance your SEO skills further.
Let's dive into it.
People look up information around your brand, product, or service in tons of different ways.
Our job is to find these keywords and choose the best ones to target with relevant content. This process is known as keyword research.
You'll need a keyword research tool to do that. There are a bunch of free ones, such as our free keyword generator, so you can get started right away. Simply plug in keywords that describe your business, products, or problems your audience might need to solve.
Let's say we have a coffee equipment shop, so discovering what people look up regarding espresso machines and how frequently is a good starting point: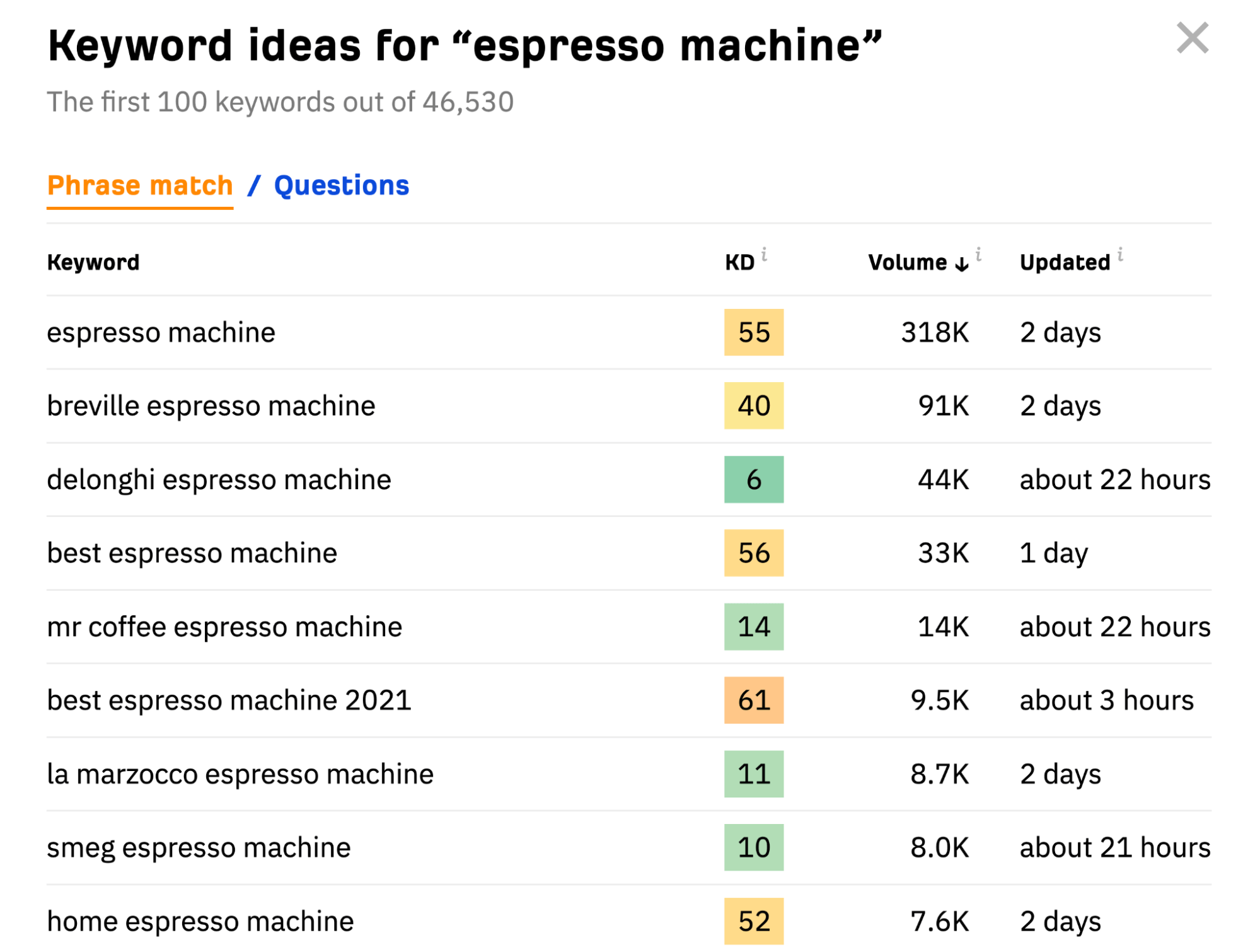 Are you used to saying "espresso maker" instead? Well, this is exactly why we do keyword research because "espresso machine" has 15 times the monthly search volume: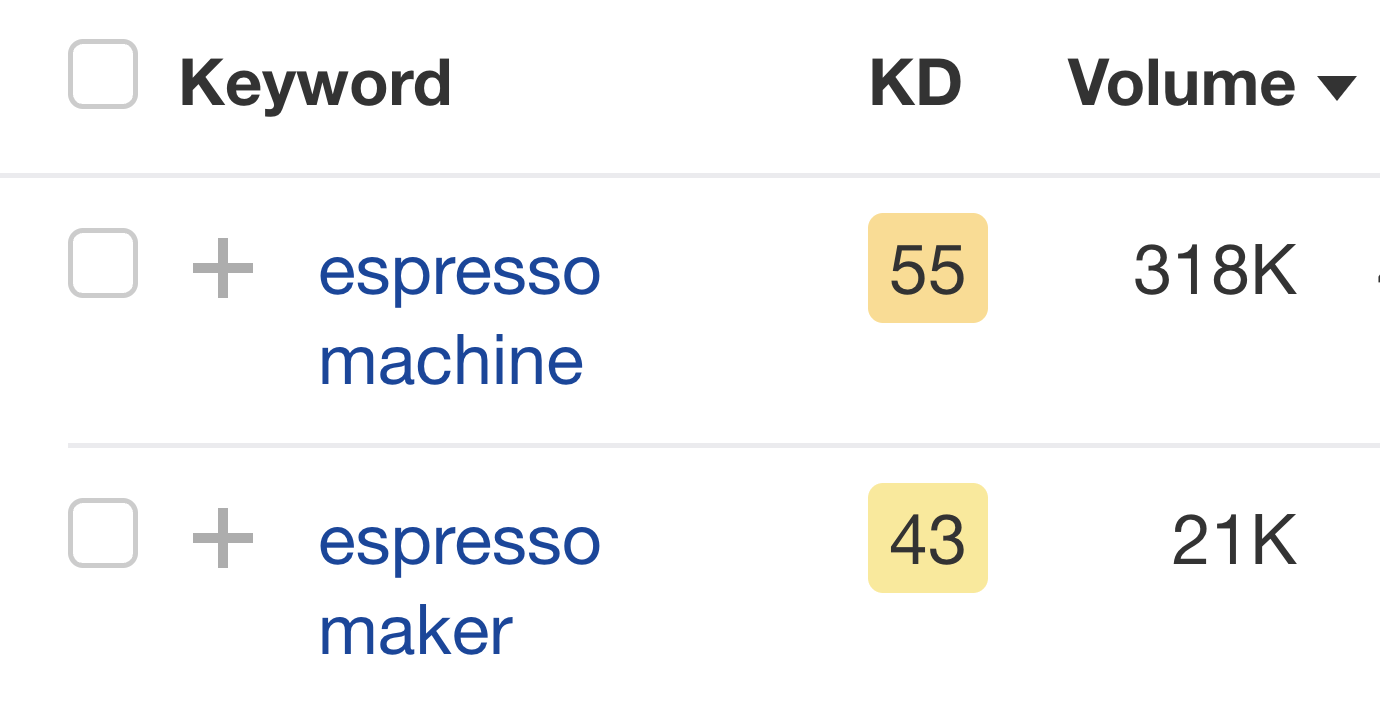 To me, these two keywords are synonyms and can be used interchangeably. But maybe others imagine two different things? Let's use Google as the best verification method here since its goal is to deliver the most relevant results to any search query.
If there's a big overlap of the search results, then Google sees these two keywords as synonymous, meaning that most people think that way too.
You can either open up two Google search tabs or use the SERP overview comparison feature in Ahrefs' Keywords Explorer. As you can see, the overlap is huge and there's not a single page targeting the keyword "espresso maker":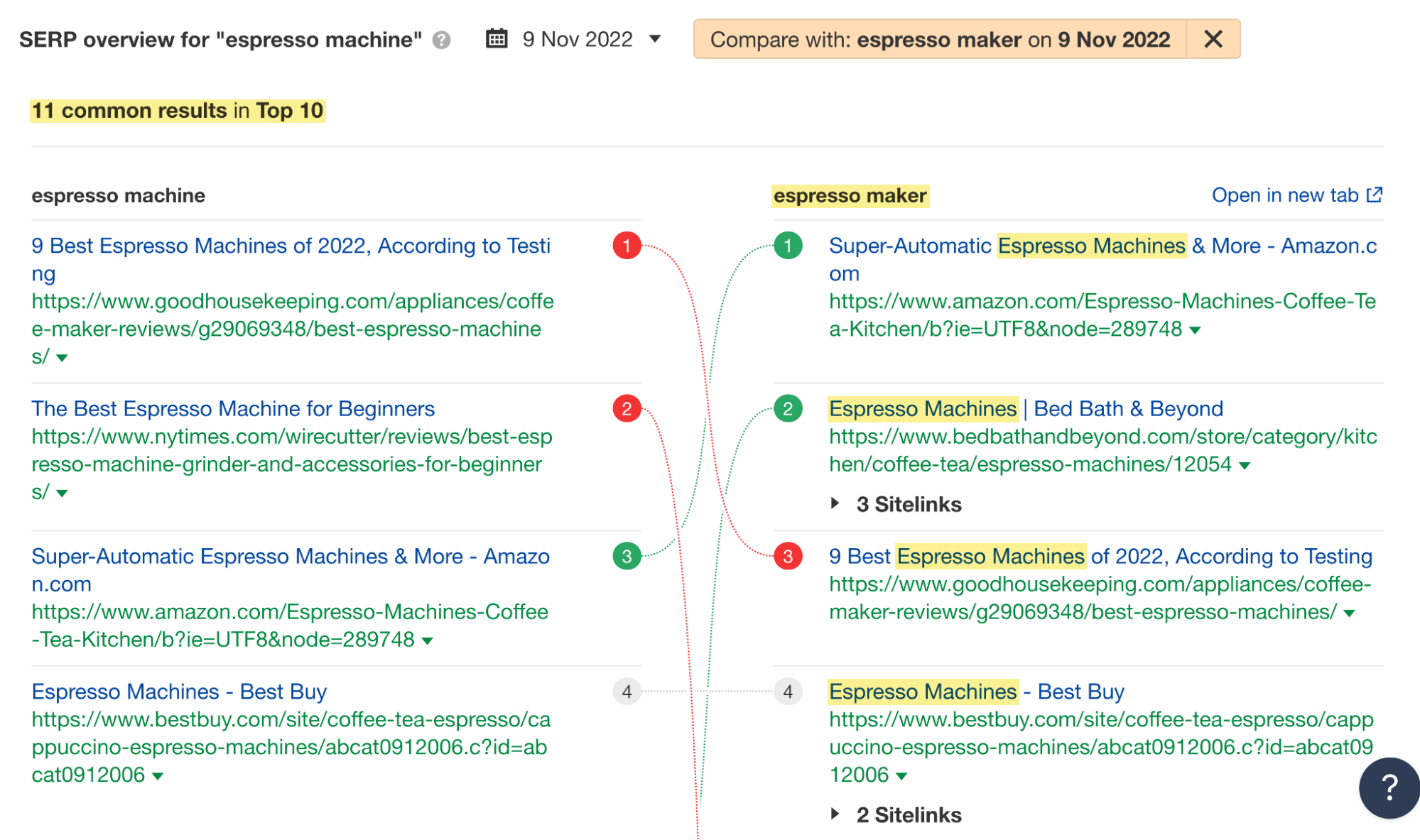 So clearly, "espresso machine" is the right keyword to target here. And we also just touched on the topic of the next step.
Learn more: How to Do Keyword Research for SEO
Chose a keyword that you want to rank for? Then you need to create a piece of content that aligns with search intent. In other words, figure out what people searching that keyword are looking for and deliver it to them.
We just went through the example of people searching for "coffee makers" actually meaning "coffee machines," which is more commonly used. In general, we can assume that what already ranks at the top for any given keyword is something most searchers want to see.
Let's keep up with the coffee equipment theme and target the keyword "burr coffee grinder." Here's what Google's top results in the U.S. look like: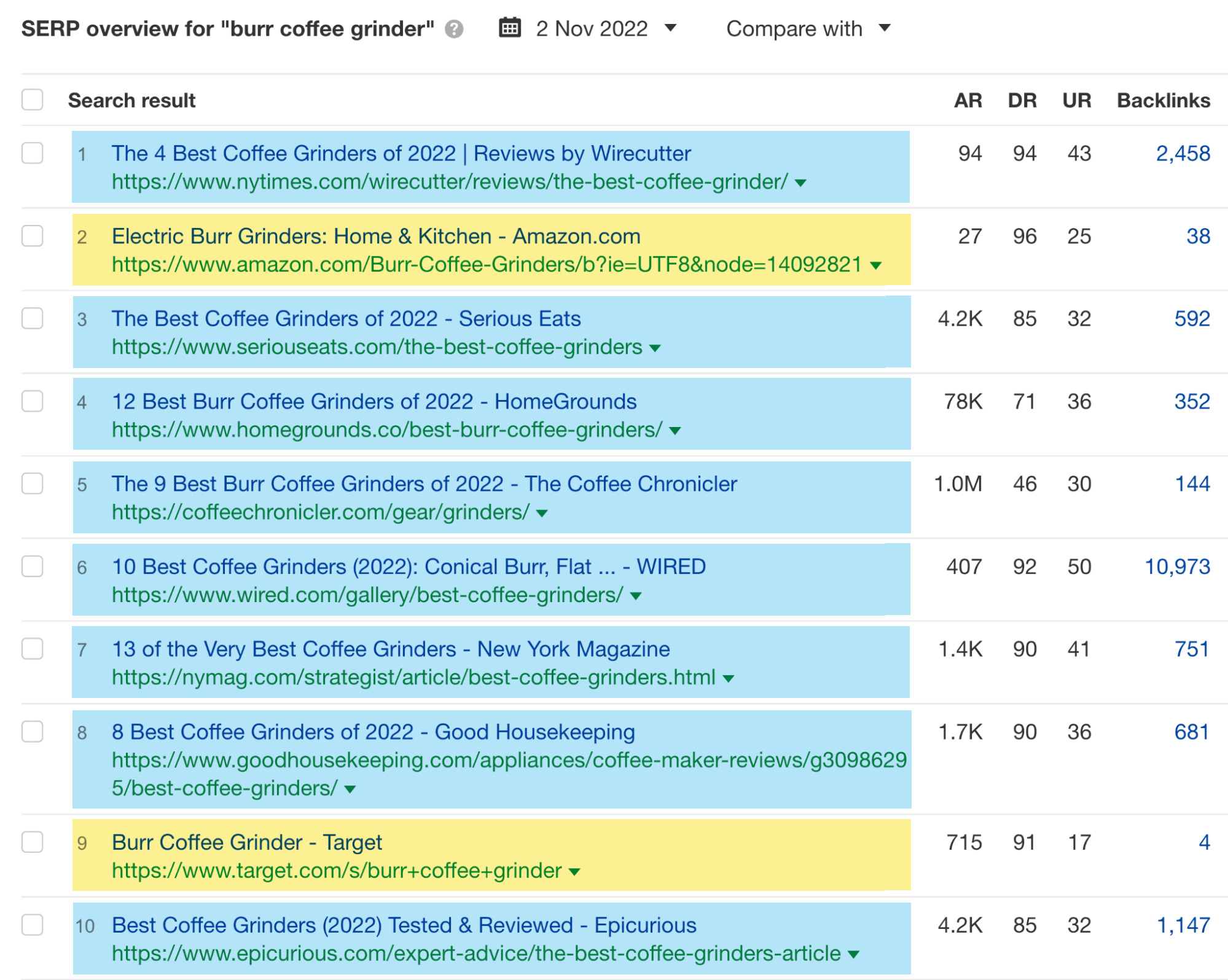 We've got two types of pages here: product reviews with recommendations (in blue) and e-commerce category pages (in yellow). Since the category pages are in the minority and only the biggest players like Amazon or Target rank with them, I'd go with the listicle kind of post recommending multiple coffee grinders.
If you look closely, some of those review pages don't even specifically target the "burr" grinder type but focus on the best coffee grinders in general. Those naturally mention a few burr grinders, so they're relevant too.
Both ways here are fine, although focusing on "burr" specifically will likely result in a higher chance of ranking well for this keyword, especially for websites that aren't huge authorities in the niche yet.
Last but not least, it should go without saying that searchers also want to see valuable and trustworthy information. A good rule of thumb is not to cover topics that you're not very familiar with and can't provide value. There's too much regurgitated information on the internet already, so don't just create content for the sake of it.
Want to squeeze the most clicks out of your SERP impressions? You need to catch searchers' attention.
Now, the truth is if your page's title is plain bad to begin with, you'll have a lower chance of ranking well. It's hardly a surprise that search engines assess title tags for ranking the pages since the title is the most visible SERP component: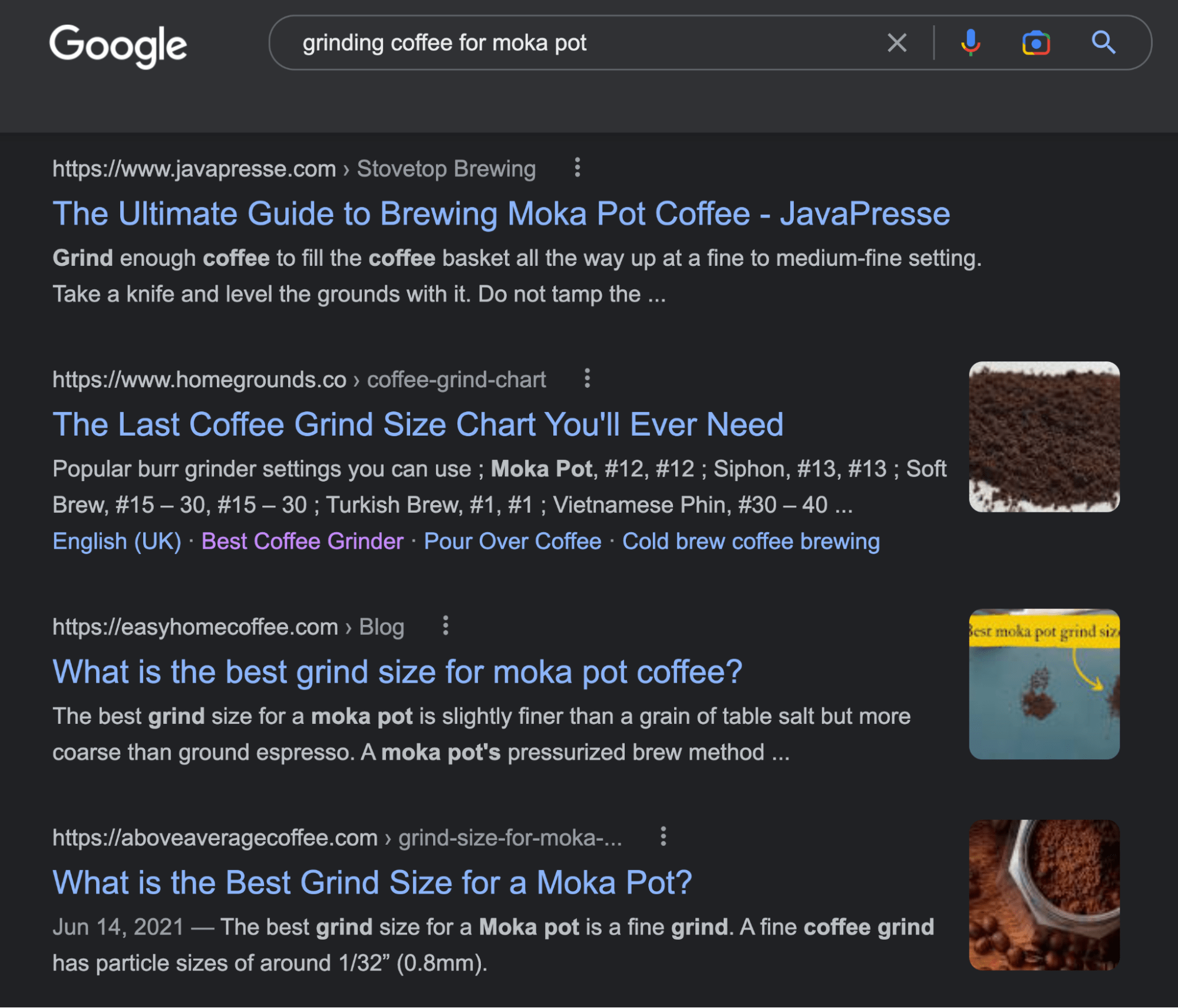 Which result would you click on here? The second one caught my attention immediately because the title promises I'll find the answer quickly in some sort of chart. The rest of the titles are good too, but they don't stand out to me despite higher relevance to my search query.
Yes, you should absolutely use your primary keyword in your title. Also, the example above just proves that there are other variables at play. Here's a short list of the best practices for writing great titles:
Include your primary keyword in a natural way – This means you can transform "grinding coffee for moka pot" into something like "How to Grind Coffee for a Delicious Moka Pot."
Make it descriptive – It should perfectly sum up the core of your content.
Try to stand out – Always check pages that already rank for the keyword and think how you can differentiate your own.
Avoid overpromises and clickbaits – Try your best to deliver what you promise in the SERP snippet.
Fit into Google's pixel limits – Titles truncate (or even change) when you go over a certain pixel length in your title tag. Use a SERP snippet preview tool like this.
Ever came across a promising search snippet that you clicked through and then a messy website that you didn't really want to engage with appeared? Yeah, me too.
That's why Google is looking at multiple UX factors when it comes to ranking its results. Visitor satisfaction isn't only dependent on the provided information but on the whole experience of your page and website.
Think about these UX factors as a solid foundation for your other SEO efforts, not a silver bullet to skyrocket your rankings:
Mobile-friendly website 
How your website looks and behaves on mobile matters more than its desktop version. Most searches take place on our small devices, and that's why Google predominantly uses mobile versions of pages in its index.
Yet this factor is easy to overlook since we use our desktop devices to create websites. Here are a few tips to make both human and robot visitors on mobile happy:
Use a modern CMS that can easily make both desktop and mobile versions of your pages look good. Most popular CMS choices should be fine here.
Keep the important content visible on both mobile and desktop. Small variations are fine.
Check and troubleshoot mobile reports in the Experience section of your Google Search Console: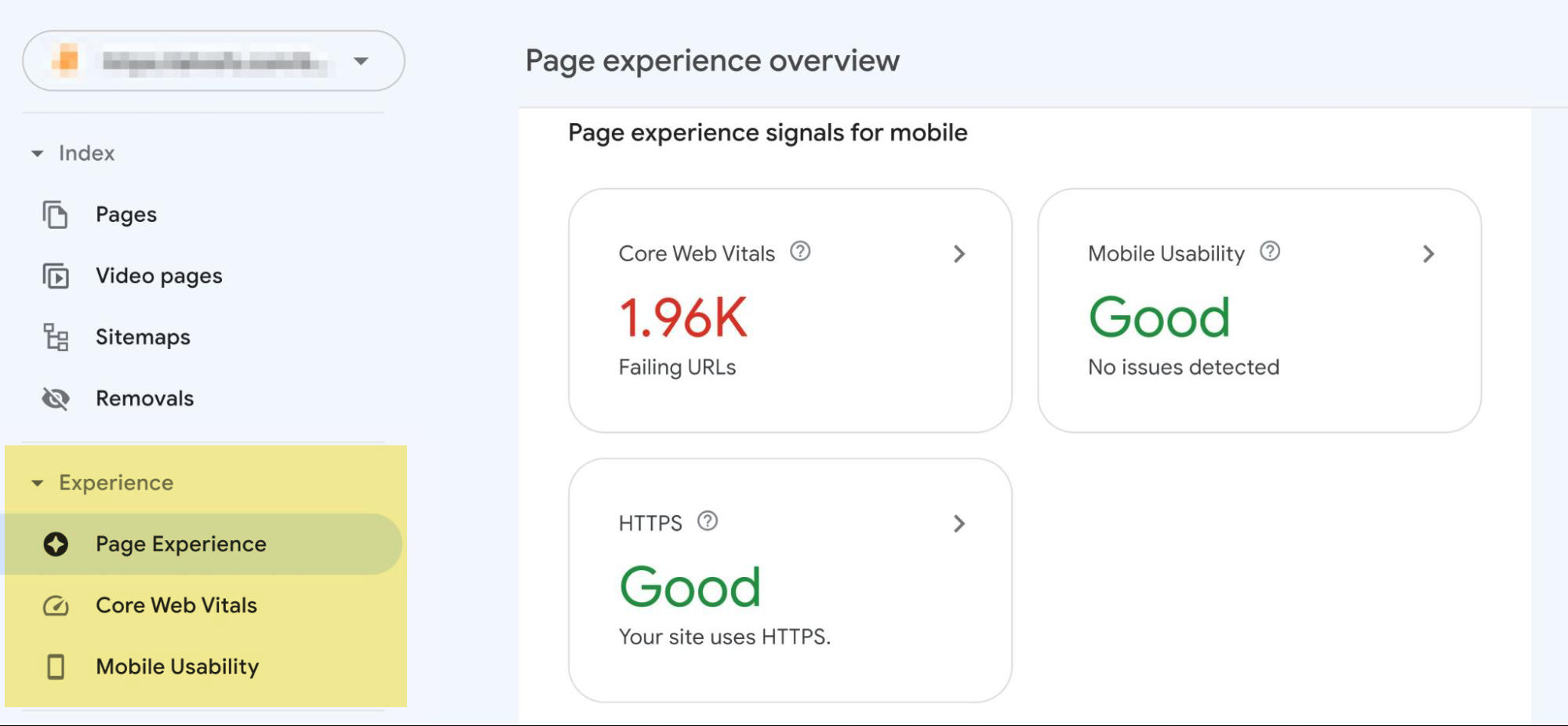 Learn more: Mobile-First Indexing: What You Need to Know
Solid website structure and navigation
Website structure is how your site is organized and webpages interlinked. Having a logical site structure helps visitors and search engines easily find and navigate content while improving conversions and supporting your SEO efforts.
We could go really deep into creating an optimal website structure. But listen—don't go deep here. Instead, choose a flat website structure like this: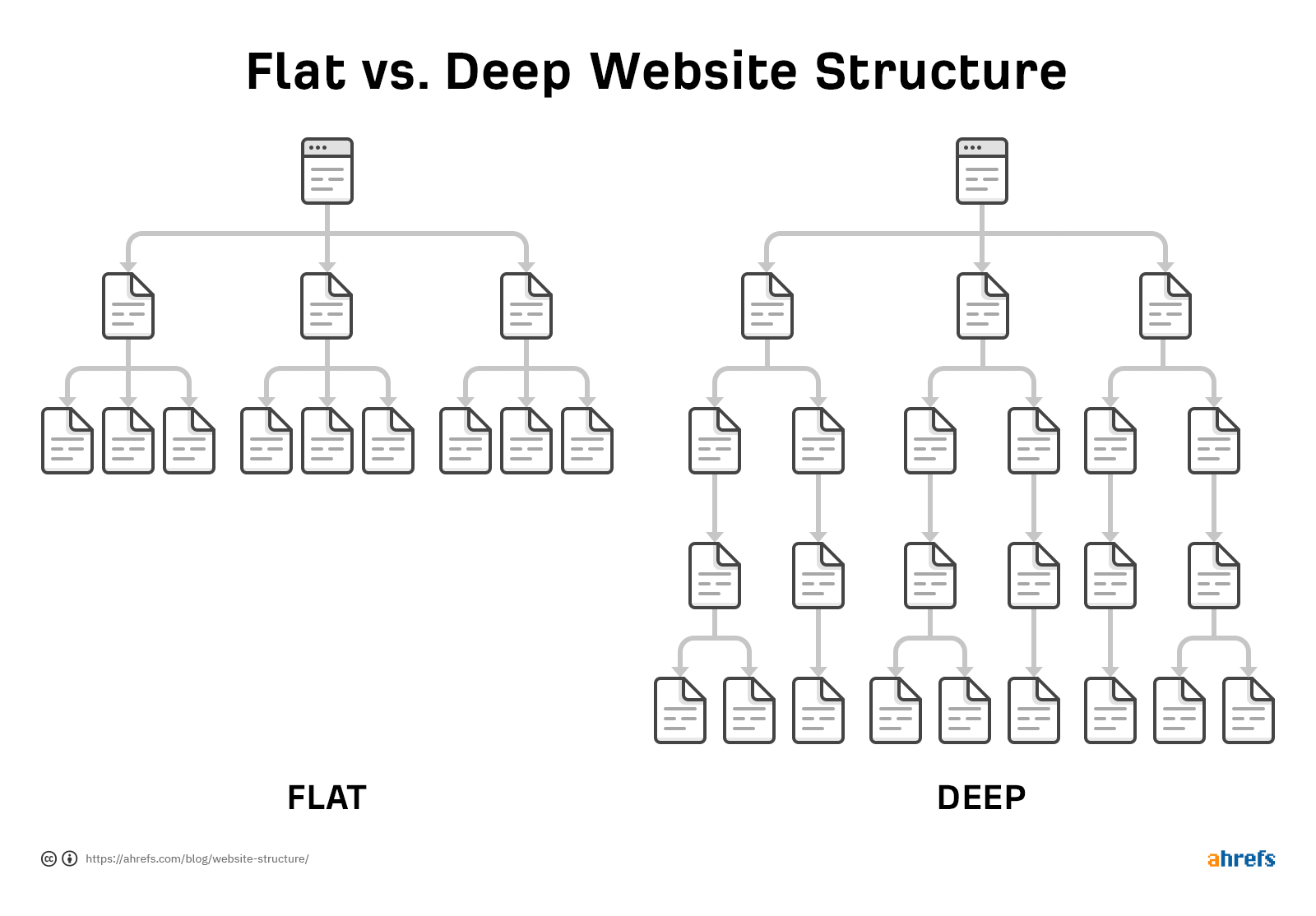 The top-level pages should be your most important ones, and they should be linked from your header navigational elements that are accessible at all times. Since we just talked about mobile versions, here's an example of the popular "hamburger" menu at the top-right corner: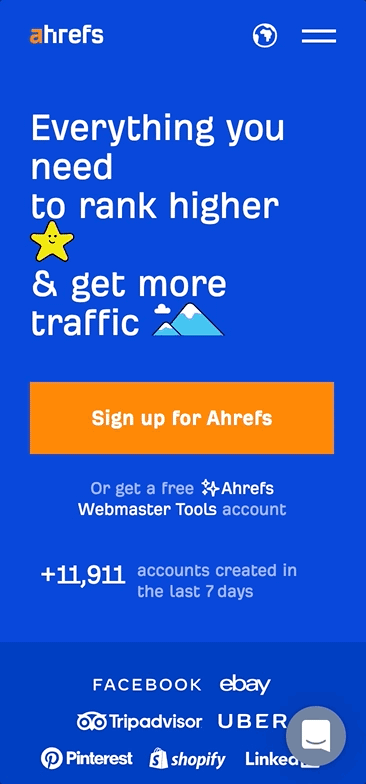 Learn more: Website Structure: How to Build Your SEO Foundation
Easy-to-read content
Would you get this far if this article was all just a block of text? Probably not.
Notice how we're making use of headings and subheadings (from H1 to H3s) to add proper hierarchy to the content. But that will still make for a rather dry-looking page. Here are the three most important tips to make your content easy and enjoyable to read:
Add relevant visual elements to cut through the text.
Use multiple text formatting options (like I just did with this list and bolded words).
Write like your audience talks to avoid trying to sound smart with big words and overcomplicated terminology.
By the way, even your URLs could be considered part of your content. It's something people see on the SERP, along with the title and description. Making your URLs short and descriptive is the best way to ensure they're SEO-friendly.
Ads and pop-ups in moderation
The best way to ensure your visitors leave your pages ASAP is to overwhelm them with stuff they didn't come for. Like here: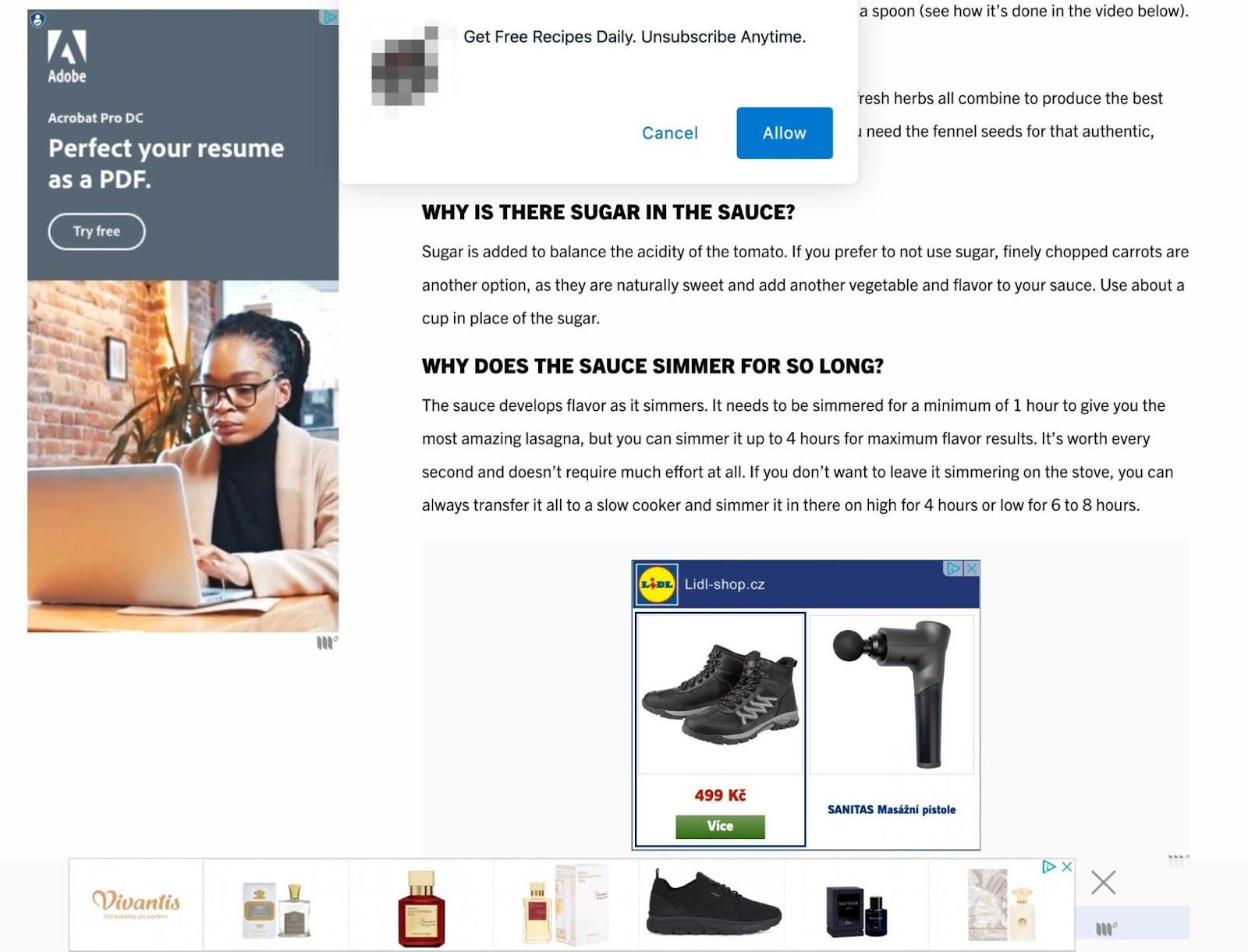 By all means, monetize your website with ads and grow your email list with pop-ups—but do them in moderation. Potentially higher short-term gains are not worth losing in the long run.
HTTPS
Providing a secure connection between your server and visitors has been a must for many years already.
New websites should come HTTPS-enabled by default with good hosting providers. Just double-check that there's a "lock" icon next to your domain name in your browser signaling a valid TLS certificate that's needed to run on this secure protocol: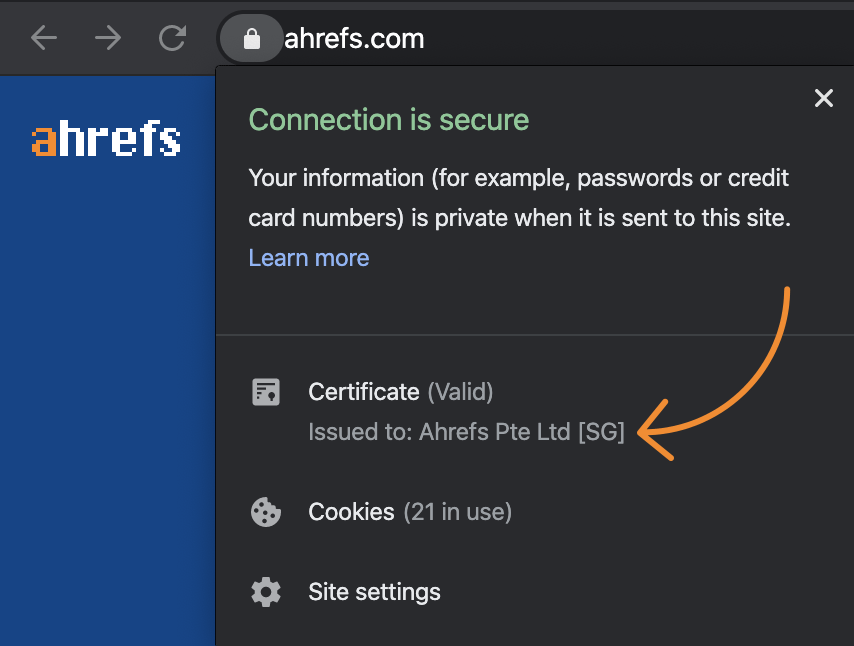 Internal links are links within the same website. Their main roles in SEO are to provide paths for search bots to crawl websites and pass link equity from linking pages.
Think about the link equity as votes that pages get in the form of links from other pages throughout the whole internet. Since internal links are fully within your control, it's something we should tackle first.
Simply find suitable internal link opportunities every time you publish a new piece of content. Then add the links.
The easiest way to find these opportunities is to use Google. Surprised? With the help of the site: search operator, Google will show you all your website's pages that contain a certain keyword (or similar ones). Like this: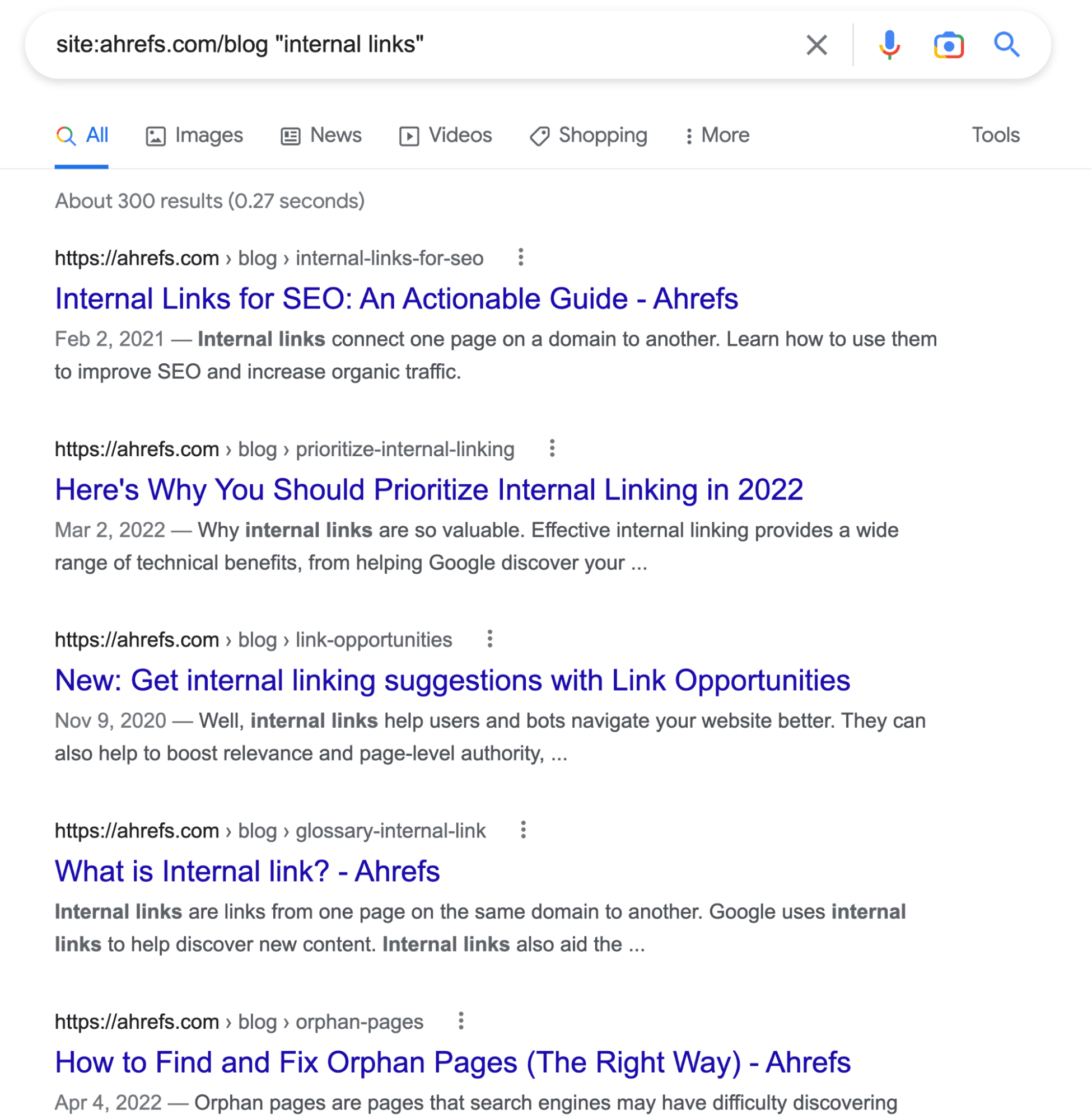 I even narrowed down the search to our blog section of the website and used the quotation marks as another search operator to return exact matches on that keyword. Voilá, we get a list of pages that talk about "internal links" to internally link our articles on this topic. OK, we're getting too meta here.
Replicate the process for each new piece of content and its target keyword, and you'll get ahead of many competitors.
Learn more: Internal Links for SEO: An Actionable Guide
Now we get to the part of links you don't control because they come from external websites: backlinks.
Backlinks are one of the most important ranking factors, meaning that there's a huge demand for them. Getting worthy backlinks isn't a piece of cake.
There are tons of ways to build links. The overarching rule of thumb is to provide enough (non-monetary) value to motivate the other side to link to you.
Let me explain the "non-monetary value."
If you're trying to get backlinks to subpar content or products, then you'll most likely have to buy the link or provide something else in exchange for it. Not only would you be unlikely to even get responses to such pitches, but Google could also penalize you for this unnatural link acquisition that violates its webmaster guidelines.
Your biggest asset for building high-quality backlinks is stellar content others find valuable and interesting. Not only can asking for links become quite effective, but you'll also have a chance to grow your link profile passively without having to write a single email.
Take a look at our five most popular linked-to pages (excluding the homepage):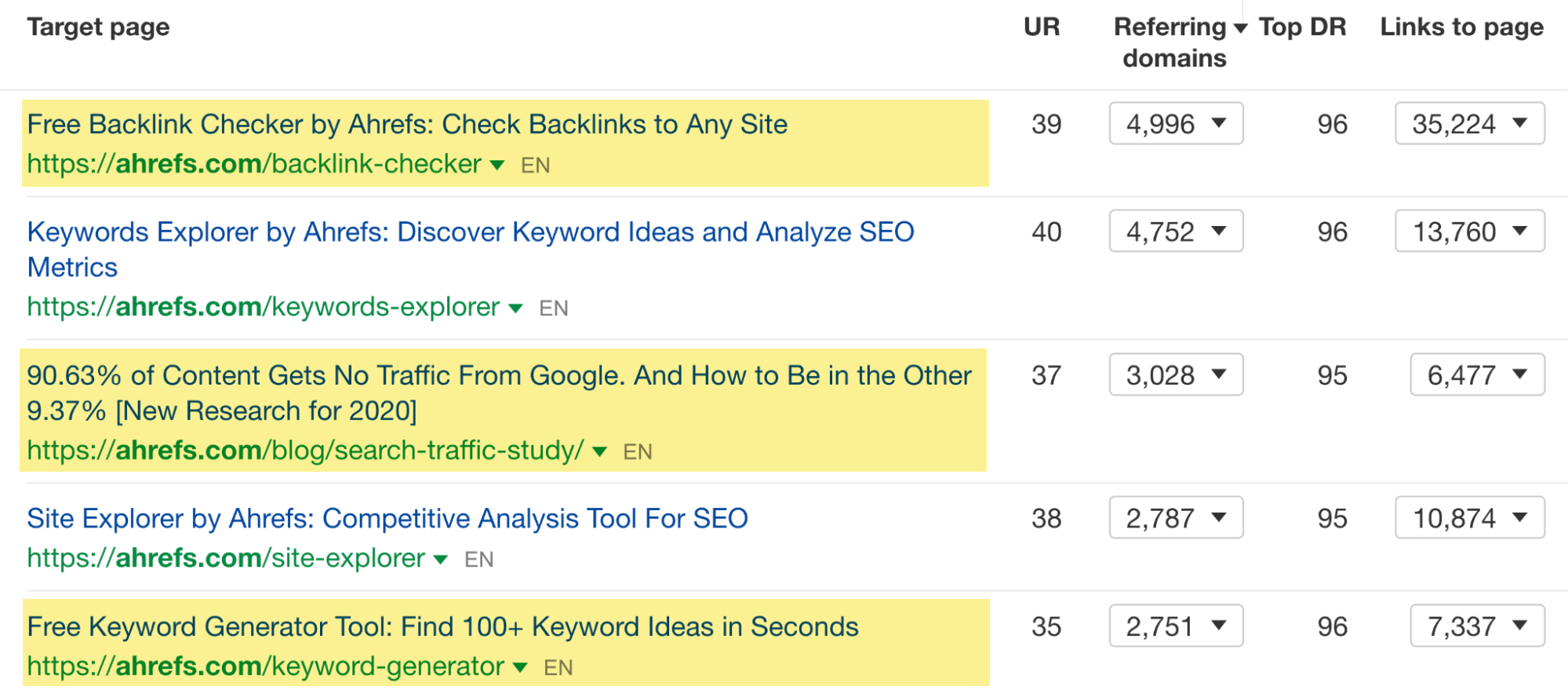 Two of them are free tools providing valuable data, and one is a data study with important insights for our industry. This type of content is called link bait, and it's arguably the best way to land high-quality links—as those often come naturally, not from you asking for them.
So how do we qualify backlinks as high-quality?
Generally speaking, the best links you can get are "followed" links placed within the main content that's published on a highly authoritative website in your niche.
To sum this up: Building links is an important part of SEO, and you'll do well if people find your pages so valuable they're naturally inclined to link to it on their own.
Since link building is a whole SEO discipline, I recommend you also check these two guides to learn more about it:
Perfecting all the steps above won't matter if search engines can't access your content. You need to make sure a search engine can discover, crawl, and store the pages in its index.
Luckily, severe technical errors that could cause your content to not rank at all are rather rare. Unless you click on random things in your CMS, you're probably fine.
But there are quite a few issues that can hinder your success in search engines.
Well, the good thing is that you don't need to have any deep technical knowledge to discover and troubleshoot technical SEO issues yourself. All you have to do is to use a tool like Ahrefs Webmaster Tools, set up a regular SEO audit, and keep an eye on the issues it finds.
You could do this for free right now. Ahrefs' Site Audit tool will crawl your website (like search engines) and check it for more than 130 SEO issues. It will then give you a comprehensive overview showing all the issues with explanations on how to fix them: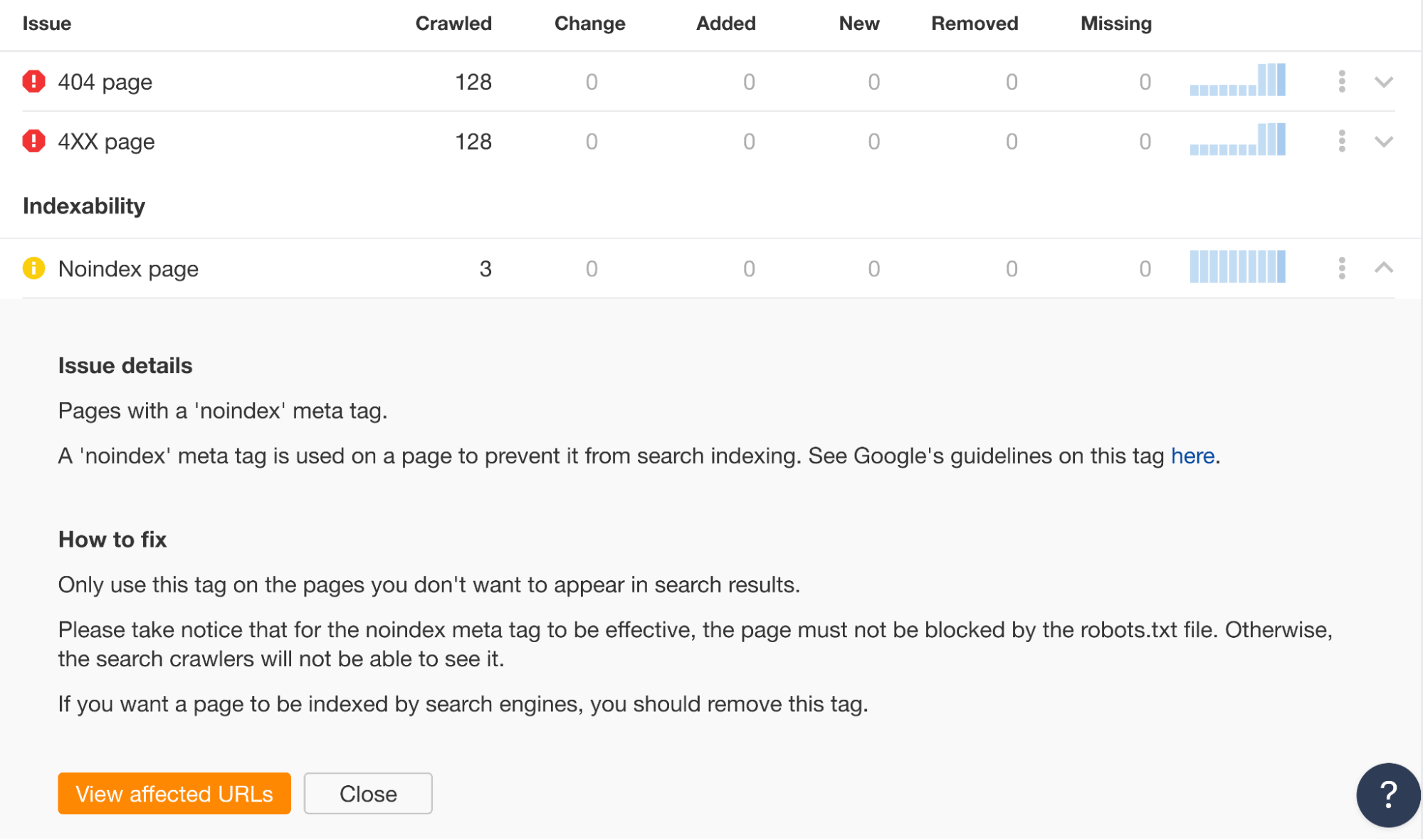 This will guide you on the spot. If you first want to learn the theory, we have a guide for you too.
Learn more: The Beginner's Guide to Technical SEO
Final thoughts
There are multiple guides referenced throughout the tutorial, so come back to each step whenever you want to learn more. But don't fall into the "learning" rabbit hole, as nothing can beat hands-on experience.
Go and apply what you just learned. Then monitor your progress, learn from your mistakes, and double down on what's working. Once you get stuck, try to perform an SEO audit.
We could go on and on. So here's my last important piece of advice: be patient. SEO takes time, and there are no guarantees.
Got any questions? Ping me on Twitter.