Whether you run a blog or an online business, communicating with users is one of the best ways to increase engagement with your audience. If your website doesn't provide a way to correspond with you in an effective and prompt manner, potential customers might leave to find one that does.
Fortunately, messaging plugins can serve as a bridge between you and your site's visitors. Communicating via direct message can boost interaction with your audience in real-time. Messaging plugins allow you to personalize your visitors' User Experience (UX) without adding extra work on your end.
In this article, we'll explain what a messaging plugin is and how your site can benefit from one. Then we'll introduce our top ten WordPress messaging plugins. Let's dive right in!
An Introduction to WordPress Messaging Plugins
A WordPress messaging plugin is a tool that allows you to communicate with your users, readers or customers in real-time:
In contrast to a phone call or an email contact form, an instant messaging system gives users the ability to speak directly and immediately with a vendor, website owner, or blogger. Along with providing a direct line between you and potential leads, messaging plugins allow the conversation experience to be integrated directly with your website.
On the front end of your website, this tool typically takes the form of a chat box popup. The user can then ask questions by typing them in.
Messaging plugins are used to provide customer support, schedule appointments, and answer any questions the user might have about products or pricing. In addition, some tools can provide a means for your own team members to communicate.
Exactly what you'll get access to depends on the specific tool you choose. Many options can be customized to integrate with your website. Other common features of messaging plugins include a chat box widget, the ability to attach images and videos, and automated responses.
Personalize your visitors' user experience… without adding extra work on your end 😅, thanks to these plugins ✅Click to Tweet
How Your WordPress Site Can Benefit From a Messaging Plugin
Messaging tools can benefit your WordPress site by allowing you to personalize the interaction between you and your visitors or customers. There's a lot of data to support the efficacy of this approach. For example:
A PwC study found that 75 percent of consumers prefer human interaction over automated responses.
In 2020, the Statista Research Department surveyed marketers in the U.S. According to their analysis, 63 percent of participants saw augmented conversions as a result of personalization.
According to Wunderkind, 72 percent of consumers state that they engage exclusively with messaging that is personalized.
On the flip side, a survey performed by Zendesk found that an automated system that made it hard to reach a human service provider was one of the most frustrating aspects of customer UX. This kind of data shows that consumers prefer personalization when it comes to customer service.
While not all interactions can be tailor-made, messaging plugins can help provide a more human and responsive touch. What's more, they often come with tools that let you automate key tasks. This allows you to take some essential work off your plate so you can focus on other aspects of your site and business.
There are plenty of other benefits to WordPress messaging plugins, such as:
Reduced cost in customer service (such as phone bills and employee training)
Real-time interaction with potential clients and customers
The ability to communicate with multiple users at once
Before you choose a messaging plugin, you'll also want to make sure your site is running effectively with Kinsta APM. This performance monitoring tool identifies any site efficiency issues, so your visitors can have the smoothest possible experience on your pages.
10 Best WordPress Messaging Plugins For 2022
There are plenty of WordPress messaging plugins to pick from. Budget, features, and design will all play a role in which one stands out as the best choice for your website. We have rounded up ten top options for you to pick from, so let's dive right in!
1. Crisp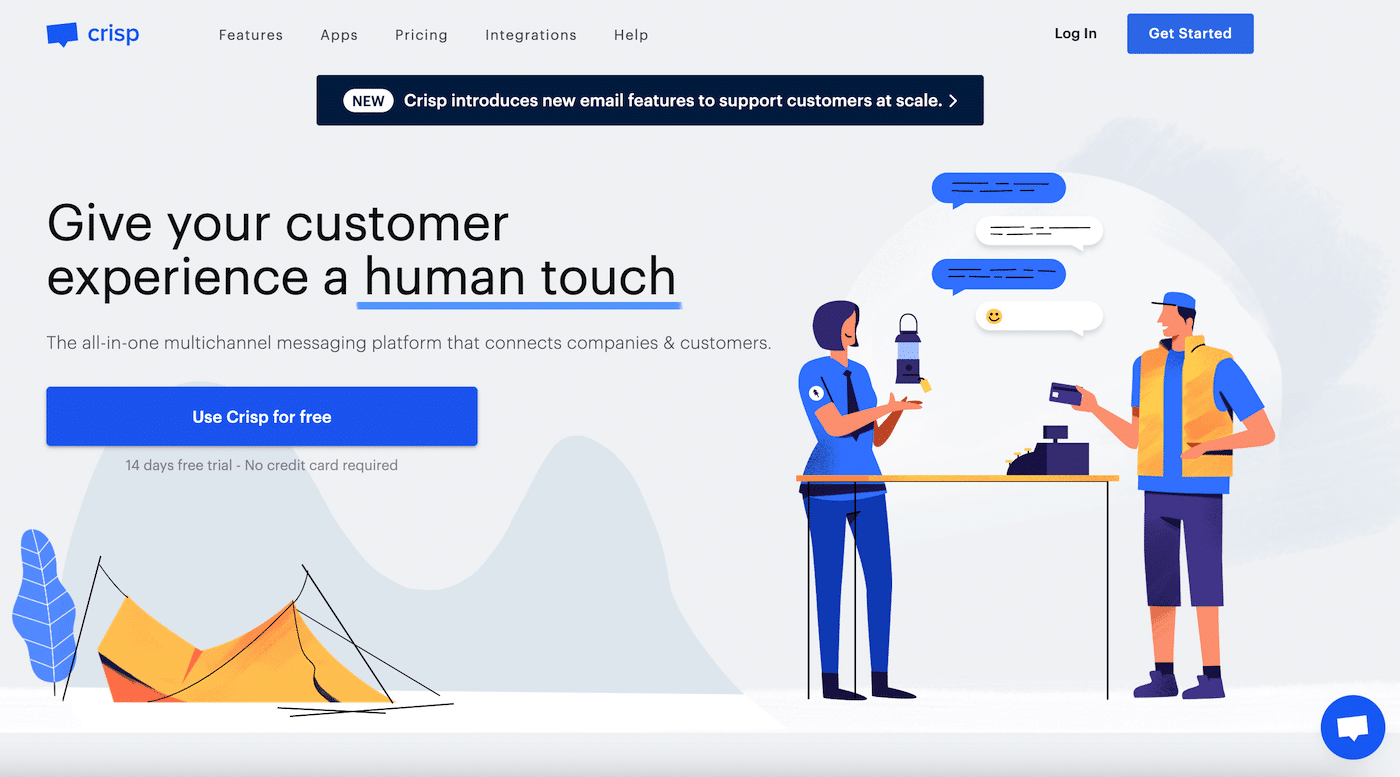 First up, Crisp is a plugin that consolidates your customer support, sales, and marketing in one place. Live Chat, Twitter DM, Facebook Messenger, and email are all centralized into a single inbox.
Crisp also has Customer Relationship Manager (CRM) software that helps you automate certain tasks, so you can focus your energy on answering customers' questions.
Key Features:
Knowledge base software that builds self-service support
A ticketing system that helps organize and prioritize customer service
A status page that alerts you of any issues
Pricing: Crisp has a free Basic option if you just need a simple chat box. Its premium version starts at $25 per month per inbox.
2. Tidio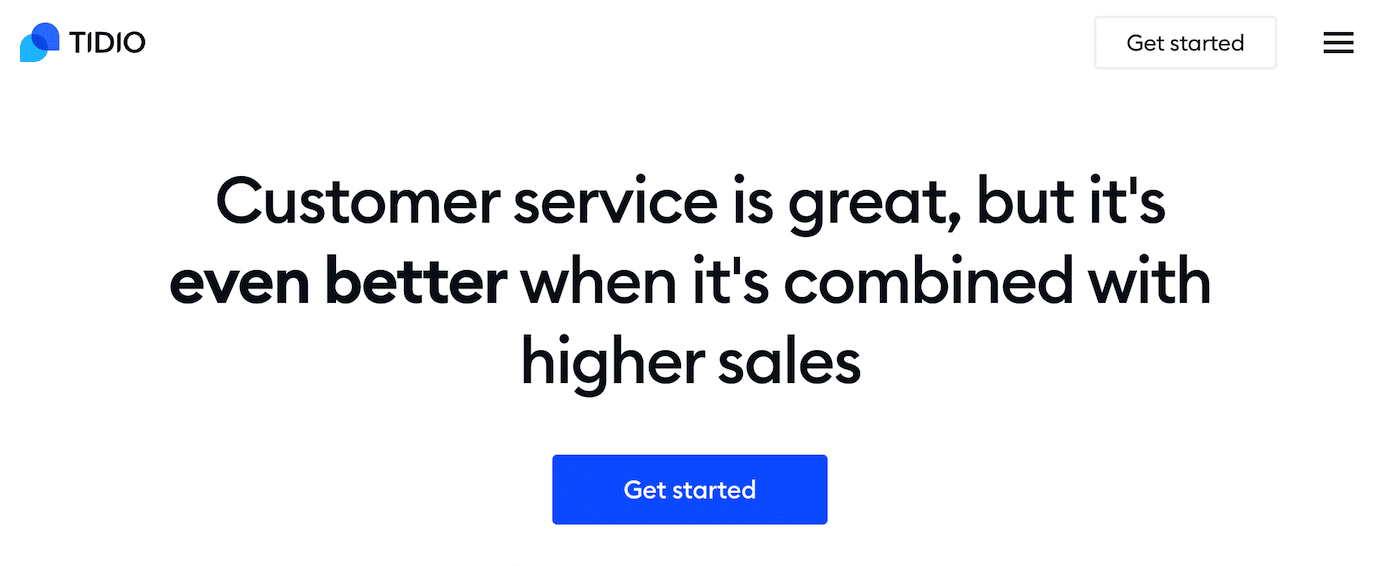 The Tidio plugin is designed to help you increase sales and optimize the customer experience. This tool is easy to set up and enables you to respond to your visitors in real-time so you can answer their questions quickly. It also allows you to see who is on your website, monitor results and automate chats with AI, and view your visitors' locations.
Key Features:
List of live visitors
Easy integration with Instagram and Facebook Messenger
A shared inbox for every member of your team
Pricing: The Tidio Live Chat plugin has a free option, as well as premium tiers starting at €39 per month (about $48.71).
3. 3CX Live Chat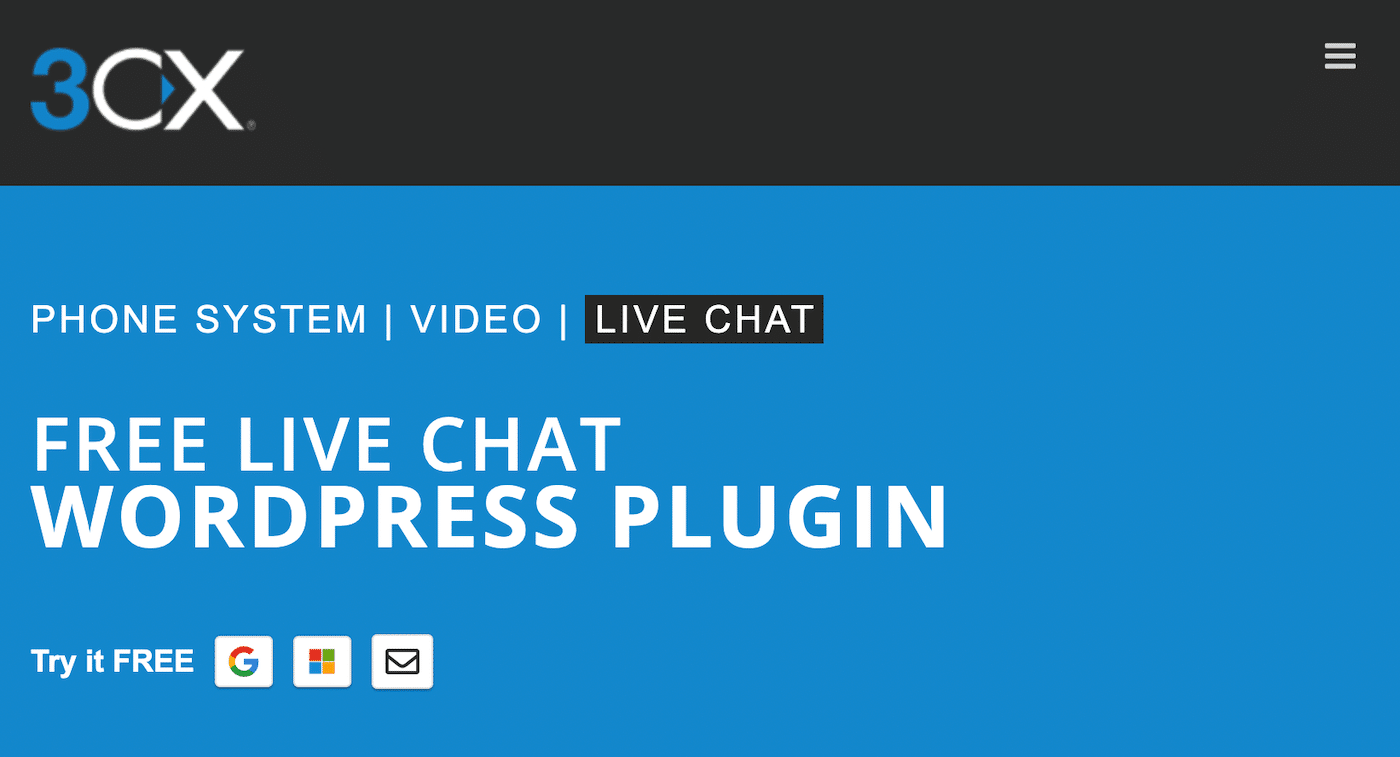 If you're looking for a completely free tool, 3CX Live Chat might fit the bill. It has a quick and hassle-free installation process, and you can add users, customize your chat box, and modify different aspects of the chat function without difficulty. With its Superchat option, site visitors can choose to message or call directly from the chat box, making connecting with your audience that much easier.
Key Features:
Ability to assign agents to group chats
Customizable elements, including text, colors, and responses
Capacity to add voice and video to chat
Pricing: 3CX's live chat feature is free to use.
4. Front End PM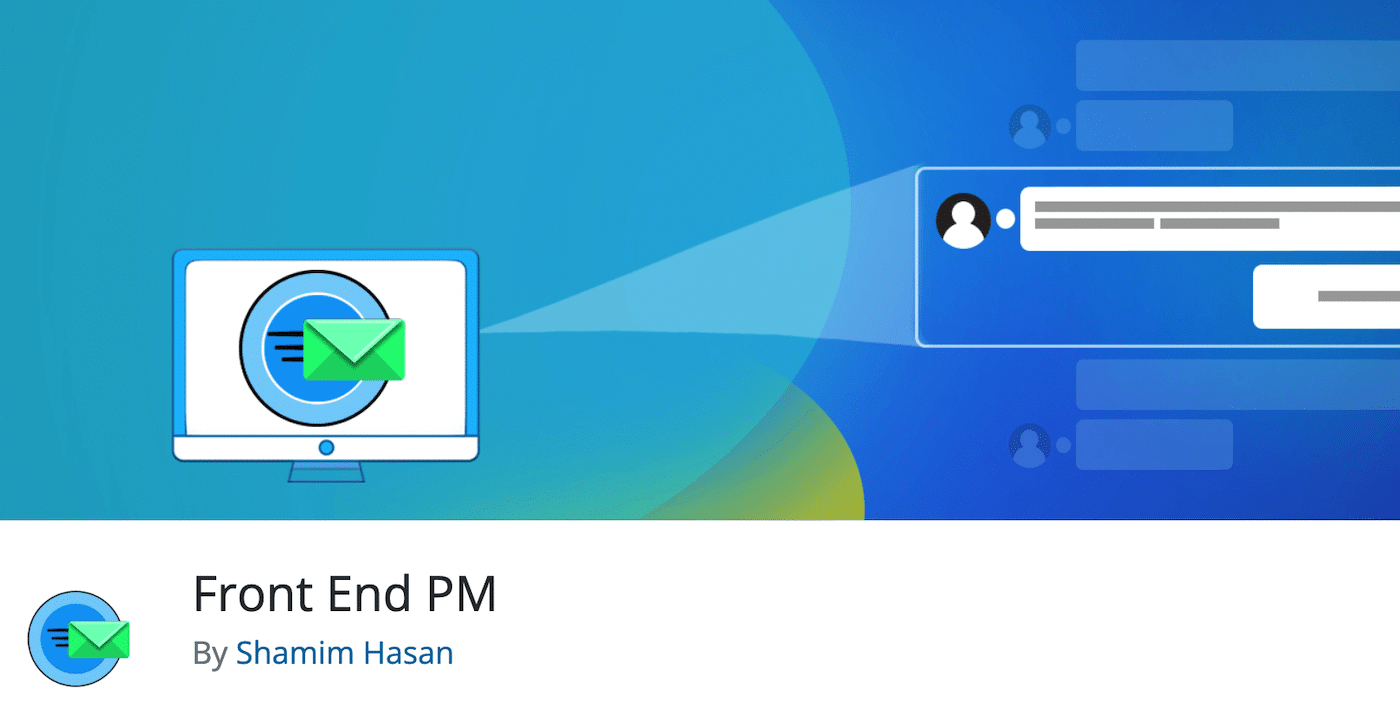 Front End PM is a tool that allows you and your users to message from the front end of your site as opposed to through the dashboard. With this plugin, you can include multiple attachments in your chats. Admins can set limits on the messages users keep in their chat boxes, which helps to minimize database size.
Key Features:
Ability to embed WordPress TV, Youtube, Flickr, and other media in your messages
Desktop notifications to alert you when you have received a new message
Private messaging between users
Pricing: Front End PM has a free option. The premium plans start at $39 per year.
5. Pure Chat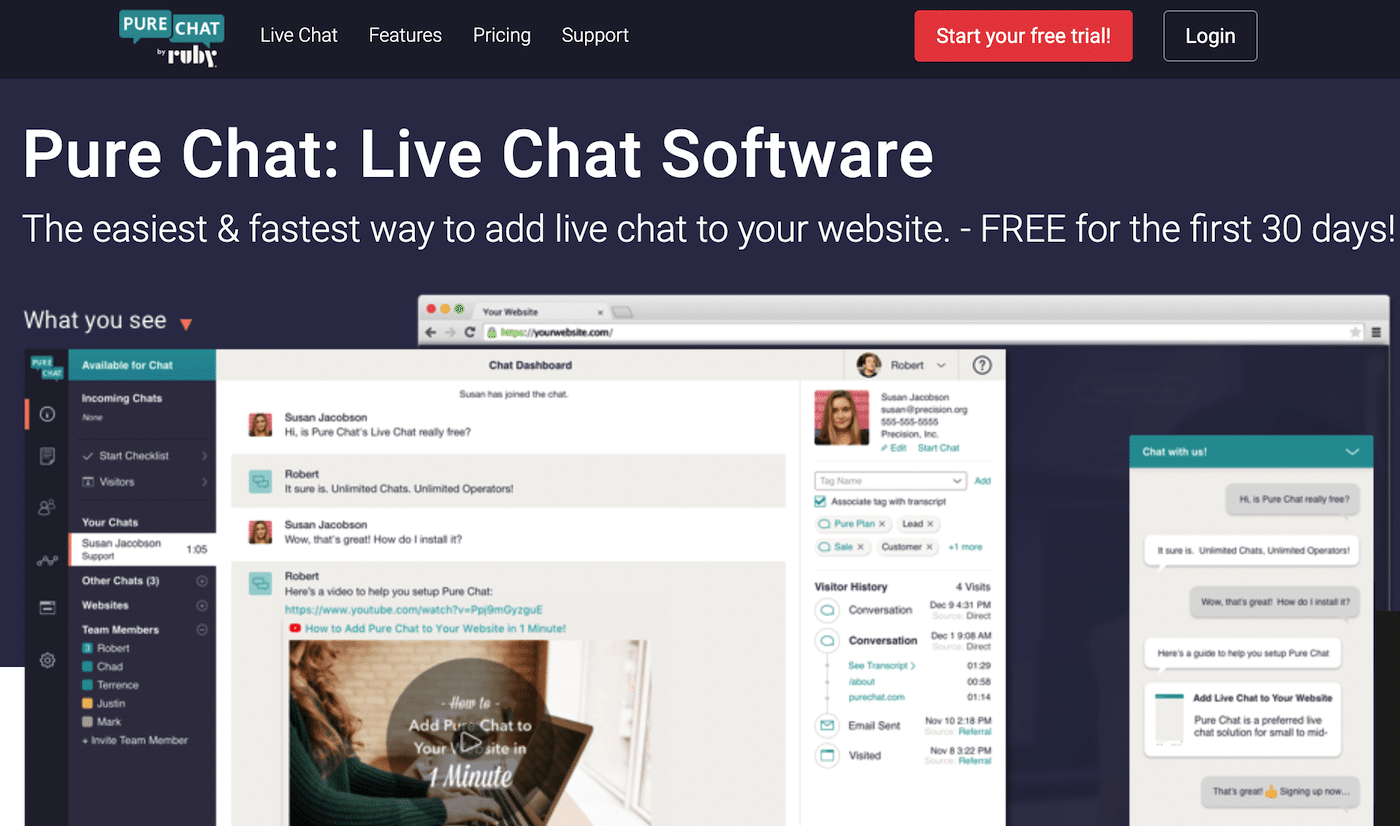 If you're in need of a feature-rich tool, Pure Chat is a live chat plugin that features chat widget customizations, transcript history, and more. The Pro option, which you can try out with a 30-day trial, gives you the ability to use real-time analytics and track your visitors as they browse your site.
Key Features:
Customizable widget functions on desktop and mobile devices
User-friendly and quick to install
Provision of contact history
Pricing: The developers offer a free tier, and a premium version starting at $49 per month.
6. Tawk.To Live Chat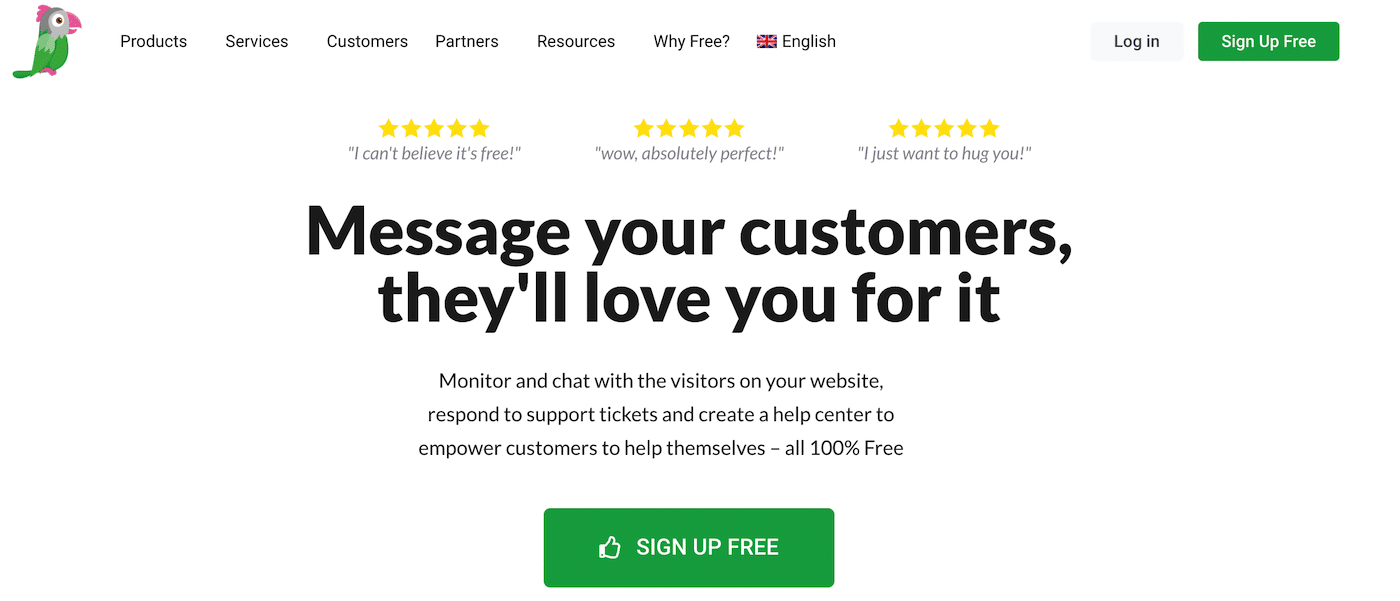 Next on our list, Tawk.To Live Chat is free and very easy to set up. You can gather insights into your site's visitors, and respond to questions directly using a modifiable chat box. This tool also lets you personalize your greeting messages and share promotions. Plus, you can pair Tawk.To Live Chat with our WordPress hosting to maximize your site's performance and your customers' UX.
Key Features:
Over 45 languages to choose from
Apps available for iOS and Android to chat on the go
Automated responses to FAQs through a Knowledge Base
Pricing: This plugin is free to use.
7. LiveChat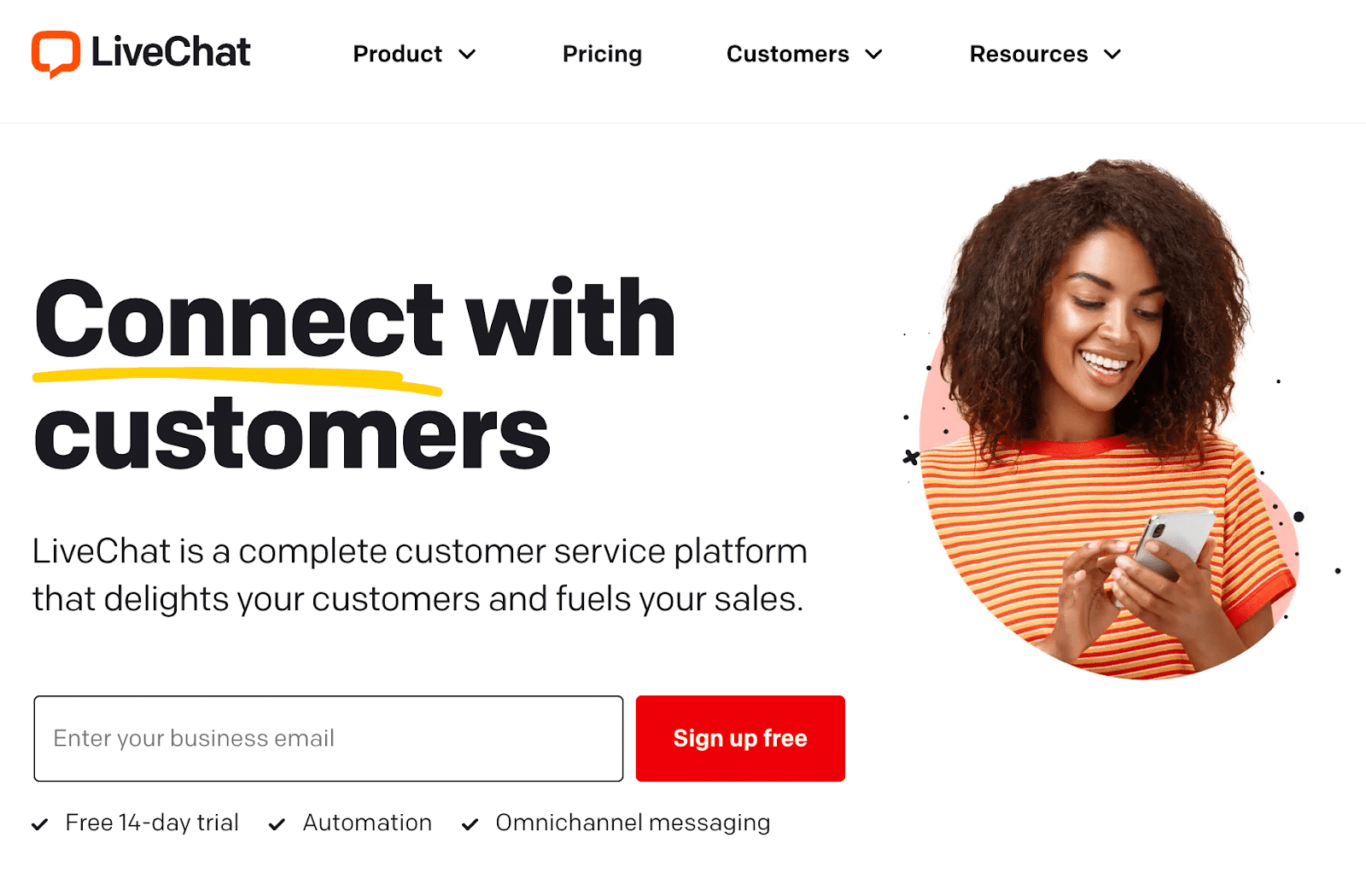 LiveChat is a tool that helps you connect with customers as soon as they enter your site. You can send customized messages based on visitor behavior. The message sneak-peek feature lets you see exactly what a user is typing, so you can have your response ready to go. It also has a one-click save option that lets you store responses to common questions, which helps you economize your time.
Key Features:
Chat tags that allow you to categorize specific issues your customers have
The ability to drag and drop files into your chat, such as screenshots and offers
An ask-for-email feature that keeps visitors engaged if you don't have time to respond right away
Pricing: LiveChat offers a free WordPress plugin, as well as premium plans starting at $50 per month.
8. JivoChat Live Chat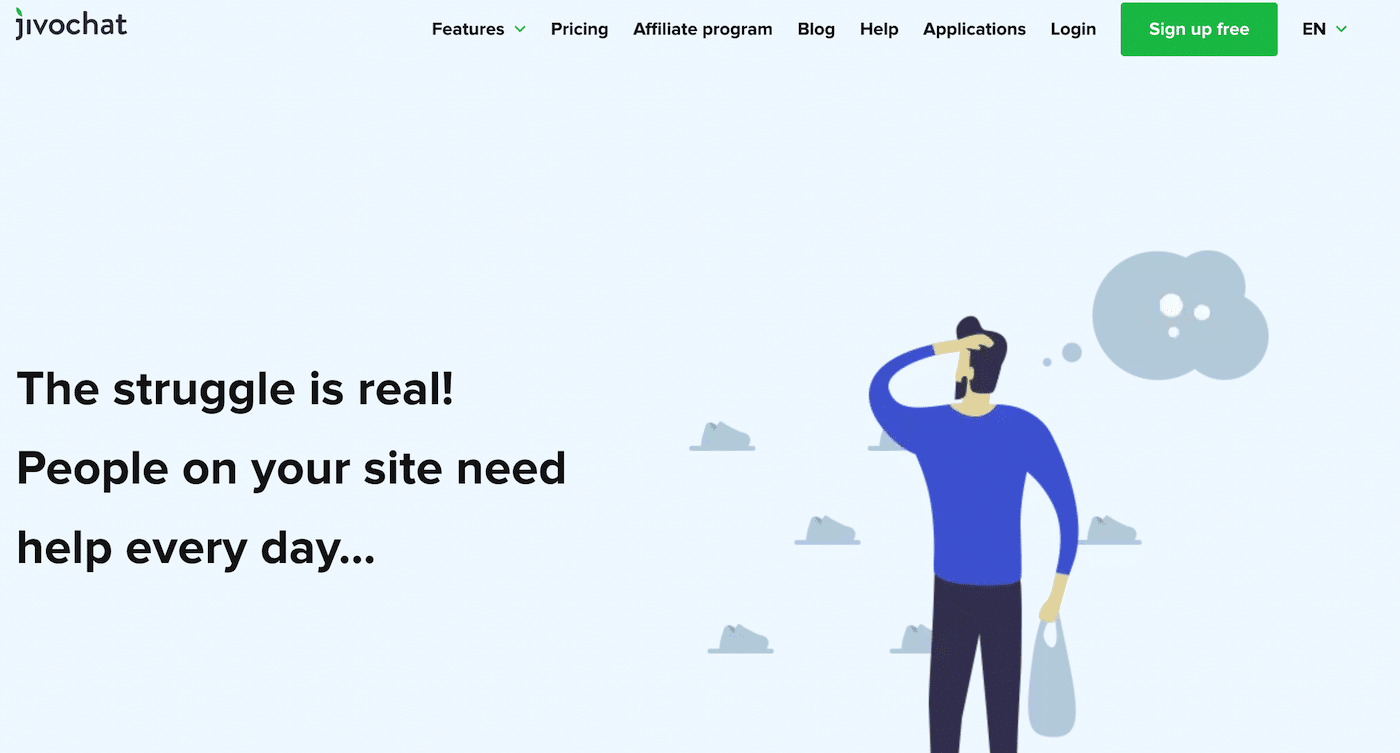 If you're looking to maximize your team's communication and efficiency, you may want to check out JivoChat Live Chat. It provides a dedicated widget for your website and is responsive on any mobile or desktop device. JivoChat lets you know your visitors' locations, sources, and languages. You can also organize chats with its color-coding system.
Key Features:
Ability to speak to multiple customers at the same time
Canned responses that let you send automated messages based on common questions
Optimized for mobile devices
Pricing: The Basic plan is free for your team's first five agents. After that, the Professional option starts at $29 per agent per month.
9. Smartsupp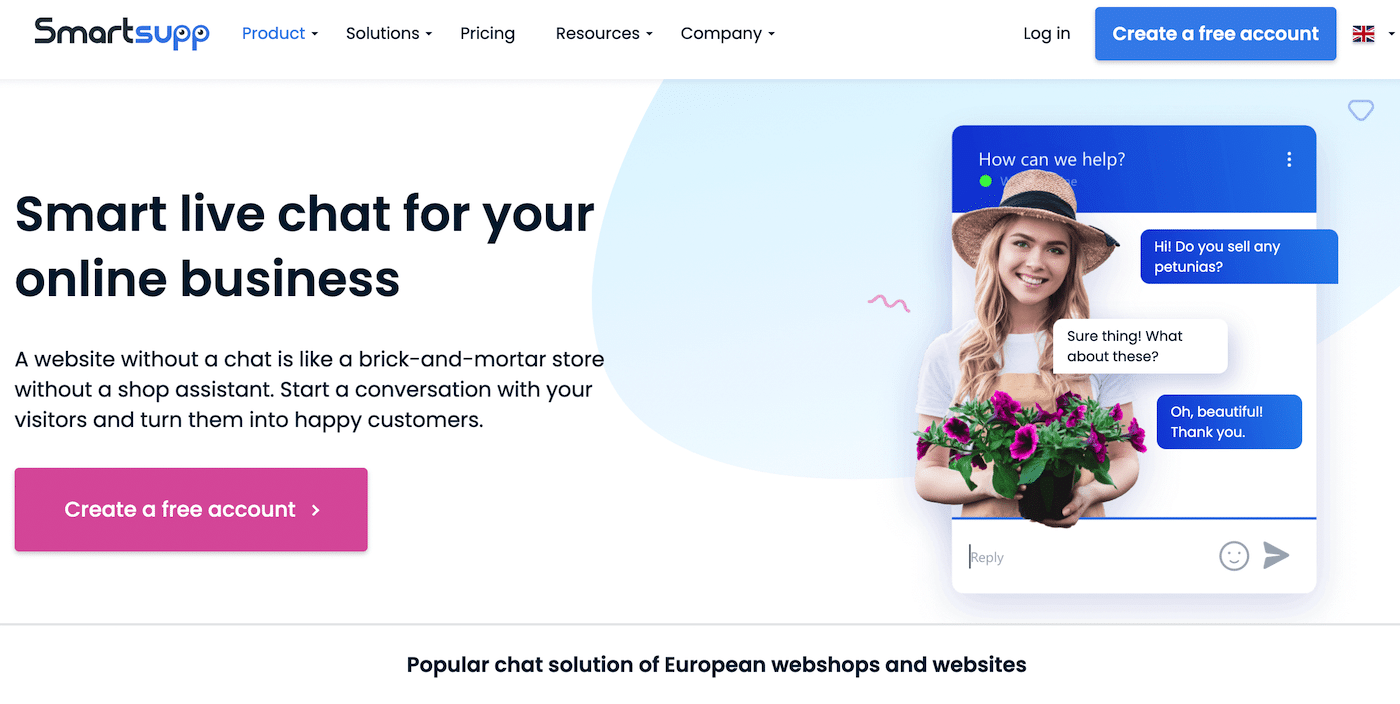 Smartsupp's goal is to help you make an instant connection with your site's visitors. The automated chatbot engages visitors directly by sending them messages as soon as they enter your site. The multi-channel feature is ideal for responding to emails and chats in one place. Smartsupp is particularly popular in Europe since it complies with General Data Protection Regulation (GDPR) regulations.
Key Features:
Video recordings that help you see where visitors are on your website
A mobile app that lets you answer customer questions on the go
A multi-language chatbot to serve clients from across the world
Pricing: The free option is ideal for freelancers and personal websites, while premium plans start at $22.50 per month.
10. Live Chat by Formilla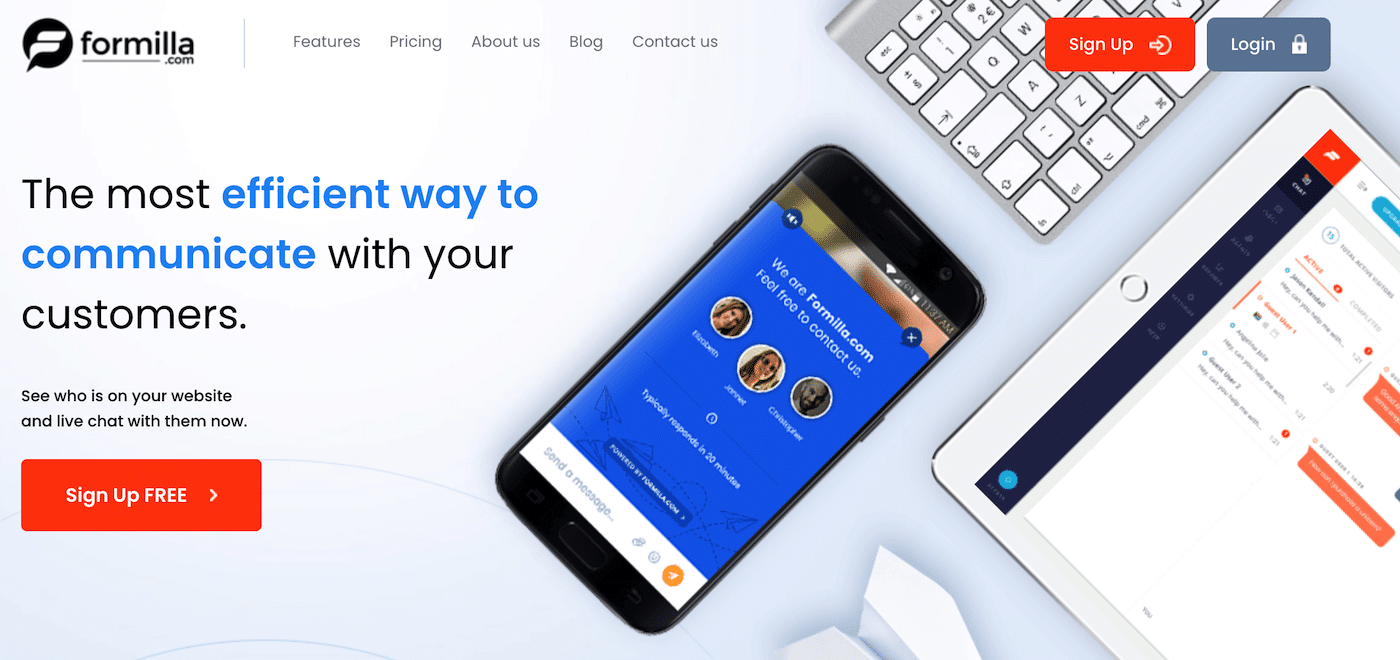 Last but not least, Live Chat by Formilla is designed to boost your conversion rates through email and in-app messaging. This plugin has desktop notification features that let you know when you've received a message and is compatible with Chrome, Firefox, and Safari.
It has both custom and AI chatbots. The chat transfer feature lets you move messages between team members, to provide customers with the most comprehensive response available.
Key Features:
Options to target visitors by country, language, and first time versus returning
Ability to customize your widget to match your site, including colors, banners, and themes
Real-time visitor monitoring
Pricing: The developers offer a free version, as well as premium tiers starting at $24.99 per month.
Take your customer communication to the next level with these messaging plugins 🚀Click to Tweet

Summary
Corresponding directly with your WordPress site's visitors – whether that means replying to their questions or helping them with issues – allows you to deepen your connection with potential customers or subscribers. A messaging plugin advances this process by humanizing your brand and improving UX, which in turn can help you gain conversions and allows your company to grow.
To recap, here are our top ten WordPress messaging plugins and where they shine:
Crisp is an all-in-one plugin that integrates customer support, sales, and marketing.
Tidio is easily installed and gives you a view of your visitors in real-time.
3CX Live Chat is a free messaging plugin that lets you customize your chat box widget and allows your customers to request phone calls.
Front End PM omits the dashboard and permits you and your users to chat on the front end of your website.
Pure Chat gives you the ability to watch visitors live as they browse your website.
Tawk.To Live Chat doesn't cost anything, and can be set up in minutes on your website.
LiveChat optimizes UX through its time-saving features. These include letting you see what visitors are typing and chat tags that organize topic categories.
JivoChat Live Chat lets you save answers to FAQs so you can respond quickly to your users' questions.
Smartsupp is ideal if you have customers or branches in Europe and elsewhere, due to its GDPR compliance and multiple language options.
Live Chat by Formilla has widget customization and lets you transfer user messages between agents.
Do you have any questions about how to choose the right messaging plugin for your website? Ask us in the comments section below!
---
Save time, costs and maximize site performance with:
Instant help from WordPress hosting experts, 24/7.
Cloudflare Enterprise integration.
Global audience reach with 34 data centers worldwide.
Optimization with our built-in Application Performance Monitoring.
All of that and much more, in one plan with no long-term contracts, assisted migrations, and a 30-day-money-back-guarantee. Check out our plans or talk to sales to find the plan that's right for you.