Every WordPress site needs a Search Engine Optimization (SEO) plugin. This is how you'll stand a chance of getting your pages to show up in search engine rankings. And when it comes to SEO plugins, Yoast SEO is by far one of the most popular options. However, WordPress SEO is unavoidably a complex topic.
Fortunately, to address that, Yoast SEO has plenty of built-in features to give you pinpoint control over your site's SEO. Plus, we're here to guide you through all the main sections to make SEO a little less daunting.
In this post, we'll share a beginner's guide to Yoast SEO, covering first-time tips and basic settings. Then, we'll move on to a more advanced Yoast SEO guide, including the use of meta-variables, schema settings, and more. Let's get started!
The Beginner's Guide To Yoast SEO
In this section, we'll cover what you need to know if you're new to Yoast SEO. You'll learn:
How to properly enter information in the configuration wizard
What the Yoast SEO meta box is and how it works
What you can do from the Yoast SEO dashboard
Then, in the next section, we'll get into some of the more advanced Yoast SEO settings.
Take a deep dive into how you can use Yoast to boost your WordPress site's SEO. 👍 #"SEO #WordPress"Click to Tweet
Using The Yoast SEO Configuration Wizard
After installing Yoast you can access the dashboard by clicking on the new Yoast SEO tab in your WordPress admin area.
If this is your first time using the plugin, you should see a big notice where you can click on Start first-time configuration:
By clicking the configuration wizard button, you can start configuring Yoast SEO on WordPress so that Google can better understand your content.
Below, we'll take you through the main sections in the configuration wizard.
Section 1: SEO Data Optimization
In the SEO Data Optimization area, you can use Yoast's indexables to immediately improve any technical issues on your site. It works similarly to the way Google analyzes your site. Although, if you have a lot of content, this can take a little while: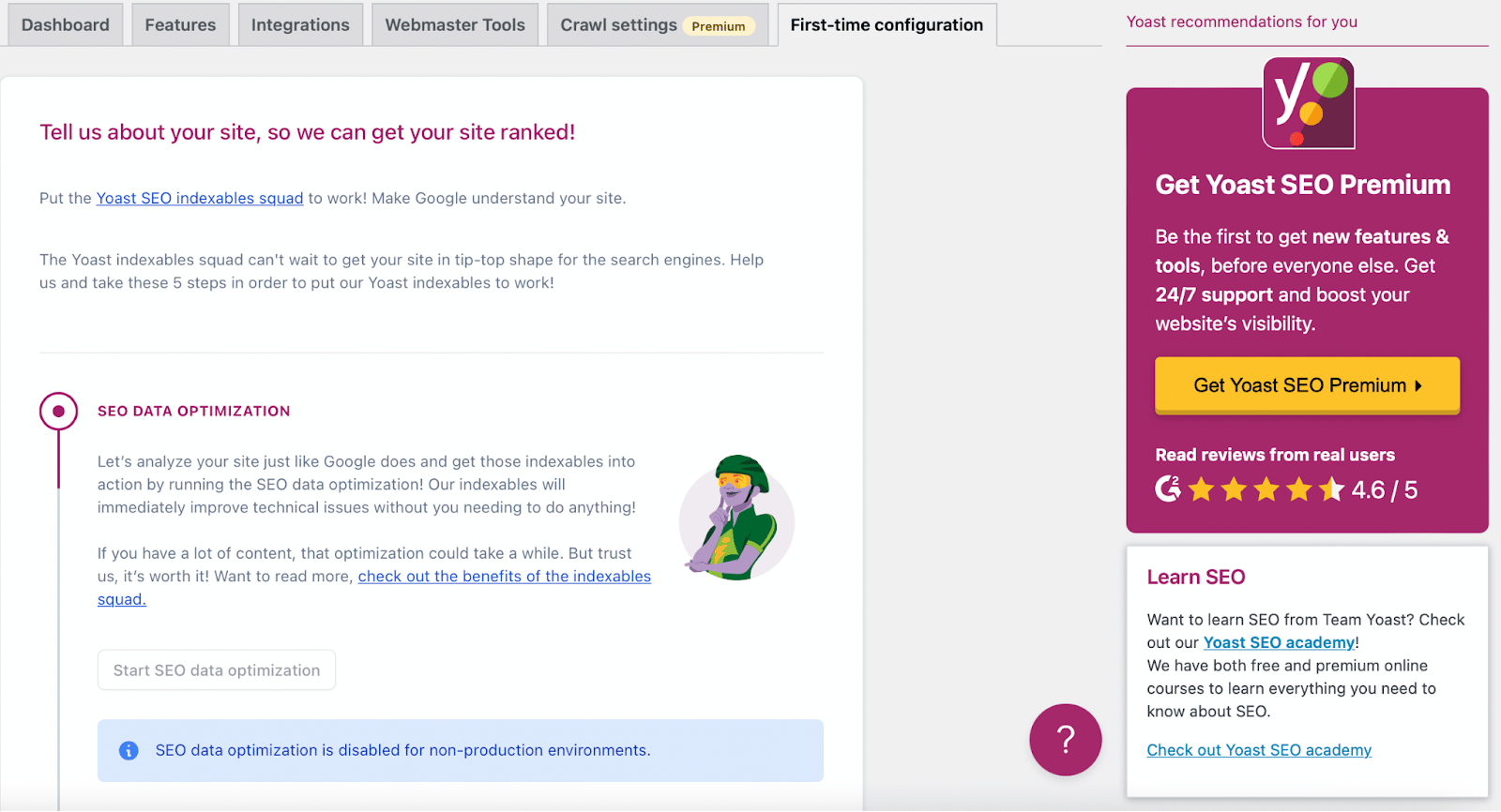 However, it's important to note that this setting is only available to production environments. Therefore, if your website is a non-production environment, you'll simply need to click on Continue.
Section 2: Site Representation
In the Site Representation section, choose the type of site that best matches yours. If your site represents a person, use the dropdown menu to specify the user. If your site represents an organization, enter the company name: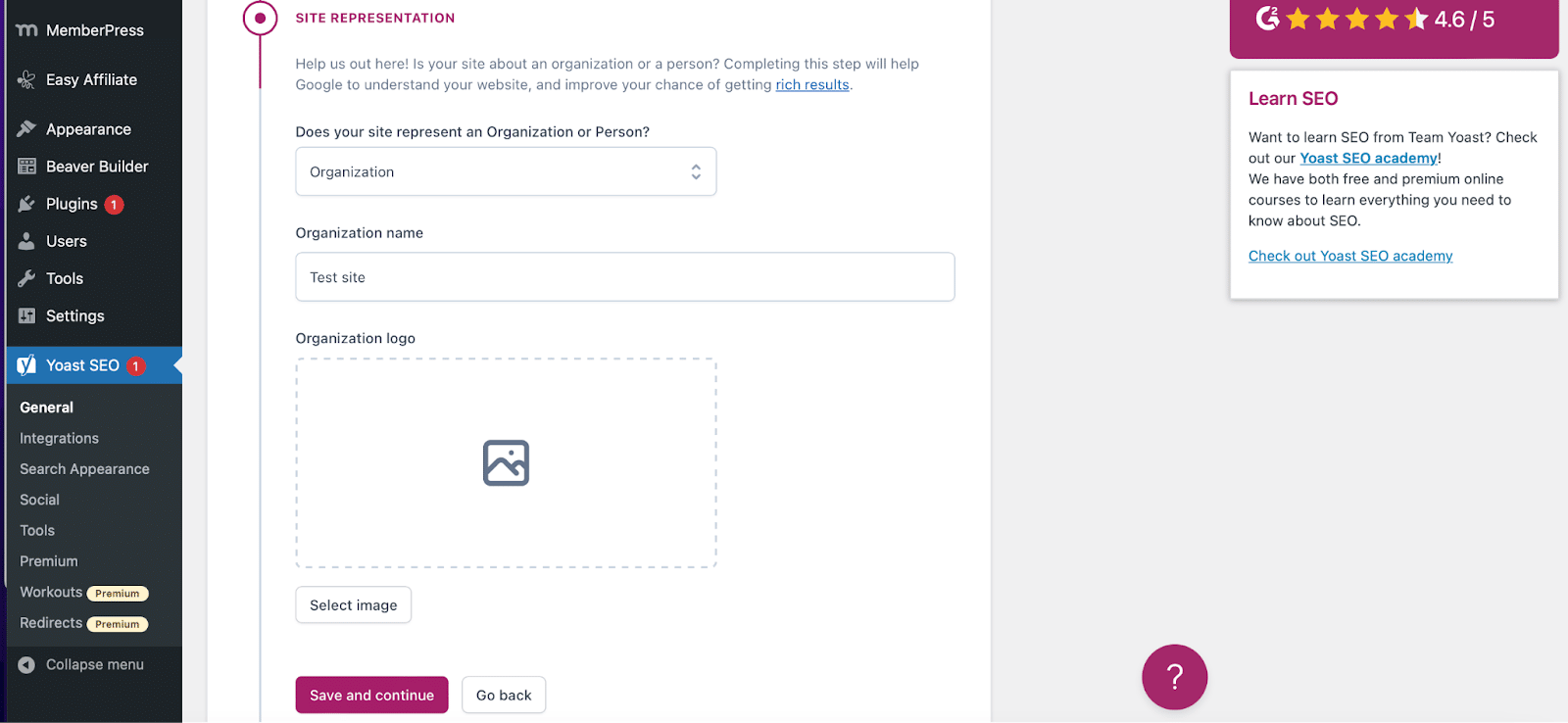 Further down, you'll be able to upload a company logo from your Media Library or computer. This will need to be 112x112px at a minimum. We'd also recommend opting for a square-shaped image.
Then, hit Save and continue to proceed.
Section 3: Social Profiles
Next, you can enter all of the social media profiles for your website. If you're creating a website for an organization, this will be your organization's social media profiles: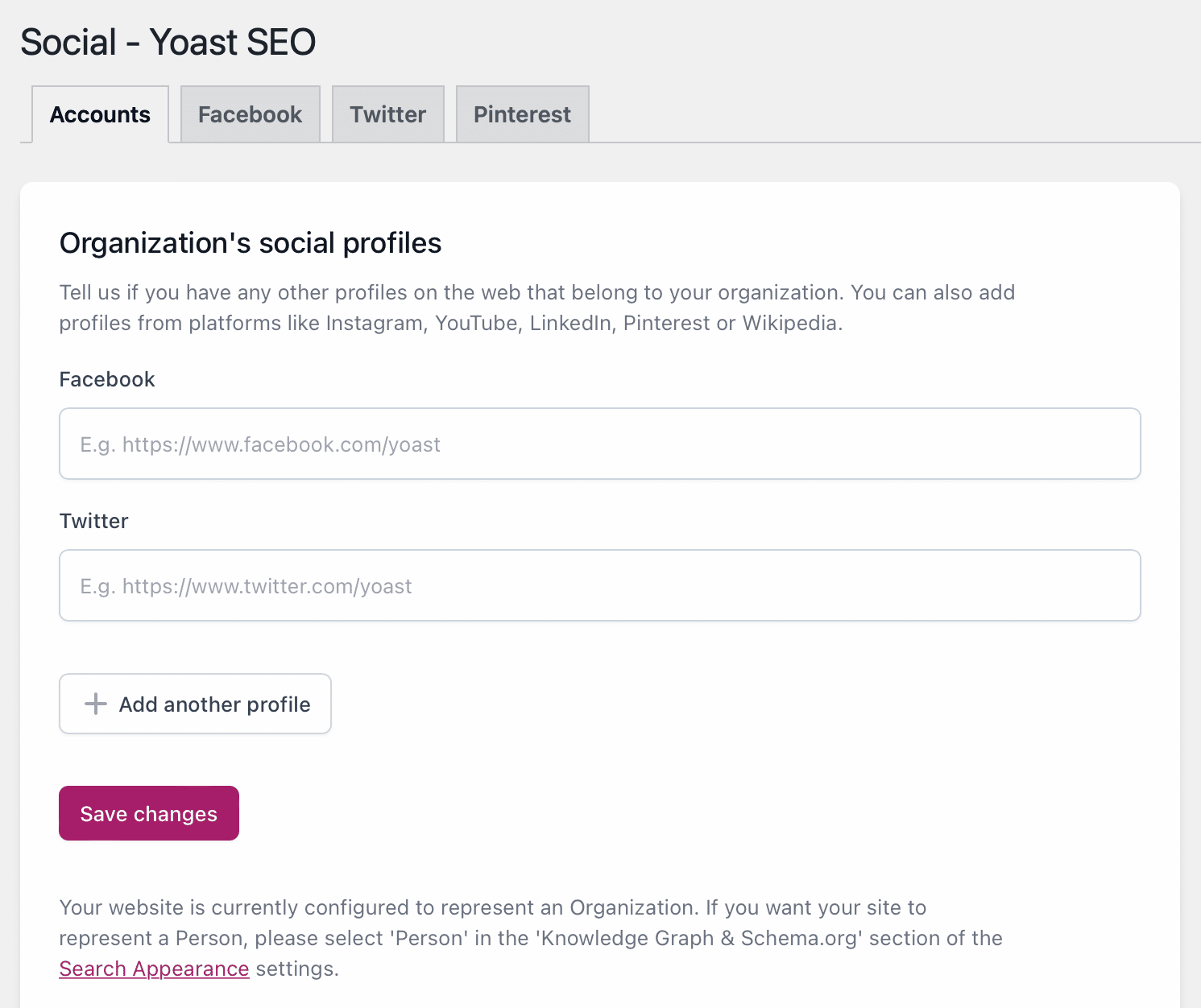 If you're a single user, you can edit the details, like the social profiles, the name, and the description of the user on your WordPress profile page.
You don't need to enter all of them – just choose the social media profiles that you actively want to promote.
Section 4: Personal Preferences
In the Personal Preferences section, you can determine whether you want Yoast SEO to track your website data: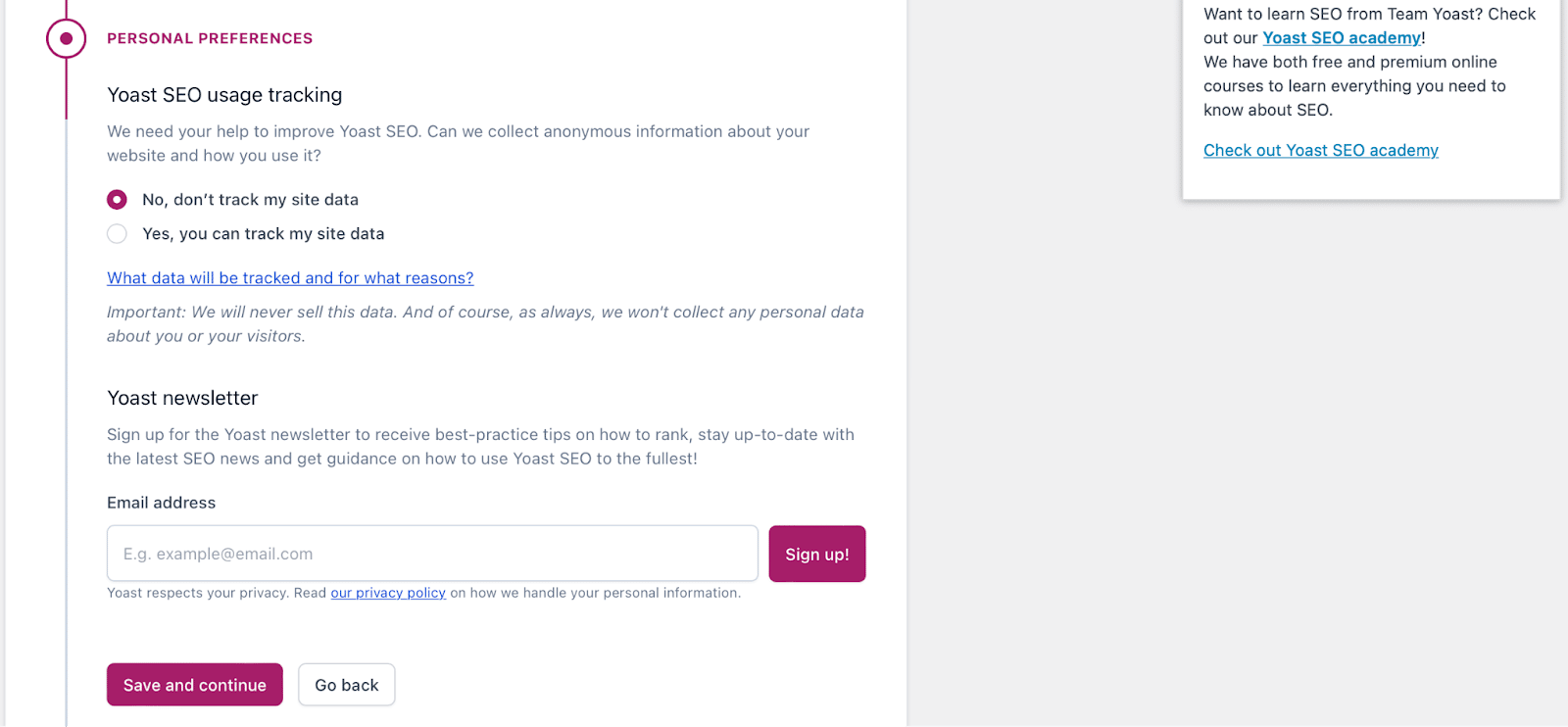 You can also subscribe to the Yoast newsletter if you want.
Section 5: Finish Configuration
Lastly, you'll need to finalize your Yoast SEO configuration. Here, you can also register for Yoast's free weekly webinar.

Congratulations – you just configured Yoast SEO! Now, you can follow the link to land right in your new Yoast dashboard.
Using The Yoast SEO Meta Box
On a day-to-day basis, the Yoast SEO meta box is where you'll interact with the plugin the most. The meta box helps you by:
Analyzing your content for its SEO quality and readability
Letting you configure settings for how your content functions in Google and social media
The meta box appears underneath the WordPress editor (its exact location depends on your other plugins and themes):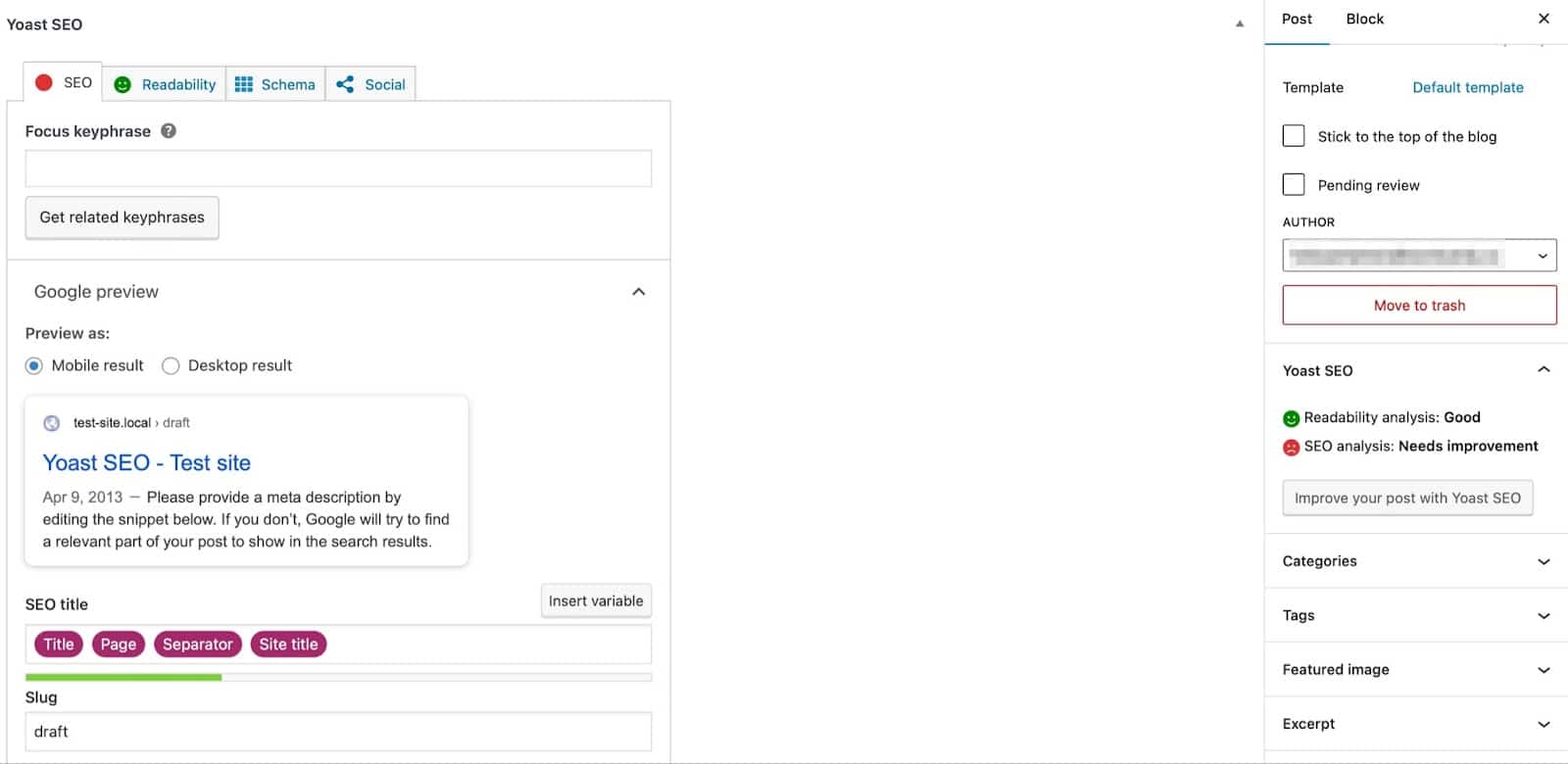 If you're using the new WordPress block editor, you can also find this section in the right-hand sidebar.
The SEO Tab
The SEO tab is mostly about how well-optimized your content is for search engines.
The first area in the content optimization tab is the Focus keyphrase. Essentially, you'll want to perform some basic keyword research to find a keyword that people are searching for.
Then, you plug that keyword into this box and Yoast SEO will analyze your content to see how well-optimized your post is for that specific keyword:

It's important to remember that the Yoast Focus keyphrase doesn't help you rank in Google. It's only advice to help you optimize your content.
Beneath that, you'll see the Google preview. You can edit the snippet manually by tweaking your SEO Title and Meta description. You'll see the live preview adjust as you edit the information. Plus, the green light indicates that your SEO title is an optimal length:

Here, you can also enter a unique slug for your post. This is the URL where visitors can find your content. For example, our slug for this post might look something like: kinsta.com/blog/yoast-seo.
This SEO information is important because it's what will show up in Google's organic search results:

You'll also be able to access an SEO analysis by expanding the SEO analysis section: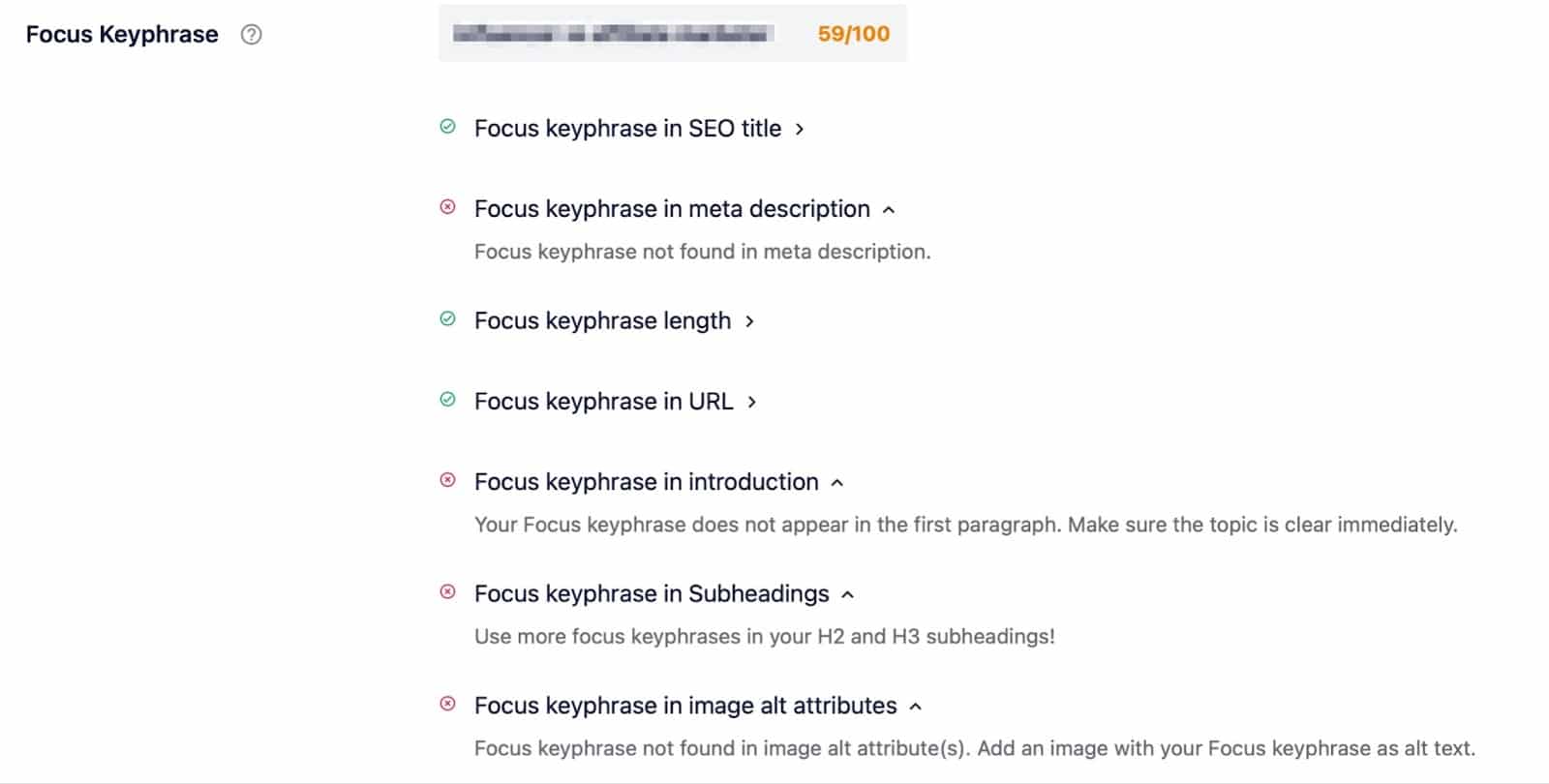 This will evaluate your content in SEO terms. For example, you'll get an overall score for your post. Additionally, you can determine areas for improvement judging by your image alt attributes, meta description, outbound links, keyword distribution, and more.
It's important to note that with Yoast Premium, you can obtain a premium SEO analysis, set additional keyphrases, and keep track of your SEO performance.
Beneath this section, you'll see a Cornerstone content tab. Here, you can choose whether or not to designate the post as cornerstone content.
Cornerstone content is the core of your website. It consists of the best, most important articles on your site; the pages or posts you want to rank highest in the search engines. Cornerstone articles are usually relatively long, informative articles, combining insights from different blog posts and covering everything that's important about a certain topic.

In other words, only choose your best content and posts/pages that you are going to keep up-to-date as cornerstone content. You can then easily sort by your cornerstone content in the posts and page lists.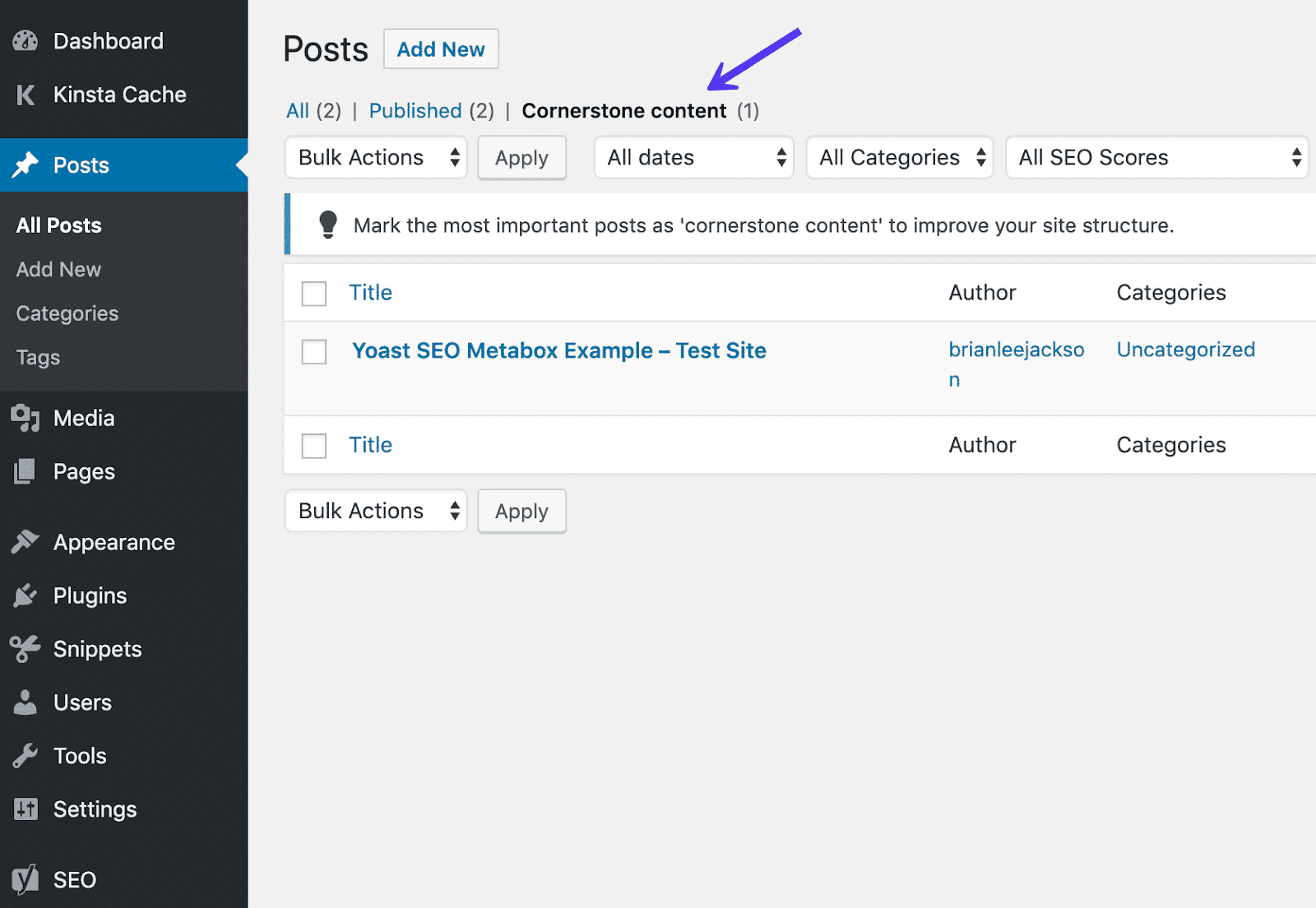 Most of the time, you won't ever look at the Advanced tab. But you can use it to:
Stop Google from indexing this specific piece of content. Or in other words, allow or disallow search engines from showing it in search results.
Prohibit search engines from following links on your pages.
Specify a canonical URL to avoid duplicate content.
Control the appearance of breadcrumbs on your pages.
If you're interested in changing any of the default settings, then open this tab: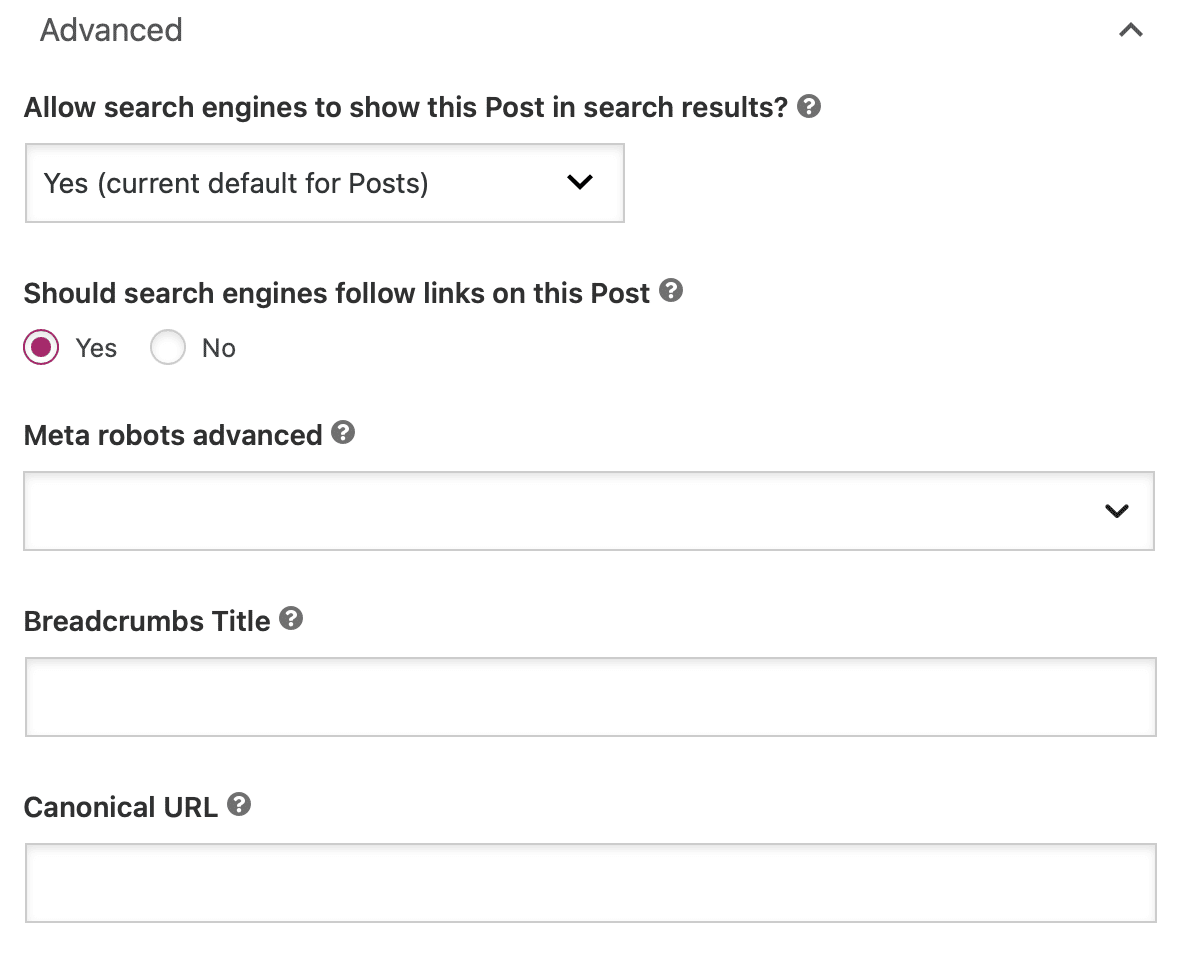 If you want to use the Breadcrumbs Title feature, you'll need to make sure that breadcrumbs are enabled with your active theme.
The Readability Tab
In the Readability analysis area, Yoast SEO tries to apply that same concept to humans. Essentially, it tries to gauge how readable your content will be to human visitors and then makes some suggestions for how to improve your content.
These suggestions aren't perfect – so don't feel like you need to get a top score. But they are a good guide: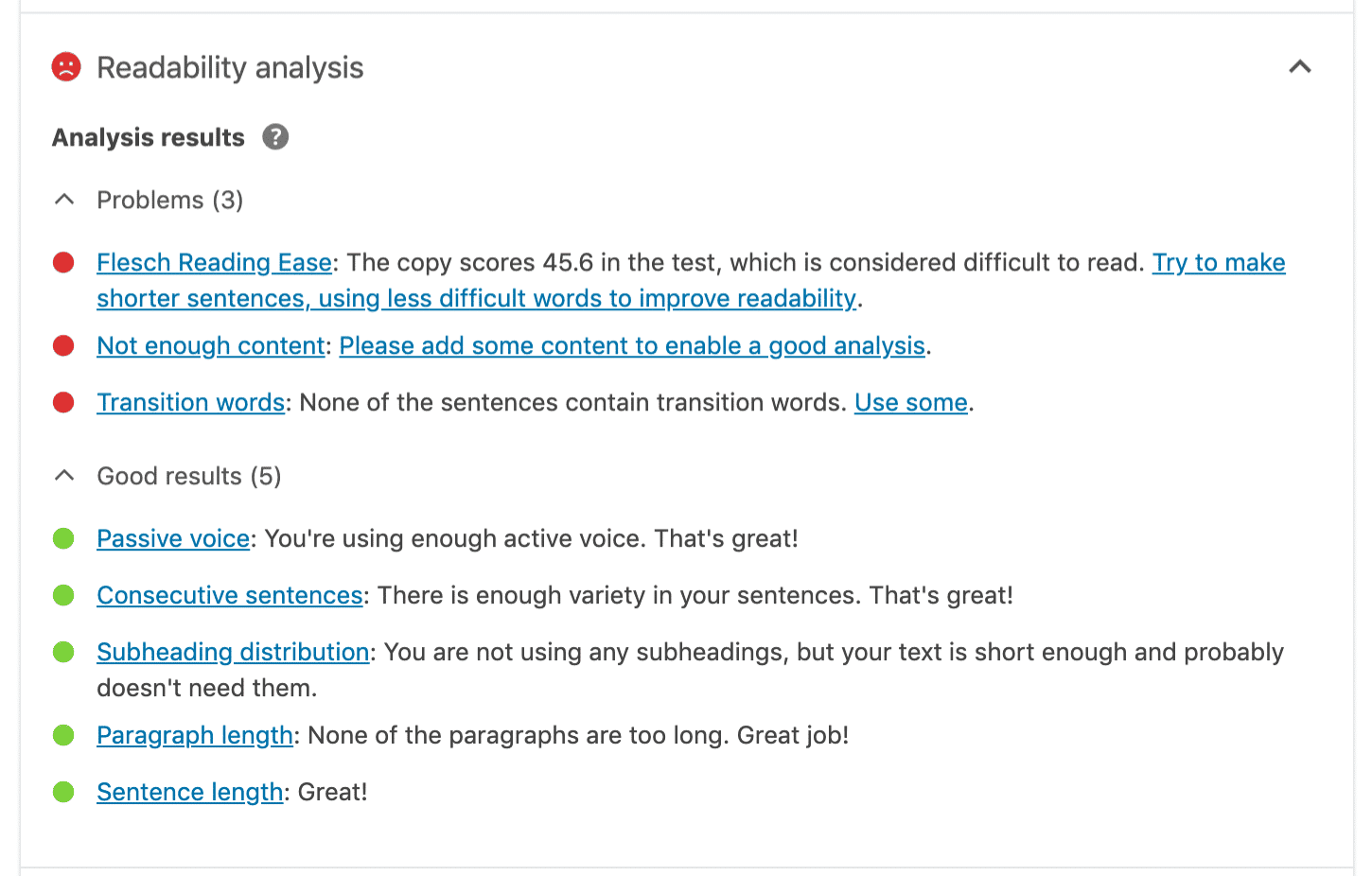 As you can see, Yoast (and search engines) prefer content that uses active voice, breaks chunks of text up with subheadings and keeps paragraphs and sentences short.
You'll also notice that while you work on your post/page, you can see a green, orange, or red light at the top of your screen:

This gives you a quick view of your readability score and your SEO analysis. This is especially convenient because it updates in real time.
The Social Tab
In the Social tab, you can manually configure how your content will look when it's shared on Facebook or Twitter: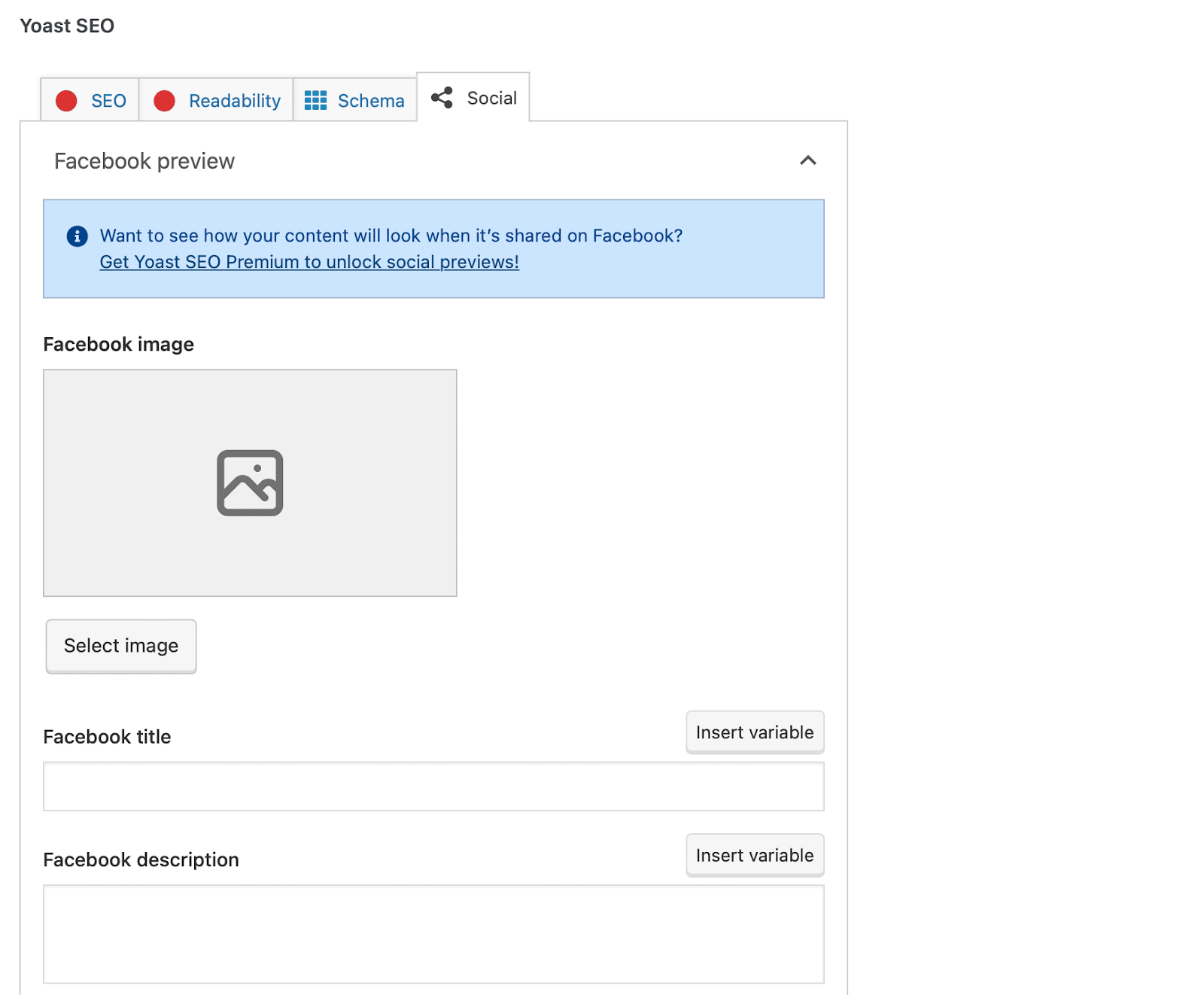 This is the information that a social network automatically generates when a URL is shared: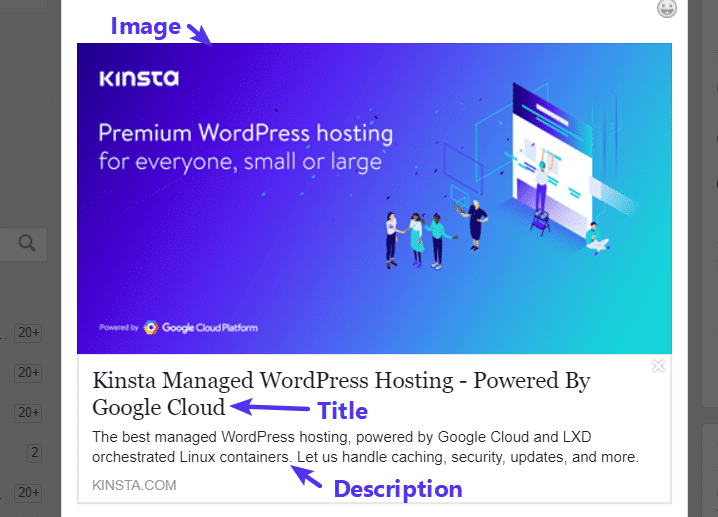 Most of the time, you don't need to manually configure this information for each post because Yoast will automatically generate it based on:
Your SEO title
Your content's featured image
But if you want to override those defaults, this is where you do it.
However, keep in mind that you will need Yoast Premium to be able to unlock social previews of your content.
The Schema Tab
The Schema tab is a new addition to Yoast SEO and is designed to help search engines better comprehend your content.
For instance, you can tell search engines specifically what type of page you've created such as a default post, an About page, a Checkout page, and more: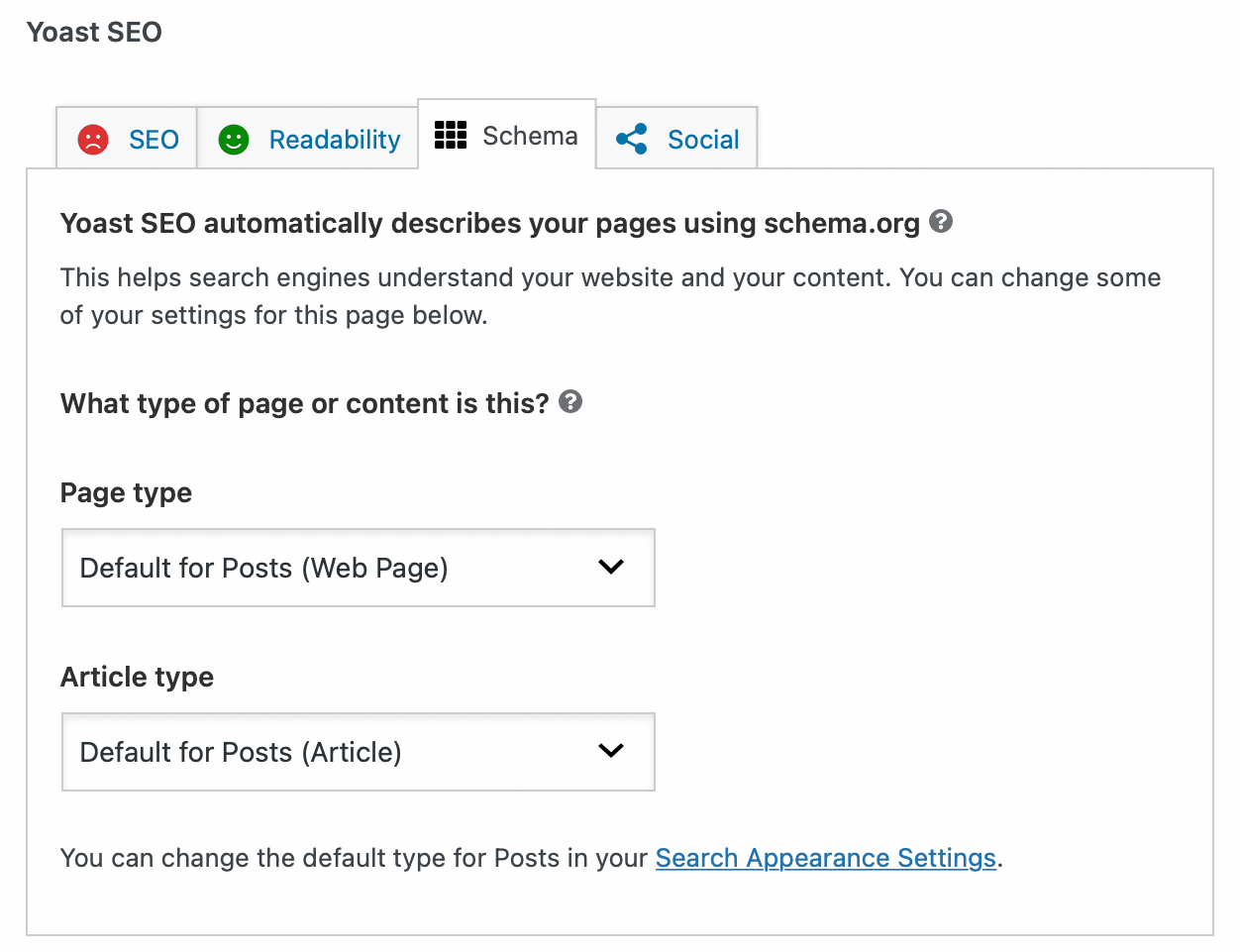 Better yet, you can even select an Article type using the dropdown menu. This allows you to communicate whether your post is a Blog post, a Report, a News article, or something else.
Exploring The Yoast SEO Dashboard
Now that you have Yoast SEO configured and understand the meta box, let's take a look at the dashboard.
On the main page of the Dashboard, you'll be alerted about any potential SEO issues on your site:

Yoast will provide instructions on how to fix these issues. Or, you can always dismiss the notification if you don't want to address them.
Features Tab
The Features tab is a bit juicer than the previous tab. In this area, you can enable or disable specific features of Yoast SEO.
For example, if you don't find the Readability analysis in the Yoast SEO meta box helpful, you can turn it off here: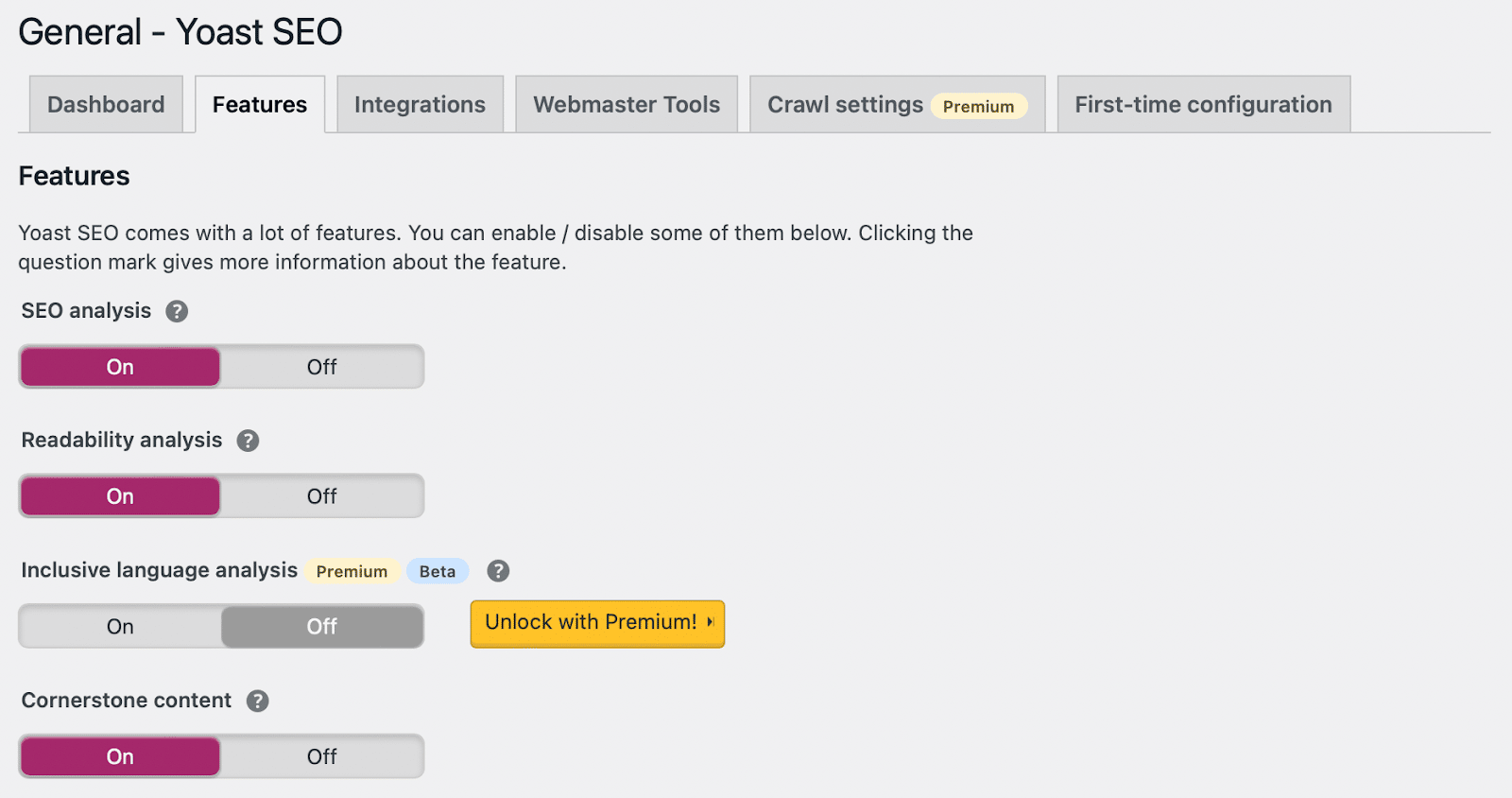 This is also where you can enable/disable security for authors. The advanced section of the Yoast SEO meta box allows a user to remove posts from the search results or change the canonical.
These are things you might not want any author to do. That's why, by default, only editors and administrators can do this. Setting the slider to "Off" allows all users to change these settings.
Looking for your XML sitemaps? Yoast SEO can help you automatically generate an XML sitemap that you can submit to search engines.
Integrations Tab
If you visit the Yoast Integrations tab, you'll be redirected to a separate integrations page: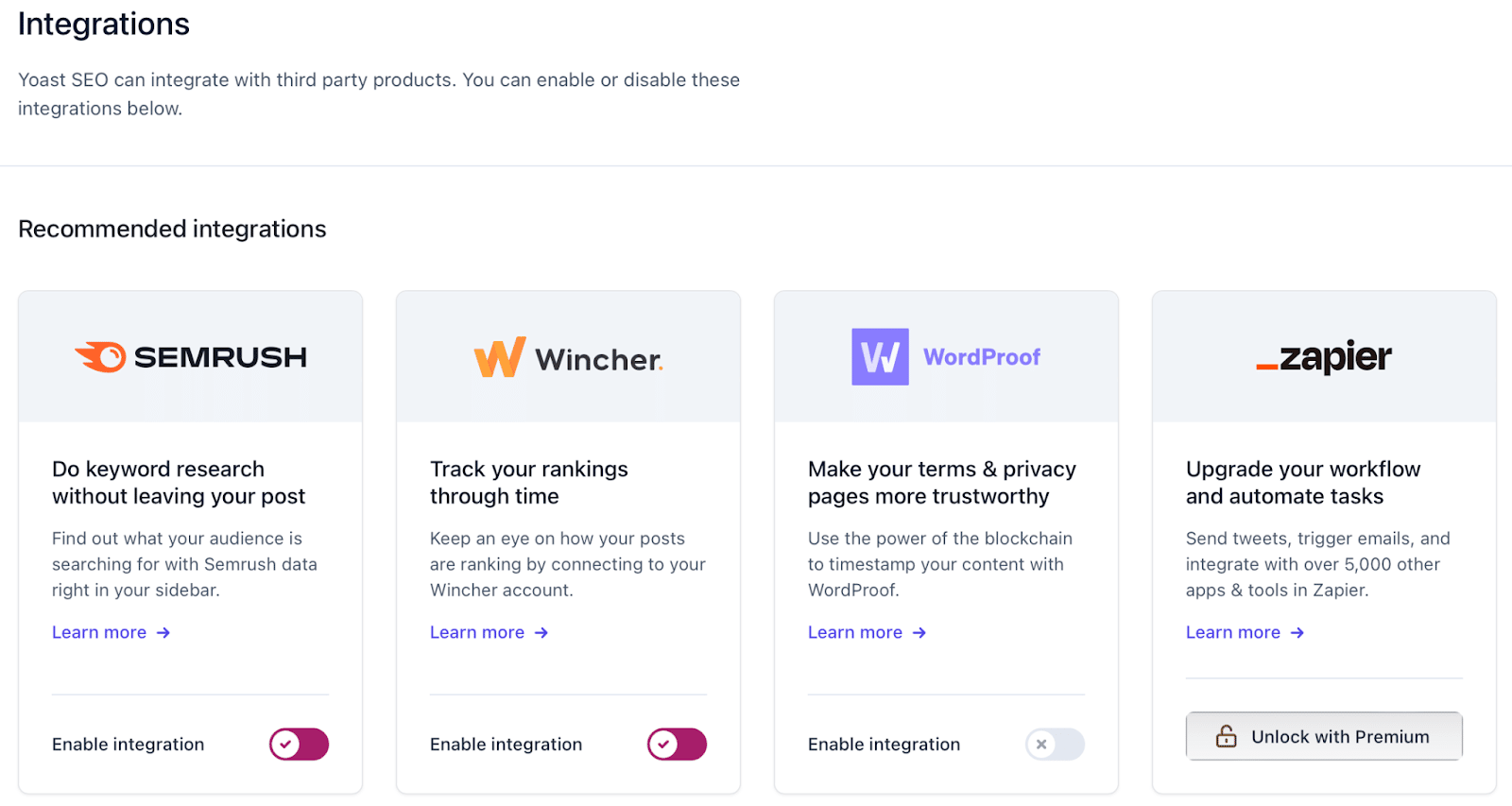 Some of these integrations are only available with Yoast Premium, such as Zapier and WooCommerce. However, those that are accessible like SEMrush and Jetpack, can be enabled using the slider.
Webmaster Tools Tab
In this tab, Yoast SEO can help you verify your site with various search engine webmaster tools: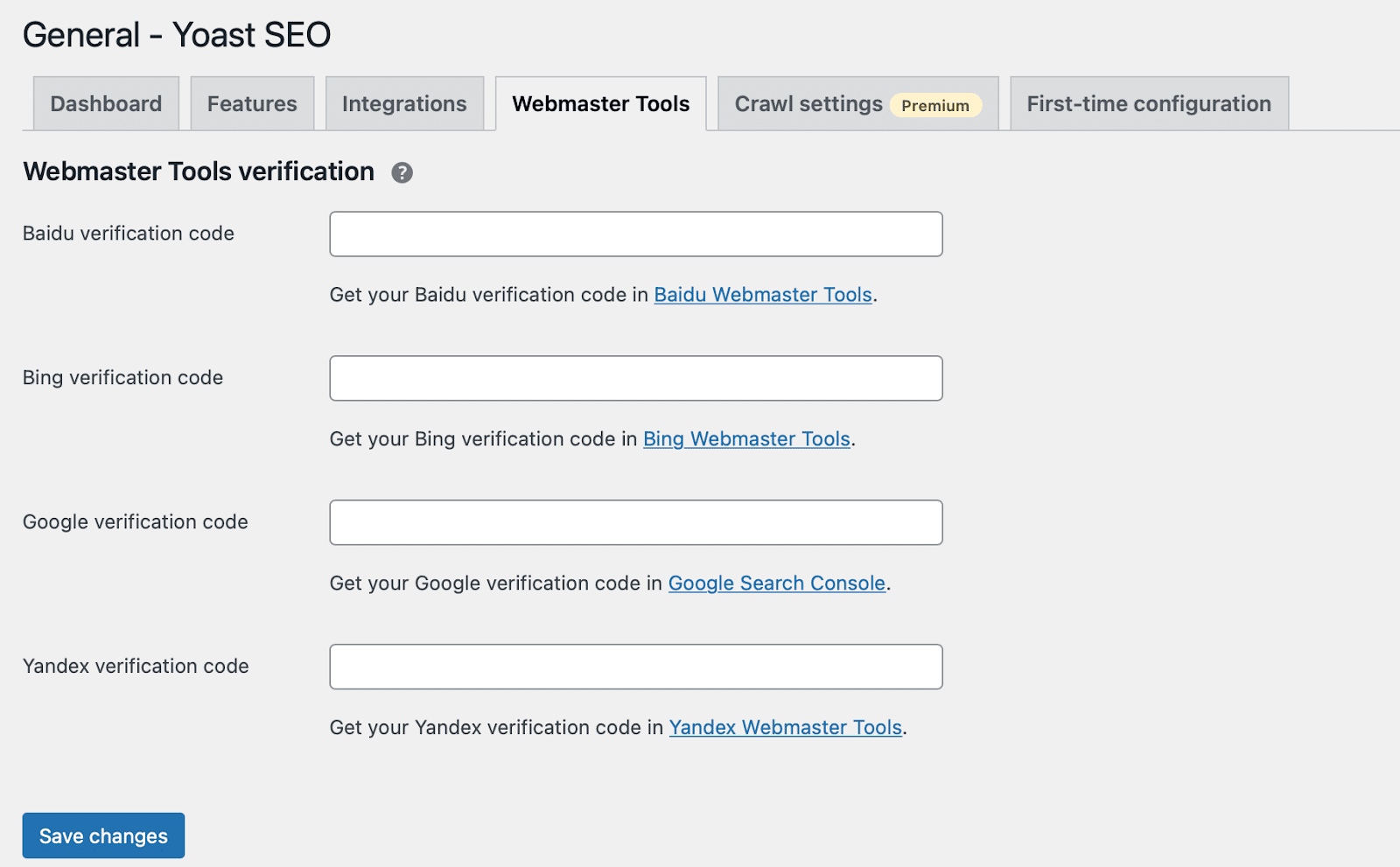 This current list includes Baidu, Bing, Google, and Yandex.
Next to your Webmaster Tools, you'll see a Crawl Settings tab. This is only available with Yoast Premium and enables you to make your site's crawling more economical. For example, you can remove rest API links, generator tags, post comment feeds, and more.
Lastly, you can switch over to the First-time configuration tab to revisit the configuration wizard: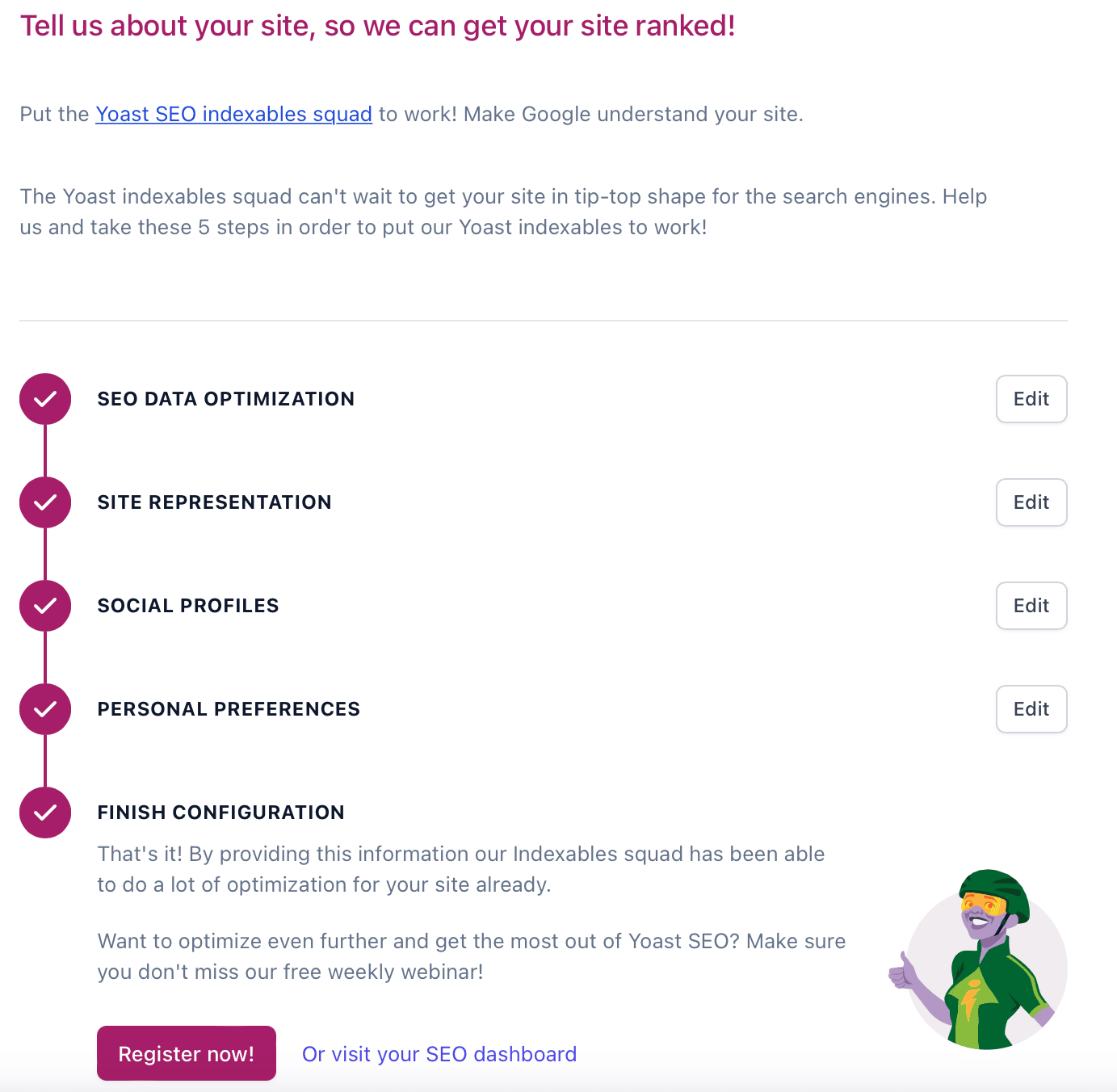 Here, you can go back into your settings to update your personal preferences, edit your site representation, and begin your site's SEO data optimization.
The More Advanced Guide To Yoast SEO
Congrats! At this point, you should have a pretty solid understanding of how to use Yoast SEO's core settings and features.
However, while we've explored the Yoast General section and the Integrations section, you can see in your Yoast sidebar that there are other sections of Yoast hidden away:

We'll take you through the remaining Yoast SEO settings in the next section.
Search Appearance Options
Need to edit the knowledge graph & schema.org data? Perhaps you didn't use the configuration wizard to do this. Not to worry since you can access this under the Search Appearance area.
Click on the General tab to edit your organization and/or person data: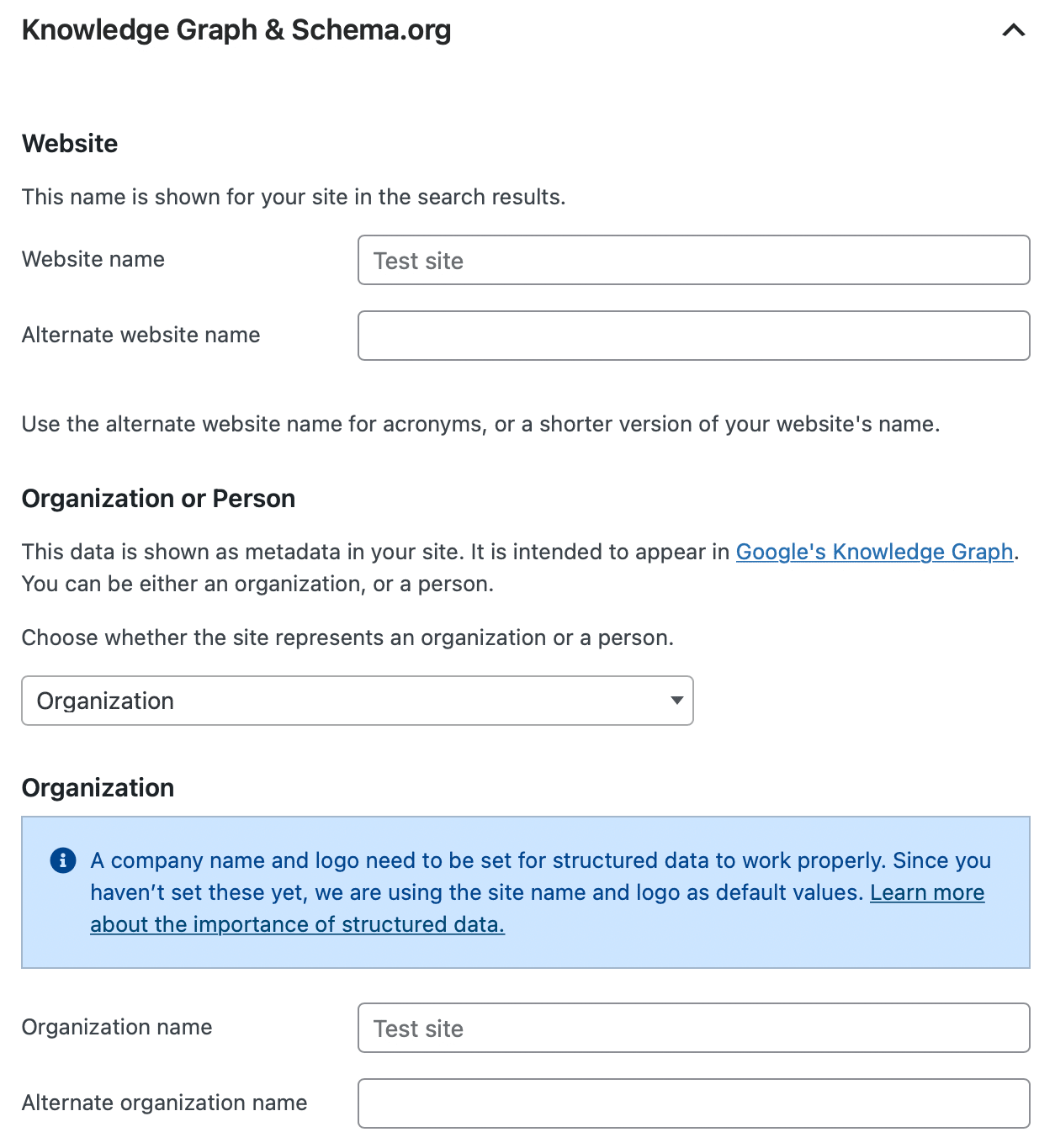 As of 2019, Yoast SEO version 11+ supports more structured data than ever before. It's added as JSON-LD to your site's code and supports Organization, Person, WebSite, WebPage, and article schema.
You can test your WordPress site using the Google Structured Data Testing Tool: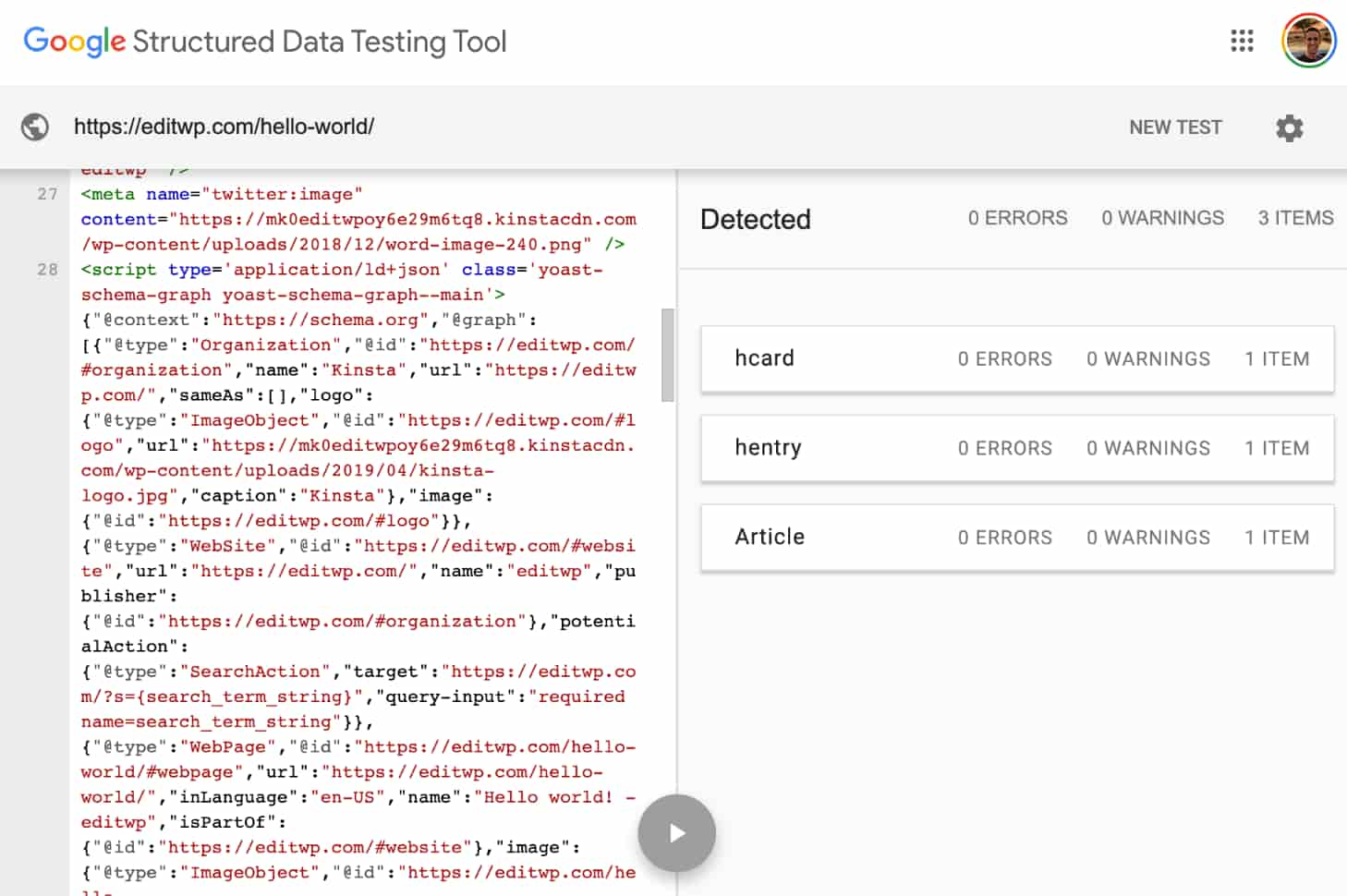 Search Appearance also provides some awesome ways to automate a lot of your on-page SEO.
Under Content Types, Yoast SEO lets you set templates for the SEO titles and meta descriptions for all of your:
Posts
Pages
Memberships
Quizzes
Courses
Lessons
Products
Taxonomies
Custom taxonomies
Archive pages
You can do this by expanding the appropriate section. For instance, this is what the Post section looks like: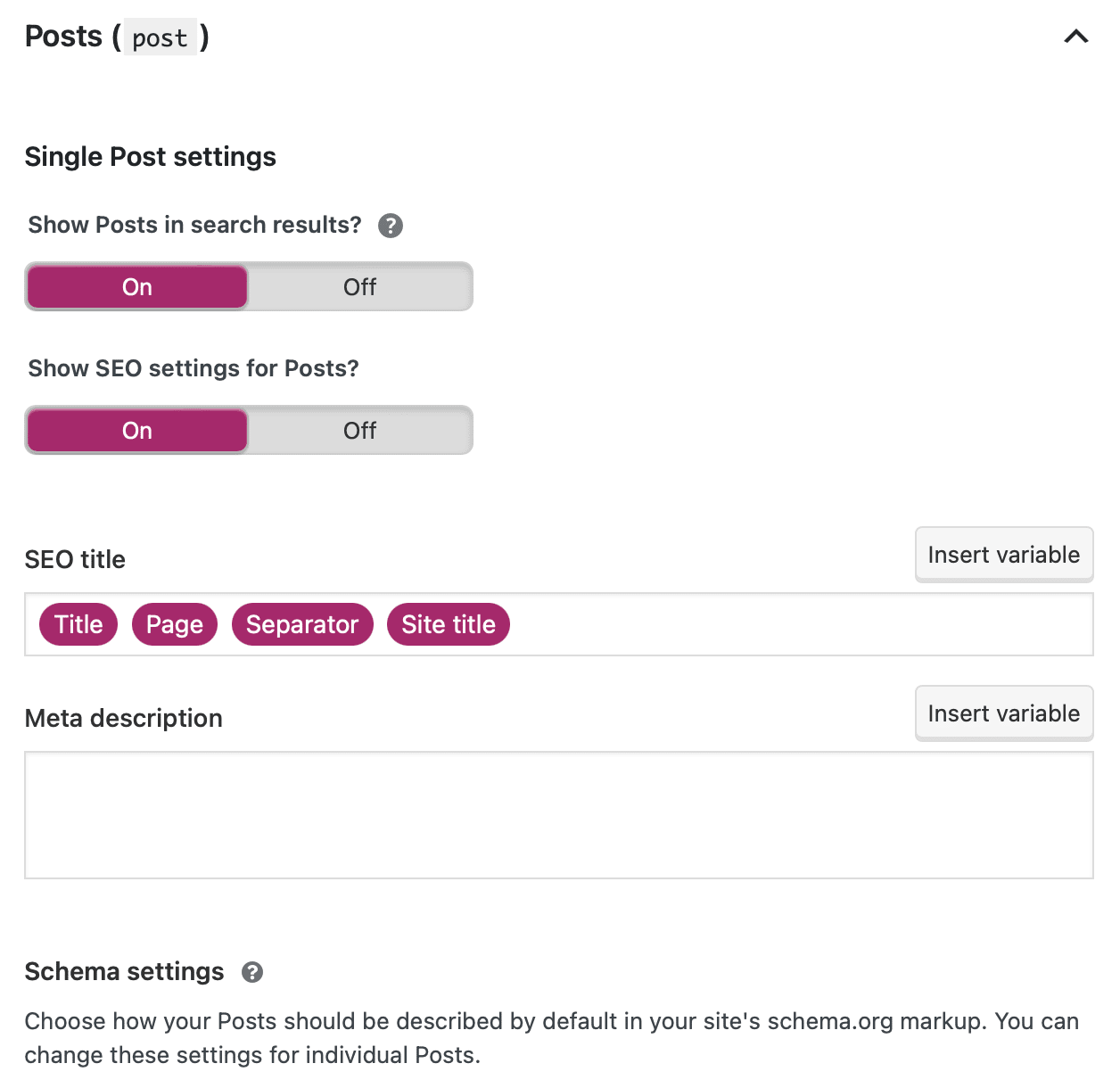 What makes this so powerful is that you can use a wide range of variables to dynamically insert information contained in custom fields.
Simply click on Insert variable to access some of the most common variables:

Within this area, you can also control noindex tags for specific types of content. If you make something noindex, Google won't index that type of content in the search results. This is powerful so use it carefully. Only change the default settings if you know what you're doing and the implications.
Meanwhile, in Content Types, you can determine whether or not the Yoast SEO meta box should appear for specific types of content.
Taxonomies Tab
If you shuffle over to the Taxonomies tab, you can do some cool things to clean up your site's permalinks: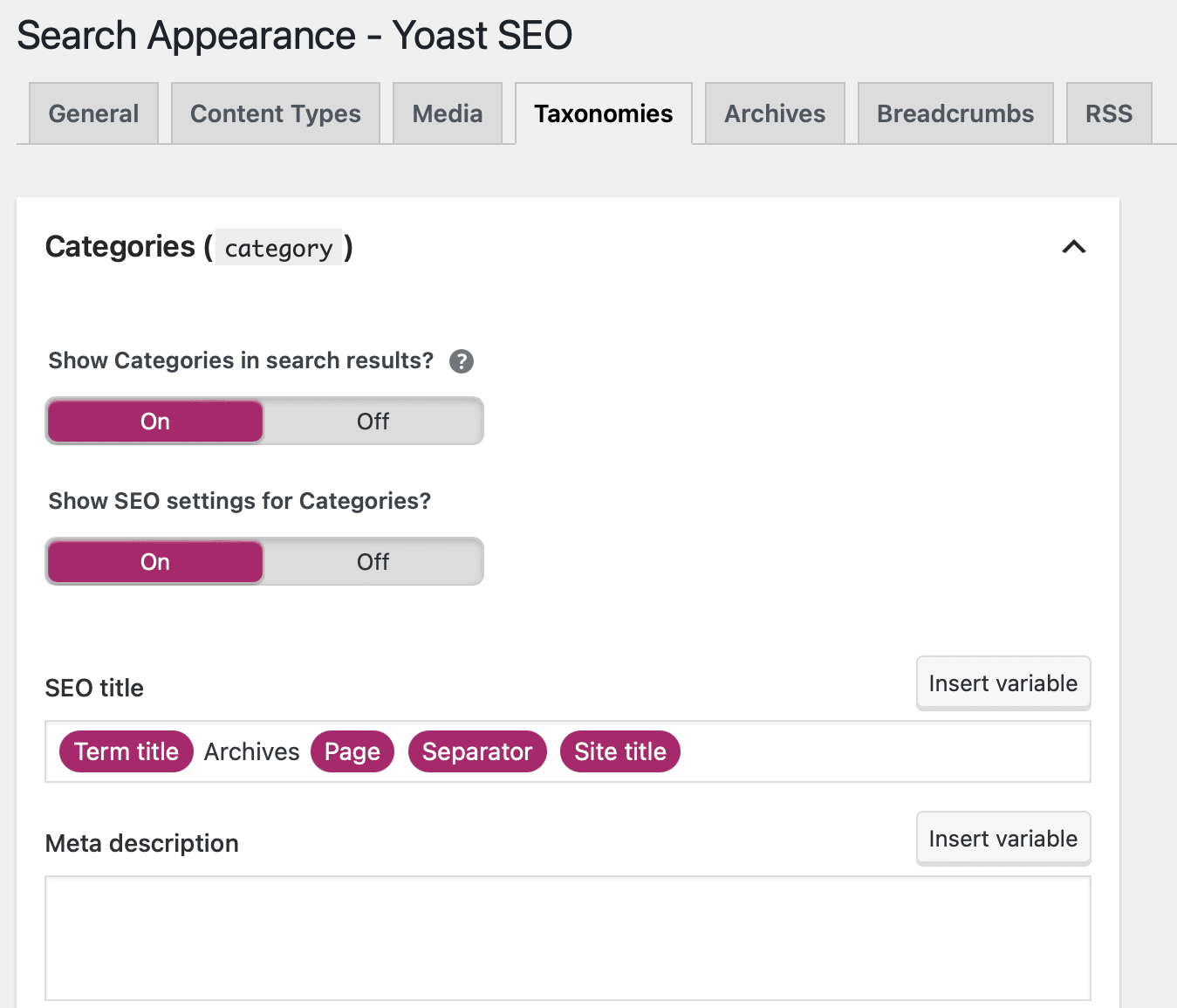 One of the most useful features is the option to remove the category slug from your URLs.
Archives Tab
The Archives tab lets you disable author archives in the search results. Plus, you can show archives for authors without posts in search engines and edit the way your author archives display: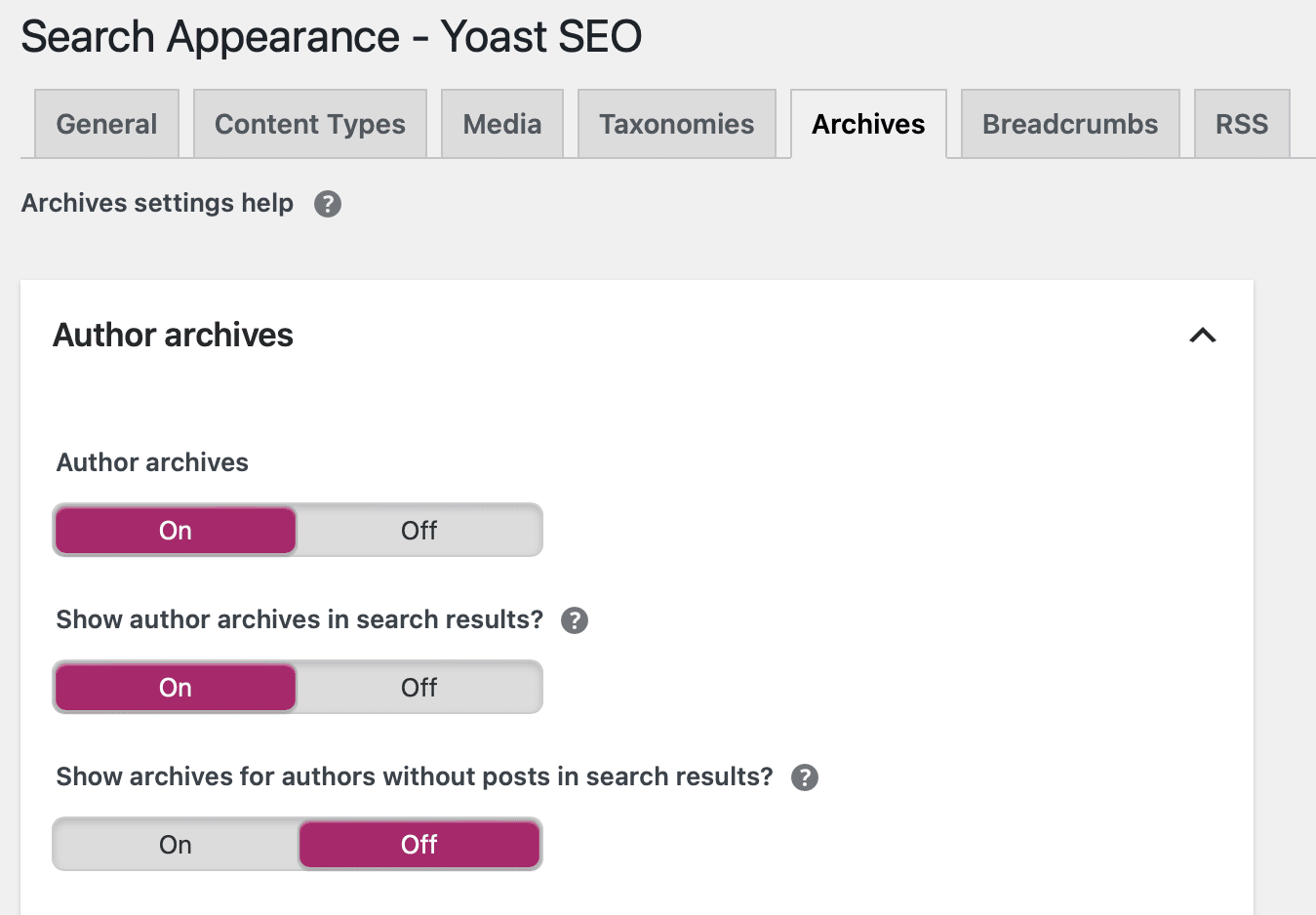 If you scroll further down, you can control whether or not to show a blog post's published date in the Google search results:

If you publish evergreen content, you should leave this turned off. But if you publish news or other time-specific content, it's a good option.
Breadcrumbs Tab
Breadcrumbs are a navigational feature that look like this:

They're generally regarded as a positive for helping users navigate your site.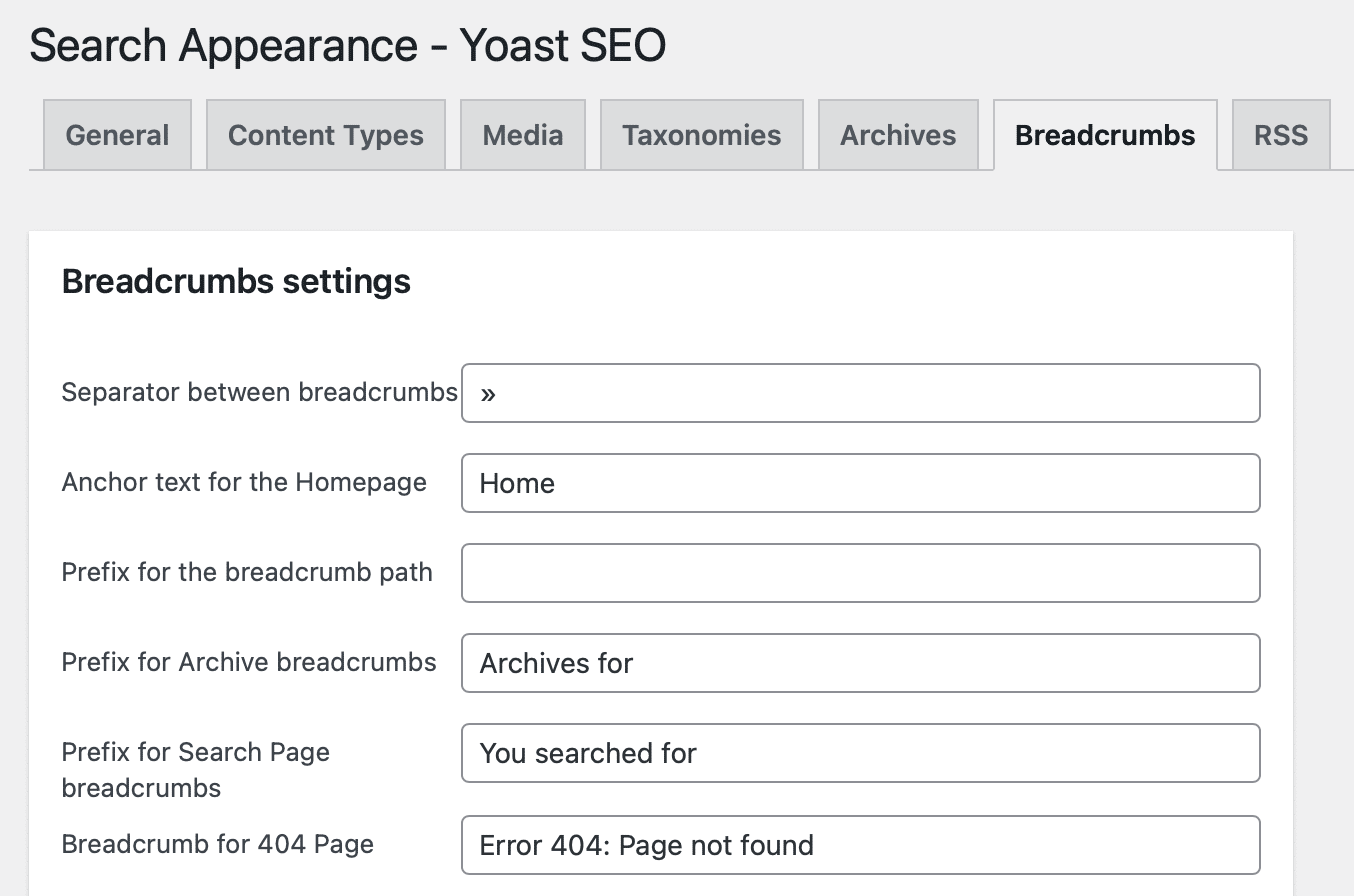 In the Breadcrumbs tab, you can enable them via Yoast SEO and configure how they display on your pages:
If you scroll to the bottom of this section, you can enable breadcrumbs for your theme. Although, this won't apply to those that are inserted through a widget or a shortcode:

Other times, you may need to add a small code snippet to your theme in order to get the breadcrumb feature working properly. You can refer directly to Yoast for more information about SEO breadcrumbs.
RSS Tab
Finally, the RSS tab lets you insert extra content before or after your post in your RSS feed. You can also use some variables to dynamically insert information, such as a link to your blog to ensure proper citation: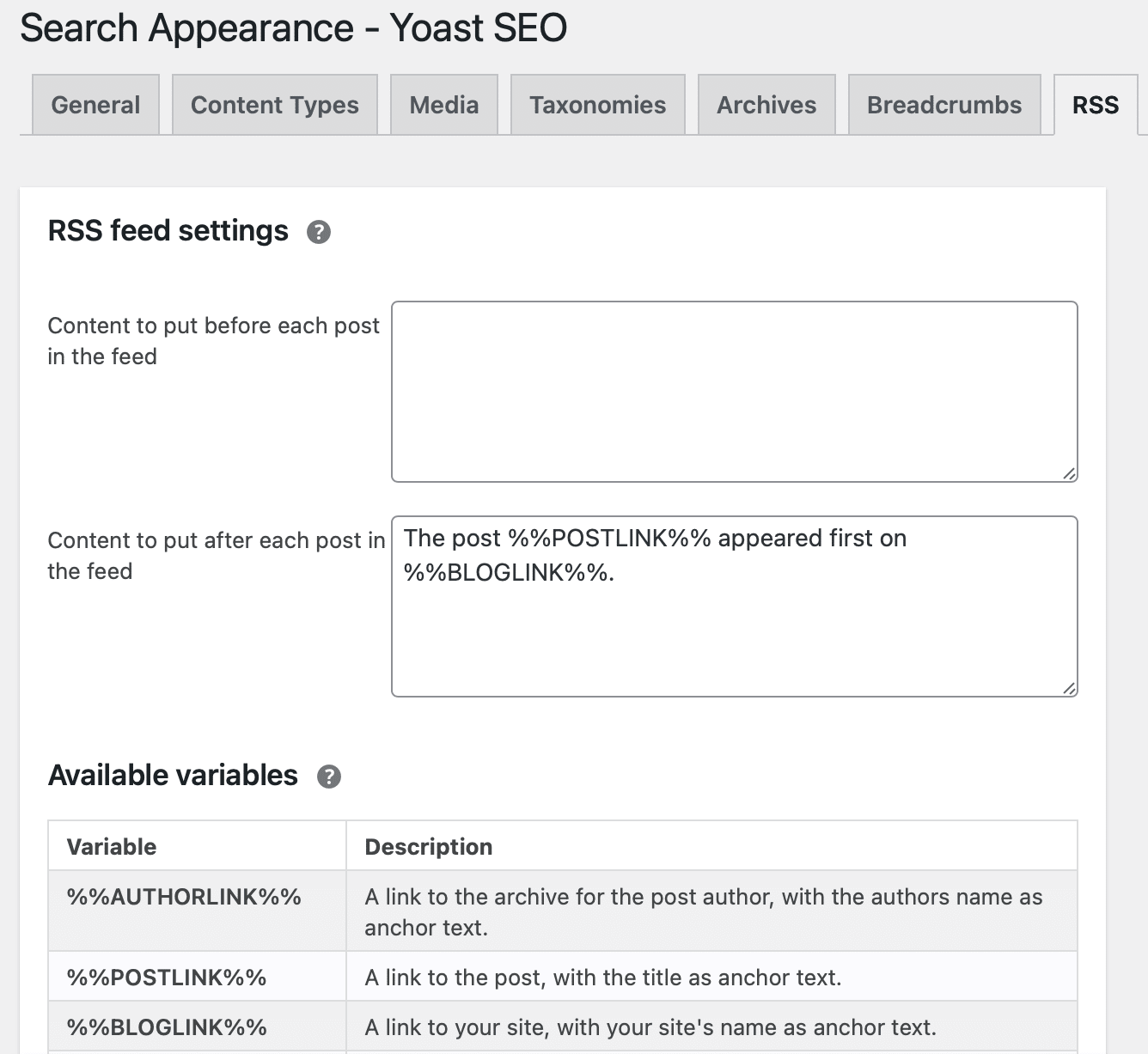 This lets you add content before or after posts in your RSS feed
This way, search engines can correctly identify your site as the original source of the content.
Social Options
Now, we can head down to the Social section where you can configure more general settings for how your site interacts with various social networks.
Most of the time, you'll want to leave these as they are: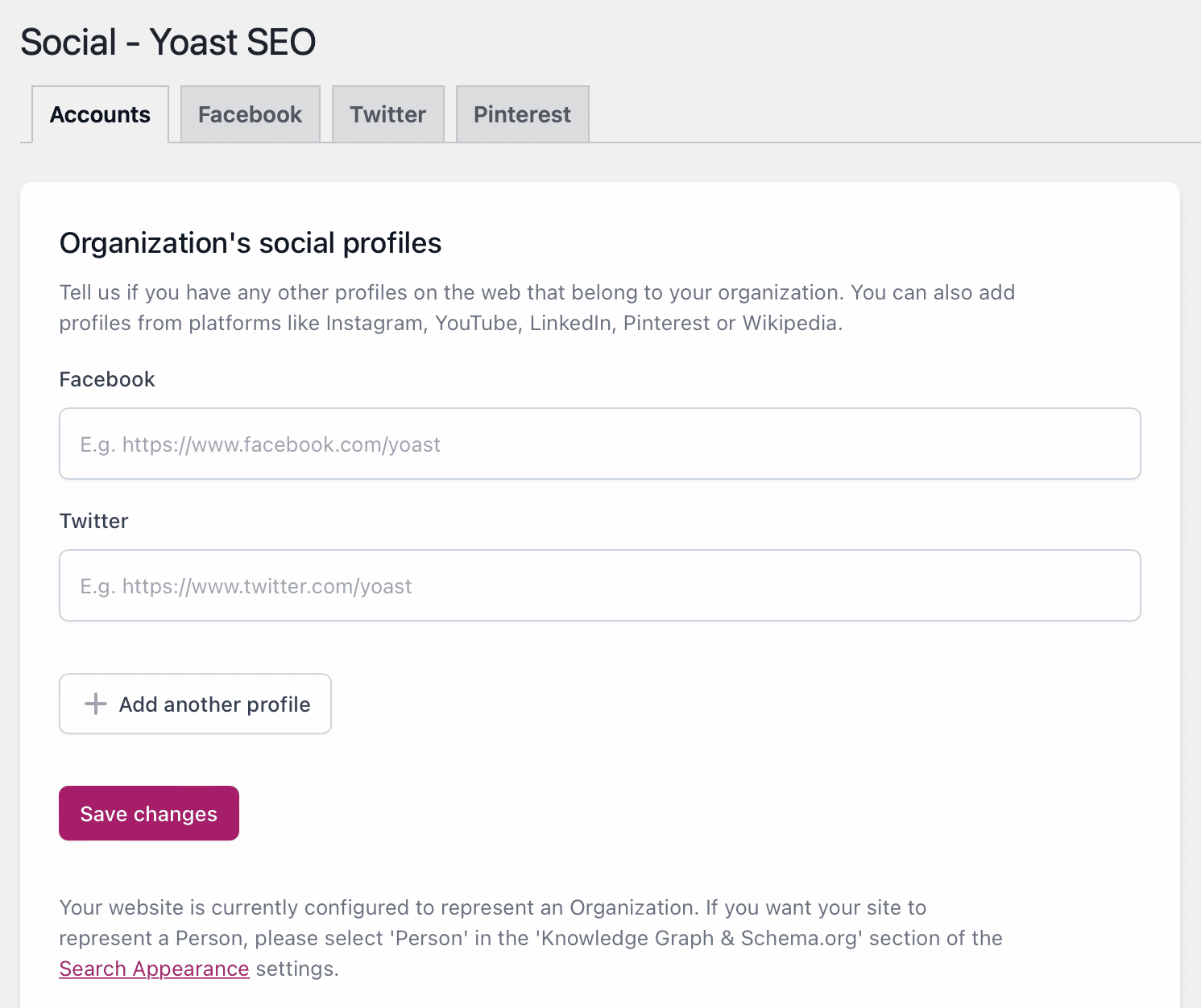 What's great about Yoast SEO is that you aren't limited to just Facebook and Twitter like you can be with other plugins. Instead, you can organize all of your social profiles here including Instagram, YouTube, and LinkedIn.
Tools Options
Finally, the Tools area lets you access various types of editors, as well as an option to import or export your Yoast SEO settings: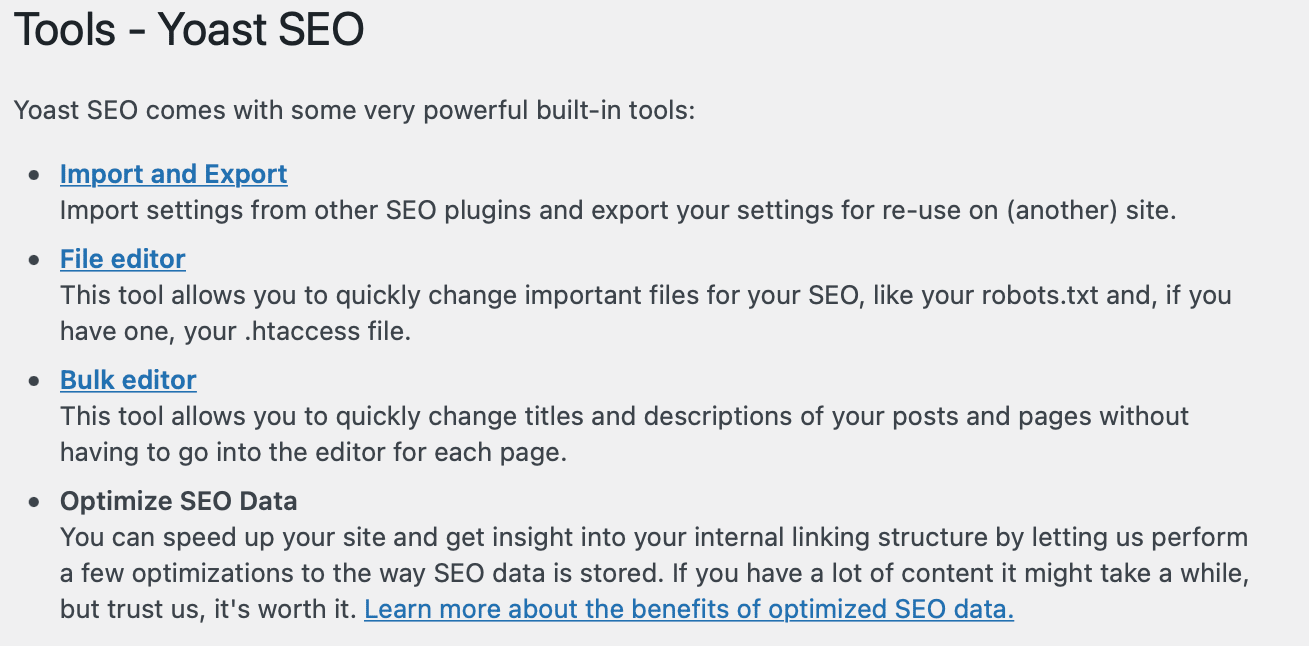 One helpful thing that you can do here is edit your WordPress site's robots.txt file right from your dashboard. There is no need to SFTP into your site.
If you click on the File editor, Yoast will help you create a robots.txt file (if you haven't already). And once you have the file, Yoast will let you edit it right there in your dashboard: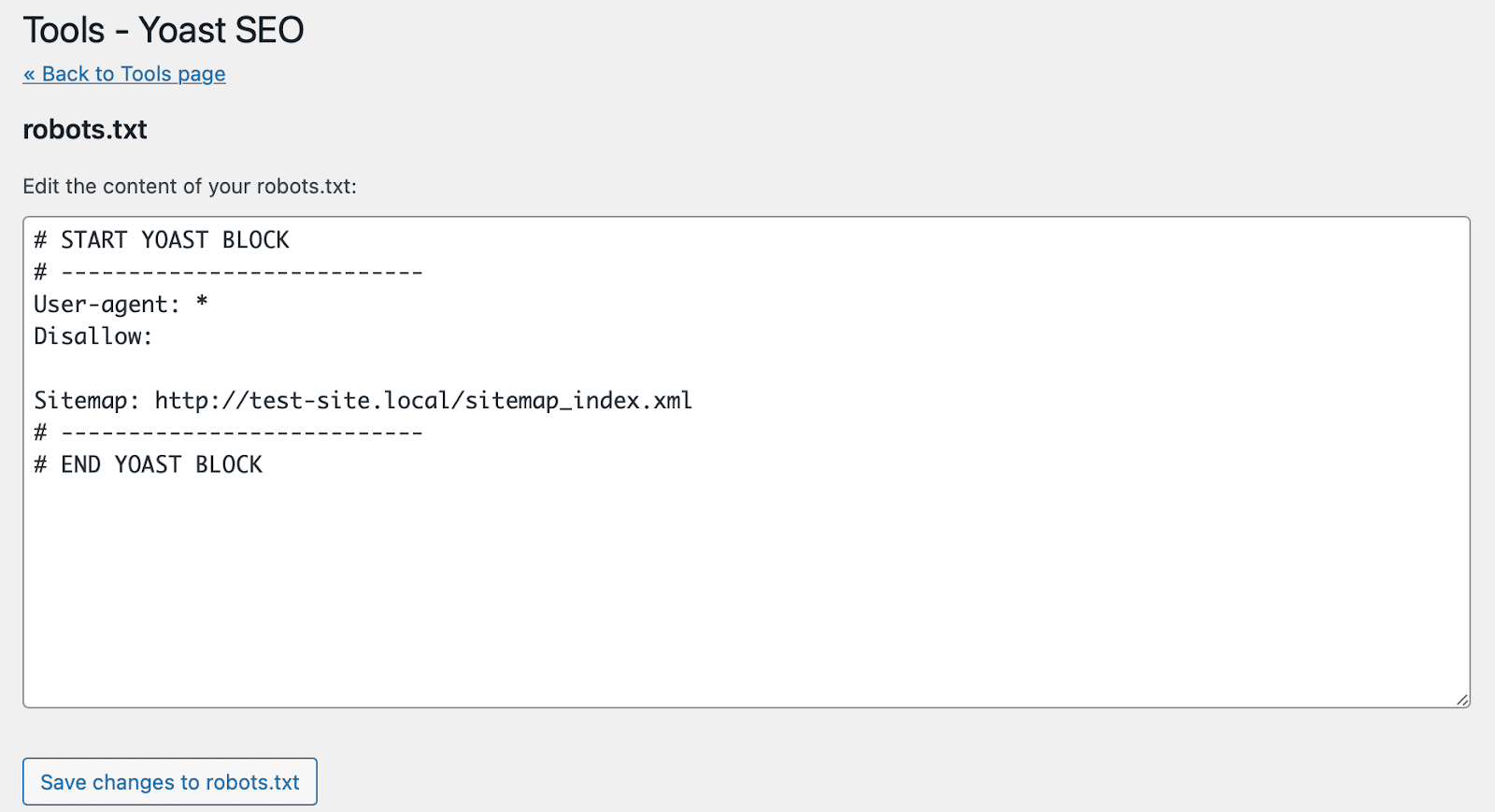 If you don't see the File editor option, this means one of two things.
Your .htaccess file or the folder in Nginx isn't writable on your web server. You can reach out to your hosting provider for assistance with this.
Your WordPress install has file editing disabled.
The last part of Yoast's free version is the Premium tab. Here, you can purchase individual Yoast extensions such as Video SEO and WooCommerce SEO.
Or, you can opt for the entire Yoast Premium package to access related keyphrases, social previews, and 24/7 support: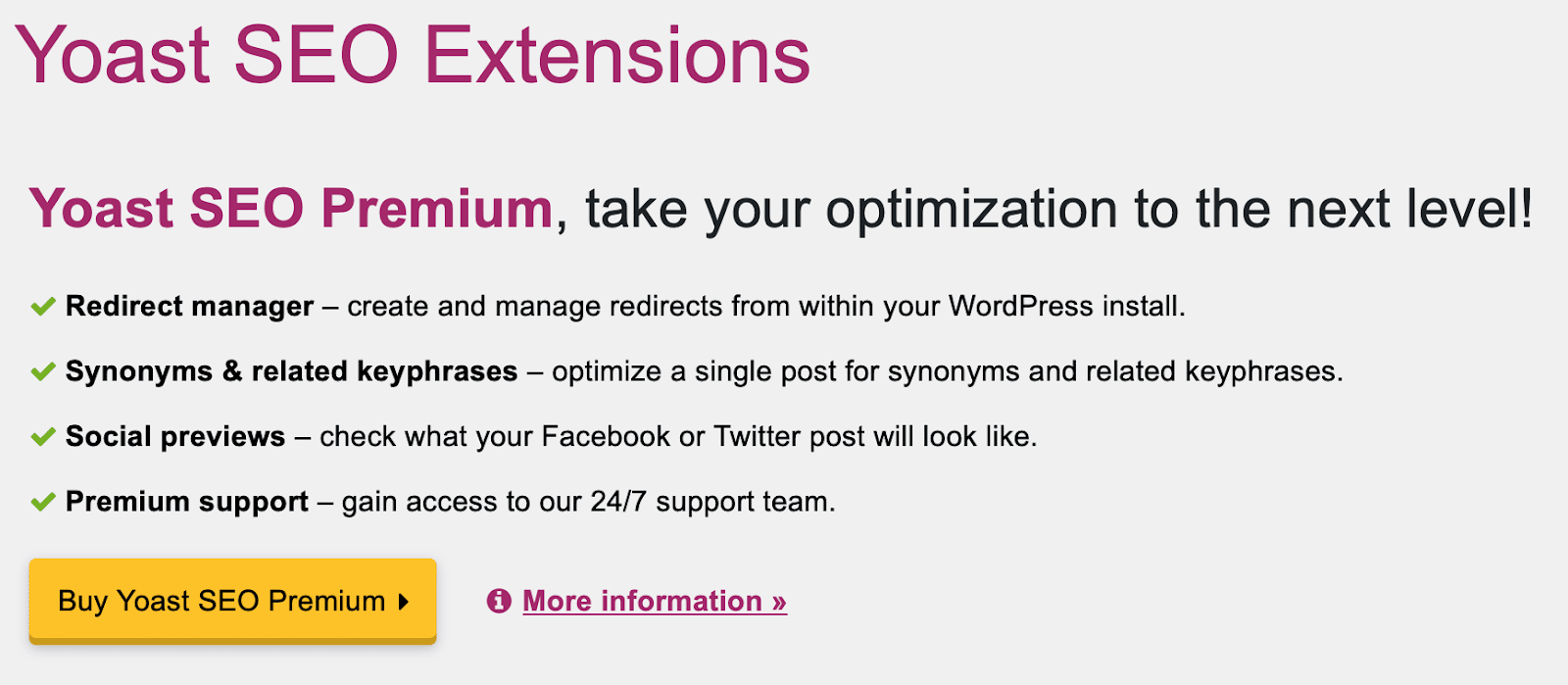 With Yoast Premium, you'll also be able to access two additional sections.
SEO Workouts take you through step-by-step "workouts" to get your website in SEO shape. For instance, Yoast can add internal links to your posts/pages and make your most important pieces of content rank higher.
Better yet, with Yoast Redirects, you can easily set up plain redirects and regex redirects.
Want To Learn More About How to Drive Traffic to Your Website With SEO?
Summary
SEO is a key part of making your website more visible in search engines. However, SEO can be intimidating, especially for beginners. That's why Yoast SEO is a great plugin to add to your WordPress website.
Most of Yoast SEO's options are "set it and forget". Therefore, once you get everything configured, the only area that you'll use on an everyday basis is the Yoast SEO meta box. However, you also might want to address the Readability and Social settings to optimize your content even further.
Any other questions about how to use Yoast SEO? Leave a comment and let's get your site ranking!
---
Save time, costs and maximize site performance with:
Instant help from WordPress hosting experts, 24/7.
Cloudflare Enterprise integration.
Global audience reach with 35 data centers worldwide.
Optimization with our built-in Application Performance Monitoring.
All of that and much more, in one plan with no long-term contracts, assisted migrations, and a 30-day-money-back-guarantee. Check out our plans or talk to sales to find the plan that's right for you.