Facebook impersonators are targeting business and public figures to scam users out of their money. When one of these scammers sets its sights on your business, it can be highly stressful. How do you protect your brand and your customers from these bad players?
The first step is to report the Page directly to Facebook and have the Page removed for breaking the community standards. Unfortunately, Facebook is not proactive at finding and deleting these fake Pages; it's up to you and your team.
In this article, we will show you how to report a fake Facebook page and how to prevent new ones from popping up. In this case, the best defense is a good offense.
How To Track Down a Fake Facebook Page
Facebook doesn't have a way of identifying fake pages on its own. It relies on the community to report fakers; this includes personal users and businesses. If you own a Facebook page, you'll need to proactively look for fake pages to protect your reputation and customers. Spotting a phony account can be tough, especially if your brand is new and you don't have the staff to monitor it.
Bad actors set up fake profiles for a number of reasons, none of them good:
Divert traffic away from your Page
To scam your customers
Posing as you to give your business a bad reputation
Steal your customer's confidential information
Creating a new Facebook page is easy and free, so it's no surprise that scammers take advantage of this. They will often use your business name or a variation of it, making it difficult to spot the difference.
Here are three methods you can use to try and track down impersonators before we share how to report a fake Facebook Page posing as your business:
Google
Customer Reports
Let's take a look at each one.
Want to keep the reputation of your business protected and prevent scammers from targeting your customers? 🙅‍♀️ Learn more in this guide ⬇️Click to Tweet
1. Google
The first method is to use Google search. Google indexes Facebook Pages, which means they turn up in search. You can use this to your advantage to find new Pages as soon as they're indexed by the search engine.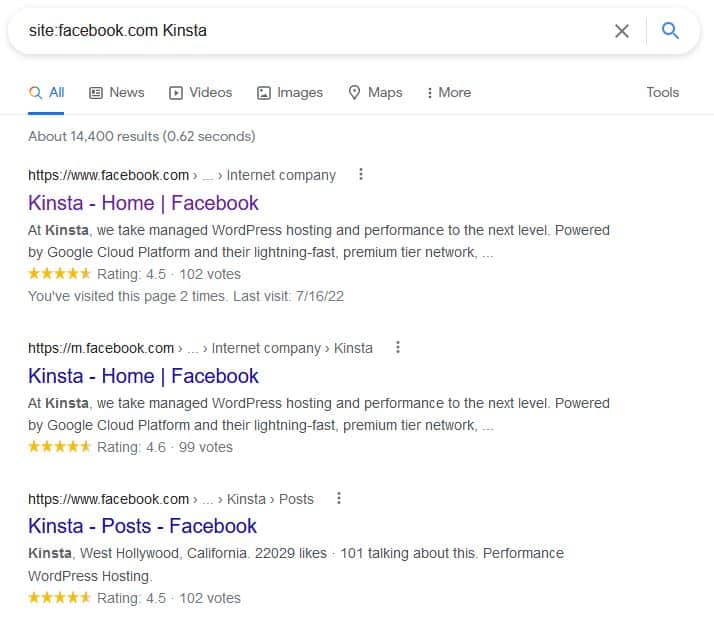 Here's what you need to do to make finding fake Pages on Google easier:
Step 1: Head to Google and type the following into the search bar: site:facebook.com + "Your Brand Name." This will narrow down the search to relevant Facebook pages that mention your brand.
Step 2: Look through the first few pages of search engine results.
Step 3: If there are any suspicious links, open them and check. Some may be other pages that have mentioned your business, and no further action will be needed.
2. Reverse Image Search
There's a chance that your copyrighted images are being used on the fake Pages. Scammers can easily download these from your website, Facebook Page, or other social media networks. This is a common tactic as it's easy to do and can fool people who aren't paying attention. However, this always makes it easier for you to track bad actors using your imaging.
You need to do a reverse image search to check if this is happening. This involves using a search engine like Google Images or TinEye to find where an image is being used on the internet. If it's being used on a Page that's not yours, then there's a chance it's a fake.
To do a reverse image search on Google Images:
Step 1: Go to images.google.com in your web browser
Step 2: Click the Camera icon in the search bar
Step 3: Upload the image you want to check or paste the URL of where it's being used
Step 4: Press Enter or click "Search by image" and filter by site:Facebook.com to narrow the search results to just Facebook.
Step 5: Review any Facebook pages you don't recognize and see if they are using your imaging inappropriately.
3. Customer Reports
Your customers are your best asset when it comes to tracking down a fake Facebook page. They are usually the first to spot a scam and can quickly tell you about it. Thanks to the combined efforts of businesses and users, Facebook deleted over 500 million fake Pages in 2018 alone.
Encourage your customers and fans to report any fake pages they stumble across in the comments of your posts or through private messages. This will help you keep track of new fakes and give you an idea of how widespread the issue is. If a fake Page contacts them, they can forward the message to you so you can also report it.
You should also keep an eye out for any negative comments or reviews on your Page. If people say they were scammed, this is a red flag that someone is trying to impersonate your business on Facebook.
Make sure there is an internal process for customers who report fake Pages and scams. This way, you can quickly follow up and take action. Share information across your social media pages on how customers can report to Facebook and your customer service team.
How To Report a Fake Facebook Page
If you find a fake page impersonating your business, you need to report it to Facebook. This is the only way to get the Page removed and stop the scammer from using your business to take advantage of people. Facebook has made the process simple, and you can do it from wherever you are, as long as you have an internet connection.
As soon as you find a fake Page, you'll need to act swiftly. Not only could they infringe on your trademark, but they may also want to scam your customers. It's always best to take action sooner rather than later.
We'll walk you through how to report a fake Facebook Page on desktop and mobile.
Report a Facebook Page on Desktop
Reporting a Facebook Page on a desktop can be done by logging into Facebook on any browser. Alternatively, you can log in using the Facebook desktop app.
Step 1: Head to the Page you need to report.
Step 2: Next to the Like and search button are three dots that will open more options. Open the drop-down list and select Report Page.

Step 3: Choose the most appropriate reason, in this case, Scams and Fake Pages.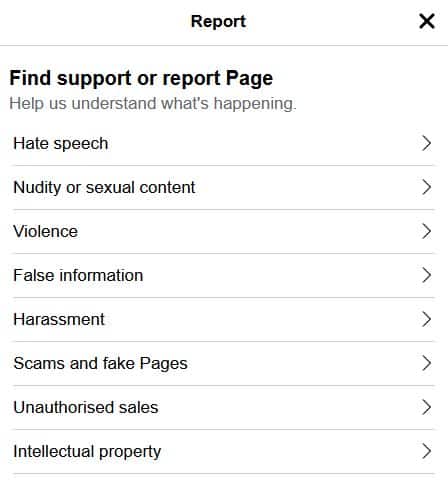 Step 4: Choose the reason for reporting. The best options are "fake page" or "pretending to be another business."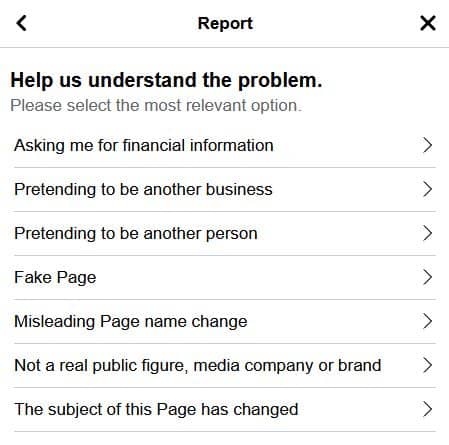 Step 5: Link to your business page as evidence that someone is impersonating your brand and submit it to Facebook.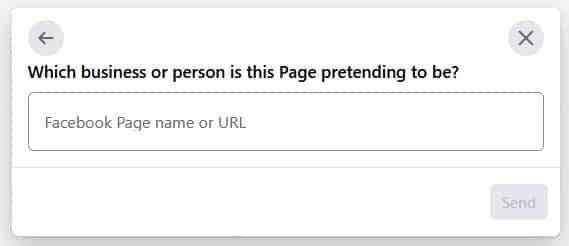 Step 6: Facebook will review the Page and take action if necessary. This may include removing or hiding the Page. In some cases, they may do nothing.
Report a Facebook Page on Mobile
If you're on the go and spot a fake profile, you can report it from the Facebook app on your phone. You can use either the mobile website or the Facebook app. The process is similar to how you would report it on a desktop.
Step 1: Head to the offending Page to begin the process of reporting them.
Step 2: Find the three dots under the Like button and click on Report Page.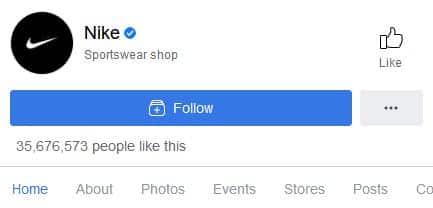 Step 3: Click on Find support or report Page.
Step 4:– Select Scams and fake Pages from the list to continue reporting.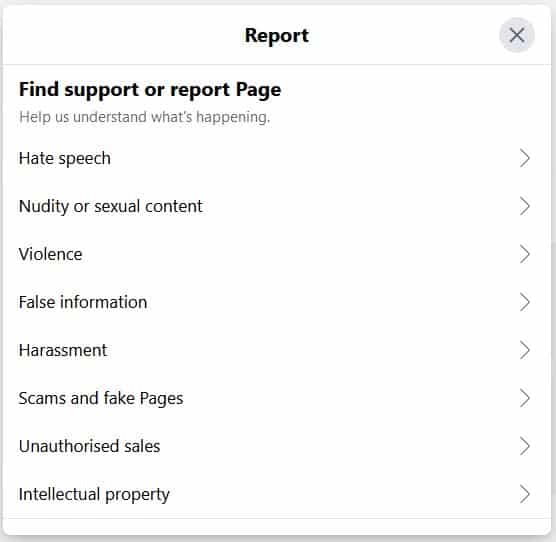 Step 5: Choose the reason you are reporting this as a fake page.
Step 6: Enter your Facebook Page URL to help with the investigation.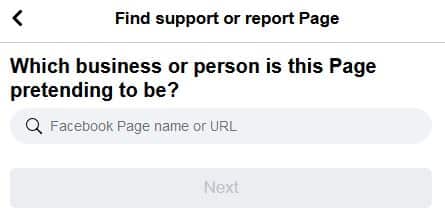 Step 7: Someone at Facebook will look into the issue. Once the investigation is complete, they will likely remove or hide the Page.
It's important to remember that Facebook is a platform for users all over the world. So, it may take some time for them to get to your report. They also may not take action if they don't find the Page in violation of their policies.
What Happens After Reporting?
After you report a fake page to Facebook, they will investigate the issue. This usually involves looking at the Page itself to see if the Page breaks any of its community guidelines. Facebook uses a combination of automated technology and human reviewers to decide what should be removed from the platform.
Once the investigation is complete, Facebook will take one of three actions:
Remove the Page: This is the best-case scenario. If Facebook finds that the Page violates its policies, it will entirely remove it from the platform. This means that the scammer will no longer be able to use your business to take advantage of people.
Hide the Page: In some cases, Facebook may not find enough evidence to remove the Page outright. But they may hide it from search results and prevent it from being shared on the platform. This makes it much harder for the Page to reach new people.
Do Nothing: Unfortunately, Facebook may not take any action at all. This is usually because the Page doesn't violate any of their policies or because they can't verify that the Page is fake. If this happens, you may need to take other measures to protect your business, like contacting the scammer directly or filing a lawsuit.
No matter what action Facebook takes, you should keep an eye on the Page and make sure that it doesn't pop up again. Scammers are often persistent, so it's important to be vigilant. You should also inform your customers about the fake Page so they can avoid it. Advise them to only interact with your business on your official channels, like your website or verified social media accounts.
This is the most proactive way to defend your business and customers from the predatory behaviors of scammers. Fake Pages can lead to your brand reputation dropping and cause customer retention to drop.
If you've filed a report against a Facebook Page and believe it is violating your intellectual property (i.e., counterfeiting your brand), Facebook may share this information with the accused account. This means that the person running the fake Page may be able to see who reported them. However, in most cases, the accused account won't be able to see the identity of the person who filed the report.
Facebook likely won't update you on the status of the investigation, so it's important to check periodically to see if the Page has been removed or hidden. You can also try searching for the Page on Facebook to see if it comes up in search results. If it does, that means Facebook hasn't taken any action yet.
It may be tempting to try to report a fake Facebook page multiple times in the hopes that Facebook will take action more quickly. However, this usually doesn't work. Facebook says that this will not speed up its internal processes. It's best to just report the Page once and wait for Facebook to take action.
What Should You Do If Facebook Doesn't Take Action?
If Facebook rules that the Page doesn't break their community guidelines, they won't remove it. The first thing you should do is appeal this decision to Facebook. This will force Facebook to take a second look at the offending Page, and if the appeal is successful, it will be removed or hidden.
You can also take matters into your own hands by contacting the scammer directly or filing a lawsuit. This may not be possible or practical in every situation, but it's worth considering if you feel you've exhausted all other options.
It's important to remember that scammers are often persistent, so even if you manage to get their Page taken down, they may just create another one. You should keep an eye on your business and ensure that you're taking steps to protect your customers and brand reputation.
Make sure your customers know that a bad actor is posing as you online. Share information on identifying the fake Page and not interacting with anyone who messages them pretending to be you.
5 Ways To Prevent Facebook Impersonation
The best way to deal with a fake Facebook Page is to prevent it from being created in the first place. Here are some steps you can take to protect your business:
1. Get Verified
Facebook offers a verification process for businesses and public figures. This puts a blue checkmark next to your name on Facebook, letting people know you're the real deal. This can help deter scammers from impersonating your business.
A verification badge is similar to a website trust badge that is only given to businesses on Facebook that pass their verification process. This process does not guarantee that you'll get verified. Facebook only verifies a select number of companies and public figures who they believe have a "significant audience." But it's worth going through the process if you think it will help your business.
Here's the process for getting verified on Facebook:
Step 1: Check your eligibility for verification. You'll need to have a profile and cover picture set up, meet Facebook's community standards, and ensure your account has adhered to Facebook's terms of service. Any false information will result in the rejection of your application.
Step 2: Head to the verification page and fill out the form. If you're logged in, parts of the form will automatically fill in.
Step 3: Provide evidence that you are who you say you are. This can be personal ID, utility bills, articles of incorporation, or a recent tax filing.
Step 4: Prove your notability by including links to media articles, press releases, and details about your audience. Facebook will only verify accounts where there is proven user benefit.
Step 5: Verification can take up to 45 days, so be prepared to wait patiently.
Step 6: Facebook will be in touch with you when your account is verified.
If you are approved for verification, you'll receive a blue badge next to your name on your profile. This is a telltale sign that you are the official business page and not a fake.
2. Set Up Monitoring Software
Consider setting up monitoring software if you want to proactively prevent someone from impersonating your business. This type of software automatically searches the internet for any instances of your business name or brand being used without your permission. This can help you catch a fake Facebook Page before it gets too much traction.
There are many different types of monitoring software available, so do some research to find the one that's right for your business. Google Alerts is a free option that can be set up in just a few minutes.
Paid options give you better customization options and can help you track more than just your business name. You can also set up alerts to be delivered to you via email or text so that you can take action quickly if there's a problem.
Monitoring software can be a helpful way to protect your business from online impersonation. But it's not foolproof. You should still keep an eye on your social media accounts and be on the lookout for any fake pages or profiles that pop up.
3. Regularly Post Fresh, Original Content
If you can keep people on your Page, they may not stumble across an impersonator. Posting fresh, original content is a great way to engage your audience and make your business stand out from the crowd.
People are more likely to visit and interact with a Facebook Page that regularly posts new content. Be sure to include clear branding in the content you share so that your audience can easily identify it as coming from your business. This is especially true for paid Facebook marketing, which can look similar to regular posts.
If you have a blog, you can share new blog posts on your Facebook Page. This can be made even easier by using WordPress plugins to automatically share your posts. Just be sure to edit each post before you share it so it looks good on Facebook.
4. Link To Your Other Social Media Profiles
Make it easy for people to find and follow your business on other social media platforms by linking to your profiles from your Facebook Page. You can add links to your website, blog, and any other social media profiles in the "About" section of your Page. This helps to ensure your audience is only following genuine accounts.
If you want more control over how these links look, you can use a WordPress plugin to add social media icons to your website. Then, people can click on the icon to go directly to your profile on that platform.
This is a good way to build up followers on multiple platforms and protect your business from impersonation attempts. Using your other social media accounts is also a great way to inform customers of any fake Facebook pages.
5. Educate Your Customers
Make sure your customers know how to spot a fake Facebook Page. This can help them avoid being scammed or tricked by an impersonator. Add a note to your website and newsletter that warns people of fake Facebook Pages.
You can also share helpful tips on your social media accounts. For example, you could tweet a link to an article about how to spot a fake Facebook Page. Or you could post a status update with some tips on what to look for.
Show your audience how they can tell the difference between your genuine Facebook ads and fake ones. This can help protect your business from being impersonated online and prevent your customers from being scammed.
It's also important to regularly remind customers where they can find your real social media accounts. Let them know you'll never DM them asking for personal or payment information.
Don't let scammers wreck your business' reputation. 🙅‍♀️ Stop fake Facebook pages in their tracks with this guide ✋Click to Tweet

Summary
Being proactive is the best way to combat online impersonators. Facebook Pages are an easy way for scammers to connect with your customers. Learning how to report a fake facebook page using the methods mentioned in this article is the best way to root them out.
Protect your reputation and customers from bad actors by creating a consistent online presence. Kinsta's WordPress hosting is the perfect choice for those who want to focus on creating great content while we take care of the technical aspects.
Seamlessly update your Facebook Page when you publish a new blog post to keep your customers informed. Check out our plans for more information.
---
Save time, costs and maximize site performance with:
Instant help from WordPress hosting experts, 24/7.
Cloudflare Enterprise integration.
Global audience reach with 34 data centers worldwide.
Optimization with our built-in Application Performance Monitoring.
All of that and much more, in one plan with no long-term contracts, assisted migrations, and a 30-day-money-back-guarantee. Check out our plans or talk to sales to find the plan that's right for you.